Zusammenfassung
Die Zirkadianrhythmik und die Schlafhomöostase regulieren die zeitliche Abfolge und die Struktur des Schlafes bei Mensch und Tier. Beim Menschen führt das Zusammenspiel dieser 2 Prozesse zu einer konsolidierten Wachepisode von etwa 16 h und einer konsolidierten Schlafepisode von etwa 8 h. Dabei wirkt ein zirkadian reguliertes Wachsignal dem sich aufbauenden Schlafdruck (Schlafhomöostat) während der Wachzeit entgegen. Störungen in diesem Zusammenspiel können zu kognitiven Leistungseinbußen, Tagesschläfrigkeit und Schlafproblemen führen, was oft bei Schichtarbeitern, Jetlag, älteren Leuten, und Patienten, die am verzögerten oder verfrühten Schlafphasen-Syndrom leiden, der Fall ist. Ergebnisse aus der Molekularbiologie und Zellphysiologie dieser beiden Prozesse führten zu folgenden Erkenntnissen: Die suprachiasmatischen Kerne (SCN) repräsentieren den zentralen zirkadianen Schrittmacher. Es gibt eine Rückkopplung zu den SCN über das Neurohormon Melatonin. Das ventrolaterale präoptische Areal (VLPO) ist besonders wichtig für die Initiation des Schlafes. Das Nukleosid Adenosin triggert das VLPO. Ein ultradianer Oszillator im mesopontinen Hirnstamm steuert den regelmäßigen Wechsel zwischen NREM- und REM-Schlaf. Der Schlaf-Wach-Zyklus und der NREM-REM-Schlaf-Zyklus induzieren regelmäßig auftretende neuromodulatorische Veränderungen in Vorderhirnstrukturen.
Abstract
Circadian rhythmicity and sleep homeostasis both contribute to sleep timing and sleep structure in animals and humans. The circadian process and the sleep homeostat interact to consolidate the sleep-wake cycle and, thus, establish wakefulness and sleep. The circadian process generates a sleep-wake propensity rhythm that is timed to oppose homeostatic changes in sleep drive. Disruption of this fined-tuned interaction can lead to performance decrements, daytime sleepiness, and sleep problems, which are often found in shift workers, jet lag, in older people, and patients suffering from delayed or advanced sleep phase syndrome. Recent progress in molecular biology and cell physiology has led to the following conclusions regarding these two processes and their impact on the neurobiology of sleep: The suprachiasmatic nuclei (SCN), located in the anterior hypothalamus, represent the master circadian pacemaker. There is a feedback to the SCN via the neurohormone melatonin. The ventrolateral preoptic area (VLPO) is particularly important for the initiation of sleep. Adenosine triggers the VLPO. An ultradian oscillator located in the mesopontine brainstem region controls the regular cycling between non-REM and REM sleep. The sleep-wake cycle and the NREM-REM sleep cycle induce regularly occurring neuromodulatory changes in forebrain structures.
This is a preview of subscription content, log in to check access.
Access options
Buy single article
Instant access to the full article PDF.
US$ 39.95
Price includes VAT for USA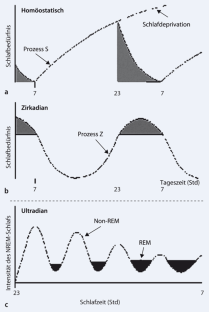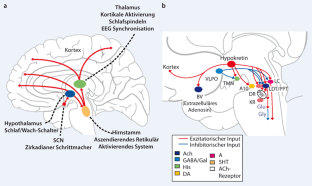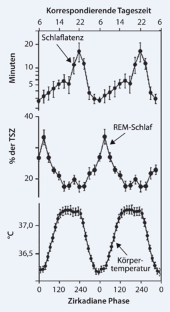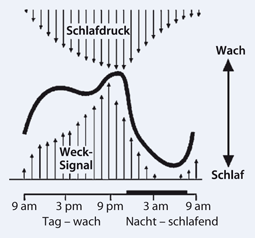 Literatur
1.

Borbély AA, Achermann P (1999) Sleep homeostasis and models of sleep regulation. J Biol Rhythms 14:557–568

2.

Dijk DJ, Czeisler CA (1995) Contribution of the circadian pacemaker and the sleep homeostat to sleep propensity, sleep structure, electroencephalographic slow waves, and sleep spindle activity in humans. J Neurosci 15:3526–3538

3.

Maquet P, Degueldre C, Delfiore G et al (1997) Functional neuroanatomy of human slow wave sleep. J Neurosci 17:2807–2812

4.

Mignot E, Taheri S, Nishino S (2002) Sleeping with the hypothalamus: emerging therapeutic targets for sleep disorders. Nat Neurosci 5(Suppl):1071–1075

5.

Pace-Schott EF, Hobson JA (2002) The neurobiology of sleep: genetics, cellular physiology and subcortical networks. Nat Rev Neurosci 3:591–605

6.

Saper CB, Chou TC, Scammell TE (2001) The sleep switch: hypothalamic control of sleep and wakefulness. Trends Neurosci 24:726–731

7.

Steriade M (2003) The corticothalamic system in sleep. Front Biosci 8:d878–d899

8.

Schmidt C, Collette F, Leclercq Y et al. (2009) Homeostatic sleep pressure and responses to sustained attention in the suprachiasmatic area. Science 324:516–519
Interessenkonflikt
Der korrespondierende Autor gibt an, dass kein Interessenkonflikt besteht.
Additional information
Dieser Beitrag ist ein Auszug aus dem Buch ISBN 978-3-540-28839-8, Peter H et al. (Hrsg) (2007) Enzyklopädie der Schlafmedizin. Springer, Berlin Heidelberg New York.
About this article
Cite this article
Cajochen, C. Schlafregulation. Somnologie 13, 64–71 (2009). https://doi.org/10.1007/s11818-009-0423-7
Schlüsselwörter
Zirkadianer Schrittmacher

Homöostatischer Prozess

Melatonin

Schlaf-Wach-Zustand-generierende Systeme

Chronotyp
Keywords
Circadian pacemaker

Homeostatic process

Melatonin

Sleep/wake generating systems

Chronotype