Abstract
Okra is a widely grown vegetable crop in various regions of the world and provides significant amounts of vitamins and minerals. Numerous researchers have documented the efficacy of phenotypic and molecular classification of the diverse okra germplasm collections found throughout the world. The genetic variation of Turkish okra germplasm, which included 39 genotypes, was characterized using 14 POGP (peroxidase gene polymorphism) primer pairs in comparison to other world okra genotypes and accessions, which contained 27 genotypes. A total of 84 bands were generated using 14 POGP primer pairs, with 43 (51%) of them being polymorphic between okra accessions. The values of polymorphism information content ranged from 0.03 to 0.99, with an average of 0.48. The range and mean values for gene diversity (h) were 0.03–0.42 and 0.25, respectively. Shannon's information index (I) varied between 0.07 and 0.62 for each POGP marker, with a mean of 0.40. The most divergent genotypes were found to have a GS value of 0.23, with IN-7 and TR20-3 being the genetically most distant. The STRUCTURE, PCoA and Neighbor-joining analysis separated the okra germplasm into three populations. AMOVA revealed 23 and 77% variance across and within populations, respectively. Although the germplasm of okra is generally homogenous, the influence of shared genes is more significant. For the first time, the genetic composition of okra was determined using peroxidase gene markers.
Access options
Buy single article
Instant access to the full article PDF.
USD 39.95
Price excludes VAT (USA)
Tax calculation will be finalised during checkout.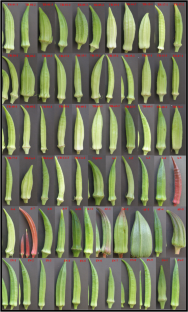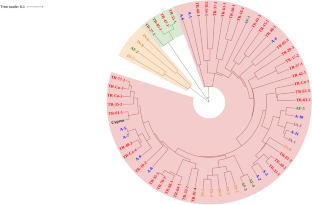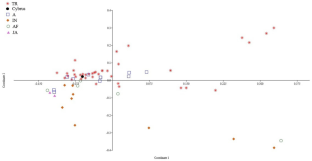 References
Akyavuz R, Taskin B, Koçak M, Yildiz M (2018) Exploring the genetic variations and population structure of Turkish pepper (Capsicum annuum L) genotypes based on peroxidase gene markers. 3 Biotech 8:355. https://doi.org/10.1007/s13205-018-1380-2

Aladele SE, Ariyo OJ, Lapena R (2008) Genetic relationship among West African okra (Abelmoschus caillei) and Asian genotypes (Abelmoschus esculentus) using RAPD. Afr J Biotechnol 7:1426–1431

Amaya I, Botella MA, de la Calle M, Medina MI, Heredia A, Bressan RA, Hasegawa PM, Quesada MA, Valpaesta V (1999) Improved germination under osmotic stress of tobacco plants over expressing a cell wall peroxidase. FEBS Lett 457:80–84. https://doi.org/10.1016/S0014-5793(99)01011-X

Andeden EE, Baloch FS, Derya M, Kilian B, Özkan H (2013) iPBS-retrotransposons-based genetic diversity and relationship among wild annual Cicer species. J Plant Biochem Biotechnol 22:453–466. https://doi.org/10.1007/s13562-012-0175-5

Ariyo OJ (1987) Multivariate analysis and the choice of parents for hybridization in okra (Abelmoschus esculentus (L.) Moench). Theor Appl Genet 74:361–363. https://doi.org/10.1007/BF00274718

Ariyo OJ, Odulaja A (1991) Numerical analysis of variation among accessions of okra (Abelmoschus esculentus (L.) Moench). Malvaceae Ann Bot 67:527–531. https://doi.org/10.1093/oxfordjournals.aob.a088194

Boiteux LS, Fonseca MEN, Simon PW (1999) Effects of plant tissue and DNA purification methods on randomly amplified polymorphic DNA-based genetic fingerprinting analysis in carrot. J Am Soc Hortic Sci 124:32–38. https://doi.org/10.21273/JASHS.124.1.32

Çankaya AÖ, Tonguç M, Önder S (2019) Peroxidase gene based genetic relationships among safflower genotypes. Süleyman Demirel Univ Fac Arts Sci J Sci 14(2):367–373. https://doi.org/10.29233/sdufeffd.612472

Chittoor JM, Leach JE, White FF (1999) Induction of peroxidase during defense against pathogens. In: Datta SK, Muthukrisnan S (eds) Pathogenesis-related proteins in plants. CRC Press, Boca Raton FL, pp 171–193

Dash GB (1997) Multivariate analysis in okra (Abelmoschus esculentus (L.) Moench). Env Ecol 15:332–334. https://doi.org/10.3923/jps.2014.43.50

Dhankhar BS, Mishra JP (2009) Origin, history, and distribution. In: Dhankhar BS, Singh R (eds) Okra handbook: global production, processing, and crop improvement. HNB Publishing, New York, pp 3–23

Doyle JJ, Doyle JL (1990) Isolation of plant DNA from fresh tissue. Focus 12:13–15

Duroux L, Welinder KG (2003) The peroxidase gene family in plants: a phylogenetic overview. J Mol Evol 57:397–407. https://doi.org/10.1007/s00239-003-2489-3

Düzyaman E (1997) Okra: botany and horticulture. Hortic Rev 21:41–72. https://doi.org/10.1002/9780470650660.ch2

Düzyaman E (2005) Phenotypic diversity within a collection of distinct okra (Abelmoschus esculentus) cultivars derived from Turkish land races. Genet Resour Crop Evol 52:1019–1030. https://doi.org/10.1007/s10722-004-6118-9

Düzyaman E (2009) Okra in Turkey. In: Dhankhar BS, Singh R (eds) Okra handbook: global production, processing, and crop improvement. HNB Publishing, New York, pp 323–333

Düzyaman E, Vural H (2002) Different approaches in the improvement process of local okra varieties. Acta Hortic 579:139–144. https://doi.org/10.17660/ActaHortic.2002.579.20

Espelie KE, Franceschi VR, Kolattukudy PE (1986) Immunocytochemical localization and time course of appearance of an anionic peroxidase associated with suberization in wound-healing potato tuber tissue. Plant Phys 81:487–492. https://doi.org/10.1104/pp.81.2.487

Evanno G, Regnaut S, Goudet J (2005) Detecting the number of clusters of individuals using the software structure: a simulation study. Mol Ecol 14:2611–2620. https://doi.org/10.1111/j.1365-294X.2005.02553.x

FAOSTAT 2019 http://faostat.fao.org/

Francis RM (2017) Pophelper: an R package and web app to analyse and visualize population structure. Mol Ecol Resour 2017:27–32. https://doi.org/10.1111/1755-0998.12509

Gulsen O, Karagul S, Abak K (2007a) Diversity and relationships among Turkish okra germplasm by SRAP and phenotypic marker polymorphism. Biol Bratisl 62:41–45. https://doi.org/10.2478/s11756-007-0010-y

Gulsen O, Shearman RC, Heng-Moss TM, Mutlu N, Lee DJ, Sarath G (2007b) Peroxidase gene polymorphism in buffalograss and other grasses. Crop Sci 47:767–772. https://doi.org/10.2135/cropsci2006.07.0496

Gulsen O, Sever-Mutlu S, Mutlu N, Tuna M, Karaguzel O, Shearman RC, Riordan TP, Heng-Moss TM (2009) Polyploidy creates higher diversity among Cynodon accessions as assessed by molecular markers. Theor Appl Genet 118:1309–1319. https://doi.org/10.1007/s00122-009-0982-9

Gulsen O, Kaymak S, Ozongun S, Uzun A (2010) Genetic analysis of Turkish apple germplasm using peroxidase gene-based markers. Sci Hortic 125:368–373. https://doi.org/10.1016/j.scienta.2010.04.023

Hamon S, Charrier A (1983) Large variation of okra collected in Benin and Togo. Plant Genet Resour News Lett 56:52–58

Hinman RL, Lang J (1965) Peroxides catalyzed oxidation of indole-3-acetic acid. Biochem 4:144–158

Jaccard P (1908) Nouvelles recherchers sur la distribution forale. Bull Soc Vaud Sci Nat 44:233–270

Kyriakopoulou OG, Arens P, Pelgrom KTB, Karapanos I, Bebeli P, Passam HC (2014) Genetic and morphological diversity of okra (Abelmoschus esculentus L. Moench) genotypes and their possible relationships, with particular reference to Greek landraces. Sci Hortic 171:58–70. https://doi.org/10.1016/j.scienta.2014.03.029

Mahajan RK, Bisht IS, Agrawal RC, Rana RS (1996) Studies on South Asian okra collection: methodology for establishing a representative core set using characterization data. Genet Resour Crop Evol 43:249–325

Martin FW, Rhodes AM, Ortiz M, Diaz F (1981) Variation in okra. Euphytica 30:697–705

Nemli S, Kaya HB, Tanyolac B (2014) Genetic assessment of common bean (Phaseolus vulgaris L.) accessions by peroxidase gene-based markers. J Sci Food Agric 94(8):1672–1680. https://doi.org/10.1002/jsfa.6477

Ocal N, Akbulut M, Gulsen O, Yetisir H, Solmaz I, Sari N (2014) Genetic diversity, population structure and linkage disequilibrium among watermelons based on peroxidase gene markers. Sci Hortic 176:151–161. https://doi.org/10.1016/j.scienta.2014.07.001

Passardi F, Cosio C, Penel C, Dunand C (2005) Peroxidases have more functions than a swiss army knife. Plant Cell Rep 24:255–265. https://doi.org/10.1007/s00299-005-0972-6

Peakall R, Smouse PE (2012) GenAlEx 6.5: genetic analysis in Excel. Population genetic software for teaching and research—an update. Bioinformatics 28(19):2537–2539. https://doi.org/10.1093/bioinformatics/bts460

Pinar H, Unlu M, Ercisli S, Uzun A, Bircan M (2016) Genetic analysis of selected almond genotypes and cultivars grown in Turkey using peroxidase-gene-based markers. J for Res 27(4):747–754. https://doi.org/10.1007/s11676-016-0213-6

Sawadogo M, Ouedraogo JT, Balma D, Ouedraogo M, Gowda BS, Botanga C, Timko MP (2009) The use of cross species SSR primers to study genetic diversity of okra from Burkina Faso. Afr J Biotechnol 8:2476–2482

Schafleitner R, Kumar S, Lin C, Hegde SG, Ebert A (2013) The okra (Abelmoschus esculentus) transcriptome as a source for gene sequence information and molecular markers for diversity analysis. Gene 517:27–36. https://doi.org/10.1016/j.gene.2012.12.098

Smith JSC, Chin ECL, Shu H, Smith OS, Wall SJ, Senior ML, Mitchel SE, Kresorich S, Ziegle J (1997) An evaluation of the utility of SSR loci as molecular markers in maize (Zea mays L.): comparisons with data from RFLPs and pedigree. Theor Appl Genet 95(1):163–173

Uzun A, Gulsen O, Seday U, Yesiloglu T, Aka Kacar Y (2014) Peroxidase gene-based estimation of genetic relationships and population structure among Citrus spp and their relatives. Genet Resour Crop Evol 61:1307–1318. https://doi.org/10.1007/s10722-014-0112-7

Vural H, Esiyok D, Duman I (2000) Cultivated vegetables (vegetable production). Ege University Press, Bornova (in Turkish)

Yeh FC, Yang R, Boyle TJ, Ye Z, Xiyan JM, Yang R, Boyle TJ. (2000) Pop Gene32 Microsoft windows-based freeware for population genetic analysis Version1.32. Mol Biol Biotechnol Cent Univ Alberta Edmonton

Yıldız M, Koçak M, Baloch F (2015) Genetic bottlenecks in Turkish okra germplasm and utility of iPBS retrotransposon markers for genetic diversity assessment. Genet Mol Res 14(3):10588–10602. https://doi.org/10.4238/2015.September.8.20

Yıldız M, Ekbiç E, Düzyaman E, Serçe S, Abak K (2016) Genetic and phenotypic variation of Turkish okra (Abelmoschus esculentus L. Moench) accessions and their possible relationship with American, Indian and African germplasms. J Plant Biochem Biotechnol 25(3):234–244. https://doi.org/10.1007/s13562-015-0330-x

Zhang L, Pond SK, Gaut BS (2001) A survey of the molecular evolutionary dynamics of twenty-five multigene families from four taxa. J Mol Evol 52:144–156. https://doi.org/10.1007/s002390010143
Ethics declarations
Conflict of interest
The authors declare that they have no conflict of interest in this study, and no substantial financial assistance for this work may have influenced its outcome.
Ethical approval
This work was never submitted to another journal in any form, and the findings were never used in any animal experiments or human studies.
Consent for participation
All the named authors have seen and approved this paper, and there are no other individuals who meet the authorship criteria but are not listed. Each author has received a draft copy of this publication and has agreed to contribute to it in accordance with the recommended structure.
Consent for publication
The authors of this manuscript consent to the publication of the study's findings in this journal.
Additional information
Publisher's Note
Springer Nature remains neutral with regard to jurisdictional claims in published maps and institutional affiliations.
About this article
Cite this article
Yildiz, M., Furan, M.A., Koçak, M. et al. Peroxidase gene markers revealed genetic diversity and population structure in okra germplasm. Plant Biotechnol Rep 16, 195–204 (2022). https://doi.org/10.1007/s11816-022-00748-y
Received:

Revised:

Accepted:

Published:

Issue Date:

DOI: https://doi.org/10.1007/s11816-022-00748-y
Keywords