Abstract
Analyzing chromosomal traits is one of the pragmatic ways to establish evolutionary and genetic database of plants that has complicated phylogenetic system. There are some conflicts on the exact phylogeny and evolutionary pathway of Lilium, and section martagon is the most complicated part among them. In this study, chromosomal traits of martagon lily species are described. All martagon lilies were analyzed with FISH (Fluorescence in situ hybridization) technique, followed by detailed karyotyping. Each species showed 2n = 2x = 24 of chromosome complement. Size of chromosomes ranged from 451.04 to 680.06 µm. 5S and 45S ribosomal DNA, general molecular markers in modern evolutionary research were used as probe in this study. Variation in rDNA loci and chromosome translocation were observed in Lilium hansonii; the highest number of 45S rDNA loci was detected in Lilium hansonii, followed by other martagon lilies, in similar locations but with differences, and chromosome translocation was observed from one individual of Lilium hansonii. Additionally, Lilium tsingtauense from Jeju-do Island, Korea was detected with two extra chromosomes. These kind of genetic variations through karyotyping indicate ongoing genetic variations in martagon lilies. In this study, precise analysis of chromosome traits in Lilium species belonging to section martagonperformed to contribute to better comprehension of the evolutionary pathway and establishment of cytogenetic database for further plant breeding research.
Access options
Buy single article
Instant access to the full article PDF.
USD 39.95
Price excludes VAT (USA)
Tax calculation will be finalised during checkout.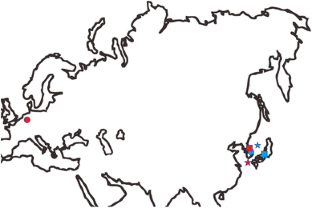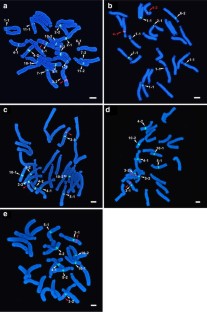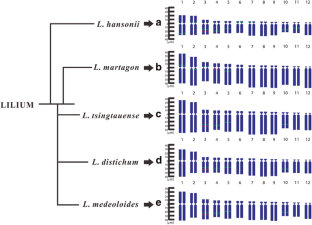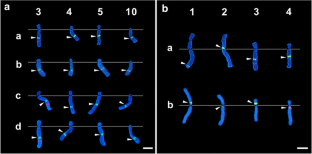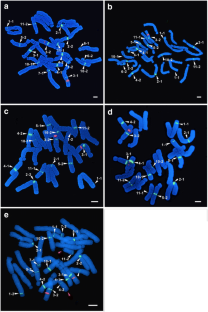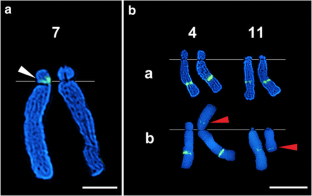 References
Álvarez I, Wendel JF (2003) Ribosomal ITS sequences and plant phylogenetic inference. Mol Phylogenet Evol 29:417–434

Baldwin BG (1992) Phylogenetic utility of the internal transcribed spacers of nuclear ribosomal DNA in plants: an example from the Compositae. Mol Phylogenet Evol 1:3–16

Cerbah M, Coulaud J, Siljak-Yakovlev S (1998) rDNA organization and evolutionary relationships in the genus Hypochaeris (Asteraceae). J Hered 89:312–318

Chang Y-C, Shii C-T, Chung M-C (2009) Variations in ribosomal RNA gene loci in spider lily (Lycoris spp.). J Am Soc Hortic Sci 134:567–573

Comber HF (1949) A new classification of the lilium. Lily year Book 15:86–105

Fox EE (2006) Martagon lilies: old world, whorled-leaf lilies, EE Fox. https://books.google.co.in/books?id=UsuONAAACAAJ

Garrido M, Jamilena M, Lozano R, Rejon CR, Rejon MR, Parker J (1994) rDNA site number polymorphism and NOR inactivation in natural populations of Allium schoenoprasum. Genetica 94:67–71

Ghaffari SM, Karimzadeh G, Najafi AA (2009) Occurrence of reciprocal translocation in Lathyrus boissieri Sirj (Fabaceae) from Iran. Cytologia 74:195–199

Gray J, Cram L (1990) Flow karyotyping and chromosome sorting. In: Melamed MR, Mendelsohn ML (eds) Flow cytometry and sorting, Wiley-Liss, New York, pp 503–529. http://ci.nii.ac.jp/naid/10016054863/

Grechko V (2002) Molecular DNA markers in phylogeny and systematics. Russ J Genet 38:851–868

Haga T (1943) A reciprocal translocation in Lilium hansonii Leicht. Cytologia 13:19–25

Harrison GE, Heslop-Harrison JS (1995) Centromeric repetitive DNA sequences in the genus Brassica. Theor Appl Genet 90:157–165

Haw SG, Liang S-Y (1986) The lilies of China: the genera Lilium, Cardiocrinum, Nomocharis and Notholirion. Timber Press, Portland

Heslop-Harrison J (1991) The molecular cytogenetics of plants. J Cell Sci 100:5–21

Holm PB (1976) The C and Q banding patterns of the chromosomes of Lilium longiflorum (Thunb.). Carlsberg Res Commun 41:217–224

Husband B (2004) Chromosomal variation in plant evolution. Bot Soc Am 91:621–625. doi:10.3732/ajb.91.4.621

Hwang Y-J, Kim HH, Kim J-B, Lim K-B (2011) Karyotype analysis of Lilium tigrinum by FISH. Hortic Environ Biotechnol 52:292–297

Jackson SA, Wang ML, Goodman HM, Jiang J (1998) Application of fiber-FISH in physical mapping of Arabidopsis thaliana. Genome 41:566–572

Jiang J, Gill BS (2006) Current status and the future of fluorescence in situ hybridization (FISH) in plant genome research. Genome 49:1057–1068

Kongsuwan K, Smyth D (1977) Q-bands in Lilium and their relationship to C-banded heterochromatin. Chromosoma 60:169–178

Lee TB (1989) Illustrated flora of Korea, Hyang Mun Sa, Seoul, Korea

Levan A (1935) Cytological studies in allium, VI the chromosome morphology of some diploid species of Allium. Hereditas 20:289–330

Levan A, Fredga K, Sandberg AA (1964) Nomenclature for centromeric position on chromosomes. Hereditas 52:201–220

Lighty R (1968) Evolutionary trends in lilies. Lily Yearbook RHS 31:40–44

Lighty R (1969) The lilies of Korea. Lily Yearbook RHS 31:31–39

Lim K-B, Wennekes J, Jong JHD, Jacobsen E, van Tuyl JM (2001) Karyotype analysis of Lilium longiflorum and Lilium rubellum by chromosome banding and fluorescence in situ hybridisation. Genome 44:911–918

Lin Y (2000). Flora reipublicae popularis sinicae. Tomus

Maggini F, Garbari F (1977) Amounts of ribosomal DNA in Allium (Liliaceae). Plant Syst Evol 128:201–208

Marasek A, Hasterok R, Wiejacha K, Orlikowska T (2004) Determination by GISH and FISH of hybrid status in Lilium. Hereditas 140:1–7

Schubert I, Wobus U (1985) In situ hybridization confirms jumping nucleolus organizing regions in Allium. Chromosoma 92:143–148

Smyth D, Kongsuwan K, Wisudharomn S (1989) A survey of C-band patterns in chromosomes of Lilium (Liliaceae). Plant Syst Evol 163:53–69

Stewart RN (1947) The morphology of somatic chromosomes in Lilium. Am J Bot 34:9–26

von Kalm L, Smyth D (1980) Silver staining test of nucleolar suppression in the Lilium hybrid 'Black Beauty'. Exp Cell Res 129:481–485

Vosa CG (1977) Heterochromatic patterns and species relationship [UK]. Nucleus 20:33–41

Wolters J, Erdmann VA (1988) Compilation of 5S rRNA and 5S rRNA gene sequences. Nucleic Acids Res 16:r1–r70

Xie S, Ramanna MS, Visser RGF, Arens P, van Tuyl JM (2013) Elucidation of intergenomic recombination and chromosome translocation: meiotic evidence from interspecific hybrids of Lilium through GISH analysis. Euphytica 194:361–370

Younis A, Ramzan F, Hwang Y-J, Lim K-B (2015) FISH and GISH: molecular cytogenetic tools and their applications in ornamental plants. Plant Cell Rep 34:1477–1488
Acknowledgements
This research was supported by Golden Seed Project (Center for Horticultural Seed Development, no. 213003-04-4-WTM11), Ministry of Agriculture, Food and Rural Affairs (MAFRA), Ministry of Oceans and Fisheries (MOF), Rural Development Administration (RDA) and Korea Forest Service (KFS). And this research was supported by the Basic Science Research Program through the National Research Foundation of Korea (NRF) funded by the Ministry of Education (Project no. NRF-2016R1D1A1B04932913).
Ethics declarations
Conflict of interest
The authors declare that they have no conflict of interest.
About this article
Cite this article
Ahn, YJ., Hwang, YJ., Younis, A. et al. Investigation of karyotypic composition and evolution in Lilium species belonging to the section martagon. Plant Biotechnol Rep 11, 407–416 (2017). https://doi.org/10.1007/s11816-017-0462-7
Received:

Accepted:

Published:

Issue Date:

DOI: https://doi.org/10.1007/s11816-017-0462-7
Keywords