Abstract
The root is the sole organ taking up water and nutrients from soils. Hence, root system architecture (RSA) is important for enhancing high-level and stable rice (Oryza sativa L.) production. However, the genetic improvement of RSA has received less attention than yield and yield components. Here, we aimed to identify and characterize quantitative trait loci (QTLs) for RSA by determining the maximum root length (MRL) of seedlings grown hydroponically under various concentrations of NH4 +. We used a total of 280 introgression lines (ILs) with an Indica-type variety IR64 genetic background, consisting of ten sibling ILs groups, to detect the QTLs. Greater variation of MRL was found in three sibling ILs groups. In total, five QTLs were detected by single marker analyses: two each on chromosomes 5 and 6 and one on chromosome 7. Among them, the most effective QTL was detected on a segment derived from IR69093-41-2-3-2 (YP5), which was localized to the long-arm of chromosome 6. The QTL, designated as qRL6.4-YP5, concerned in root elongation. MRL and total root length of a near-isogenic line (NIL) for qRL6.4-YP5 were significantly (15.2–24.6 %) higher than those of IR64 over a wide range of NH4 + concentrations. Root number and weight of the NIL were the same as those of IR64. These results indicated that qRL6.4-YP5 was a constitutive QTL for root length in response to change in nitrogen concentrations. To enhance yield potential by improving RSA, qRL6.4-YP5 might help to improve root development in rice molecular breeding programs with marker-assisted selection.
Access options
Buy single article
Instant access to the full article PDF.
US$ 39.95
Tax calculation will be finalised during checkout.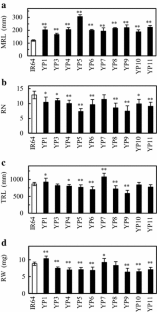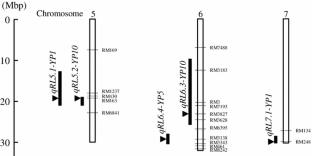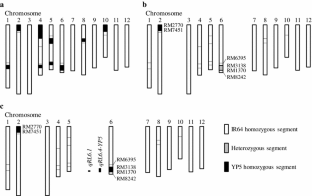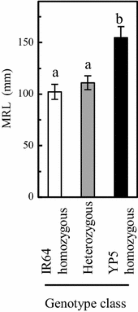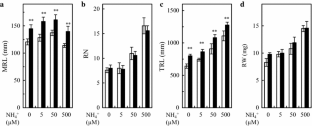 References
Ashikari M, Matsuoka M (2006) Identification, isolation and pyramiding of quantitative trait loci for rice breeding. Trends Plant Sci 11:344–350

Chloupek O, Forster BP, Thomas WTB (2006) The effect of semi-dwarf genes on root system size in field-grown barley. Theor Appl Genet 112:779–786

Collins NC, Tardieu F, Tuberosa R (2008) Quantitative trait loci and crop performance under abiotic stress: where do we stand? Plant Physiol 147:469–486

Courtois B, Ahmadi N, Khowaja F, Price AH, Rami JF, Frouin J, Hamelin C, Ruiz M (2009) Rice root genetic architecture: meta-analysis from a drought QTL database. Rice 2:115–128

de Dorlodot S, Forster B, Pagès L, Price A, Tuberosa R, Draye X (2007) Root system architecture: opportunities and constraints for genetic improvement of crops. Trends Plant Sci 12:474–481

Fujita D, Santos RE, Ebron LA, Telebanco-Yanoria MJ, Kato H, Kobayashi S, Uga Y, Araki E, Takai T, Tsunematsu H, Imbe T, Khush GS, Brar DS, Fukuta Y, Kobayashi N (2009) Development of introgression lines of an Indica-type rice variety, IR64, for unique agronomic traits and detection of the responsible chromosomal regions. Field Crop Res 114:244–254

Fujita D, Santos RE, Ebron LA, Telebanco-Yanoria MJ, Kato H, Kobayashi S, Uga Y, Araki E, Takai T, Tsunematsu H, Imbe T, Fukuta Y, Kobayashi N (2010) Development and characterization of introgression lines of an Indica-type rice variety, IR64, for unique agronomic traits. JIRCAS Work Rep 66:1–95

Fujita D, Trijatmiko KR, Tagle AG, Sapasap MV, Koide Y, Sasaki K, Tsakirpaloglou N, Gannaban RB, Nishimura T, Yanagihara S, Fukuta Y, Koshiba T, Slamet-Loedin IH, Ishimaru T, Kobayashi N (2013) NAL1 allele from a rice landrace greatly increases yield in modern indica cultivars. Proc Natl Acad Sci USA 110:20431–20436

Gamuyao R, Chin JH, Pariasca-Tanaka J, Pesaresi P, Catausan S, Dalid C, Slamet-Loedin I, Tecson-Mendoza EM, Wissuwa M, Heuer S (2012) The protein kinase Pstol1 from traditional rice confers tolerance of phosphorus deficiency. Nature 488:535–539

Gewin V (2010) An underground revolution. Nature 466:552–553

Guiderdoni E, Galinato E, Luistro J, Vergara G (1992) Anther culture of tropical japonica × indica hybrids of rice (Oryza sativa L.). Euphytica 62:219–224

Harushima Y, Yano M, Shomura A, Sato M, Shimano T, Kuboki Y, Yamamoto T, Lin SY, Antonio BA, Parco A, Kajiya H, Huang N, Yamamoto K, Nagamura Y, Kurata N, Khush GS, Sasaki T (1998) A high-density rice genetic linkage map with 2275 markers using a single F2 population. Genetics 148:479–494

Henry A, Cal AJ, Batoto TC, Torres RO, Serraj R (2012) Root attributes affecting water uptake of rice (Oryza sativa) under drought. J Exp Bot 63:4751–4763

Ikeda H, Kamoshita A, Manabe T (2007) Genetic analysis of rooting ability of transplanted rice (Oryza sativa L.) under different water conditions. J Exp Bot 58:309–318

Kano-Nakata M, Gowda VRP, Henry A, Serraj R, Inukai Y, Fujita D, Kobayashi N, Suralta RR, Yamauchi A (2013) Functional roles of the plasticity of root system development in biomass production and water uptake under rain fed lowland conditions. Field Crop Res 144:288–296

Kato Y, Henry A, Fujita D, Katsura K, Kobayashi N, Serraj R (2011) Physiological characterization of introgression lines derived from an indica rice cultivar, IR64, adapted to drought and water-saving irrigation. Field Crop Res 123:130–138

Khush GS (1987) Rice breeding: past, present and future. J Genet 66:195–216

Lynch J (1995) Root architecture and plant productivity. Plant Physiol 109:7–13

MacMillan K, Emrich K, Piepho HP, Mullins CE, Price AH (2006) Assessing the importance of genotype × environment interaction for root traits in rice using a mapping population II: conventional QTL analysis. Theor Appl Genet 113:953–964

McCouch SR, Teytelman L, Xu Y, Lobos KB, Clare K, Walton M, Fu B, Maghirang R, Li Z, Xing Y, Zhang Q, Kono I, Yano M, Fjellstrom R, DeClerck G, Schneider D, Cartinhour S, Ware D, Stein L (2002) Development and mapping of 2240 new SSR markers for rice (Oryza sativa L.). DNA Res 9:199–207

Nguyen BD, Brar DS, Bui BC, Nguyen TV, Pham LN, Nguyen HT (2003) Identification and mapping of the QTL for aluminum tolerance introgressed from the new source, Oryza rufipogon Griff., into indica rice (Oryza sativa L.). Theor Appl Genet 106:583–593

Noma T, Hirose D (2005) Effects of ammonium and nitrate nitrogen on the development of the rice root system. Jpn J Crop Sci 74:270–275

Obara M, Sato T, Sasaki S, Kashiba K, Nagano A, Nakamura I, Ebitani T, Yano M, Yamaya T (2004) Identification and characterization of a QTL on chromosome 2 for cytosolic glutamine synthetase content and panicle number in rice. Theor Appl Genet 110:1–11

Obara M, Tamura W, Ebitani T, Yano M, Sato T, Yamaya T (2010) Fine-mapping of qRL6.1, a major QTL for root length of rice seedlings grown under a wide range of NH4 + concentrations in hydroponic conditions. Theor Appl Genet 121:535–547

Obara M, Takeda T, Hayakawa T, Yamaya T (2011) Mapping quantitative trait loci controlling root length in rice seedlings grown with low or sufficient NH4 + supply using backcross recombinant lines derived from a cross between Oryza sativa L. and Oryza glaberrima Steud. Soil Sci Plant Nutr 57:80–92

Ogawa S, Selvaraj MG, Fernando AJ, Lorieux M, Ishitani M, McCouch S, Arbelaez JD (2014) N- and P-mediated seminal root elongation response in rice seedlings. Plant Soil 375:303–315

Price AH, Steele KA, Moore BJ, Jones RGW (2002) Upland rice grown in soil-filled chambers and exposed to contrasting water-deficit regimes II. Mapping quantitative trait loci for root morphology and distribution. Field Crop Res 76:25–43

Shimizu A, Kato K, Komatsu A, Motomura K, Ikehashi H (2008) Genetic analysis of root elongation induced by phosphorus deficiency in rice (Oryza sativa L.): fine QTL mapping and multivariate analysis of related traits. Theor Appl Genet 117:987–996

Tanaka S, Yamauchi A, Kono Y (1993) Response of the seminal root elongation to NH4—nitrogen in several rice cultivars. Jpn J Crop Sci 62:288–293 (in Japanese with English summary)

Tuberosa R, Sanguineti MC, Landi P, Giuliani MM, Salvi S, Conti S (2002) Identification of QTLs for root characteristics in maize grown in hydroponics and analysis of their overlap with QTLs for grain yield in the field at two water regimes. Plant Mol Biol 48:697–712

Uga Y, Okuno K, Yano M (2011) Dro1, a major QTL involved in deep rooting of rice under upland field conditions. J Exp Bot 62:2485–2494

Uga Y, Sugimoto K, Ogawa S, Rane J, Ishitani M, Hara N, Kitomi Y, Inukai Y, Ono K, Kanno N, Inoue H, Takehisa H, Motoyama R, Nagamura Y, Wu J, Matsumoto T, Takai T, Okuno K, Yano M (2013) Control of root system architecture by DEEPER ROOTING 1 increases rice yield under drought conditions. Nat Genet 45:1097–1102

Wang S, Basten CJ, Zeng ZB (2012) Windows QTL Cartographer 2.5. Department of Statistics, North Carolina State University, Raleigh, NC (http://statgen.ncsu.edu/qtlcart/WQTLCart.htm)

Wang H, Xu X, Zhan X, Zhai R, Wu W, Shen X, Dai G, Cao L, Cheng S (2013) Identification of qRL7, a major quantitative trait locus associated with rice root length in hydroponic conditions. Breed Sci 63:267–274

Wu JL, Wu C, Lei C, Baraoidan M, Bordeos A, Madamba MRS, Ramos-Pamplona M, Mauleon R, Portugal A, Ulat VJ, Bruskiewich R, Wang G, Leach J, Khush G, Leung H (2005) Chemical- and irradiation-induced mutants of indica rice IR64 for forward and reverse genetics. Plant Mol Biol 59:85–97

Yadav R, Courtois B, Huang N, McLaren G (1997) Mapping genes controlling root morphology and root distribution in a doubled-haploid population of rice. Theor Appl Genet 94:619–632

Yamaya T, Oaks A (2004) Metabolic regulation of ammonium uptake and assimilation. Nitrogen acquisition and assimilation in higher plants. Springer, Netherlands, pp 35–63

Zheng HG, Babu RC, Pathan MS, Ali L, Huang N, Courtois B, Nguyen HT (2000) Quantitative trait loci for root-penetration ability and root thickness in rice: comparison of genetic backgrounds. Genome 43:53–61
Acknowledgments
We thank an IRRI–Japan Collaborative Research Project supported by the Ministry of Foreign Affairs and the Ministry of Agriculture, Forestry, and Fisheries of Japan for providing genetic materials for this study.
About this article
Cite this article
Obara, M., Ishimaru, T., Abiko, T. et al. Identification and characterization of quantitative trait loci for root elongation by using introgression lines with genetic background of Indica-type rice variety IR64. Plant Biotechnol Rep 8, 267–277 (2014). https://doi.org/10.1007/s11816-014-0320-9
Received:

Accepted:

Published:

Issue Date:
Keywords
Nitrogen

QTL

Oryza sativa L.

Root length

RSA