Biological removal of selenate in saline wastewater by activated sludge under alternating anoxic/oxic conditions
Abstract
Selenium (Se)-containing industrial wastewater is often coupled with notable salinity. However, limited studies have examined biological treatment of Se-containing wastewater under high salinity conditions. In this study, a sequencing batch reactor (SBR) inoculated with activated sludge was applied to treat selenate in synthetic saline wastewater (3% w/v NaCl) supplemented with lactate as the carbon source. Start-up of the SBR was performed with addition of 1–5 mM of selenate under oxygen-limiting conditions, which succeeded in removing more than 99% of the soluble Se. Then, the treatment of 1 mM Se with cycle duration of 3 days was carried out under alternating anoxic/oxic conditions by adding aeration period after oxygen-limiting period. Although the SBR maintained soluble Se removal of above 97%, considerable amount of solid Se remained in the effluent as suspended solids and total Se removal fluctuated between about 40 and 80%. Surprisingly, the mass balance calculation found a considerable decrease of Se accumulated in the SBR when the aeration period was prolonged to 7 h, indicating very efficient Se biovolatilization. Furthermore, microbial community analysis suggested that various Se-reducing bacteria coordinately contributed to the removal of Se in the SBR and main contributors varied depending on the operational conditions. This study will offer implications for practical biological treatment of selenium in saline wastewater.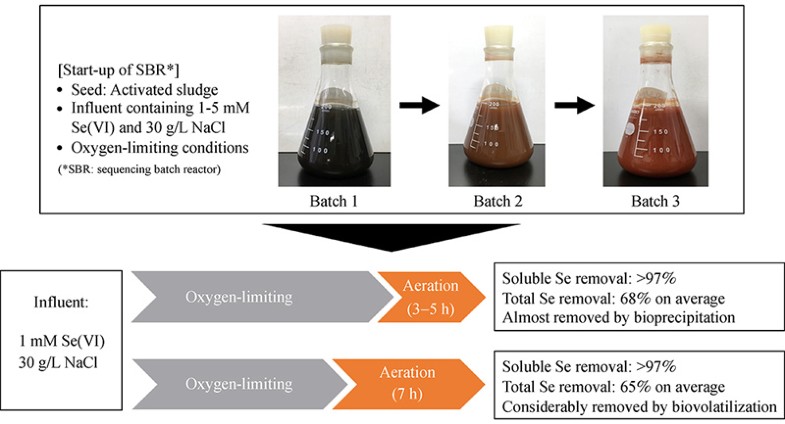 Keywords
Activated sludge 
Selenate reduction 
Saline wastewater 
Sequencing batch reactor 
Alternating anoxic/oxic conditions 
Selenium biovolatilization 
Notes
Acknowledgements
This work was partially supported by JSPS KAKENHI (Grant No. JP15K16145).
Copyright information
© Higher Education Press and Springer-Verlag GmbH Germany, part of Springer Nature 2019