Pollution characteristics of particulate matters emitted from outdoor barbecue cooking in urban Jinan in eastern China
Abstract
To understand the pollution characteristics of particulate matter emitted from outdoor barbecue cooking in eastern China, measurements of the PM2.5 mass concentration, the number concentration of particles with a diameter of 0.01 to 1.0 μm, and the particle size distribution from 0.3 to 25 μm were carried out at seven barbecue restaurants in urban Jinan. The average PM2.5 mass concentration and sub-micron particle number concentrations at a distance of 1 m from the grills were 250 to 1083 μg/m3 and 0.90 × 105 to 2.23 × 105 cm–3, respectively, which were much higher than those in the ambient air of the urban area. Compared to the ambient atmosphere, barbecue cooking emitted very high levels of particles with a larger increase in the concentrations of super-micron particles than that of sub-micron particles. The super-micron particle number concentrations at the barbecue restaurants were 10 to 100 times higher than those observed in the ambient urban atmosphere. The barbecue smoke had a significant effect on the particle concentrations in the surrounding region. Both mass and number concentrations of particles exhibited maximum values immediately near the barbecue grills and often reached a peak at a distance of 10 to 15 m. The removal efficiency of a range hood for the cooking particles was tested in an indoor kitchen. The range hood effectively cleaned the particulate matter pollution caused by cooking with a removal efficiency larger than 80%. Therefore, the use of a range hood is recommended for outdoor barbecue restaurants coupled with a smoke purifier to clean the emitted high concentrations of particles.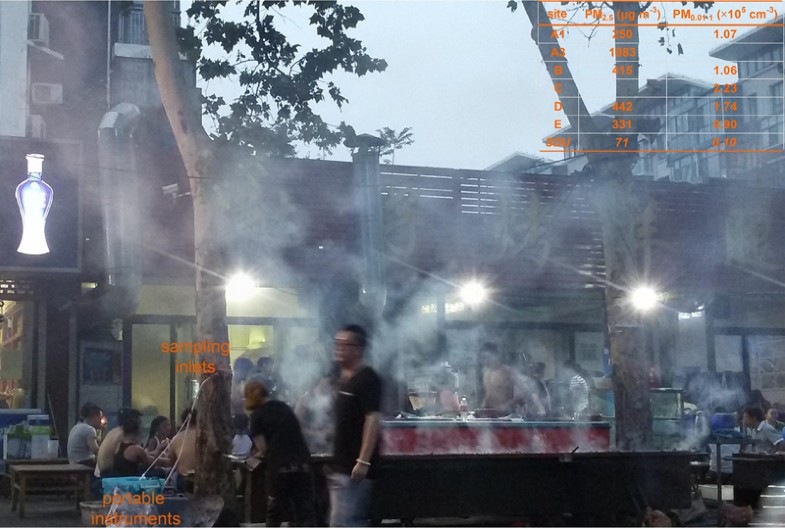 Keywords
Barbecue smoke 
Particulate matters 
Pollution characteristics 
Emissions 
Removal 
Notes
Acknowledgements
This work was supported by the National Natural Science Foundation of China (Grant Nos. 21407094 & 41775118), the Natural Science Foundation of Shandong Province (No. ZR2014BQ031), and the Postdoctoral Innovative Projects of Shandong Province (No. 201402023).
Copyright information
© Higher Education Press and Springer-Verlag GmbH Germany, part of Springer Nature 2018