A critical review on the recycling of copper and precious metals from waste printed circuit boards using hydrometallurgy
Part of the following topical collections:
Abstract
Currently, increasing amounts of end-of-life (EoL) electronic products are being generated due to their reduced life spans and the unavailability of suitable recycling technologies. In particular, waste printed circuit boards (PCBs) have become of global concern with regard to environmental issues because of their high metal and toxic material contents, which are pollutants. There are many environmental threats owed to the disposal of electronic waste; off-gasses, such as dioxins, furans, polybrominated organic pollutants, and polycyclic aromatic hydrocarbons, can be generated during thermal treatments, which can cause serious health problems if effective off-gas cleaning systems are not developed and improved. Moreover, heavy metals will dissolve, and release into the ground water from the landfill sites. Such waste PCBs contain precious metals which are of monetary value. Therefore, it is beneficial to recover the metal content and protect the environment from pollution. Hydrometallurgy is a successful technique used worldwide for the recovery of precious metals (especially gold and silver) from ores, concentrates, and waste materials. It is generally preferred over other methods because it can offer high recovery rates at a relatively low cost. This article reviews the recent trends and developments with regard to the recycling of precious metals from waste PCBs through hydrometallurgical techniques, such as leaching and recovery.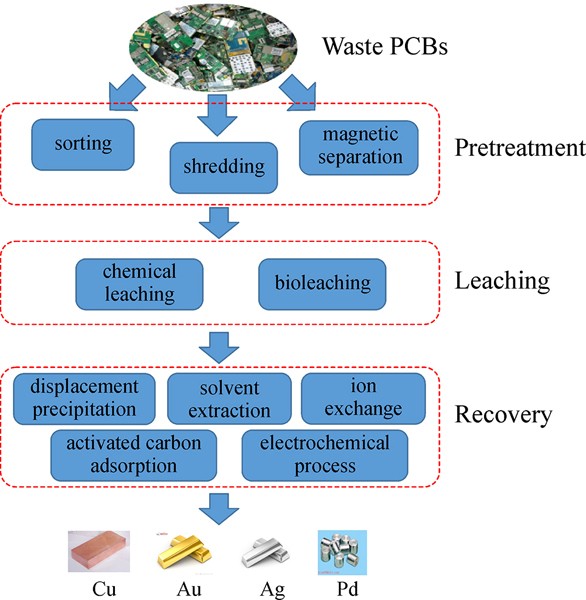 Keywords
Waste PCBs 
Precious metals 
Hydrometallurgy 
Recycling 
Leaching 
Recovery 
Notes
Acknowledgements
This research was financially supported, in part, by the National Natural Science Foundation of China (No. 21407105), Shanghai Municipal Natural Science Foundation (No. 14ZR1416700), SPU Graduate project fund (A01GY17F022), SPU Key Disciplines Subject (XXKZD1602) and Shanghai Cooperative Centre for WEEE Recycling (ZF1224).
Copyright information
© Higher Education Press and Springer-Verlag GmbH Germany, part of Springer Nature 2017