Advantages of intermittently aerated SBR over conventional SBR on nitrogen removal for the treatment of digested piggery wastewater
Part of the following topical collections:
Abstract
An intermittently aerated sequencing batch reactor (IASBR) and a traditional sequencing batch reactor (SBR) were parallelly constructed to treat digested piggery wastewater, which was in high NH 4 + -N concentration but in a low COD/TN ratio. Their pollutant removal performance was compared under COD/TN ratios of 1.6–3.4 d and hydraulic retention times of 5–3 d. The results showed that the IASBR removed TN, NH 4 + -N and TOC more efficiently than the SBR. The average removal rates of TN, NH 4 + -N and TOC were 83.1%, 96.5%, and 89.0%, respectively, in the IASBR, significantly higher than the corresponding values of 74.8%, 82.0%, and 86.2% in the SBR. Mass balance of organic carbon revealed that the higher TN removal in the IASBR might be attributed to its efficient utilization of the organic carbon for denitrification, since that 48.7%–52.2% of COD was used for denitrification in the IASBR, higher than the corresponding proportion of 43.1%–47.4% in the SBR. A pre-anoxic process in the IASBR would enhance the ammonium oxidation while restrict the nitrite oxidation. Anoxic duration of 40–80 min should be beneficial for achieving stable nitritation.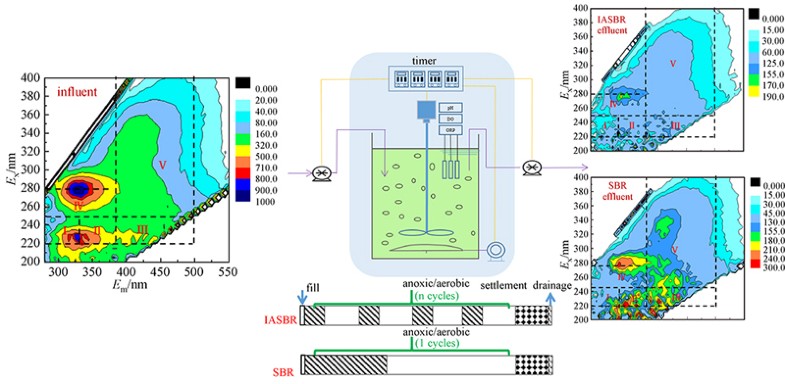 Keywords
Anoxic stress 
Carbon source 
Digested piggery wastewater 
Intermittently aerated SBR (IASBR) 
Total nitrogen 
Notes
Acknowledgements
This study was supported by Major Science and Technology Projects in Zhejiang (No. 2014C03022), MRC Cooperation Program with Mitsubishi Rayon, Science and Technology Program in Jiaxing (No. 2015AY23004) and Youth Fund of Yangtze Delta Region Institute of Tsinghua University-Zhejiang.
Copyright information
© Higher Education Press and Springer-Verlag Berlin Heidelberg 2017