Is sodium percarbonate a good choice in situ remediation of deltamethrin pollution?
Part of the following topical collections:
Abstract
In this research, the toxic effects of deltamethrin (DM) on the behavior responses of Zebra fish (Danio rerio) in the characteristic of behavior strength were investigated followed by an assessment of an in situ remediation of the DMpollution using sodium percarbonate. Behavior strength of Danio rerio was approximately 0.83 in the control group and was slightly higher than 0.83 in the sublethal treatment (0.1 TU (toxic unit)), which suggested that sublethal DMexposure could induce a stimulation effect in 48 h of exposure. In lower DM concentration treatments (0.5 and 1.0 TU), behavior strength could be inhibited significantly. Behavior responses of Danio rerio showed a gradually increased tendency when they were exposed to higher concentration of DM, and the declining amplitudes of behavior strength changed with the increase of DMconcentrations. These results suggested that DM had evident acute toxicity effects on the behavior responses of Danio rerio with a good dose-effect relationship. The in situ remediation of the DM pollution using sodium percarbonate showed that the toxic effect of DM on behavior responses of Danio rerio could be eliminated even in the highest concentration of DM (5.0 TU). Meanwhile, the behavior response of Danio rerio in the treatment of sodium percarbonate was the same as in the control, which indicated that sodium percarbonate had no evident toxic effects on the behavior of Danio rerio in the current concentration. This study suggested that adding sodium percarbonate in situ might be a good way to eliminate the DM toxic effects.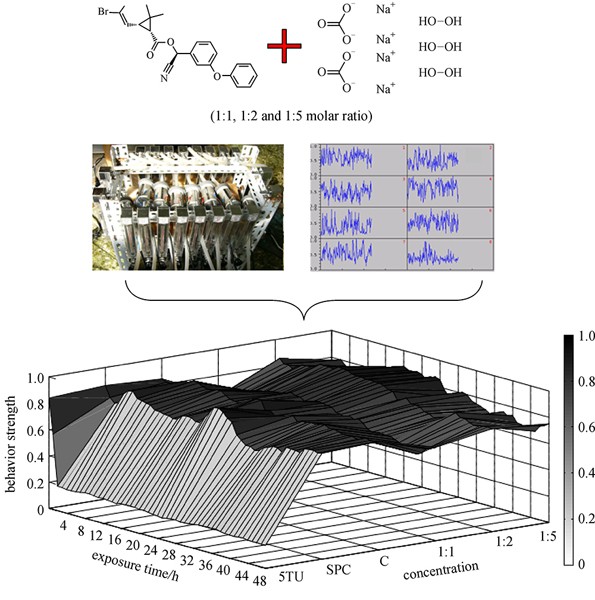 Keywords
Behavior strength 
Sublethal treatment 
Detoxification 
Accidental pollution 
Notes
Acknowledgements
This study was financially supported in part by the National Natural Science Foundation of China (Grant No. 21107135) and the Ji'nan High-level Talent Plan (No. 2013041). The authors thank Dr. Li Shu for proofreading the manuscript.
Copyright information
© Higher Education Press and Springer-Verlag Berlin Heidelberg 2017