Comparative experiment on treating digested piggery wastewater with a biofilm MBR and conventional MBR: simultaneous removal of nitrogen and antibiotics
Abstract
A biofilm membrane bioreactor (BF-MBR) and a conventional membrane bioreactor (MBR) were parallelly operated for treating digested piggery wastewater. The removal performance of COD, TN, NH4 +-N, TP as well as antibiotics were simultaneously studied when the hydraulic retention time (HRT) was gradually shortened from 9 d to 1 d and when the ratio of influent COD to TN was changed. The results showed that the effluent quality in both reactors was poor and unstable at an influent COD/TN ratio of 1.0±0.2. The effluent quality was significantly improved as the influent COD/TN ratio was increased to 2.3±0.5. The averaged removal rates of COD, NH4 +-N, TN and TP were 92.1%, 97.1%, 35.6% and 54.2%, respectively, in the BF-MBR, significantly higher than the corresponding values of 91.7%, 90.9%, 17.4% and 31.9% in the MBR. Analysis of 11 typical veterinary antibiotics (from the tetracycline, sulfonamide, quinolone, and macrolide families) revealed that the BF-MBR removed more antibiotics than the MBR. Although the antibiotics removal decreased with a shortened HRT, high antibiotics removals of 86.8%, 80.2% and 45.3% were observed in the BF-MBR at HRTof 5–4 d, 3–2 d and 1 d, respectively, while the corresponding values were only 83.8%, 57.0% and 25.5% in the MBR. Moreover, the BF-MBR showed a 15% higher retention rate of antibiotics and consumed 40% less alkalinity than the MBR. Results above suggest that the BF-MBR was more suitable for digested piggery wastewater treatment.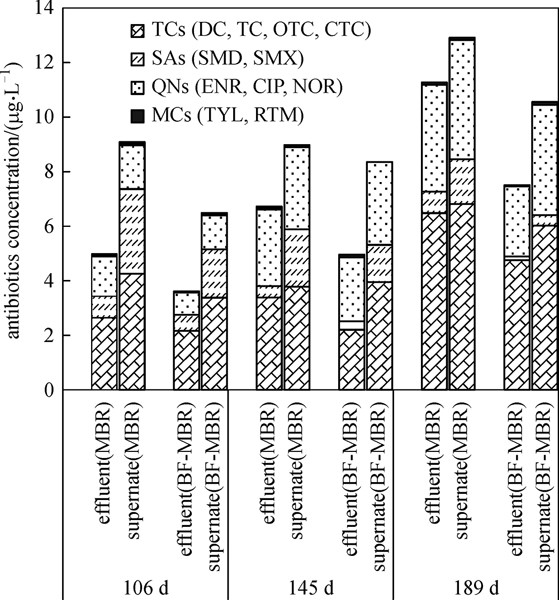 Keywords
Alkalinity 
Antibiotics 
Biofilm 
Digested piggery wastewater (DPW) 
Membrane bioreactor 
Notes
Acknowledgements
This study was supported by Major Science and Technology Projects in Zhejiang (No. 2014C03022), MRC Cooperation Program with Mitsubishi Rayon, Science and Technology Program in Jiaxing (No. 2015AY23004).
Copyright information
© Higher Education Press and Springer-Verlag Berlin Heidelberg 2017