Abstract
Background
Young adult cancer survivors are at risk for subsequent human papillomavirus (HPV)-related malignancies. High-risk sexual behavior increases risk for HPV acquisition; HPV vaccination protects against infection. We aimed to determine the prevalence of sexual behaviors, factors related to high-risk sexual behaviors, and the relationship between sexual behaviors and HPV vaccine non-initiation among survivors.
Methods
Survivors at comprehensive cancer centers, aged 18–26 years and 1–5 years post-treatment, reported sexual behaviors and HPV vaccine initiation (i.e., ≥ 1 dose). Multivariable logistic regression was performed to calculate odds ratios (OR) and 95% confidence intervals (95%CI) for factors associated with high-risk sexual behaviors (age at first intercourse < 16 years, ≥ 3 lifetime sexual partners, or condom use ≤ 50% of the time) and to explore the relationship between sexual behaviors and vaccine non-initiation.
Results
Of the 312 participants (48.1% female, median age at cancer diagnosis 17.2 years and at survey 20.9 years), sexual intercourse was reported by 63.1%. Of those reporting intercourse, 74.6% reported high-risk sexual behavior. Factors related to high-risk sexual behavior included currently dating/partnered (OR = 4.39, 95%CI 2.5–7.7, P < 0.001) and perceived susceptibility to HPV (OR = 1.76, 95%CI 1.3-2.5, P < 0.001). Most survivors (75.3%) reported HPV vaccine non-initiation; sexual behaviors were not associated with vaccine non-initiation (P = 0.4).
Conclusions
Many survivors participate in high-risk sexual behaviors, yet HPV vaccine initiation rates are low. Factors related to high-risk sexual behaviors can inform interventions to reduce risk for HPV acquisition among survivors.
Implications for Cancer Survivors
Cancer survivors participate in sexual behaviors that increase risk for HPV acquisition and would benefit from vaccination.
Access options
Buy single article
Instant access to the full article PDF.
US$ 39.95
Tax calculation will be finalised during checkout.
Subscribe to journal
Immediate online access to all issues from 2019. Subscription will auto renew annually.
US$ 79
Tax calculation will be finalised during checkout.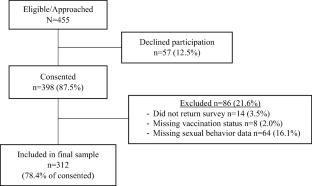 References
1.

Walboomers JM, Jacobs MV, Manos MM, et al. Human papillomavirus is a necessary cause of invasive cervical cancer worldwide. J Pathol. 1999;189:12–9.

2.

Viens LJ, Henley SJ, Watson M, Markowitz LE, Thomas CC, Thompson TD, et al. Human papillomavirus-associated cancers - United States, 2008-2012. MMWR Morb Mortal Wkly Rep. 2016;65:661–6.

3.

Lewis RM, Markowitz LE, Gargano JW, Steinau M, Unger ER. Prevalence of genital human papillomavirus among sexually experienced males and females aged 14-59 years, United States, 2013-2014. J Infect Dis. 2018;217:869–77.

4.

Miller KD, Nogueira L, Mariotto AB, et al. Cancer treatment and survivorship statistics, 2019. CA Cancer J Clin. 2019;69:363–85.

5.

Bhatia S, Louie AD, Bhatia R, O'Donnell MR, Fung H, Kashyap A, et al. Solid cancers after bone marrow transplantation. J Clin Oncol. 2001;19:464–71.

6.

Ojha RP, Tota JE, Offutt-Powell TN, Klosky JL, Minniear TD, Jackson BE, et al. Human papillomavirus-associated subsequent malignancies among long-term survivors of pediatric and young adult cancers. PLoS One. 2013;8:e70349.

7.

Leigh IM, Buchanan JA, Harwood CA, et al. Role of human papillomaviruses in cutaneous and oral manifestations of immunosuppression. J Acquir Immune Defic Syndr. 1999;21(Suppl 1):S49–57.

8.

Petry KU, Scheffel D, Bode U, Gabrysiak T, Köchel H, Kupsch E, et al. Cellular immunodeficiency enhances the progression of human papillomavirus-associated cervical lesions. Int J Cancer. 1994;57:836–40.

9.

Pierce Campbell CM, Lin HY, Fulp W, Papenfuss MR, Salmerón JJ, Quiterio MM, et al. Consistent condom use reduces the genital human papillomavirus burden among high-risk men: the HPV infection in men study. J Infect Dis. 2013;208:373–84.

10.

Panatto D, Amicizia D, Trucchi C, Casabona F, Lai PL, Bonanni P, et al. Sexual behaviour and risk factors for the acquisition of human papillomavirus infections in young people in Italy: suggestions for future vaccination policies. BMC Public Health. 2012;12:623.

11.

Remschmidt C, Fesenfeld M, Kaufmann AM, Deleré Y. Sexual behavior and factors associated with young age at first intercourse and HPV vaccine uptake among young women in Germany: implications for HPV vaccination policies. BMC Public Health. 2014;14:1248.

12.

Frederick NN, Recklitis CJ, Blackmon JE, Bober S. Sexual dysfunction in young adult survivors of childhood cancer. Pediatr Blood Cancer. 2016;63:1622–8.

13.

Ford JS, Kawashima T, Whitton J, Leisenring W, Laverdière C, Stovall M, et al. Psychosexual functioning among adult female survivors of childhood cancer: a report from the childhood cancer survivor study. J Clin Oncol. 2014;32:3126–36.

14.

Klosky JL, Howell CR, Li Z, Foster RH, Mertens AC, Robison LL, et al. Risky health behavior among adolescents in the childhood cancer survivor study cohort. J Pediatr Psychol. 2012;37:634–46.

15.

Robertson EG, Sansom-Daly UM, Wakefield CE, Ellis SJ, McGill BC, Doolan EL, et al. Sexual and romantic relationships: experiences of adolescent and young adult cancer survivors. J Adolesc Young Adult Oncol. 2016;5:286–91.

16.

Centers for disease control and prevention: HPV cancers are preventable, 2019

17.

Klosky J, Hudson MM, Chen Y, et al. Human papillomavirus vaccination rates in young cancer survivors. J Clin Oncol. 2017;35:3582–90.

18.

Liddon NC, Leichliter JS, Markowitz LE. Human papillomavirus vaccine and sexual behavior among adolescent and young women. Am J Prev Med. 2012;42:44–52.

19.

Bednarczyk RA, Birkhead GS, Morse DL, Doleyres H, McNutt LA. Human papillomavirus vaccine uptake and barriers: association with perceived risk, actual risk and race/ethnicity among female students at a New York State university, 2010. Vaccine. 2011;29:3138–43.

20.

Bernat DH, Gerend MA, Chevallier K, Zimmerman MA, Bauermeister JA. Characteristics associated with initiation of the human papillomavirus vaccine among a national sample of male and female young adults. J Adolesc Health. 2013;53:630–6.

21.

Kazak AE, Hocking MC, Ittenbach RF, Meadows AT, Hobbie W, DeRosa BW, et al. A revision of the intensity of treatment rating scale: classifying the intensity of pediatric cancer treatment. Pediatr Blood Cancer. 2012;59:96–9.

22.

Cox DS, Cox AD, Sturm L, Zimet G. Behavioral interventions to increase HPV vaccination acceptability among mothers of young girls. Health Psychol. 2010;29:29–39.

23.

Brabin L, Roberts SA, Farzaneh F, et al. Future acceptance of adolescent human papillomavirus vaccination: a survey of parental attitudes. Vaccine. 2006;24:3087–94.

24.

Klosky J, Russell KM, Canavera KE, et al. Risk factors for non-initiation of the human papillomavirus vaccine among adolescent survivors of childhood cancer. Cancer Prev Res. 2013;6:1101–10.

25.

Miller KS, Kotchick BA, Dorsey S, et al. Family communication about sex: what are parents saying and are their adolescents listening? Fam Plan Perspect. 1998;30:218–22, 235.

26.

Abma JC, Martinez GM. Sexual activity and contraceptive use among teenagers in the United States, 2011-2015. Natl Health Stat Rep. 2017;104:1–23.

27.

Petersen JL, Hyde JS. Gender differences in sexual attitudes and behaviors: a review of meta-analytic results and large datasets. J Sex Res. 2011;48:149–65.

28.

Copen CE. Condom use during sexual intercourse among women and men aged 15-44 in the United States: 2011-2015 National Survey of Family Growth. Natl Health Stat Rep. 2017;105:1–18.

29.

National Center for Health Statistics: Key statistics from the national survey of family growth, Center for Disease Control and Prevention, 2017

30.

Matser A, Heiligenberg M, Geskus R, Heijman T, Low N, Kretzschmar M, et al. The importance of partnership factors and individual factors associated with absent or inconsistent condom use in heterosexuals: a cross-sectional study. Sex Transm Infect. 2014;90:325–31.

31.

Roberts ME, Gerrard M, Reimer R, Gibbons FX. Mother-daughter communication and human papillomavirus vaccine uptake by college students. Pediatrics. 2010;125:982–9.

32.

McBride ML, Lorenzi MF, Page J, Broemeling AM, Spinelli JJ, Goddard K, et al. Patterns of physician follow-up among young cancer survivors: report of the Childhood, Adolescent, and Young Adult Cancer Survivors (CAYACS) research program. Can Fam Physician. 2011;57:e482–90.

33.

Frederick NN, Revette A, Michaud A, Bober SL. A qualitative study of sexual and reproductive health communication with adolescent and young adult oncology patients. Pediatr Blood Cancer. 2019;66:e27673.

34.

Copen CE, Chandra A, Febo-Vazquez I. Sexual behavior, sexual attraction, and sexual orientation among adults aged 18-44 in the United States: data from the 2011-2013 National Survey of Family Growth. Natl Health Stat Rep. 2016;88:1–14.

35.

Bober SL, Zhou ES, Chen B, Manley PE, Kenney LB, Recklitis CJ. Sexual function in childhood cancer survivors: a report from Project REACH. J Sex Med. 2013;10:2084–93.

36.

Thomas R, Higgins L, Ding L, Widdice LE, Chandler E, Kahn JA. Factors associated with HPV vaccine initiation, vaccine completion, and accuracy of self-reported vaccination status among 13- to 26-year-old men. Am J Mens Health. 2018;12:819–27.

37.

Oliveira CR, Avni-Singer L, Badaro G, Sullivan EL, Sheth SS, Shapiro ED, et al. Feasibility and accuracy of a computer-assisted self-interviewing instrument to ascertain prior immunization with human papillomavirus vaccine by self-report: cross-sectional analysis. JMIR Med Inform. 2020;8:e16487.

38.

Rolnick SJ, Parker ED, Nordin JD, Hedblom BD, Wei F, Kerby T, et al. Self-report compared to electronic medical record across eight adult vaccines: do results vary by demographic factors? Vaccine. 2013;31:3928–35.
Funding
This work was supported by the National Cancer Institute (R01CA166559—MPIs-Landier & Klosky) and supported in part by the Investigator-Initiated Studies Program of Merck Sharp & Dohme Corp (MISP #40083; PI-Landier), and the American Lebanese Syrian Associated Charities (ALSAC) support of the Consortium for Pediatric Intervention Research. Dr. Cherven received support from the Robert Wood Johnson Future of Nursing Scholars (RWJF 72509) program and the American Cancer Society Doctoral Scholarship in Cancer Nursing (17-078-01-SCN). The opinions expressed in this paper are those of the authors and do not necessarily represent those of the study sponsors.
Ethics declarations
Ethics approval
The study was approved by the Institutional Review Board at the study coordinating center (University of Alabama at Birmingham) and at each participating site (City of Hope, St. Jude Children's Research Hospital, University of Michigan, and Emory University/Children's Healthcare of Atlanta). The study was performed in line with the principles of the Declaration of Helsinki. Young adult participants provided written informed consent in their preferred language.
Conflict of interest
The authors declare no competing interests.
Additional information
Publisher's note
Springer Nature remains neutral with regard to jurisdictional claims in published maps and institutional affiliations.
Supplementary Information
About this article
Cite this article
Cherven, B., Klosky, J.L., Chen, Y. et al. Sexual behaviors and human papillomavirus vaccine non-initiation among young adult cancer survivors. J Cancer Surviv (2021). https://doi.org/10.1007/s11764-021-01000-2
Received:

Accepted:

Published:
Keywords
Cancer survivor

Human papillomavirus

HPV vaccine

Sexual behavior