Abstract
Purpose
Breast cancer survivors represent a unique group of patients who need complex and continuous care after their cancer treatment. These patients often see several providers in various specialties. This study aimed to analyze how traditional Chinese medicine (TCM) integration within care networks of patients with breast cancer might be related to health care costs and patient outcomes under the National Health Insurance program in Taiwan.
Methods
We enrolled all patients who underwent definitive mastectomy for newly diagnosed breast cancer between 2007 and 2015. We analyzed the presence of TCM physicians and the patient-sharing relationship between TCM physicians and other physicians during the first year after mastectomy. The outcomes included all-cause mortality, avoidable hospitalization, and medical expenditures.
Results
There were 68,987 patients with breast cancer, with a median age of 53 years. After propensity score matching, patients whose TCM doctors had the highest connectedness with other physicians had the lowest odds of avoidable hospitalization (adjusted odds ratio 0.86; 95% confidence interval [CI], 0.78–0.96) and lowest hazard of mortality (adjusted hazard ratio, 0.82; 95% CI, 0.72–0.93), followed by those with TCM doctors with medium connectedness, then low connectedness, and lastly those patients with no TCM doctor in their care network.
Conclusions
A dose-response pattern was observed regarding the relationship between TCM doctor's connectedness with other physicians within a patient's care network and patient outcomes.
Implications for cancer survivors
The findings demonstrated that stronger connectedness between TCM and other physicians could help improve the health outcomes of breast cancer survivors.
Access options
Buy single article
Instant access to the full article PDF.
US$ 39.95
Tax calculation will be finalised during checkout.
Subscribe to journal
Immediate online access to all issues from 2019. Subscription will auto renew annually.
US$ 79
Tax calculation will be finalised during checkout.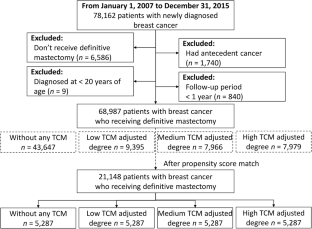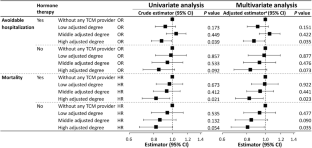 References
1.

Ghoncheh M, Pournamdar Z, Salehiniya H. Incidence and mortality and epidemiology of breast cancer in the world. Asian Pac J Cancer Prev. 2016;17(S3):43–6.

2.

Siegel RL, Miller KD, Jemal A. Cancer statistics, 2020. CA Cancer J Clin. 2020;70(1):7–30. https://doi.org/10.3322/caac.21590.

3.

American Cancer Society. Cancer facts & figures 2020. Atlanta: American Cancer Society; 2020.

4.

Health Promotion Administration, Ministry of Health and Welfare. Cancer registry annual report. Taiwan; 2016.

5.

Bodai BI, Tuso P. Breast cancer survivorship: a comprehensive review of long-term medical issues and lifestyle recommendations. Perm J. 2015;19(2):48–79. https://doi.org/10.7812/tpp/14-241.

6.

Wanchai A, Armer JM, Stewart BR. Complementary and alternative medicine use among women with breast cancer: a systematic review. Clin J Oncol Nurs. 2010;14(4):E45–55. https://doi.org/10.1188/10.cjon.e45-e55.

7.

Chen Z, Gu K, Zheng Y, Zheng W, Lu W, Shu XO. The use of complementary and alternative medicine among Chinese women with breast cancer. J Altern Complement Med. 2008;14(8):1049–55. https://doi.org/10.1089/acm.2008.0039.

8.

Fasching PA, Thiel F, Nicolaisen-Murmann K, Rauh C, Engel J, Lux MP, et al. Association of complementary methods with quality of life and life satisfaction in patients with gynecologic and breast malignancies. Support Care Cancer. 2007;15(11):1277–84. https://doi.org/10.1007/s00520-007-0231-1.

9.

Lee YW, Chen TL, Shih YR, Tsai CL, Chang CC, Liang HH, et al. Adjunctive traditional Chinese medicine therapy improves survival in patients with advanced breast cancer: a population-based study. Cancer. 2014;120(9):1338–44. https://doi.org/10.1002/cncr.28579.

10.

Porter D, Cochrane S, Zhu X. Current usage of traditional chinese medicine for breast cancer-a narrative approach to the experiences of women with breast cancer in australia-a pilot study. Medicines (Basel, Switzerland). 2017;4(2). https://doi.org/10.3390/medicines4020020.

11.

Adams M, Jewell AP. The use of Complementary and Alternative Medicine by cancer patients. Int Semin Surg Oncol. 2007;4:10. https://doi.org/10.1186/1477-7800-4-10.

12.

Kenyon M, Mayer DK, Owens AK. Late and long-term effects of breast cancer treatment and surveillance management for the general practitioner. J Obstet Gynecol Neonatal Nurs. 2014;43(3):382–98. https://doi.org/10.1111/1552-6909.12300.

13.

Grant M, Economou D, Ferrell B, Bhatia S. Preparing professional staff to care for cancer survivors. J Cancer Surviv. 2007;1(1):98–106. https://doi.org/10.1007/s11764-007-0008-z.

14.

Bickell NA, Young GJ. Coordination of care for early-stage breast cancer patients. J Gen Intern Med. 2001;16(11):737–42.

15.

Pollack CE, Lemke KW, Roberts E, Weiner JP. Patient sharing and quality of care: measuring outcomes of care coordination using claims data. Med Care. 2015;53(4):317–23. https://doi.org/10.1097/MLR.0000000000000319.

16.

Uddin S, Hossain L, Kelaher M. Effect of physician collaboration network on hospitalization cost and readmission rate. Eur J Pub Health. 2012;22(5):629–33. https://doi.org/10.1093/eurpub/ckr153.

17.

Uddin S, Hossain L, Hamra J, Alam A. A study of physician collaborations through social network and exponential random graph. BMC Health Serv Res. 2013;13:234. https://doi.org/10.1186/1472-6963-13-234.

18.

Hollingsworth JM, Funk RJ, Garrison SA, Owen-Smith J, Kaufman SA, Pagani FD, et al. Association between physician teamwork and health system outcomes after coronary artery bypass grafting. Circ Cardiovasc Qual Outcomes. 2016;9(6):641–8. https://doi.org/10.1161/circoutcomes.116.002714.

19.

Landon BE, Keating NL, Onnela JP, Zaslavsky AM, Christakis NA, O'Malley AJ. Patient-sharing networks of physicians and health care utilization and spending among medicare beneficiaries. JAMA Intern Med. 2018;178(1):66–73. https://doi.org/10.1001/jamainternmed.2017.5034.

20.

Pollack CE, Frick KD, Herbert RJ, Blackford AL, Neville BA, Wolff AC, et al. It's who you know: patient-sharing, quality, and costs of cancer survivorship care. J Cancer Surviv. 2014;8(2):156–66. https://doi.org/10.1007/s11764-014-0349-3.

21.

Hussain T, Chang HY, Veenstra CM, Pollack CE. Collaboration between surgeons and medical oncologists and outcomes for patients with stage iii colon cancer. J Oncol Pract. 2015;11(3):e388–97. https://doi.org/10.1200/jop.2014.003293.

22.

Lai JN, Wu CT, Wang JD. Prescription pattern of chinese herbal products for breast cancer in taiwan: a population-based study. Evid Based Complement Alternat Med. 2012;2012:891893–7. https://doi.org/10.1155/2012/891893.

23.

Hsieh CY, Su CC, Shao SC, Sung SF, Lin SJ, Kao Yang YH, et al. Taiwan's National Health Insurance Research Database: past and future. Clin Epidemiol. 2019;11:349–58. https://doi.org/10.2147/clep.s196293.

24.

Landon BE, Keating NL, Barnett ML, Onnela JP, Paul S, O'Malley AJ, et al. Variation in patient-sharing networks of physicians across the United States. Jama. 2012;308(3):265–73. https://doi.org/10.1001/jama.2012.7615.

25.

Breiger RL. The Duality of Persons and Groups. Soc Forces. 1974;53(2):181–90. https://doi.org/10.2307/2576011.

26.

Wasserman S, Faust K. Social network analysis: methods and applications. Structural Analysis in the Social Sciences. Cambridge: Cambridge University Press; 1994.

27.

Casalino LP, Pesko MF, Ryan AM, Nyweide DJ, Iwashyna TJ, Sun X, et al. Physician networks and ambulatory care-sensitive admissions. Med Care. 2015;53(6):534–41. https://doi.org/10.1097/mlr.0000000000000365.

28.

Agency for Health Care Research and Quality. Prevention quality indicators technical specifications - version 3.1. 2007 Available from URL: https://www.qualityindicators.ahrq.gov/Downloads/Modules/PQI/V31/pqi_technical_specs_v31.pdf. Accessed 3 Jun 2019.

29.

Konetzka RT, Jung DH, Gorges RJ, Sanghavi P. Outcomes of Medicaid home- and community-based long-term services relative to nursing home care among dual eligibles. Health Serv Res. 2020;55(6):973–82. https://doi.org/10.1111/1475-6773.13573.

30.

Rocha JVM, Nunes C, Santana R. Avoidable hospitalizations in Brazil and Portugal: identifying and comparing critical areas through spatial analysis. PLoS One. 2019;14(7):e0219262. https://doi.org/10.1371/journal.pone.0219262.

31.

D'Agostino RB Jr. Propensity score methods for bias reduction in the comparison of a treatment to a non-randomized control group. Stat Med. 1998;17(19):2265–81. https://doi.org/10.1002/(sici)1097-0258(19981015)17:19<2265::aid-sim918>3.0.co;2-b.

32.

Spreeuwenberg MD, Bartak A, Croon MA, Hagenaars JA, Busschbach JJ, Andrea H, et al. The multiple propensity score as control for bias in the comparison of more than two treatment arms: an introduction from a case study in mental health. Med Care. 2010;48(2):166–74. https://doi.org/10.1097/MLR.0b013e3181c1328f.

33.

Brookhart MA, Schneeweiss S, Rothman KJ, Glynn RJ, Avorn J, Stürmer T. Variable selection for propensity score models. Am J Epidemiol. 2006;163(12):1149–56. https://doi.org/10.1093/aje/kwj149.

34.

Mackey JR, Martin M, Pienkowski T, Rolski J, Guastalla JP, Sami A, et al. Adjuvant docetaxel, doxorubicin, and cyclophosphamide in node-positive breast cancer: 10-year follow-up of the phase 3 randomised BCIRG 001 trial. Lancet Oncol. 2013;14(1):72–80. https://doi.org/10.1016/s1470-2045(12)70525-9.

35.

Lu SY, Chen JJ, Pan JI, Fu ZX, Wu JL, Hsieh TC. The association between different patterns of traditional Chinese medicine treatment and all-cause mortality among cancer patients. Integr Cancer Ther. 2019;18:1534735418823273. https://doi.org/10.1177/1534735418823273.

36.

Sun X, Zhang X, Nian JY, Guo J, Yin Y, Zhang GL, et al. Chinese herbal medicine as adjunctive therapy to chemotherapy for breast cancer: a systematic review and meta-analysis. Evid Based Complement Alternat Med. 2016;2016:3281968–19. https://doi.org/10.1155/2016/3281968.

37.

Mao D, Feng L, Huang S, Zhang S, Peng W, Zhang S. Meta-analysis of Xihuang pill efficacy when combined with chemotherapy for treatment of breast cancer. Evid Based Complement Alternat Med. 2019;2019:3502460–14. https://doi.org/10.1155/2019/3502460.

38.

Ma H, Carpenter CL, Sullivan-Halley J, Bernstein L. The roles of herbal remedies in survival and quality of life among long-term breast cancer survivors--results of a prospective study. BMC Cancer. 2011;11:222. https://doi.org/10.1186/1471-2407-11-222.

39.

Kuo YT, Chang TT, Muo CH, Wu MY, Sun MF, Yeh CC, et al. Use of complementary traditional chinese medicines by adult cancer patients in Taiwan: a nationwide population-based study. Integr Cancer Ther. 2018;17(2):531–41. https://doi.org/10.1177/1534735417716302.

40.

Wang W, Xu L, Shen C. Effects of traditional Chinese medicine in treatment of breast cancer patients after mastectomy: a meta-analysis. Cell Biochem Biophys. 2015;71(3):1299–306. https://doi.org/10.1007/s12013-014-0348-z.

41.

Wang S, Lin H, Cong W. Chinese medicines improve perimenopausal symptoms induced by surgery, chemoradiotherapy, or endocrine treatment for breast cancer. Front Pharmacol. 2019;10:174. https://doi.org/10.3389/fphar.2019.00174.

42.

Fasinu PS, Rapp GK. Herbal interaction with chemotherapeutic drugs-a focus on clinically significant findings. Front Oncol. 2019;9:1356. https://doi.org/10.3389/fonc.2019.01356.

43.

Cheng YY, Hsieh CH, Tsai TH. Concurrent administration of anticancer chemotherapy drug and herbal medicine on the perspective of pharmacokinetics. J Food Drug Anal. 2018;26(2 s):S88–s95. https://doi.org/10.1016/j.jfda.2018.01.003.

44.

Alsanad SM, Howard RL, Williamson EM. An assessment of the impact of herb-drug combinations used by cancer patients. BMC Complement Altern Med. 2016;16(1):393. https://doi.org/10.1186/s12906-016-1372-x.

45.

Block KI, Gyllenhaal C. Clinical corner: herb-drug interactions in cancer chemotherapy: theoretical concerns regarding drug metabolizing enzymes. Integr Cancer Ther. 2002;1(1):83–9. https://doi.org/10.1177/153473540200100118.

46.

Zaman K, Buclin T, Csajka C, Orcurto A, Rothuizen LE. Complementary medicine use during cancer treatment and potential herb-drug interactions from a cross-sectional study in an academic centre. Sci Rep. 2019;9:5078. https://doi.org/10.1038/s41598-019-41532-3.

47.

Barnett ML, Landon BE, O'Malley AJ, Keating NL, Christakis NA. Mapping physician networks with self-reported and administrative data. Health Serv Res. 2011;46(5):1592–609. https://doi.org/10.1111/j.1475-6773.2011.01262.x.
Funding
This study was supported by grants from the Ministry of Science and Technology (MOST 104-2314-B-010-007-MY3, MOST 107-2314-B-010-047-MY2, MOST 104-2314-B-075-085-MY2, MOST 105-2314-B-418-003-MY3, and MOST 109-2314-B-075-079-MY2). The study is based on data from the National Health Insurance Research Database, provided by the Health and Welfare Data Science Center, Ministry of Health and Welfare (HWDC, MOHW).
Ethics declarations
Conflict of interest
All authors declare no conflict of interest.
Ethical approval
Since the patients' identification has been encrypted, the Institutional Review Board of National Yang-Ming University issued a formal written waiver for the need for consent (No. YM103124FE).
Informed consent
For this type of study, formal consent is not required.
Additional information
Publisher's note
Springer Nature remains neutral with regard to jurisdictional claims in published maps and institutional affiliations.
Supplementary information
About this article
Cite this article
Yeh, CM., Chou, YJ., Lin, SK. et al. Patient-sharing relationship between Chinese medicine doctors and other physicians: costs and outcomes of breast cancer survivorship care. J Cancer Surviv (2021). https://doi.org/10.1007/s11764-020-00985-6
Received:

Accepted:

Published:
Keywords
Breast cancer survivors

Traditional Chinese medicine

Care network

Social network analysis

Avoidable hospitalization