Abstract
Purpose
Long-term cancer survivors (LTCS) are a vulnerable and continued growing population. To date, only few studies have been conducted in the Spanish population; none of them with a comprehensive analysis of the most common problems identified for cancer survivors in order to improve their care and quality of life.
Methods
We conducted an observational descriptive study in 347 patients recruited between January 2015 and December 2016 from our newly created medical office for the specific care and follow-up of LTCS. Variables that describe the medical history were completed by the oncologist and measures on common problems previously reported for LTCS, related to cancer diagnosis and treatment, function, lifestyle, and emotional concerns, were collected from the patient.
Results
The mean age of our patients was 65.1 years at the time of the study and a median time without any antitumor treatment of 5.7 years. At the time of cancer diagnosis, 298 patients (85.9%) had at least one related chronic disease and 184 patients (53%) were retired. In addition, in 17.9% of those who continued working, income had been reduced. The incidence of health problems showed an increase during follow-up, even after 5 years, and required evaluation in an emergency department in 157 cases (45.3%). Regardless of age or sex, 239 patients (68.9%) had a significant decrease in sexual activity and 120 (34.6%) were diagnosed with clinical depression.
Conclusions
LTCS are patients with significantly high socioeconomic, labor, sexual, health, and psychological problems, 5 years after completion of cancer treatment, especially in older survivors.
Implications for Cancer Survivor
Common concerns of LTCS were identified and are consistent across many countries. It is important to realize that even 5 or so years following treatment, both medical and non-medical problems can exist and may need attention by an expert.
Access options
Buy single article
Instant access to the full article PDF.
US$ 39.95
Tax calculation will be finalised during checkout.
Subscribe to journal
Immediate online access to all issues from 2019. Subscription will auto renew annually.
US$ 79
Tax calculation will be finalised during checkout.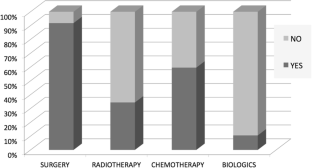 Abbreviations
CI:

Confidence interval

HADS:

Hospital Anxiety and Depression Scale

IQR:

Interquartile range

FIGO:

International Federation of Gynecology and Obstetrics

LTCS:

Long-term cancer survivor

REDECAN:

Spanish Network of Cancer Registries

SEOM:

Society of Medical Oncology

SF:

Short form

OR:

Odds ratio

VAS:

Visual analogue scale
References
1.

De Angelis R, Sant M, Coleman MP, EUROCARE 5 Working Group, et al. Cancer survival in Europe 1999-2007 by country and age: results of EUROCARE-5-a population based study. Lancet Oncol. 2014;15:23–34.

2.

Las Cifras del Cáncer en España 2016 [Internet]. Sociedad Española de Oncología Médica. Available at: http://www.seom.org. Last accessed 29 October 2018.

3.

Galceran J, Ameijide A. Carulla et al. REDECAN Working Group. Cancer incidence in Spain, 2015. Clin Transl Oncol. 2017 Jul;19(7):799–825.

4.

Cancer Treatment & Survivorship Facts & Figures 2016 [Internet]. American Cancer Society. Available at: http://www.cancer.org. Last accessed 4 March 2019.

5.

Brozos Vázquez E, Vázquez Rivera F, Cueva Bañuelos J, Barón Duarte FJ. Supervivientes al cáncer en España: Situación actual, Monográfico SEOM de largos supervivientes en cáncer [Internet]. Sociedad Española de Oncología Médica. Available at: http://www.seom.org. Last accessed 3 November 2020.

6.

Shakeel S, Tung J, Rahal R, Finley C. Evaluation of factors associated with unmet needs in adult cancer survivors in Canada. JAMA Netw Open. 2020;3(3):e200506.

7.

Nelson MB, Meeske K. Recognizing health risk in childhood cancers survivors. J Am Acad Nurse Pract. 2005;17:96–103.

8.

Reulen RC, Winter DL, Lancashire ER, Zeegers MP, Jenney ME, Walters SJ, et al. Health-status of adult survivors of childhood cancer: a large-scale population-based study from the British Childhood Cancer Survivor Study. Int J Cancer. 2007;121(3):633–40.

9.

Bouhnik AD, Bendiane MK, Cortaredona S, et al. The labour market, psychosocial outcomes and health conditions in cancer survivors: protocol for a nationwide longitudinal survey 2 and 5 years after cancer diagnosis (the VICAN survey). BMJ Open. 2015;5:3.

10.

Ben Charif A, Bouhnik AD, Courbière B, Rey D, Préau M, Bendiane MK, et al. Sexual health problems in French cancer survivors 2 years after diagnosis-the national VICAN survey. J Cancer Surviv. 2016;10(3):600–9.

11.

Rowland JH, Kent EE, Forsythe LP, et al. Cancer survivorship research in Europe and the United States: where have we been, where are we going, and what can we learn from each other? Cancer. 2013;119(Suppl 11(011)):2094–108.

12.

Truant TL, Fitch MI, O'Leary C, Stewart J. Global perspectives on cancer survivorship: from lost in transition to leading into the future. Can Oncol Nurs J. 2017;27(3):287–94.

13.

Maddison AR, Asada Y, Urquhart R. Inequity in access to cancer care: a review of the Canadian literature. Cancer Causes Control. 2011;22(3):359–66.

14.

Zhao Y, Brettle A, Qiu L. The effectiveness of shared care in cancer survivors-a systematic review. Int J Integr Care. 2018;18(4):2.

15.

Lagergren P, Schandl A, Aaronson NK, Adami HO, Lorenzo F, Denis L, et al. Cancer survivorship: an integral part of Europe's research agenda. Mol Oncol. 2019;13(3):624–35.

16.

Halpern MT, McCabe MS, Burg MA. The cancer survivorship journey: models of care, disparities, barriers, and future directions. Am Soc Clin Oncol Educ Book. 2016;35:231–9.

17.

Brierley J, Gospodarowicz MK, Wittekind CH (Eds.). TNM classification of malignant tumours. 8th ed. Oxford; Hoboken: John Wiley & Sons, Inc.; 2017.

18.

Gotay CC, Pagano IS. Assessment of survivor concerns (ASC): a newly proposed brief questionnaire. Health Qual Life Outcomes. 2007;5:15.

19.

Ware JE, Sherbourne CD. The MOS 36-item short-form health survey (SF-36) (I). Conceptual framework and item selection. Med Care. 1992;30:473–83.

20.

Alonso J, Prieto L, Anto JM. La versión española del SF-36 Heatlh Survey (Cuestionario de Salud SF 36): un instrumento para la medida de los resultados clínicos. Med Clin. 1995;104:771–6.

21.

Bjelland I, Dahl AA, Haug TT, Neckelmann D. The validity of the Hospital Anxiety and Depression Scale. An updated literature review. J Psychosom Res. 2002 Feb;52(2):69–77.

22.

Quintana JM, Padierna A, Esteban C, Arostegui I, Bilbao A, Ruiz I. Evaluation of the psychometric characteristics of the Spanish version of the Hospital Anxiety and Depression Scale. Acta Psychiatr Scand. 2003 Mar;107(3):216–21.

23.

Khatcheressian JL, Hurley P, Bantug E, Esserman LJ, Grunfeld E, Halberg F, et al. Breast cancer follow-up and management after primary treatment: American Society of Clinical Oncology clinical practice guideline update. J Clin Oncol. 2013;31(7):961–5.

24.

Meyerhardt JA, Mangu PB, Flynn PJ, Korde L, Loprinzi CL, Minsky BD, et al. Follow-up care, surveillance protocol, and secondary prevention measures for survivors of colorectal cancer: American Society of Clinical Oncology Clinical Practice Guideline Endorsement. J Clin Oncol. 2013;31:4465–70.

25.

Kline RM, Arora NK, Bradley CJ, Brauer ER, Graves DL, Lunsford NB, et al. Long-term survivorship care after cancer treatment - summary of a 2017 National Cancer Policy Forum Workshop. J Natl Cancer Inst. 2018;110(12):1300–10.

26.

Mitchell AJ, Ferguson DW, Gill J, et al. Depression and anxiety in long-term cancer survivors compared with spouses and healthy controls: a systematic review and meta-analysis. Lancet Oncol. 2013;14(8):721–32.

27.

Gunnes MW, Lie RT, Bjørge T, Ghaderi S, Syse A, Ruud E, et al. Suicide and violent deaths in survivors of cancer in childhood, adolescence and young adulthood-a national cohort study. Int J Cancer. 2017 Feb;140(3):575–80.

28.

McDougall GJ Jr, Oliver JS, Scogin F. Memory and cancer: a review of the literature. Arch Psychiatr Nurs. 2014 Jun;28(3):180–6.

29.

Encuesta Nacional de Salud 2011-2012 [Internet]. Instituto Nacional de Estadística, España. Available at: http://www.ine.es. Last accessed 25 November 2018.

30.

Hudson MM, Tyc VL, Jayawardene DA, Gattuso J, Quargnenti A, Greenwald C, et al. Feasibility of implementing health promotion interventions to improve health-related quality of life. Int J Cancer Suppl. 1999;12:138–42.

31.

Nathan PC, Ford JS, Henderson TO, et al. Health behaviors, medical care, and interventions to promote healthy living in the Childhood Cancer Survivor Study cohort. J Clin Oncol. 2009;27(14):2363–73.

32.

Paul CL, Tzelepis F, Boyes AW, et al. Continued smoking after a cancer diagnosis: a longitudinal study of intentions and attempts to quit. J Cancer Surviv. 2019;13:687–94.

33.

Cortés-Ibáñez FO, Jaramillo-Calle DA, Vinke PC, et al. Comparison of health behaviours between cancer survivors and the general population: a cross-sectional analysis of the Lifelines cohort. J Cancer Surviv. 2020;14:377–85.

34.

Azrad M, Demark-Wahnefried W. The association between adiposity and breast cancer recurrence and survival: a review of the recent literature. Curr Nutr Rep. 2014;3(1):9–15.

35.

Shankar A, Prasad N, Roy S, et al. Sexual dysfunction in females after cancer treatment: an unresolved issue. Asian Pac J Cancer Prev. 2017 May;18(5):1177–82.

36.

Junuzovic D, Hasanbegovic M, Omerbegovic D. Erectile dysfunction as a complication after treatment of prostate cancer. Mater Soc. 2011;23(4):230–1.

37.

Bober SL, Michaud AL, Recklitis CJ. Finding sexual health aids after cancer: are cancer centers supporting survivors' needs? J Cancer Surviv. 2019;13:224–30.
Ethics declarations
Conflict of interest
The authors declare that they have no conflicts of interest.
Additional information
Publisher's note
Springer Nature remains neutral with regard to jurisdictional claims in published maps and institutional affiliations.
About this article
Cite this article
Gallego, A., Martínez, B., Ghanem, I. et al. Cancer survivors referred to a long-term survivorship outpatient service within academic medical oncology: descriptive study. J Cancer Surviv (2020). https://doi.org/10.1007/s11764-020-00973-w
Received:

Accepted:

Published:
Keywords
Long-term Cancer Survivor

Follow-up

Quality of life

Care plan