Abstract
Background
Patients diagnosed with cancer as adolescent and young adult (AYA) are at risk for a range of long-term psychosocial sequelae, which have been poorly studied. We sought to characterize the prevalence of cognitive dysfunction and psychological distress among long-term AYA cancer survivors.
Methods
Using data from the National Health Interview Survey between 2010 and 2018, multivariable logistic regression analyses defined the association between AYA cancer diagnosis and cognitive dysfunction and psychological distress, as defined by the 6-item Kessler Psychological Distress Scale. Among AYA cancer survivors, the association between psychological distress and cognitive dysfunction was assessed via multivariable logistic regression.
Results
Among 230,675 participants, 2646 (1.1%) were AYA cancer survivors diagnosed > 10 years prior to survey administration. Prior AYA cancer diagnosis was associated with greater odds of cognitive dysfunction (AOR 1.61, 95% CI 1.41–1.82; 27.8% vs. 16.4%) and psychological distress (AOR 1.60, 95% CI 1.41–1.83; 26.6 vs. 15.3%) as compared to individuals without a cancer history. Among survey participants reporting a cancer diagnosis, greater psychological distress was associated with greater odds of cognitive dysfunction (AOR 12.31, 95% CI 7.51–20.18 for severe psychological distress) and cognitive dysfunction was associated with having psychological distress (AOR 4.97, 95% CI 3.66–6.73).
Conclusion
Long-term survivors of AYA cancer have higher rates of cognitive dysfunction and psychological distress as compared to the general population. Additional services addressing psychosocial and neurocognitive issues should be integrated into standard AYA cancer survivorship care.
Implications for Cancer Survivors
Cancer survivors should be aware of self-reported high rates of long-term cognitive dysfunction and psychologic distress and actively seek out formal evaluation and services such as mental health counseling
Access options
Buy single article
Instant access to the full article PDF.
US$ 39.95
Tax calculation will be finalised during checkout.
Subscribe to journal
Immediate online access to all issues from 2019. Subscription will auto renew annually.
US$ 79
Tax calculation will be finalised during checkout.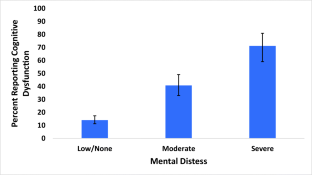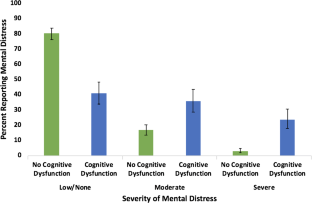 References
1.

LIVESTRONG Young Adult Alliance http://www.livestrong.org/What-We-Do/Our-Actions/Programs-Partnerships/LIVESTRONG-Young-Adult-Alliance. Accessed on October 23, 2018.

2.

Bleyer A, Viny A, Barr R. Introduction. In: Bleyer A, O'Leary M, Barr R, Ries, LAG editors. Cancer epidemiology in older adolescents and young adults 15 to 29 years of age, including SEER incidence and survival: 1975-2000. National Cancer Institute, NIH Pub. No. 06-5767. Bethesda: National Institutes of Health; 2006. p. 1.

3.

Furlong W, Rae C, Greenberg ML, Barr RD. Surveillance and survival among adolescents and young adults with cancer in Ontario, Canada. Int J Cancer. 2012;131(11):2660–7.

4.

Smith AW, Bellizzi KM, Keegan TH, et al. Health-related quality of life of adolescent and young adult patients with cancer in the United States: the Adolescent and Young Adult Health Outcomes and Patient Experience study. J Clin Oncol. 2013;31(17):2136–45.

5.

Kwak M, Zebrack BJ, Meeske KA, Embry L, Aguilar C, Block R, et al. Trajectories of psychological distress in adolescent and young adult patients with cancer: a 1-year longitudinal study. J Clin Oncol. 2013;31(17):2160–6.

6.

Zebrack BJ, Corbett V, Embry L, Aguilar C, Meeske KA, Hayes-Lattin B, et al. Psychological distress and unsatisfied need for psychosocial support in adolescent and young adult cancer patients during the first year following diagnosis. Psychooncology. 2014;23(11):1267–75.

7.

Jim HSL, Jennewein SL, Quinn GP, Reed DR, Small BJ. Cognition in adolescent and young adults diagnosed with cancer: an understudied problem. J Clin Oncol. 2018;36(27):2752–4.

8.

Lange M, Joly F, Vardy J, Ahles T, Dubois M, Tron L, et al. Cancer-related cognitive impairment: an update on state of the art, detection, and management strategies in cancer survivors. Ann Oncol. 2019;30(12):1925–40.

9.

Centers for Disease Control and Prevention. National Health Interview Survey: Methods. http://www.cdc.gov/nchs/nhis/methods.htm. Accessed July 1, 2018.

10.

Blewett LA, Rivera Drew JA, Griffin R, King ML, Williams KCW. IPUMS health surveys: national health interview survey, Version 6.3 [dataset]. Minneapolis, MN: IPUMS, 2018. 10.18128/D070.V6.3.

11.

Prochaska JJ, Sung HY, Max W, Shi Y, Ong M. Validity study of the K6 scale as a measure of moderate mental distress based on mental health treatment need and utilization. Int J Methods Psychiatr Res. 2012;21(2):88–97.

12.

Kessler RC, Barker PR, Colpe LJ, Epstein JF, Gfroerer JC, Hiripi E, et al. Screening for serious mental illness in the general population. Arch Gen Psychiatry. 2003;60(2):184–9.

13.

Hoffman KE, McCarthy EP, Recklitis CJ, Ng AK. Psychological distress in long-term survivors of adult-onset cancer: results from a national survey. Arch Intern Med. 2009;169(14):1274–81.

14.

Kaiser NC, Hartoonian N, Owen JE. Toward a cancer-specific model of psychological distress: population data from the 2003-2005 National Health Interview Surveys. J Cancer Surviv. 2010;4(4):291–302.

15.

Vigod SN, Kurdyak PA, Stewart DE, Gnam WH, Goering PN. Depressive symptoms as a determinant of breast and cervical cancer screening in women: a population-based study in Ontario, Canada. Arch Womens Ment Health. 2011;14(2):159–68.

16.

Weaver KE, Geiger AM, Lu L, Case LD. Rural-urban disparities in health status among US cancer survivors. Cancer. 2013;119(5):1050–7.

17.

Mitchell CM, Beals J. The utility of the Kessler Screening Scale for Psychological Distress (K6) in two American Indian communities. Psychol Assess. 2011;23(3):752–61.

18.

Green JG, Gruber MJ, Sampson NA, Zaslavsky AM, Kessler RC. Improving the K6 short scale to predict serious emotional disturbance in adolescents in the USA. Int J Methods Psychiatr Res. 2010;19(Suppl 1):23–35.

19.

Pirraglia PA, Hampton JM, Rosen AB, Witt WP. Psychological distress and trends in healthcare expenditures and outpatient healthcare. Am J Manag Care. 2011;17(5):319–28.

20.

Kessler RC, Andrews G, Colpe LJ, et al. Short screening scales to monitor population prevalences and trends in non-specific psychological distress. Psychol Med. 2002;32(6):959–76.

21.

Tai E, Buchanan N, Eliman D, Westervelt L, Beaupin L, Lawvere S, et al. Understanding and addressing the lack of clinical trial enrollment among adolescents with cancer. Pediatrics. 2014;133(Suppl 3):S98–S103.

22.

Barakat LP, Schwartz LA, Reilly A, Deatrick JA, Balis F. A qualitative study of phase III cancer clinical trial enrollment decision-making: perspectives from adolescents, young adults, caregivers, and providers. J Adolesc Young Adult Oncol. 2014;3(1):3–11.

23.

Sanford SD, Beaumont JL, Snyder MA, Reichek J, Salsman JM. Clinical research participation among adolescent and young adults at an NCI-designated Comprehensive Cancer Center and affiliated pediatric hospital. Support Care Cancer. 2017;25(5):1579–86.

24.

Zebrack B, Isaacson S. Psychosocial care of adolescent and young adult patients with cancer and survivors. J Clin Oncol. 2012;30(11):1221–6.

25.

Robison LL, Hudson MM. Survivors of childhood and adolescent cancer: life-long risks and responsibilities. Nat Rev Cancer. 2014;14(1):61–70.

26.

Zebrack BJ. Psychological, social, and behavioral issues for young adults with cancer. Cancer. 2011;117(10 Suppl):2289–94.

27.

Barnett M, McDonnell G, DeRosa A, Schuler T, Philip E, Peterson L, et al. Psychosocial outcomes and interventions among cancer survivors diagnosed during adolescence and young adulthood (AYA): a systematic review. J Cancer Surviv. 2016;10(5):814–31.

28.

Nass SJ, Beaupin LK, Demark-Wahnefried W, Fasciano K, Ganz PA, Hayes-Lattin B, et al. Identifying and addressing the needs of adolescents and young adults with cancer: summary of an Institute of Medicine workshop. Oncologist. 2015;20(2):186–95.

29.

Valkanova V, Ebmeier KP, Allan CL. Depression is linked to dementia in older adults. Practitioner. 2017;261(1800):11–5.
Funding
NNS reports funding from Dedman Family Scholars in Clinical Care.
Ethics declarations
Conflicts of interest
The authors declare that they have no conflict of interest.
Additional information
Publisher's note
Springer Nature remains neutral with regard to jurisdictional claims in published maps and institutional affiliations.
Supplementary Information
About this article
Cite this article
Dewar, E.O., Ahn, C., Eraj, S. et al. Psychological distress and cognition among long-term survivors of adolescent and young adult cancer in the USA. J Cancer Surviv (2021). https://doi.org/10.1007/s11764-020-00969-6
Received:

Accepted:

Published:
Keywords
Cancer Survivorship

psychological distress

cognitive dysfunction

adolescent and young adult cancer survivors