Abstract
Purpose
Racial/ethnic minorities experience greater job loss than whites during periods of economic downturn and after a cancer diagnosis. Therefore, race/ethnicity-matched controls are needed to distinguish the impact of illness on job loss from secular trends
Methods
Surveys were administered during and 4-month post-completion of breast cancer treatment. Patients were pre-diagnosis employed women aged 18–64, undergoing treatment for stage I–III breast cancers, who spoke English, Chinese, Korean, or Spanish. Each patient was asked to: (1) nominate peers who were surveyed in a corresponding timeframe (active controls), (2) report a friend's work status at baseline and follow-up (passive controls). Both types of controls were healthy, employed at baseline, and shared the nominating patient's race/ethnicity, language, and age. The primary outcome was number of evaluable patient-control pairs by type of control. A patient-control pair was evaluable if work status at follow-up was reported for both individuals.
Results
Of the 180 patients, 25% had evaluable active controls (45 patient-control pairs); 84% had evaluable passive controls (151 patient-control pairs). Although patients with controls differed from those without controls under each strategy, there was no difference in the percentage of controls who were working at follow-up (96% of active controls; 91% of passive controls). However, only 65% of patients were working at follow-up.
Conclusions
The majority of patients had evaluable passive controls. There was no significant difference in outcome between controls ascertained through either method
Implications for Cancer Survivors
Passive controls are a low-cost, higher-yield option to control for secular trends in racially/ethnically diverse samples.
Access options
Buy single article
Instant access to the full article PDF.
US$ 39.95
Tax calculation will be finalised during checkout.
Subscribe to journal
Immediate online access to all issues from 2019. Subscription will auto renew annually.
US$ 79
Tax calculation will be finalised during checkout.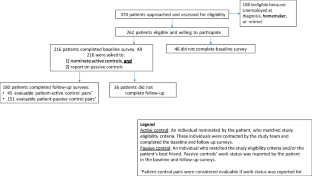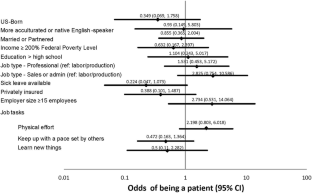 References
1.

Banegas MP, Guy GP Jr, de Moor JS, Ekwueme DU, Virgo KS, Kent EE, et al. For working-age cancer survivors, medical debt and bankruptcy create financial hardships. Health Aff (Millwood). 2016;35:54–61.

2.

Mujahid MS, Janz NK, Hawley ST, Griggs JJ, Hamilton AS, Graff J, et al. Racial/ethnic differences in job loss for women with breast cancer. J Cancer Surviv. 2011;5:102–11.

3.

Berry DL, Blonquist TM, Hong F, Halpenny B, Partridge AH. Self-reported adherence to oral cancer therapy: relationships with symptom distress, depression, and personal characteristics. Patient Prefer Adherence. 2015;9:1587–92.

4.

Ramsey SD, Bansal A, Fedorenko CR, Blough DK, Overstreet KA, Shankaran V, et al. Financial insolvency as a risk factor for early mortality among patients with cancer. J Clin Oncol. 2016;34:980–6.

5.

Monnat SM, Raffalovich LE, Tsao HS. Trends in the family income distribution by race/ethnicity and income source, 1988-2009. Popul Rev. 2012;51:85–115.

6.

Laird J. Public sector employment inequality in the United States and the great recession. Demography. 2017;54:391–411.

7.

BLS Reports. Labor force characteristics by race and ethnicity, 2014: United States Department of Labor, Bureau of Labor Statistics; 2015.

8.

Veenstra CM, Regenbogen SE, Hawley ST, Abrahamse P, Banerjee M, Morris AM. Association of paid sick leave with job retention and financial burden among working patients with colorectal cancer. JAMA. 2015;314:2688–90.

9.

Bradley CJ, Wilk A. Racial differences in quality of life and employment outcomes in insured women with breast cancer. J Cancer Surviv. 2014;8:49–59.

10.

Tevaarwerk AJ, Lee JW, Terhaar A, Sesto ME, Smith ML, Cleeland CS, et al. Working after a metastatic cancer diagnosis: factors affecting employment in the metastatic setting from ECOG-ACRIN's Symptom Outcomes and Practice Patterns study. Cancer. 2016;122:438–46.

11.

Blinder V, Patil S, Eberle C, Griggs J, Maly RC. Early predictors of not returning to work in low-income breast cancer survivors: a 5-year longitudinal study. Breast Cancer Res Treat. 2013;140:407–16.

12.

Blinder VS, Patil S, Thind A, Diamant A, Hudis CA, Basch E, et al. Return to work in low-income Latina and non-Latina white breast cancer survivors: a 3-year longitudinal study. Cancer. 2012;118:1664–74.

13.

Bradley CJ, Neumark D, Oberst K, Luo Z, Brennan S, Schenk M. Combining registry, primary, and secondary data sources to identify the impact of cancer on labor market outcomes. Med Decis Mak. 2005;25:534–47.

14.

de Boer A, Taskila T, Ojajärvi A, van Dijk F, JH V. Cancer survivors and unemployment: a meta-analysis and meta-regression. J Am Med Assoc. 2009;18:753–62.

15.

Chirikos TN, Russell-Jacobs A, Cantor AB. Indirect economic effects of long-term breast cancer survival. Cancer Pract. 2002;10:248–55.

16.

Broeckel JA, Jacobsen PB, Horton J, Balducci L, Lyman GH. Characteristics and correlates of fatigue after adjuvant chemotherapy for breast cancer. J Clin Oncol. 1998;16:1689–96.

17.

Paskett ED, Reeves KW, McLaughlin JM, et al. Recruitment of minority and underserved populations in the United States: the Centers for Population Health and Health Disparities experience. Contemp Clin Trials. 2008;29:847–61.

18.

Ford JG, Howerton MW, Lai GY, Gary TL, Bolen S, Gibbons MC, et al. Barriers to recruiting underrepresented populations to cancer clinical trials: a systematic review. Cancer. 2008;112:228–42.

19.

Ganz PA, Kwan L, Stanton AL, Bower JE, Belin TR. Physical and psychosocial recovery in the year after primary treatment of breast cancer. J Clin Oncol. 2011;29:1101–9.

20.

Eremenco SL, Cella D, Arnold BJ. A comprehensive method for the translation and cross-cultural validation of health status questionnaires. Eval Health Prof. 2005;28:212–32.

21.

Department of Health and Human Services, Office of the Assistant Secretary for Planning and Evaluation. U.S. federal poverty guidelines used to determine financial eligibility for certain federal programs. ASPE. https://aspe.hhs.gov/poverty-guidelines. Accessed March 23, 2017.

22.

Statistics UBoL. 2010 Standard Occupational Classification User Guide. Washington, DC: BLS; 2010.

23.

Health and Retirement Study. Produced and distributed by the University of Michigan with funding from the National Institute on Aging (grant number NIA U01AG009740). Ann Arbor, MI. 1992.

24.

Gustman AL, Mitchell OS, Steinmeier TL. Retirement measures in the health and retirement study. J Hum Resour. 1995;30:S57–83.

25.

Marin G, Sabogal F, Marin B, Otero-Sabogal R, Perez-Stable E. Development of a short acculturation scale for Hispanics. Hisp J Behav Sci. 1987;9:183–205.

26.

Copyright © [2002-2012] SAS Institute Inc. SAS and all other SAS Institute Inc. product or service names are registered trademarks or trademarks of SAS Institute Inc., Cary, NC, USA.

27.

Blinder V, Eberle C, Patil S, Gany FM, Bradley CJ. Women with breast cancer who work for accommodating employers more likely to retain jobs after treatment. Health Aff (Millwood). 2017;36:274–81.

28.

Bradley CJ, Neumark D, Luo Z, Schenk M. Employment and cancer: findings from a longitudinal study of breast and prostate cancer survivors. Cancer Investig. 2007;25:47–54.

29.

Ekwueme DU, Yabroff KR, Guy GP Jr, et al. Medical costs and productivity losses of cancer survivors--United States, 2008-2011. MMWR Morb Mortal Wkly Rep. 2014;63:505–10.

30.

Norredam M, Meara E, Landrum MB, Huskamp HA, Keating NL. Financial status, employment, and insurance among older cancer survivors. J Gen Intern Med. 2009;24(Suppl 2):S438–45.
Acknowledgments
Contributors: Karen Eisenberg, Dyanna Soto, Zhenlan Wang
Funding
This work was supported by the American Cancer Society (Grant No. MRSGT-11-002-01-CPHPS), the American Society of Clinical Oncology (a career development award), Supported by the Chanel Endowment for Survivorship Research at Memorial Sloan Kettering Cancer Center, and the Department of Health and Human Services (U54 CA137788), The CCNY/MSKCC Partnership for Cancer Research Training and Community Outreach; P30 CA 008748 Cancer Center Support Grant to Memorial Sloan Kettering Cancer Center), and National Institutes of Health/National Cancer Institute (awarded as R01 CA214785 and subsequently converted to an R37 CA214785 (MERIT Award)).
Ethics declarations
Conflict of interest
Victoria S. Blinder is a consultant for Workplace Transitions for People Touched by Cancer, which provides an online publicly available tool kit for employers seeking to accommodate cancer patients and their caregivers at work. Funding for the tool kit's development and evaluation (including salary support for Blinder) has been provided by the Anthem Foundation and Pfizer Oncology. All other authors declare no conflicts of interest.
Ethics approval
This study was performed in line with the principles of the Declaration of Helsinki. Approval was granted by the Institutional Review Boards at all recruitment sites.
Consent to participate
Informed consent was obtained from all individual participants included in the study.
Consent to publish
Patients signed informed consent regarding publishing their data.
Additional information
Publisher's note
Springer Nature remains neutral with regard to jurisdictional claims in published maps and institutional affiliations.
About this article
Cite this article
Blinder, V.S., Eberle, C.E., Tran, C. et al. Use of patient-reported controls for secular trends to study disparities in cancer-related job loss. J Cancer Surviv (2020). https://doi.org/10.1007/s11764-020-00960-1
Received:

Accepted:

Published:
Keywords
Disparities

Health economics

Health services research

Immigrant health

Measurement