Abstract
Purpose
The purpose of this study is to assess the prevalence, content, and nature of information and/or advice regarding physical activity and sedentary behaviour available online for cancer survivors.
Methods
A search strategy was designed to identify website links that were most likely to be accessed by cancer survivors, living in five English speaking nations, looking for information about maintaining and improving health after a cancer diagnosis. All content pertaining to physical activity and sedentary behaviour was extracted, and proportions of website links containing key information were calculated. Content analysis was performed on the data to describe the nature of information provided.
Results
Of the 394 website links reviewed, 73.4% contained information about physical activity; however, most websites did not detail recommendations, strategies and potential risks of engaging in physical activity. Less than 10% of the links reviewed contained information about sedentary behaviour. Results varied according to website and cancer type.
Conclusions
Although the importance of physical activity is frequently mentioned, online content on the subject lacks comprehensive, specific advice. Health advice online for cancer survivors regarding the importance of avoiding sedentary behaviour is scarce with little to no detail on how to achieve this.
Implication of cancer survivors
Until website conveners improve the comprehensiveness and specificity of the information they provide, cancer survivors may find it difficult to find, via the Internet, the advice required to properly guide and facilitate their safe participation in physical activity and avoidance of sedentary behaviour.
Access options
Buy single article
Instant access to the full article PDF.
US$ 39.95
Tax calculation will be finalised during checkout.
Subscribe to journal
Immediate online access to all issues from 2019. Subscription will auto renew annually.
US$ 79
Tax calculation will be finalised during checkout.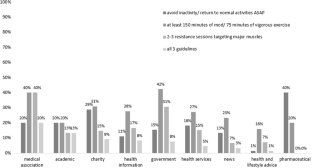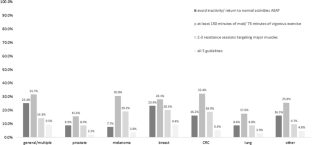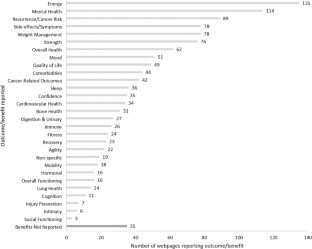 References
1.

World Health Organisation. Latest global cancer data: Cancer burden rises to 18.1 million new cases and 9.6 million cancer deaths in 2018. 2018;3.

2.

Caspersen CJ, Powell KE, Christenson GM. Physical activity, exercise, and physical fitness: definitions and distinctions for health-related research. Public Health Rep. 1985;100(2):126–31.

3.

Moore SC, Lee I-M, Weiderpass E, Campbell PT, Sampson JN, Kitahara CM, et al. Association of leisure-time physical activity with risk of 26 types of cancer in 1.44 million adults. JAMA Intern Med. 2016;176(6):816–25.

4.

Li T, Wei S, Shi Y, Pang S, Qin Q, Yin J, et al. The dose–response effect of physical activity on cancer mortality: findings from 71 prospective cohort studies. Br J Sports Med. 2016;50(6):339–45.

5.

Schmid D, Leitzmann MF. Association between physical activity and mortality among breast cancer and colorectal cancer survivors: a systematic review and meta-analysis. Ann Oncol. 2014;25(7):1293–311.

6.

Tremblay MS, Aubert S, Barnes JD, Saunders TJ, Carson V, Latimer-Cheung AE, et al. Sedentary behaviour research network (SBRN)–terminology consensus project process and outcome. Int J Behav Nutr Phys Act. 2017;14(1):75.

7.

Schmid D, Leitzmann MF. Television viewing and time spent sedentary in relation to cancer risk: a meta-analysis. J Natl Cancer Inst. 2014;106(7):dju098.

8.

Ekelund U, Brown WJ, Steene-Johannessen J, Fagerland MW, Owen N, Powell KE, et al. Do the associations of sedentary behaviour with cardiovascular disease mortality and cancer mortality differ by physical activity level? A systematic review and harmonised meta-analysis of data from 850 060 participants. Br J Sports Med. 2019;53(14):886–94.

9.

Ekelund U, Steene-Johannessen J, Brown WJ, Fagerland MW, Owen N, Powell KE, et al. Does physical activity attenuate, or even eliminate, the detrimental association of sitting time with mortality? A harmonised meta-analysis of data from more than 1 million men and women. Lancet. 2016;388(10051):1302–10.

10.

Lynch BM, Dunstan DW, Vallance JK, Owen N. Don't take cancer sitting down: a new survivorship research agenda. Cancer. 2013;119(11):1928–35.

11.

Gaskin CJ, Craike M, Mohebbi M, Salmon J, Courneya KS, Broadbent S, et al. Associations of objectively measured moderate-to-vigorous physical activity and sedentary behaviour with quality of life and psychological well-being in prostate cancer survivors. Cancer Causes Control. 2016;27(9):1093–103.

12.

Van Roekel EH, Winkler EA, Bours MJ, Lynch BM, Willems PJ, Meijer K, et al. Associations of sedentary time and patterns of sedentary time accumulation with health-related quality of life in colorectal cancer survivors. Prev Med Rep. 2016;4:262–9.

13.

Kerr J, Anderson C, Lippman SM. Physical activity, sedentary behaviour, diet, and cancer: an update and emerging new evidence. Lancet Oncol. 2017;18(8):e457–71.

14.

Cormie P, Atkinson M, Bucci L, Cust A, Eakin E, Hayes S, et al. Clinical oncology Society of Australia position statement on exercise in cancer care. Med J Aust. 2018;209(4):184–7.

15.

Campbell K, Winters-Stone K, Wiskemann J, May A, Schwartz A, Courneya K, et al. Exercise guidelines for cancer survivors: consensus statement from international multidisciplinary roundtable. Med Sci Sports Exerc. 2019 Nov;51(11):2375–90.

16.

Department of Health. Australia's Physical Activity and Sedentary Behaviour Guidelines [Internet]. Australian Government; Available from: http://www.health.gov.au/internet/main/publishing.nsf/Content/health-pubhlth-strateg-phys-act-guidelines. Accessed 1 Dec 2018.

17.

Fox MT, Sidani S, Brooks D, McCague H. Perceived acceptability and preferences for low-intensity early activity interventions of older hospitalized medical patients exposed to bed rest: a cross sectional study. BMC Geriatr. 2018;18(1):53.

18.

Fassier P, Zelek L, Partula V, Srour B, Bachmann P, Touillaud M, et al. Variations of physical activity and sedentary behaviour between before and after cancer diagnosis: results from the prospective population-based NutriNet-Sante cohort. Medicine (Baltimore). 2016;95(40).

19.

Smith WA, Nolan VG, Robison LL, Hudson MM, Ness KK. Physical activity among cancer survivors and those with no history of cancer—a report from the National Health and Nutrition Examination Survey 2003-2006. Am J Transl Res. 2011;3(4):342–50.

20.

Haase KR, Thomas RT, Gifford W, Holtslander LF. Ways of knowing on the internet: a qualitative review of cancer websites from a critical nursing perspective. Nurs Inq. 2018;25(3):e12230.

21.

Kristen H. Internet Cancer Information Use by Newly Diagnosed Individuals: A Mixed Methods Study of Interactions with Healthcare Professionals and the Health Care System [PhD Thesis]. Université d'Ottawa/University of Ottawa; 2018.

22.

Short CE, Gelder C, Binnewerg L, McIntosh M, Turnbull D. Examining the accessibility of high-quality physical activity behaviour change support freely available online for men with prostate cancer. J Cancer Surviv. 2018;12(1):10–7.

23.

Buote RD, Malone SD, Bélanger LJ, McGowan EL. Quality and accuracy of publicly accessible cancer-related physical activity information on the internet: a cross-sectional assessment. Eur J Cancer Care (Engl). 2016;25(5):795–805.

24.

What is Alexa [Internet]. (n.d.) Available from: Retrieved from https://blog.alexa.com/marketing-research/alexa-rank/. Accessed 1 Dec 2018.

25.

Rowe AK, March S, Crawford-Williams F, Dunn J Health management behaviours and information amongst rural cancer survivors. ASBHM 2019. Christchurch, New Zealand. 2019.

26.

Cocco AM, Zordan R, Taylor DM, Weiland TJ, Dilley SJ, Kant J, et al. Dr Google in the ED: searching for online health information by adult emergency department patients. Med J Aust. 2018;209(8):342–7.

27.

Petrescu P, Ghita M, Loiz D. Google Organic CTR Study 2014. Advanced Web Ranking 2015.

28.

Braun V, Clarke V. Using thematic analysis in psychology. Qual Res Psychol. 2006;3(2):77–101.

29.

Roberts K, Dowell A, Nie J-B. Attempting rigour and replicability in thematic analysis of qualitative research data; a case study of codebook development. BMC Med Res Methodol. 2019;19(1):66.

30.

MacQueen KM, McLellan E, Kay K, Milstein B. Codebook development for team-based qualitative analysis. CAM J. 1998;10(2):31–6.

31.

Devine T, Broderick J, Harris LM, Wu H, Hilfiker SW. Making quality health websites a national public health priority: toward quality standards. J Med Internet Res. 2016;18(8):e211.

32.

Eysenbach G, Powell J, Kuss O, Sa E-R. Empirical studies assessing the quality of health information for consumers on the world wide web: a systematic review. Jama. 2002;287(20):2691–700.

33.

Kim P, Eng TR, Deering MJ, Maxfield A. Published criteria for evaluating health related web sites. Bmj. 1999;318(7184):647–9.

34.

Zhang Y, Sun Y, Xie B. Quality of health information for consumers on the web: a systematic review of indicators, criteria, tools, and evaluation results. J Assoc Inf Sci Technol. 2015;66(10):2071–84.

35.

Flesch R. A new readability yardstick. J Appl Psychol. 1948;32(3):221–33.

36.

Our commitment to reliable health and medical information [Internet]. [cited 2019 Oct 4]. Available from: http://www.hon.ch/HONcode/Patients/Visitor/visitor.html. Accessed 1 Dec 2018.

37.

Tustin N. The role of patient satisfaction in online health information seeking. J Health Commun. 2010;15(1):3–17.

38.

De Backer IC, Vreugdenhil G, Nijziel MR, Kester AD, van Breda E, Schep G. Long-term follow-up after cancer rehabilitation using high-intensity resistance training: persistent improvement of physical performance and quality of life. Br J Cancer. 2008;99(1):30–6.

39.

Samdal GB, Eide GE, Barth T, Williams G, Meland E. Effective behaviour change techniques for physical activity and healthy eating in overweight and obese adults; systematic review and meta-regression analyses. Int J Behav Nutr Phys Act. 2017;14(1):42.

40.

Cradock KA, ÓLaighin G, Finucane FM, Gainforth HL, Quinlan LR, Ginis KAM. Behaviour change techniques targeting both diet and physical activity in type 2 diabetes: a systematic review and meta-analysis. Int J Behav Nutr Phys Act. 2017;14(1):18.

41.

Michie S, Richardson M, Johnston M, Abraham C, Francis J, Hardeman W, et al. The behaviour change technique taxonomy (v1) of 93 hierarchically clustered techniques: building an international consensus for the reporting of behaviour change interventions. Ann Behav Med. 2013;46(1):81–95.

42.

Schwitzer G, Mudur G, Henry D, Wilson A, Goozner M, Simbra M, et al. What are the roles and responsibilities of the media in disseminating health information? PLoS Med. 2005;2(7):e215.

43.

Meyerhardt JA, Giovannucci EL, Holmes MD, Chan AT, Chan JA, Colditz GA, et al. Physical activity and survival after colorectal cancer diagnosis. J Clin Oncol Off J Am Soc Clin Oncol. 2006;24(22):3527–34.

44.

Coups EJ, Park BJ, Feinstein MB, Steingart RM, Egleston BL, Wilson DJ, et al. Physical activity among lung cancer survivors: changes across the cancer trajectory and associations with quality of life. Cancer Epidemiol Biomark Prev. 2009;18(2):664–72.

45.

Coups EJ, Park BJ, Feinstein MB, Steingart RM, Egleston BL, Wilson DJ, et al. Correlates of physical activity among lung cancer survivors. Psychooncology. 2009;18(4):395–404.

46.

de Rezende LFM, Lopes MR, Rey-López JP, Matsudo VKR, Luiz Odo C. Sedentary Behaviour and health outcomes: an overview of systematic reviews. PLoS One. 2014;9(8):e105620.
Acknowledgements
We would like to thank Joshua Mario, Aleesha Heesemann, and Grant Taylor for their assistance with searching, screening, and data extraction.
Funding
This research was funded by the University of Southern Queensland.
Ethics declarations
Conflict of interest
The authors declare that they have no conflict of interest.
Ethical approval
This article does not contain any studies with human participants performed by any of the authors.
Additional information
Publisher's note
Springer Nature remains neutral with regard to jurisdictional claims in published maps and institutional affiliations.
Electronic supplementary material
About this article
Cite this article
Goodwin, B.C., Crawford-Williams, F., Castro, O. et al. Online physical activity and sedentary behaviour information for cancer survivors. J Cancer Surviv 14, 677–688 (2020). https://doi.org/10.1007/s11764-020-00881-z
Received:

Accepted:

Published:

Issue Date:
Keywords
Physical activity

Sedentary behaviour

Sitting

Internet

Review

Website information

Recommendations