Abstract
Purpose
The objectives of this study were to test the acceptability and feasibility of a survivorship needs assessment planning (SNAP) tool for head and neck cancer (HNC) survivors and caregivers, evaluate short-term changes in psychosocial outcomes after completing the SNAP session, and develop strategies for system refinement.
Methods
We used a prospective one-group design and mixed methods with HNC survivors and caregivers (N = 25 dyads). Participants completed baseline and 6-week surveys before and after completing a SNAP clinic visit to assess psychosocial outcomes and acceptability. Intervention sessions included tablet-based needs assessments driving tailored care plans. Dyads' open-ended feedback and clinician interviews (N = 12) evaluated acceptability and feasibility.
Results
SNAP data collection time burden and technology challenges were minimal, and care plans included messages (M = 19), educational materials (M = 13), and referrals (M = 4.5; 86% behavioral medicine, 77% nutrition, 65% physical therapy). Participants reported high satisfaction with the session and care plan, highlighting the key strengths of pulling complex medical information together and the focus on caregiver well-being, with multiple suggestions to facilitate clinic workflow. Depression and unmet needs decreased and survivorship knowledge increased significantly in survivors and caregivers (p < .05) over the 6-week period.
Conclusions
The SNAP tool is an innovative technology-based survivor-centered strategy to assess and manage needs in HNC survivors and caregivers. Results support its acceptability and ability to address dyads' needs; the tool merits further testing in a clinical trial.
Implications for Cancer Survivors
Technology-enabled care planning may be a productive way to assess and address HNC dyads' dynamic needs after treatment.
This is a preview of subscription content, log in to check access.
Access options
Buy single article
Instant access to the full article PDF.
US$ 39.95
Price includes VAT for USA
Subscribe to journal
Immediate online access to all issues from 2019. Subscription will auto renew annually.
US$ 99
This is the net price. Taxes to be calculated in checkout.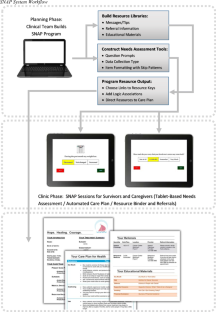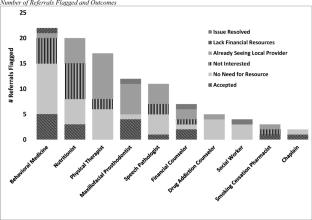 References
1.

Miller MC, Shuman AG, American H, Survivorship NSsCo. Survivorship in head and neck cancer: a primer. JAMA Otolaryngol Head Neck Surg. 2016;142(10):1002–8.

2.

Ringash J. Survivorship and quality of life in head and neck cancer. J Clin Oncol. 2015;33(29):3322–7.

3.

Longacre ML, Ridge JA, Burtness BA, Galloway TJ, Fang CY. Psychological functioning of caregivers for head and neck cancer patients. Oral Oncol. 2012;48(1):18–25.

4.

Penner JL, McClement S, Lobchuk M, Daeninck P. Family members' experiences caring for patients with advanced head and neck cancer receiving tube feeding: a descriptive phenomenological study. J Pain Symptom Manag. 2012;44(4):563–71.

5.

Sterba KR, Zapka J, Cranos C, Laursen A, Day T. Quality-of-life in head and neck cancer patient-caregiver dyads: a systematic review. Cancer Nurs. 2016;39(3):238–50.

6.

Birken SA, Ellis SD, Walker JS, DiMartino LD, Check DK, Gerstel AA, et al. Guidelines for the use of survivorship care plans: a systematic quality appraisal using the AGREE II instrument. Implement Sci. 2015;10:63.

7.

Mayer DK, Birken SA, Check DK, Chen RC. Summing it up: an integrative review of studies of cancer survivorship care plans (2006-2013). Cancer. 2015;121(7):978–96.

8.

Institute of Medicine. Implementing cancer survivorship care planning workshop summary. Washington, DC: The National Academies Press; 2007.

9.

Stricker CT, Jacobs LA, Palmer SC. Survivorship care plans: an argument for evidence over common sense. J Clin Oncol. 2012;30:1392–3.

10.

Ganz PA, Casillas J, Hahn EE. Ensuring quality care for cancer survivors: implementing the survivorship care plan. Semin Oncol Nurs. 2008;24(3):208–17.

11.

National Comprehensive Cancer Network practice guidelines in oncology: head and neck cancers V.1.2018. 2018; http://www.nccn.org/professionals/physician_gls/PDF/head-and-neck.pdf. Accessed 1/02/2018.

12.

Cohen EE, LaMonte SJ, Erb NL, Beckman KL, Sadeghi N, Hutcheson KA, et al. American Cancer Society head and neck cancer survivorship care guideline. CA Cancer J Clin. 2016;66(3):203–39.

13.

Nekhlyudov L, Lacchetti C, Davis NB, Garvey TQ, Goldstein DP, Nunnink JC, et al. Head and neck cancer survivorship care guideline: American Society of Clinical Oncology clinical practice guideline endorsement of the American Cancer Society guideline. J Clin Oncol. 2017;35(14):1606–21.

14.

Chen SC, Lai YH, Liao CT, Huang BS, Lin CY, Fan KH, et al. Unmet supportive care needs and characteristics of family caregivers of patients with oral cancer after surgery. Psychooncology. 2014;23(5):569–77.

15.

Basch E. Patient-reported outcomes - harnessing patients' voices to improve clinical care. N Engl J Med. 2017;376(2):105–8.

16.

Basch E, Deal AM, Kris MG, Scher HI, Hudis CA, Sabbatini P, et al. Symptom monitoring with patient-reported outcomes during routine cancer treatment: a randomized controlled trial. J Clin Oncol. 2016;34(6):557–65.

17.

Snyder CF, Aaronson NK, Choucair AK, Elliott TE, Greenhalgh J, Halyard MY, et al. Implementing patient-reported outcomes assessment in clinical practice: a review of the options and considerations. Qual Life Res. 2012;21(8):1305–14.

18.

de Bree R, Verdonck-de Leeuw IM, Keizer AL, Houffelaar A, Leemans CR. Touch screen computer-assisted health-related quality of life and distress data collection in head and neck cancer patients. Clin Otolaryngol. 2008;33(2):138–42.

19.

Sterba KR, Zapka J, LaPelle N, Garris TK, Buchanan A, Scallion M, et al. Development of a survivorship needs assessment planning tool for head and neck cancer survivors and their caregivers: a preliminary study. J Cancer Surviv. 2017;11(6):822–32.

20.

Murphy BA, Deng J. Advances in supportive care for late effects of head and neck cancer. J Clin Oncol. 2015;33(29):3314–21.

21.

Constantinescu G, Kuffel K, King B, Hodgetts W, Rieger J. Usability testing of an mHealth device for swallowing therapy in head and neck cancer survivors. Health Informatics J. 2018:1460458218766574.

22.

Constantinescu G, Loewen I, King B, Brodt C, Hodgetts W, Rieger J. Designing a mobile health app for patients with dysphagia following head and neck cancer: a qualitative study. JMIR Rehabil Assist Technol. 2017;4(1):e3.

23.

Sosa A, Heineman N, Thomas K, Tang K, Feinstein M, Martin MY, et al. Improving patient health engagement with mobile texting: a pilot study in the head and neck postoperative setting. Head Neck. 2017;39(5):988–95.

24.

Cnossen IC, van Uden-Kraan CF, Eerenstein SE, et al. An online self-care education program to support patients after total laryngectomy: feasibility and satisfaction. Support Care Cancer. 2016;24(3):1261–8.

25.

van den Brink JL, Moorman PW, de Boer MF, Hop WCJ, Pruyn JFA, Verwoerd CDA, et al. Impact on quality of life of a telemedicine system supporting head and neck cancer patients: a controlled trial during the postoperative period at home. J Am Med Inform Assoc. 2007;14(2):198–205.

26.

van den Brink JL, Moorman PW, de Boer MF, Pruyn JF, Verwoerd CD, van Bemmel JH. Involving the patient: a prospective study on use, appreciation and effectiveness of an information system in head and neck cancer care. Int J Med Inform. 2005;74(10):839–49.

27.

Slev VN, Mistiaen P, Pasman HR, Verdonck-de Leeuw IM, van Uden-Kraan CF, Francke AL. Effects of eHealth for patients and informal caregivers confronted with cancer: a meta-review. Int J Med Inform. 2016;87:54–67.

28.

Harris PA, Taylor R, Thielke R, Payne J, Gonzalez N, Conde JG. Research electronic data capture (REDCap)--a metadata-driven methodology and workflow process for providing translational research informatics support. J Biomed Inform. 2009;42(2):377–81.

29.

International Society for Quality of Life Research (prepared by Aaronson N, Elliott T, Greenhalgh J, Halyard M, Hess R, Miller D, Reeve B, Santana M, Snyder C). User's guide to implementing patient reported outcomes assessment in clinical practice version 2. 2015. 2015; http://www.isoqol.org/researchpublications/isoqol-publications. Accessed 1/10/2018.

30.

Hodgkinson K, Butow P, Hobbs KM, Hunt GE, Lo SK, Wain G. Assessing unmet supportive care needs in partners of cancer survivors: the development and evaluation of the Cancer Survivors' Partners unmet needs measure (CaSPUN). Psychooncology. 2007;16(9):805–13.

31.

Hodgkinson K, Butow P, Hunt GE, Pendlebury S, Hobbs KM, Lo SK, et al. The development and evaluation of a measure to assess cancer survivors' unmet supportive care needs: the CaSUN (Cancer Survivors' Unmet Needs measure). Psychooncology. 2007;16(9):796–804.

32.

Cleeland CS, Mendoza TR, Wang XS, Chou C, Harle MT, Morrissey M, et al. Assessing symptom distress in cancer patients: the M.D. Anderson Symptom Inventory. Cancer. 2000;89(7):1634–46.

33.

Rosenthal DI, Mendoza TR, Chambers MS, Asper JA, Gning I, Kies MS, et al. Measuring head and neck cancer symptom burden: the development and validation of the M. D. Anderson symptom inventory, head and neck module. Head Neck. 2007;29(10):923–31.

34.

Parry C, Beckjord E, Moser RP, Vieux SN, Padgett LS, Hesse BW. It takes a (virtual) village: crowdsourcing measurement consensus to advance survivorship care planning. Transl Behav Med. 2014;5(1):53–9.

35.

Parry C, Kent EE, Forsythe LP, Alfano CM, Rowland JH. Can't see the forest for the care plan: a call to revisit the context of care planning. J Clin Oncol. 2013;31(21):2651–3. https://doi.org/10.1200/JCO.2012.48.4618.

36.

Pilkonis PA, Choi SW, Reise SP, Stover AM, Riley WT, Cella D, et al. Item banks for measuring emotional distress from the Patient-Reported Outcomes Measurement Information System (PROMIS(R)): depression, anxiety, and anger. Assessment. 2011;18(3):263–83.

37.

Pilkonis PA, Yu L, Dodds NE, Johnston KL, Maihoefer CC, Lawrence SM. Validation of the depression item bank from the Patient-Reported Outcomes Measurement Information System (PROMIS) in a three-month observational study. J Psychiatr Res. 2014;56:112–9.

38.

Palmer SC, Stricker CT, DeMichele AM, et al. The use of a patient-reported outcome questionnaire to assess cancer survivorship concerns and psychosocial outcomes among recent survivors. Support Care Cancer. 2017;25(8):2405–12.

39.

Rocque GB, Wisinski KB, Buhr KA, Froeschner JL, Jones N, Donohue S, et al. Development and evaluation of a survey to assess survivor knowledge change after survivorship care plans: WiSDOM-B (Wisconsin Survey of cancer DiagnOsis and Management in Breast cancer). J Cancer Educ. 2014;29(2):270–7.

40.

Olagunju TOR, Liu Y, Liang LJ, et al. Disparities in the survivorship experience among Latina survivors of breast cancer. Cancer. 2018;124(11):2373–80.

41.

Bodenmann G. Dyadic coping - a systemic-transactional conceptualization of stress and coping among couples: theory and empirical findings. Eur Rev Appl Psychol. 1997;47:137–40.

42.

Bedard M, Molloy DW, Squire L, Dubois S, Lever JA, O'Donnell M. The Zarit Burden Interview: a new short version and screening version. Gerontologist. 2001;41(5):652–7.

43.

Office of Cancer Survivorship, National Cancer Institute. Follow-up care use among survivors (FOCUS) survey. http://cancercontrol.cancer.gov/ocs/focus.html. Accessed 09/01/17.

44.

Sterba KR, DeVellis RF, Lewis MA, Baucom DH, Jordan JM, DeVellis B. Developing and testing a measure of dyadic efficacy for married women with rheumatoid arthritis and their spouses. Arthritis Rheum. 2007;57(2):294–302.

45.

Abernethy AP, Ahmad A, Zafar SY, Wheeler JL, Reese JB, Lyerly HK. Electronic patient-reported data capture as a foundation of rapid learning cancer care. Med Care. 2010;48(6 Suppl):S32–8.

46.

Bantum EO, Albright CL, White KK, et al. Surviving and thriving with cancer using a web-based health behavior change intervention: randomized controlled trial. J Med Internet Res. 2014;16(2):e54.

47.

Vickers AJ, Salz T, Basch E, Cooperberg MR, Carroll PR, Tighe F, et al. Electronic patient self-assessment and management (SAM): a novel framework for cancer survivorship. BMC Med Inform Decis Mak. 2010;10:34.

48.

Revenson TA, Kayser K, Bodenmann G. Couples coping with stress: emerging perspectives on dyadic coping. Washington DC: American Psychological Association; 2005.

49.

Duman-Lubberding S, van Uden-Kraan CF, Jansen F, Witte BI, van der Velden LA, Lacko M, et al. Feasibility of an eHealth application "OncoKompas" to improve personalized survivorship cancer care. Support Care Cancer. 2016;24(5):2163–71.

50.

van der Hout A, van Uden-Kraan CF, Witte BI, et al. Efficacy, cost-utility and reach of an eHealth self-management application 'Oncokompas' that helps cancer survivors to obtain optimal supportive care: study protocol for a randomised controlled trial. Trials. 2017;18(1):228.

51.

Glasgow RE, Fisher L, Strycker LA, Hessler D, Toobert DJ, King DK, et al. Minimal intervention needed for change: definition, use, and value for improving health and health research. Transl Behav Med. 2014;4(1):26–33.

52.

Nguyen NA, Ringash J. Head and neck cancer survivorship care: a review of the current guidelines and remaining unmet needs. Curr Treat Options in Oncol. 2018;19(8):44.

53.

Ringash J, Bernstein LJ, Devins G, Dunphy C, Giuliani M, Martino R, et al. Head and neck cancer survivorship: learning the needs, meeting the needs. Semin Radiat Oncol. 2018;28(1):64–74.

54.

So WK, Chan RJ, Chan DN, et al. Quality-of-life among head and neck cancer survivors at one year after treatment--a systematic review. Eur J Cancer. 2012;48(15):2391–408.

55.

Jabbour J, Milross C, Sundaresan P, Ebrahimi A, Shepherd HL, Dhillon HM, et al. Education and support needs in patients with head and neck cancer: a multi-institutional survey. Cancer. 2017;123(11):1949–57.

56.

Jensen RE, Rothrock NE, DeWitt EM, et al. The role of technical advances in the adoption and integration of patient-reported outcomes in clinical care. Med Care. 2015;53(2):153–9.

57.

Wu AW, White SM, Blackford AL, et al. Improving an electronic system for measuring PROs in routine oncology practice. J Cancer Surviv. 2016;10(3):573–82.

58.

Grunfeld E, Earle CC. The interface between primary and oncology specialty care: treatment through survivorship. J Natl Cancer Inst Monogr. 2010;2010(40):25–30.

59.

Taplin SH, Rodgers AB. Toward improving the quality of cancer care: addressing the interfaces of primary and oncology-related subspecialty care. J Natl Cancer Inst Monogr. 2010;2010(40):3–10.

60.

Hewitt ME, Greenfield S, Stovall E. From cancer patient to cancer survivor: lost in translation. Washington DC: The National Academies Press; 2006.

61.

National Alliance of Caregiving, in partnershop with the National Cancer Institute and the Cancer Support Community. Cancer caregiving in the United States: An intense, episodic, and challenging care experience. 2016.
Funding
This research was funded by the National Cancer Institute (grant no. 1R21CA173271) with support from the South Carolina Clinical and Translational Research Institute (UL1TR000062) and the Biostatistics Shared Resource of the Hollings Cancer Center (P30 CA138313) and technology development by the Technology Applications Center for Healthful Lifestyles at the Medical University of South Carolina. Katherine Sterba's work on this manuscript was also supported by a Mentored Research Scholar Grant in Applied and Clinical Research (MRSG-12-221-01-CPPB) from the American Cancer Society.
Ethics declarations
Conflict of interest
The authors declare that they have no conflict of interest.
Ethical approval
"All procedures performed in studies involving human participants were in accordance with the ethical standards of the institutional and/or national research committee and with the 1964 Helsinki declaration and its later amendments or comparable ethical standards."
Informed consent
Informed consent was obtained from all individual participants included in the study.
Additional information
Publisher's note
Springer Nature remains neutral with regard to jurisdictional claims in published maps and institutional affiliations.
Electronic supplementary material
About this article
Cite this article
Sterba, K.R., Armeson, K., Zapka, J. et al. Evaluation of a survivorship needs assessment planning tool for head and neck cancer survivor-caregiver dyads. J Cancer Surviv 13, 117–129 (2019). https://doi.org/10.1007/s11764-019-0732-1
Received:

Accepted:

Published:

Issue Date:
Keywords
Head and neck cancer

Survivorship

Patient-reported outcomes

Dyads