Abstract
Purpose
The aim of this study was to examine the relationship between employment and financial toxicity by examining the prevalence of, and factors associated with, financial toxicity among cancer survivors.
Methods
We conducted a secondary analysis of a sub-sample from the Dutch Patient Reported Outcomes Following Initial Treatment and Long-term Evaluation of Survivorship (PROFILES) registry. Descriptive statistics, bivariate analysis and logistic regression were used.
Results
A total of 2931 participants with diverse cancer types were included in the analysis with a mean age of 55 years (range 18 to 65). Nearly half (49%) of participants were employed at the time of the survey, and 22% reported financial toxicity. Those who were not employed were at greater risk of financial toxicity (27% vs 16%, p < 0.001), and this did not vary according to time since diagnosis. The odds of reporting financial toxicity were greater for participants who were male, younger, unmarried, with low education, low socioeconomic status, or without paid employment. Those with basal cell carcinoma had lower risk of financial toxicity, while those with haematological or colorectal cancer had highest risk of financial toxicity.
Conclusions
This research confirms that unemployment is significantly associated with financial toxicity and that those with limited financial resources are most at risk.
Implications for cancer survivors
Increased awareness of financial toxicity and its associated factors among clinicians may result in improved screening and appropriate referrals for support services. The implementation of effective multidisciplinary return to work interventions, as part of standard cancer survivorship care, may reduce financial toxicity among cancer survivors.
This is a preview of subscription content, log in to check access.
Access options
Buy single article
Instant access to the full article PDF.
US$ 39.95
Price includes VAT for USA
Subscribe to journal
Immediate online access to all issues from 2019. Subscription will auto renew annually.
US$ 99
This is the net price. Taxes to be calculated in checkout.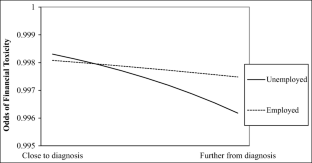 References
1.

de Souza JA, Yap BJ, Wroblewski K, Blinder V, Araújo FS, Hlubocky FJ, et al. Measuring financial toxicity as a clinically relevant patient-reported outcome: the validation of the comprehensive score for financial toxicity (COST). Cancer. 2017;123:476–84.

2.

Gordon LG, Merollini KMD, Lowe A, Chan RJ. A systematic review of financial toxicity among Cancer survivors: we Can't pay the co-pay. Patient - Patient-Centered Outcomes Res. 2017;10:295–309.

3.

Currow D, Aranda S. Financial toxicity in clinical care today: a "menu without prices"1. Med J Aust. 2016;204:397.

4.

Timmons A, Gooberman-Hill R, Sharp L. The multidimensional nature of the financial and economic burden of a cancer diagnosis on patients and their families: qualitative findings from a country with a mixed public–private healthcare system. Support Care Cancer. 2013;21:107–17.

5.

Longo CJ, Fitch M, Deber RB, Williams AP. Financial and family burden associated with cancer treatment in Ontario. Canada Support Care Cancer. 2006;14:1077–85.

6.

Spelten ER, Sprangers MAG, Verbeek JHAM. Factors reported to influence the return to work of cancer survivors: a literature review. Psychooncology. 2002;11:124–31.

7.

Mehnert A. Employment and work-related issues in cancer survivors. Crit Rev Oncol Hematol. 2011;77:109–30.

8.

Guy GP, Ekwueme DU, Yabroff KR, Dowling EC, Li C, Rodriguez JL, et al. Economic burden of cancer survivorship among adults in the United States. J Clin Oncol. 2013;31:3749–57.

9.

Taskila T, Lindbohm ML. Factors affecting cancer survivors' employment and work ability. Acta Oncol Stockh Swed. 2007;46:446–51.

10.

Kale HP, Carroll NV. Self-reported financial burden of cancer care and its effect on physical and mental health-related quality of life among US cancer survivors. Cancer. 2016;122:283–9.

11.

Fenn KM, Evans SB, McCorkle R, DiGiovanna MP, Pusztai L, Sanft T, et al. Impact of financial burden of cancer on survivors' quality of life. J Oncol Pract. 2014;10:332–8.

12.

Zafar SY, Peppercorn JM, Schrag D, Taylor DH, Goetzinger AM, Zhong X, et al. The financial toxicity of cancer treatment: a pilot study assessing out-of-pocket expenses and the insured cancer patient's experience. Oncologist. 2013;18:381–90.

13.

Altice CK, Banegas MP, Tucker-Seeley RD, Yabroff KR. Financial hardships experienced by cancer survivors: a systematic review. JNCI J Natl Cancer Inst [Internet]. 2017 [cited 2017 Nov 23];109. Available from: https://academic.oup.com/jnci/article/109/2/djw205/2905657

14.

Zafar SY, Abernethy AP. Financial toxicity, part I: a new name for a growing problem. Oncol Williston Park N. 2013;27:80–149.

15.

van de Poll-Franse LV, Horevoorts N, van Eenbergen M, Denollet J, Roukema JA, Aaronson NK, et al. The patient reported outcomes following initial treatment and long term evaluation of survivorship registry: scope, rationale and design of an infrastructure for the study of physical and psychosocial outcomes in cancer survivorship cohorts. Eur J Cancer. 2011;47:2188–94.

16.

Aaronson NK, Ahmedzai S, Bergman B, Bullinger M, Cull A, Duez NJ, et al. The European Organization for Research and Treatment of Cancer QLQ-C30: a quality-of-life instrument for use in international clinical trials in oncology. J Natl Cancer Inst. 1993;85:365–76.

17.

Field, A. Discovering statistics with SPSS. 3rd ed. London: Sage Publications Ltd;

18.

Huntington SF, Weiss BM, Vogl DT, Cohen AD, Garfall AL, Mangan PA, et al. Financial toxicity in insured patients with multiple myeloma: a cross-sectional pilot study. Lancet Haematol. 2015;2:e408–16.

19.

Schoen C, Osborn R, Squires D, Doty MM. Access, affordability, and insurance complexity are often worse in the United States compared to ten other countries. Health Aff Proj Hope. 2013;32:2205–15.

20.

Hounshell J, Tomori C, Newlin R, Knox K, Rundhaugen L, Tallman M, et al. Changes in finances, insurance, employment, and lifestyle among persons diagnosed with hairy cell leukemia. Oncologist. 2001;6:435–40.

21.

Shankaran V, Jolly S, Blough D, Ramsey SD. Risk factors for financial hardship in patients receiving adjuvant chemotherapy for colon cancer: a population-based exploratory analysis. J Clin Oncol Off J Am Soc Clin Oncol. 2012;30:1608–14.

22.

Amir Z, Brocky J. Cancer survivorship and employment: epidemiology. Occup Med Oxf Engl. 2009;59:373–7.

23.

Gordon LG, Beesley VL, Lynch BM, Mihala G, McGrath C, Graves N, et al. The return to work experiences of middle-aged Australian workers diagnosed with colorectal cancer: a matched cohort study. BMC Public Health. 2014;14:963.

24.

Gordon LG, Beesley VL, Mihala G, Koczwara B, Lynch BM. Reduced employment and financial hardship among middle-aged individuals with colorectal cancer. Eur J Cancer Care (Engl). 2017;26.

25.

Zajacova A, Dowd JB, Schoeni RF, Wallace RB. Employment and income losses among cancer survivors: estimates from a national longitudinal survey of American families. Cancer. 2015;121:4425–32.

26.

de Boer AG, Taskila T, Tamminga SJ, Frings-Dresen MH, Feuerstein M, Verbeek JH. Interventions to enhance return-to-work for cancer patients. Cochrane Database Syst Rev. 2011;CD007569.

27.

OECD. Unemployment rate (indictor). https://doi.org/10.1787/997c8750-en. 2018 (Accessed on 09 October 2018).

28.

Tamminga SJ, de Boer AGEM, Verbeek JHA, Frings-Dresen MHW. Return-to-work interventions integrated into cancer care: a systematic review. Occup Environ Med. 2010;67:639–48.

29.

Camburn T. Managing chemotherapy capacity by sharing best practice [Internet]. 2008 [cited 2017 Dec 8]. Available from: http://journals.rcni.com/doi/full/10.7748/cnp.7.5.29.s20
Acknowledgements
This paper draws on data of the PROFILES registry.
Funding
Alison Pearce is supported by a University of Technology Sydney Chancellor's Postdoctoral Research Fellowship. Saskia Duijts was supported by funding from the Dutch Cancer Society KWF fellowship (VUP 2013-5866). Bogda Koczwara is supported by the National Breast Cancer Foundation Fellowship.
Ethics declarations
Conflict of interest
The authors declare that they have no conflict of interest.
Ethical approval
All procedures performed in studies involving human participants were in accordance with the ethical standards of the institutional and/or national research committee and with the 1964 Helsinki declaration and its later amendments or comparable ethical standards. For this type of study, formal consent is not required.
About this article
Cite this article
Pearce, A., Tomalin, B., Kaambwa, B. et al. Financial toxicity is more than costs of care: the relationship between employment and financial toxicity in long-term cancer survivors. J Cancer Surviv 13, 10–20 (2019). https://doi.org/10.1007/s11764-018-0723-7
Received:

Accepted:

Published:

Issue Date:
Keywords
Cancer

Survivorship

Financial toxicity

Cost

Employment

Work