Abstract
Purpose
Self-management interventions improve patient outcomes across a range of long-term conditions but are often limited by low uptake and completion rates. The aim of this paper was to conduct a meta-synthesis of qualitative studies exploring cancer survivors' views and experiences of engaging with adjustment-focused self-management interventions in order to inform the development of future interventions targeting this population.
Methods
Four electronic databases were systematically searched. Studies that used qualitative methods to explore cancer survivors' views and experiences of engaging with adjustment-focused self-management interventions were included. A meta-ethnographic approach was used to synthesize the findings.
Results
Thirteen studies met the inclusion criteria. Engaging with adjustment-focused self-management interventions enabled cancer survivors to gain emotional and informational support from peers and/or facilitators in an open, non-judgemental environment, become empowered through enhancing knowledge and skills and regaining confidence and control, and move beyond cancer by accepting illness experiences, reprioritising goals and adopting a positive outlook. However, the extent to which they engaged with, and benefited from, such interventions was mitigated by diverse preferences regarding intervention design, content and delivery. Personal obstacles to engagement included low perceived need, reticence to discuss cancer-related experiences and various practical issues.
Conclusions
Cancer survivors derive a range of benefits from participating in adjustment-focused self-management interventions; potential barriers to engagement should be addressed more comprehensively in intervention marketing, design and delivery.
Implications for Cancer Survivors
The findings suggest some key considerations for the development and implementation of future adjustment-focused self-management interventions that may help to optimize their appeal and effectiveness among cancer survivors.
Access options
Buy single article
Instant access to the full article PDF.
USD 39.95
Price excludes VAT (USA)
Tax calculation will be finalised during checkout.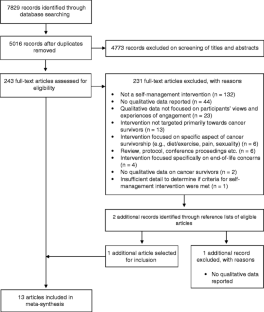 References
Barlow J, Wright C, Sheasby J, Turner A, Hainsworth J. Self-management approaches for people with chronic conditions: a review. Patient Educ Couns. 2002;48(2):177–87.

Boger E, Ellis J, Latter S, Foster C, Kennedy A, Jones F, et al. Self-management and self-management support outcomes: a systematic review and mixed research synthesis of stakeholder views. PLoS One. 2015;10(7):e0130990.

Galdas P, Darwin Z, Kidd L, Blickem C, McPherson K, Hunt K, et al. The accessibility and acceptability of self-management support interventions for men with long term conditions: a systematic review and meta-synthesis of qualitative studies. BMC Public Health. 2014;14:1230.

Lorig KR, Holman HR. Self-management education: history, definition, outcomes, and mechanisms. Ann Behav Med. 2003;26(1):1–7.

Warsi A, Wang PS, LaValley MP, Avorn J, Solomon DH. Self-management education programs in chronic disease: a systematic review and methodological critique of the literature. Arch Intern Med. 2004;164(15):1641–9.

Chodosh J, Morton SC, Mojica W, Maglione M, Suttorp MJ, Hilton L, et al. Meta-analysis: chronic disease self-management programs for older adults. Ann Intern Med. 2005;143(6):427–38.

Panagioti M, Richardson G, Small N, Murray E, Rogers A, Kennedy A, et al. Self-management support interventions to reduce health care utilisation without compromising outcomes: a systematic review and meta-analysis. BMC Health Serv Res. 2014;14(1):356.

McCorkle R, Ercolano E, Lazenby M, Schulman‐Green D, Schilling LS, Lorig K, et al. Self‐management: enabling and empowering patients living with cancer as a chronic illness. CA Cancer J Clin. 2011;61(1):50–62.

Gao W, Yuan C. Self‐management programme for cancer patients: a literature review. Int Nurs Rev. 2011;58(3):288–95.

Trappenburg J, Jonkman N, Jaarsma T, van Os-Medendorp H, Kort H, de Wit N, et al. Self-management: one size does not fit all. Patient Educ Couns. 2013;92(1):134–7.

Taylor D, Bury M. Chronic illness, expert patients and care transition. Sociol Health Illn. 2007;29(1):27–45.

Department of Health, Macmillan Cancer Support and National Health Service Improvement. The National Cancer Survivorship Initiative Vision. London: Department of Health; 2010.

Foster C, Fenlon D. Recovery and self-management support following primary cancer treatment. Br J Cancer. 2011;105:S21–8.

Barnett-Page E, Thomas J. Methods for the synthesis of qualitative research: a critical review. BMC Med Res Methodol. 2009;9:59.

Noblit GW, Hare RD. Meta-ethnography: synthesizing qualitative studies. Newbury Park: Sage; 1988.

Britten N, Campbell R, Pope C, Donovan J, Morgan M, Pill R. Using meta ethnography to synthesise qualitative research: a worked example. J Health Serv Res Policy. 2002;7(4):209–15.

Atkins S, Lewin S, Smith H, Engel M, Fretheim A, Volmink J. Conducting a meta-ethnography of qualitative literature: lessons learnt. BMC Med Res Methodol. 2008;8:21.

Tong A, Flemming K, McInnes E, Oliver S, Craig J. Enhancing transparency in reporting the synthesis of qualitative research: ENTREQ. BMC Med Res Methodol. 2012;12:181.

Kroon FPB, van der Burg LRA, Buchbinder R, Osborne RH, Johnston RV, Pitt V. Self-management education programmes for osteoarthritis. Cochrane Database Syst Rev. 2014;1:CD008963.

Davies N, Batehup L. Self-management support for cancer survivors: guidance for developing interventions. An update of the evidence. Macmillan Cancer Support; 2010.

Critical Appraisal Skills Programme (CASP). CASP Checklists. Oxford: CASP; 2014.

Duggleby W, Holtslander L, Kylma J, Duncan V, Hammond C, Williams A. Metasynthesis of the hope experience of family caregivers of persons with chronic illness. Qual Health Res. 2010;20(2):148–58.

Malpass A, Shaw A, Sharp D, Walter F, Feder G, Ridd M, et al. "Medication career" or "Moral career"? The two sides of managing antidepressants: a meta-ethnography of patients' experience of antidepressants. Soc Sci Med. 2009;68(1):154–68.

Jackson LJ, Roberts TE. Conceptualising quality of life outcomes for women participating in testing for sexually transmitted infections: a systematic review and meta-synthesis of qualitative research. Soc Sci Med. 2015;143:162–70.

Beckmann K, Strassnick K, Abell L, Hermann J, Oakley B. Is a chronic disease self-management program beneficial to people affected by cancer? Aust J Prim Health. 2007;13(1):36–44.

Bottomley A. Group cognitive behavioural therapy with cancer patients: the views of women participants on a short-term intervention. Eur J Cancer Care. 1998;7(1):23–30.

Chambers SK, Morris BA, Clutton S, Foley E, Giles L, Schofield P, et al. Psychological wellness and health-related stigma: a pilot study of an acceptance-focused cognitive behavioural intervention for people with lung cancer. Eur J Cancer Care. 2015;24(1):60–70.

Chow KM, Chan CW, Chan JC, Choi KK, Siu KY. A feasibility study of a psychoeducational intervention program for gynecological cancer patients. Eur J Oncol Nurs. 2014;18(4):385–92.

Cimprich B, Janz NK, Northouse L, Wren PA, Given B, Given CW. Taking CHARGE: a self‐management program for women following breast cancer treatment. Psychooncology. 2005;14(9):704–17.

Watts S, Edgar L. Nucare, a coping skills training intervention for oncology patients and families: participants' motivations and expectations. Can Oncol Nurs J. 2004;14(2):84–95.

Fitch M, McAndrew A, Magee S, Turner F, Ross E. Evaluation of a workshop for survivors: picking up the pieces. Can Oncol Nurs J. 2011;21(3):140–4.

Gray NM, Allan JL, Murchie P, Browne S, Hall S, Hubbard G, et al. Developing a community-based intervention to improve quality of life in people with colorectal cancer: a complex intervention development study. BMJ Open. 2013;3(4):e002596.

Kilbourn KM, Anderson D, Costenaro A, Lusczakoski K, Borrayo E, Raben D. Feasibility of EASE: a psychosocial program to improve symptom management in head and neck cancer patients. Support Care Cancer. 2013;21(1):191–200.

Loh SY, Ong L, Ng LL, Chew SL, Lee SY, Boniface G. Qualitative experiences of breast cancer survivors on a self-management intervention: 2-year post-intervention. Asian Pac J Cancer Prev. 2011;12(6):1489–95.

Martin F, Turner A, Bourne C, Batehup L. Development and qualitative evaluation of a self-management workshop for testicular cancer survivor-initiated follow-up. Oncol Nurs Forum. 2013;40(1):E14–23.

Risendal B, Dwyer A, Seidel R, Lorig K, Katzenmeyer C, Coombs L, et al. Adaptation of the Chronic Disease Self-Management Program for cancer survivors: feasibility, acceptability, and lessons for implementation. J Cancer Educ. 2014;29(4):762–71.

Thompson J, Coleman R, Colwell B, Freeman J, Greenfield D, Holmes K, et al. Preparing breast cancer patients for survivorship (PREP)—a pilot study of a patient-centred supportive group visit intervention. Eur J Oncol Nurs. 2014;18(1):10–6.

Lorig KR, Sobel DS, Stewart AL, Brown Jr BW, Bandura A, Ritter P, et al. Evidence suggesting that a chronic disease self-management program can improve health status while reducing hospitalization: a randomized trial. Med Care. 1999;37(1):5–14.

Wilson PM. The UK expert patients program: lessons learned and implications for cancer survivors' self-care support programs. J Cancer Surviv. 2008;2(1):45–52.

Salander P. Why doesn't mind matter when we are to find out what is helpful? Psychooncology. 2011;20(4):441–2.

Taylor SJC, Pinnock H, Epiphaniou E, Pearce G, Parke HL, Schwappach A, et al. A rapid synthesis of the evidence on interventions supporting self-management for people with long-term conditions: PRISMS – practical systematic review of self-management support for long-term conditions. NIHR HS & DR 2014;2(53).

Campbell HS, Phaneuf MR, Deane K. Cancer peer support programs—do they work? Patient Educ Couns. 2004;55(1):3–15.

Ussher J, Kirsten L, Butow P, Sandoval M. What do cancer support groups provide which other supportive relationships do not? The experience of peer support groups for people with cancer. Soc Sci Med. 2006;62(10):2565–76.

Embuldeniya G, Veinot P, Bell E, Bell M, Nyhof-Young J, Sale JEM, et al. The experience and impact of chronic disease peer support interventions: a qualitative synthesis. Patient Educ Couns. 2013;92(1):3–12.

Harrison JD, Young JM, Price MA, Butow PN, Solomon MJ. What are the unmet supportive care needs of people with cancer? A systematic review. Support Care Cancer. 2009;17(8):1117–28.

Ross J, Stevenson F, Lau R, Murray E. Exploring the challenges of implementing e-health: a protocol for an update of a systematic review of reviews. BMJ Open. 2015;5(4):e006773.

Jansen F, van Uden-Kraan CF, van Zwieten V, Witte BI, Verdonck-de Leeuw IM. Cancer survivors' perceived need for supportive care and their attitude towards self-management and eHealth. Support Care Cancer. 2015;23(6):1679–88.

Kendall E, Rogers A. Extinguishing the social?: state sponsored self‐care policy and the chronic disease self‐management programme. Disabil Soc. 2007;22(2):129–43.

Lawn S, McMillan J, Pulvirenti M. Chronic condition self-management: expectations of responsibility. Patient Ed Couns. 2011;84(2):e5–8.

Kendall PR. Investing in prevention: improving health and creating sustainability: the Provincial Officer's special report. Victoria: Office of the Provincial Health Officer; 2010.

Milkie MA, Raley SB, Bianchi SM. Taking on the second shift: time allocations and time pressures of US parents with preschoolers. Soc Forces. 2009;88(2):487–517.

Thirsk LM, Clark AM. What is the 'self' in chronic disease self-management? Int J Nurs Studies. 2014;51(5):691–3.

Shaw RL, Booth A, Sutton AJ, Miller T, Smith JA, Young B, et al. Finding qualitative research: an evaluation of search strategies. BMC Med Res Methodol. 2004;4:5.

Swerissen H, Belfrage J, Weeks A, Jordan L, Walker C, Furler J, et al. A randomised control trial of a self-management program for people with a chronic illness from Vietnamese, Chinese, Italian and Greek backgrounds. Patient Educ Couns. 2006;64(1):360–8.

Bosma H, Lamers F, Jonkers CC, van Eijk JT. Disparities by education level in outcomes of a self-management intervention: the DELTA trial in The Netherlands. Psychiatr Serv. 2011;62(7):793–5.

Schofield P, Chambers S. Effective, clinically feasible and sustainable: key design features of psycho-educational and supportive care interventions to promote individualised self-management in cancer care. Acta Oncol. 2015;54(5):805–12.

Moore GF, Audrey S, Barker M, Bond L, Bonell C, Hardeman W, et al. Process evaluation of complex interventions: medical research council guidance. BMJ. 2015;350:h1258.

Craig P, Dieppe P, Macintyre S, Michie S, Nazareth I, Petticrew M, et al. Developing and evaluating complex interventions: the new medical research council guidance. BMJ. 2008;337:a1655.
Acknowledgments
This publication is independent research partly funded by the Irish Cancer Society and the Health Research Board (HRB) in Ireland under Grant No: SRP13GAL, MRCG/2013/11. AT is supported by a grant from the HRB (ICE/2012/9). Any opinions, findings, conclusions or recommendations expressed are those of the author(s) and not necessarily those of the Irish Cancer Society or the HRB.
Ethics declarations
Conflict of interest
The authors declare that they have no conflict of interest.
Ethical approval
This article does not contain any studies with human participants performed by any of the authors.
Appendix. Example of a search strategy (Medline)
Appendix. Example of a search strategy (Medline)
Limiters:
English language

Humans

Publication date 1990–current
1.

exp neoplasms/

2.

(neoplas* or cancer* or tumo?r* or carcino* or malignan* or adenocarcinoma* or lymphoma* or leuk?emia* or onco* or metastat*).tw

3.

1 or 2

4.

exp Self Care/

5.

(self adj (care or help or manag* or direct* or monitor* or efficacy)).tw

6.

(selfcare or selfhelp or selfmanag* or selfdirect* or selfmonitor* or selfefficacy).tw

7.

((symptom or stress) adj1 manag*).tw

8.

Patient Education as Topic/

9.

exp Consumer Participation/

10.

((health or patient*) adj2 (educat* or information)).tw

11.

((patient* or consumer*) adj (focus* or cent* or part*)).tw

12.

exp Behavior Therapy/

13.

exp Cognitive Therapy/

14.

(cbt).tw

15.

exp Adaptation, Psychological/

16.

((psychologic* or behavio?r*) adj1 (adjust* or adapt*)).tw

17.

Social Support/

18.

Self-Help Groups/

19.

(peer or patient or emotional or social or psychosocial) adj1 (support or group*).tw

20.

(cope* or coping or psychoeducation*).tw

21.

Holistic Health/

22.

(holistic or wholistic).tw

23.

Self Efficacy/

24.

"Power (Psychology)"/

25.

(empower*).tw

26.

((behavio?r* or cognitive or psychological or psychosocial or interpersonal or relaxation) adj3 (therap* or program* or train* or instruct* or workshop)).tw

27.

4–26

28.

Interviews as topic/ or interview/ or focus groups/ or narration/ or exp qualitative research/

29.

(qualitative or ethnograph* or phenomenol* or ethnonurs* or grounded theor* or purposive sample or hermeneutic* or heuristic* or semiotics or lived experience* or narrative* or life experience* or cluster sample or action research or observational method or content analysis or thematic analysis or constant comparative method or field stud* or fieldwork or field work or key informant or theoretical sample or discourse analysis or focus group* or interview* or discussion* or ethnological research or ethnomethodolog* or mixed model* or mixed design* or multiple method* or multimethod* or triangulat*).tw

30.

28 or 29

31.

Intervention Studies/ or evaluation studies/ or evaluation studies as topic/ or program evaluation/ or validation studies as topic/ or pilot projects/ or feasibility studies/

32.

(pre- adj5 post-).tw

33.

(pretest adj5 posttest).tw

34.

(program* adj6 evaluat*).tw

35.

(effectiveness or intervention or pilot or feasibility or process evaluation).tw

36.

31–35

37.

3 and 27 and 30 and 36
About this article
Cite this article
Coffey, L., Mooney, O., Dunne, S. et al. Cancer survivors' perspectives on adjustment-focused self-management interventions: a qualitative meta-synthesis. J Cancer Surviv 10, 1012–1034 (2016). https://doi.org/10.1007/s11764-016-0546-3
Received:

Accepted:

Published:

Issue Date:

DOI: https://doi.org/10.1007/s11764-016-0546-3
Keywords