Abstract
Purpose
The effectiveness of survivorship care plans has not been widely tested. We evaluated whether a one-time brief lifestyle consultation as part of a broader survivorship care plan was effective at changing diet and lifestyle patterns.
Methods
A diverse sample of women with stage 0-III breast cancer were randomized to control or intervention groups within 6 weeks of completing adjuvant treatment. Both groups received the National Cancer Institute publication, "Facing Forward: Life after Cancer Treatment." The intervention group also met with a nurse (1 h) and a nutritionist (1 h) to receive personalized lifestyle recommendations based upon national guidelines. Diet, lifestyle, and perceived health were assessed at baseline, 3 and 6 months. Linear regression analyses evaluated the effects of the intervention adjusted for covariates.
Results
A total of 126 women completed the study (60 control/66 intervention, 61 Hispanic/65 non-Hispanic). At 3 months, the intervention group reported greater knowledge of a healthy diet (P = 0.047), importance of physical activity (P = 0.03), and appropriate use of dietary supplements (P = 0.006) and reported lower frequency of alcohol drinking (P = 0.03) than controls. At 6 months, only greater knowledge of a healthy diet (P = 0.01) persisted. The intervention was more effective among non-Hispanics than Hispanics on improving attitude towards healthy eating (P = 0.03) and frequency of physical activity (P = 0.006).
Conclusions
The intervention changed lifestyle behaviors and knowledge in the short-term, but the benefits did not persist.
Implications for Cancer Survivors
Culturally competent long-term behavioral interventions should be tested beyond the survivorship care plan to facilitate long-term behavior change among breast cancer survivors.
Access options
Buy single article
Instant access to the full article PDF.
USD 39.95
Price excludes VAT (USA)
Tax calculation will be finalised during checkout.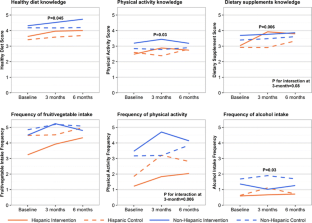 References
Office of Cancer Survivorship, National Cancer Institute. Statistics. National Cancer Institute, Bethesda, MD. 2014. Available from: http://cancercontrol.cancer.gov/ocs/statistics/statistics.html. Accessed Jan 10 2016.

Hewitt M, Greenfield S, Stovall E. From cancer patient to cancer survivor: lost in transition. Washington, D.C.: National Academies Press; 2006.

Surveillance, Epidemiology, and End Results Program. SEER cancer statistics factsheets: breast cancer. National Cancer Institute. Bethesda, MD,. National Cancer Institute, Bethesda, MD. http://seer.cancer.gov/statfacts/html/breast.html. Accessed Jan 10, 2016.

American Cancer Society. Cancer facts & figures for Hispanics/Latinos. Atlanta, GA: American Cancer Society; 2012.

World Cancer Research Fund, American Institute for Cancer Research. Food, nutrition, and physical activity, and the prevention of cancer: a global perspective. Washington, DC: AICR; 2007.

Rock CL, Doyle C, Demark-Wahnefried W, Meyerhardt J, Courneya KS, Schwartz AL, et al. Nutrition and physical activity guidelines for cancer survivors. CA: a cancer journal for clinicians. 2012;62(4):243–74.

American College of Surgeons. Accreditation Committee Clarifications for Standard 3.3 Survivorship Care Plan. American College of Surgeons, Chicago, Illinois. 2014. https://www.facs.org/publications/newsletters/coc-source/special-source/standard33. Accessed January 30 2016.

Grunfeld E, Julian JA, Pond G, Maunsell E, Coyle D, Folkes A, et al. Evaluating survivorship care plans: results of a randomized, clinical trial of patients with breast cancer. J Clin Oncol. 2011;29(36):4755–62.

Earle CC. Failing to plan is planning to fail: improving the quality of care with survivorship care plans. J Clin Oncol. 2006;24(32):5112–6.

Ganz PA, Casillas J, Hahn EE, editors. Ensuring quality care for cancer survivors: implementing the survivorship care plan. Semin Oncol Nurs; 2008;24(3):208–17. doi:10.1016/j.soncn.2008.05.009.

American Cancer Society. American Cancer Society: survivorship: during and after treatment. 2016. Available from: http://www.cancer.org/treatment/survivorshipduringandaftertreatment/index. Accessed Jan 10 2016.

Canadian Partnership Against Cancer. Canadian Partnership Against Cancer: priorities: survivorship. Canadian Partnership Against Cancer, Toronto, Ontario. 2015. Available from: http://www.partnershipagainstcancer.ca/priorities/2007-2012-initiatives/strategic-initiatives-2/survivorship-2/. Accessed Jan 10 2016.

Richards M, Corner J, Maher J. The National Cancer Survivorship Initiative: new and emerging evidence on the ongoing needs of cancer survivors. Br J Cancer. 2011;105:S1–4.

Earle CC, Schrag D, Woolf SH, Ganz PA. The survivorship care plan: what, why, how, and for whom. Cancer Survivorship. Los Angeles, California: Springer; 2007. p. 287–93.

Nicolaije KA, Ezendam NP, Vos MC, Pijnenborg JM, Boll D, Boss EA, et al. Impact of an automatically generated cancer survivorship care plan on patient-reported outcomes in routine clinical practice: longitudinal outcomes of a pragmatic. Cluster Randomized Trial. J Clin Oncol. 2015;33(31):3550–9. doi:10.1200/JCO.2014.60.3399.

Hershman DL, Greenlee H, Awad D, Kalinsky K, Maurer M, Kranwinkel G, et al. Randomized controlled trial of a clinic-based survivorship intervention following adjuvant therapy in breast cancer survivors. Breast Cancer Res Treat. 2013;138(3):795–806.

National Cancer Institute. Facing forward: life after cancer treatment. National Institutes of Health, US Department of Health and Human Services, Bethesda, MD. 2014. http://www.cancer.gov/cancertopics/coping/life-after-treatment.pdf. Accessed Jan 10 2016.

Rushton M, Morash R, Larocque G, Liska C, Stoica L, DeGrasse C, et al. Wellness beyond cancer program: building an effective survivorship program. Current oncology (Toronto, Ont). 2015;22(6):e419–34. doi:10.3747/co.22.2786.

Klemanski DL, Browning KK, Kue J. Survivorship care plan preferences of cancer survivors and health care providers: a systematic review and quality appraisal of the evidence. Journal of cancer survivorship: research and practice. 2016;10(1):71–86. doi:10.1007/s11764-015-0452-0.

Underwood JM, Lakhani N, Finifrock D, Pinkerton B, Johnson KL, Mallory SH, et al. Evidence-based cancer survivorship activities for comprehensive cancer control. American journal of preventive medicine. 2015;49(6 Suppl 5):S536–42. doi:10.1016/j.amepre.2015.08.011.

Westfall MY, Overholser L, Zittleman L, Westfall JM. Cancer survivorship for primary care annotated bibliography. Journal of cancer policy. 2015;4:7–12.

Chubak J, Tuzzio L, Hsu C, Alfano CM, Rabin BA, Hornbrook MC, et al. Providing care for cancer survivors in integrated health care delivery systems: practices, challenges, and research opportunities. Journal of oncology practice/American Society of Clinical Oncology. 2012;8(3):184–9. doi:10.1200/JOP.2011.000312.

Tevaarwerk AJ, Wisinski KB, Buhr KA, Njiaju UO, Tun M, Donohue S, et al. Leveraging electronic health record systems to create and provide electronic cancer survivorship care plans: a pilot study. Journal of oncology practice/American Society of Clinical Oncology. 2014;10(3):e150–9. doi:10.1200/JOP.2013.001115.

Zabora JR, Bolte S, Brethwaite D, Weller S, Friedman C. The challenges of the integration of cancer survivorship care plans with electronic medical records. Seminars in oncology nursing. 2015;31(1):73–8. doi:10.1016/j.soncn.2014.12.001.

Hershman DL, Ganz PA. Quality of care, including survivorship care plans. Advances in experimental medicine and biology. 2015;862:255–69. doi:10.1007/978-3-319-16366-6_17.
Ethics declarations
Conflict of interest
The authors declare that they have no conflict of interest.
Ethical approval
All procedures performed in studies involving human participants were in accordance with the ethical standards of the institutional and/or national research committee and with the 1964 Helsinki declaration and its later amendments or comparable ethical standards.
Funding
This study was funded by Susan G. Komen for The Cure DISP0706868 (DLH), the Breast Cancer Research Foundation (DLH), and National Institutes of Health National Cancer Institute K23CA141052 (HG) and NCI R25T CA094061-12 (CSM).
Informed consent
Informed consent was obtained from all individual participants included in the study.
About this article
Cite this article
Greenlee, H., Molmenti, C.L.S., Crew, K.D. et al. Survivorship care plans and adherence to lifestyle recommendations among breast cancer survivors. J Cancer Surviv 10, 956–963 (2016). https://doi.org/10.1007/s11764-016-0541-8
Received:

Accepted:

Published:

Issue Date:

DOI: https://doi.org/10.1007/s11764-016-0541-8
Keywords