Abstract
Purpose
Cancer-related cognitive impairment (CRCI) is a common, fatigue-related symptom that disrupts cancer survivors' quality of life. Few interventions for CRCI exist. As part of a randomized pilot study targeting cancer-related fatigue, the effects of mindfulness-based stress reduction (MBSR) on survivors' cognitive outcomes were investigated.
Methods
Breast and colorectal cancer survivors (n = 71) with moderate-to-severe fatigue were randomized to MBSR (n = 35) or a fatigue education and support (ES; n = 36) condition. The Attentional Function Index (AFI) and the Stroop test were used to assess survivors' cognitive function at baseline (T1), after the 8-week intervention period (T2), and 6 months later (T3) using intent-to-treat analysis. Mediation analyses were performed to explore mechanisms of intervention effects on cognitive functioning.
Results
MBSR participants reported significantly greater improvement on the AFI total score compared to ES participants at T2 (d = 0.83, p = 0.001) and T3 (d = 0.55, p = 0.021). MBSR also significantly outperformed ES on most AFI subscales, although both groups improved over time. MBSR produced greater Stroop accuracy rates relative to ES at T2 (r = 0.340, p = 0.005) and T3 (r = 0.280, p = 0.030), with improved accuracy over time only for the MBSR group. There were no significant differences in Stroop reaction time between groups. Improvements in mindfulness mediated the effect of group (e.g., MBSR vs. ES) on AFI total score at T2 and T3.
Conclusions
Additional randomized trials with more comprehensive cognitive measures are warranted to definitively assess the efficacy of MBSR for CRCI.
Implications for Cancer Survivors
This pilot study has important implications for all cancer survivors as it is the first published trial to show that MBSR offers robust and durable improvements in CRCI.
This is a preview of subscription content,
to check access.
Access this article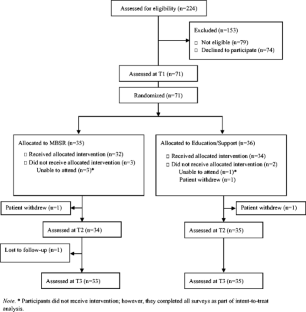 Similar content being viewed by others
References
Bender CM, Thelen BD. Cancer and cognitive changes: the complexity of the problem. Semin Oncol Nurs. 2013;29(4):232–7. doi:10.1016/j.soncn.2013.08.003.

Vardy J, Rourke S, Tannock IF. Evaluation of cognitive function associated with chemotherapy: a review of published studies and recommendations for future research. J Clin Oncol. 2007;25(17):2455–63. doi:10.1200/JCO.2006.08.1604.

Wefel JS, Schagen SB. Chemotherapy-related cognitive dysfunction. Curr Neurol Neurosci Rep. 2012;12(3):267–75.

Cruzado JA, Lopez-Santiago S, Martinez-Marin V, Jose-Moreno G, Custodio AB, Feliu J. Longitudinal study of cognitive dysfunctions induced by adjuvant chemotherapy in colon cancer patients. Support Care Cancer. 2014;22(7):1815–23. doi:10.1007/s00520-014-2147-x.

Hodgson KD, Hutchinson AD, Wilson CJ, Nettelbeck T. A meta-analysis of the effects of chemotherapy on cognition in patients with cancer. Cancer Treat Rev. 2013;39(3):297–304. doi:10.1016/j.ctrv.2012.11.001.

Lindner OC, Phillips B, McCabe MG, et al. A meta-analysis of cognitive impairment following adult cancer chemotherapy. Neuropsychology. 2014;28(5):726–40. doi:10.1037/neu0000064.

Bender CM, Ergyn FS, Rosenzweig MQ, Cohen SM, Sereika SM. Symptom clusters in breast cancer across 3 phases of the disease. Cancer Nurs. 2005;28(3):219–25.

Koppelmans V, Breteler MM, Boogerd W, Seynaeve C, Gundy C, Schagen SB. Neuropsychological performance in survivors of breast cancer more than 20 years after adjuvant chemotherapy. J Clin Oncol. 2012;30(10):1080–6. doi:10.1200/jco.2011.37.0189.

Von Ah D, Habermann B, Carpenter J, Schneider B. Impact of perceived cognitive impairment in breast cancer survivors. Eur J Oncol Nurs. 2013;17(2):236–41. doi:10.1016/j.ejon.2012.06.002.

Myers JS. Cancer- and chemotherapy-related cognitive changes: the patient experience. Semin Oncol Nurs. 2013;29(4):300–7.

Feuerstein M, Hansen JA, Calvio LC, Johnson L, Ronquillo JG. Work productivity in brain tumor survivors. J Occup Environ Med. 2007;49(7):803–11. doi:10.1097/JOM.0b013e318095a458.

Von Ah D, Russell KM, Storniolo AM, Carpenter JS. Cognitive dysfunction and its relationship to quality of life in breast cancer survivors. Oncol Nurs Forum. 2009;36(3):326–36.

Von Ah D, Jansen CE, Allen DH. Evidence-based interventions for cancer- and treatment-related cognitive impairment: putting evidence into practice. Clin J Oncol Nurs. 2014;18(Suppl):17–25. doi:10.1188/14.CJON.S3.17-25.

Cullen M. Mindfulness-based interventions: an emerging phenomenon. Mindfulness. 2011;2(3):186–93.

Lutz A, Slagter HA, Dunne JD, Davidson RJ. Attention regulation and monitoring in meditation. Trends Cogn Sci. 2008;12(4):163–9.

Carmody J. Evolving conceptions of mindfulness in clinical settings. J Cogn Psychother. 2009;23(3):270–80.

Gu J, Strauss C, Bond R, Cavanagh K. How do mindfulness-based cognitive therapy and mindfulness-based stress reduction improve mental health and wellbeing? a systematic review and meta-analysis of mediation studies. Clin Psychol Rev. 2015;37:1–12. doi:10.1016/j.cpr.2015.01.006.

Chiesa A, Calati R, Serretti A. Does mindfulness training improve cognitive abilities? a systematic review of neuropsychological findings. Clin Psychol Rev. 2011;31(3):449–64. doi:10.1016/j.cpr.2010.11.003.

Hoffman CJ, Ersser SJ, Hopkinson JB, Nicholls PG, Harrington JE, Thomas PW. Effectiveness of mindfulness-based stress reduction in mood, breast- and endocrine-related quality of life, and well-being in stage 0 to III breast cancer: a randomized, controlled trial. J Clin Oncol. 2012;30(12):1335–42. doi:10.1200/JCO.2010.34.0331.

Lengacher CA, Johnson-Mallard V, Post-White J, et al. Randomized controlled trial of mindfulness-based stress reduction (MBSR) for survivors of breast cancer. Psychooncology. 2009;18(12):1261–72. doi:10.1002/pon.1529.

Johns SA, Brown LF, Beck-Coon K, Monahan PO, Tong Y, Kroenke K. Randomized controlled pilot study of mindfulness-based stress reduction for persistently fatigued cancer survivors. Psychooncology. 2014. doi:10.1002/pon.3648.

Zainal NZ, Booth S, Huppert FA. The efficacy of mindfulness-based stress reduction on mental health of breast cancer patients: a meta-analysis. Psychooncology. 2013;22(7):1457–65. doi:10.1002/pon.3171.

Von Ah D, Storey S, Jansen C, Allen D. Coping strategies and interventions for cognitive changes associated with cancer and cancer therapy. Semin Oncol Nurs. 2013;29(4):288–99.

Speca M, Carlson LE, Goodey E, Angen M. A randomized, wait-list controlled clinical trial: the effect of a mindfulness meditation-based stress reduction program on mood and symptoms of stress in cancer outpatients. Psychosom Med. 2000;62(5):613–22.

Carlson LE, Ursuliak Z, Goodey E, Angen M, Speca M. The effects of a mindfulness meditation-based stress reduction program on mood and symptoms of stress in cancer outpatients: 6-month follow-up. Support Care Cancer. 2001;9(2):112–23.

Johns SA, Talib TL, Brown LF, et al. Randomized controlled trial of mindfulness-based stress reduction compared to education/support for persistently fatigued breast and colorectal cancer survivors. Transforming Cancer Survivorship Through Research and Best Practice. 2015; Cincinnati, OH.

Harrington CB, Hansen JA, Moskowitz M, Todd BL, Feuerstein M. It's not over when it's over: long-term symptoms in cancer survivors--a systematic review. Int J Psychiatry Med. 2010;40(2):163–81.

Donovan KA, Jacobsen PB, Small BJ, Munster PN, Andrykowski MA. Identifying clinically meaningful fatigue with the fatigue symptom inventory. J Pain Symptom Manag. 2008;36(5):480–7. doi:10.1016/j.jpainsymman.2007.11.013.

Kroenke K, Spitzer RL, Williams JBW. The patient health questionnaire-9: validity of a brief depression severity measure. J Gen Intern Med. 2001;16:606–13.

Santorelli S, Kabat-Zinn J. Mindfulness-based stress reduction professional education and training resource manual: MBSR standards of practice, curriculum, and supporting materials. Worcester: Center for Mindfulness in Medicine, Health Care, and Society, University of Massachusetts Medical School; 2011.

Hutchinson AD, Hosking JR, Kichenadasse G, Mattiske JK, Wilson C. Objective and subjective cognitive impairment following chemotherapy for cancer: a systematic review. Cancer Treat Rev. 2012;38(7):926–34. doi:10.1016/j.ctrv.2012.05.002.

Cimprich B, Visovatti M, Ronis DL. The attentional function index--a self-report cognitive measure. Psychooncology. 2011;20(2):194–202. doi:10.1002/pon.1729.

Stroop JR. Studies of interference in serial verbal reactions. J Exp Psychol. 1935;18:643–22.

MacLeod CM. The stroop task in cognitive research. In: Wenzel A, Rubin DC, editors. Cognitive methods and their application to clinical research. Washington, D. C.: Merican Psychological Association; 2005. p. 17–40.

Baer RA, Smith GT, Hopkins J, Krietemeyer J, Toney L. Using self-report assessment methods to explore facets of mindfulness. Assessment. 2006;13(1):27–45. doi:10.1177/1073191105283504.

Baer RA, Smith GT, Lykins E, et al. Construct validity of the five facet mindfulness questionnaire in meditating and nonmeditating samples. Assessment. 2008;15(3):329–42. doi:10.1177/1073191107313003.

Senn S. Testing for baseline balance in clinical trials. Stat Med. 1994;13(17):1715–26.

Johnson SE, Richeson JA, Finkel EJ. Middle class and marginal? socioeconomic status, stigma, and self-regulation at an elite university. J Pers Soc Psychol. 2011;100(5):838–52. doi:10.1037/a0021956.

Richeson JA, Trawalter S. Why do interracial interactions impair executive function? a resource depletion account. J Pers Soc Psychol. 2005;88(6):934–47. doi:10.1037/0022-3514.88.6.934.

Josefsson T, Borberg A. Mediators and non-mediators on sustained and executive attentional performance. c. 2011;14(3):291–309.

Preacher KJ, Hayes AF. Asymptotic and resampling strategies for assessing and comparing indirect effects in multiple mediator models. Behav Res Methods. 2008;40(3):879–91.

Cimprich B, So H, Ronis DL, Trask C. Pre-treatment factors related to cognitive functioning in women newly diagnosed with breast cancer. Psychooncology. 2005;14(1):70–8. doi:10.1002/pon.821.

de Raaf PJ, de Klerk C, van der Rijt CCD. Elucidating the behavior of physical fatigue and mental fatigue in cancer patients: a review of the literature. Psycho-Oncology. 2013;22(9):1919–29. doi:10.1002/pon.3225.

Lengacher C, Reich R, Post-White J, et al. Mindfulness based stress reduction in post-treatment breast cancer patients: an examination of symptoms and symptom clusters. J Behav Med. 2012;35(1):86–94. doi:10.1007/s10865-011-9346-4.

Denlinger CS. National Comprehensive National Comprehensive Cancer Network (NCCN) Clinical Practice Guidelines in Oncology: Survivorship, version 1.2015. 2015. http://www.nccn.org/professionals/physician_gls/pdf/survivorship.pdf. Accessed 20 March 2015.

Henderson VP, Massion AO, Clemow L, Hurley TG, Druker S, Hebert JR. A randomized controlled trial of mindfulness-based stress reduction for women with early-stage breast cancer receiving radiotherapy. Integr Cancer Ther. 2013;12(5):404–13. doi:10.1177/1534735412473640.
Acknowledgments
The authors thank the participants for their active engagement in this clinical trial and encourage their continued health and wellness.
Ethics declarations
Funding
Research reported in this publication was supported by the Walther Cancer Foundation (0106–01), Indiana Clinical and Translational Sciences Institute (Grant # TR000163 and # TR000006), and the National Cancer Institute of the National Institutes of Health under Award Number K05CA175048. The content is solely the responsibility of the authors and does not necessarily represent the official views of the funding agencies.
Conflict of interest
The authors have no conflict of interest to report.
Ethical approval
All procedures performed in studies involving human participants were in accordance with the ethical standards of the institutional and/or national research committee and with the 1964 Helsinki Declaration and its later amendments or comparable ethical standards.
Informed consent
Informed consent was obtained from all individual participants included in the study
About this article
Cite this article
Johns, S.A., Von Ah, D., Brown, L.F. et al. Randomized controlled pilot trial of mindfulness-based stress reduction for breast and colorectal cancer survivors: effects on cancer-related cognitive impairment. J Cancer Surviv 10, 437–448 (2016). https://doi.org/10.1007/s11764-015-0494-3
Received:

Accepted:

Published:

Issue Date:

DOI: https://doi.org/10.1007/s11764-015-0494-3
Keywords