Abstract
Purpose
With improvements in screening, diagnosis, and treatment, the number of persons surviving cancer and staying at or returning to work is increasing. While workplace accommodations optimize workers' abilities to participate in the workforce, there has been little in-depth investigation of the types of accommodations reported to have been provided to cancer survivors and the processes relevant to ensuring their successful implementation.
Methods
We employed an exploratory qualitative method and conducted 40 semi-structured interviews with three groups: (i) cancers survivors (n = 16), (ii) health/vocational service providers (n = 16), and (iii) employer representatives (n = 8) to explore return to work and accommodation processes, successes, and challenges. An inductive thematic analysis approach was used to analyze the data.
Results
Four types of accommodations were recommended: (1) graduated return to work plans and flexible scheduling, (2) modification of work duties and performance expectations, (3) retraining and supports at the workplace, and (4) modification of the physical work environment and/or the provision of adaptive aids/technologies. Processes relevant to ensuring effective accommodations included: (1) developing knowledge about accommodations, (2) employer's ability to accommodate, (3) negotiating reasonable accommodations, (4) customizing accommodations, and (5) implementing and monitoring accommodation plans. Accommodation challenges included: (1) survivors' fears requesting accommodations, (2) developing clear and specific accommodations, (3) difficult to accommodate jobs, and (4) workplace challenges, including strained pre-cancer workplace relationships, insufficient/inflexible workplace policies, employer concerns regarding productivity and precedent setting, and limited modified duties.
Conclusions
Accommodations need to be customized and clearly linked to survivors' specific job demands, work context, and available workplace supports. Survivors need to feel comfortable disclosing the need for accommodations. Ongoing communication and monitoring are required to ensure accommodations are implemented and changes made to the return to work plan as required.
Implications for Cancer Survivors
The provision of appropriate workplace accommodations can enhance survivors' abilities to stay or return to work.
Access options
Buy single article
Instant access to the full article PDF.
US$ 39.95
Tax calculation will be finalised during checkout.
Subscribe to journal
Immediate online access to all issues from 2019. Subscription will auto renew annually.
US$ 79
Tax calculation will be finalised during checkout.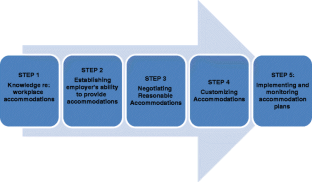 Notes
1.

Under the Ontario Human Rights Code, undue hardship may be claimed by employers in situations where costs of accommodations may be excessive and when there are identified occupational health and safety risks [37]
References
1.

de Boer AG, Taskila T, Tamminga SJ, et al. Interventions to enhance return to work for cancer patients. Cochrane Database Syst Rev. 2011;Art.No;CD007569.

2.

Nitkins P, Parkinson M, Schultz I. Cancer and work: a Canadian perspective. 2011. Available from: http://www.capo.ca/pdf/CancerandWork-ACanadianPerspective.pdf.

3.

Canadian Partnership Against Cancer. 2012–2017 Strategic Plan. Sustaining action toward a shared vision. Available from: http://www.partnershipagainstcancer.ca/wp-content/uploads/Sustaining-Action-Toward-a-Shared-Vision-Full-Document.pdf.

4.

Spelten ER, Sprangers MA, Verbeek JH. Factors reported to influence the return to work of cancer survivors: a literature review. Psychooncology. 2002;11:124–31.

5.

Short PF, Vasey JJ, Tunceli K. Employment pathways in a large cohort of adult cancer survivors. Cancer. 2005;103(6):1292–301.

6.

de Boer AG, Verbeek JH, Uitternoeve A, et al. Work ability and return-to-work in cancer patients. Br J Cancer. 2008;98(8):1342–7.

7.

Kennedy F. Returning to work following cancer: a qualitative exploratory study into the experience of returning to work following cancer. Europ J Cancer Care. 2007;16:17–25.

8.

Rasmussen DM, Elverdam B. The meaning of work and working life after cancer: an interview study. Psychooncology. 2008;17(12):1232–8.

9.

Stergiou-Kita M, Grigorovich A, Tseung V, et al. Qualitative meta-synthesis of survivors' work experiences and the development of strategies to facilitate return to work. J Cancer Surviv. 2014;8(4):657–70.

10.

Roelen CA, Koopmans PC, Groothoff JW, van der Klink JJ, Bultmann U. Return to work after cancer diagnosis in 2001, 2005 and 2008. J Occup Rehabil. 2011;21:335–41.

11.

Mehnert A. Employment and work-related issues in cancer survivors. Crit Rev Oncol Hematol. 2011;77:109–30.

12.

Roelen CA, Koopmans PC, van Rhenen E, Groothoff JW, van der Klink JJ, Bultmann U. Trends in return to work of breast cancer survivors. Breast Cancer Res Treat. 2011;128(1):237–42.

13.

McKean-Cowdin R, Razavi P, Preston-Martin S. Brain tumours. Brain Tumours. 2008;338–47.

14.

de Boer AG, Taskila T, Ojajarvi A, van Dijk FJ, Verbeek JH. Cancer survivors and unemployment: a metaanalysis and meta-regression. JAMA. 2009;301(7):753–62.

15.

Main DS, Nowels CT, Cavender TA, Etschmaier M, Steiner J. A qualitative study of work and work return in cancer survivors. Psychooncology. 2005;14(11):992–1004.

16.

Nachreiner NM, Dagher RK, McGovern PM, Baker BA, Alexander BH, Gerberich SG. Successful return to work for cancer survivors. AAOHN J. 2007;55(7):290–5.

17.

McKay G, Knott V, Delfabbro P. Return to work and cancer: the Australian experience. J Occup Rehabil. 2013;23:93–105.

18.

Amir Z, Neary D, Luker K. Cancer survivors' views of work 3 years post diagnosis: a UK perspective. Eur J Oncol Nurs. 2008;12(3):190–7.

19.

Nilsson MI, Olsson M, Wennman-Larsen, Petersson LM, Alexanderson K. Women's reflections and actions regarding working after breast cancer surgery – a focus group. Psychooncology. 2013;22(7):1639–44.

20.

Canadian Partnership Against Cancer. 2012. Return to work concerns faced by people dealing with cancer and caregivers. Available from: http://www.cancerview.ca/idc/groups/public/documents/webcontent/rtw_literature_review.pdf.

21.

Lindbohm M-L, Viikari-Juntura E. Cancer survivors' return to work: importance of work accommodations and collaboration between stakeholders. Occup Environ Med. 2010;67(9):578–9.

22.

Tamminga SJ, de Boer AG, Verbeek JH, Frings-Dresen MH. Breast cancer survivors' views of factors that influence the return to work process-a qualitative study. Scan J Work Environ Health. 2012;38(2):144–54.

23.

Yu M, Ferrucci LM, McCorkle R, et al. Employment experience of cancer survivors 2 years post-diagnosis in the Study of Cancer Survivors – 1. J Cancer Surv. 2012;6:210–18.

24.

Feurestein M, Luff GM, Harrington CB, Olsen CH. Patterns of workplace disputes in cancer survivors: a population study of ADA claims. J Cancer Surviv. 2007;1:189–92.

25.

Job Accommodations Network. Available at: http://askjan.org/.

26.

Shreuer N. Accommodation outcomes and the ICF framework. Assist Technol. 2009;21:94–104.

27.

Robinson C. Using engineering and assistive technologies for rehabilitation after electrical trauma. Ann N Y Acad Sci. 1999;888:317–26.

28.

Stoddard S. Personal assistance services as a workplace accommodation. Work. 2006;27:363–69.

29.

Shaw WS, Kristman VL, Vezina N. Workplace issues. In: Loisel P, Anema JR, editors. Handbook of work disability: prevention and management. New York: Springer; 2012. p. 163–82.

30.

Lund T, Labriola M, Christensen KB, Bultmann U, Villadsen E. Return to work among sickness absent Danish employees: prospective results from the Danish work environment cohort study/national register on social transfer payments. Int J Rehabil Res. 2006;29(3):229–35.

31.

Steenstra IA, Verbeek JH, Heymans MW, Bongers PM. Prognostic factors for duration of sick leave in patients sick listed with acute low back pain: a systematic review of the literature. Occup Environ Med. 2005;62(12):851–60.

32.

Amick III BC, Habeck RV, Hunt A, et al. Measuring the impact of organizational behaviours on work disability prevention and management. J Occup Rehabil. 2000;10(1):21–38.

33.

Clougherty JE, Souza K, Cullen MR. Work and its role in shaping the social gradient in health. Ann New York Acad Sci. 2010;1186(1):102–24.

34.

Huang YH, Pransky GS, Shaw WS, Benjamin KL, Savageau JA. Factors affecting organizational responses of employers to workers with injuries. Work. 2006;26(1):75–84.

35.

Taskila T, Boer A, van Dijk F, Verbeek J. Fatigue and its correlated in cancer patients who had returned to work—a cohort study. Psychooncology. 2011;20:1236–41.

36.

Brown RF, Owens M, Bradley C. Employee to employer communication skills: balancing cancer treatment and employment. Psychooncology. 2013;22:426–33.

37.

Ontario Human Rights Code. Available at: http://www.ohrc.on.ca/en/ontario-human-rights-code.

38.

Accessibility for Ontarians with Disabilities Act: Accessibility Standards for Employment. Available at: http://www.e-laws.gov.on.ca/html/source/regs/english/2011/elaws_src_regs_r11191_e.htm.

39.

Grunfeld EA, Low E, Cooper AF. Cancer survivors' and employers' perceptions of working following cancer treatment. Occup Med. 2010;60:611–7.

40.

Amir Z, Wynn P, Chan F, Strauser D, Whitaker S, Luker K. Return to work after cancer in the UK: attitudes and experiences of line managers. J Occup Rehabil. 2010;20:435–42.

41.

Bains M, Yarker J, Amir Z, Wynn P, Munir F. Helping cancer survivors return to work: what providers tell us about the challenges in assisting cancer patients with work questions. J Occup Rehabil. 2012;22(1):71–7.

42.

Groeneveld IF, de Boer AG, Frings-Dresen MH. Physical exercise and return to work: cancer survivors' experiences. J Cancer Surviv. 2013;7(2):237–46.

43.

Schmalenberger S, Gessert CE, Glebenhain JE, Starr LD. Working after breast cancer treatment: lessons from musicians. Med Probl Perform Art. 2012;27(4):175–80.

44.

Pryce J, Munir F, Haslam C. Cancer survivorship and work: symptoms, supervisor response, co-worker disclosure and work adjustment. J Occup Rehabil. 2007;17(1):83–92.

45.

Yarker J, Munir F, Bains M, Kalawsky K, Haslam C. The role of communication and support in return to work following cancer‐related absence. Psychooncology. 2010;19(10):1078–85.

46.

Grunfeld EA, Rixon L, Eaton E, Cooper AF. The organizational perspective on the return to work of employees following treatment for cancer. J Occup Rehabil. 2008;18:381–8.

47.

Moon NW, Baker PMA. Assessing stakeholder perceptions of workplace accommodation barriers: results from a policy research instrument. J Disab Policy Stud. 2012;23(2):94–109.

48.

Shaw L, Lindsay R. Renewing focus and building capacity for enacting authentic collaboration in work rehabilitation. Work. 2008;30(3):215–8.

49.

Shaw WS, Feuerstein M. Generating workplace accommodations: lessons learned from the integrated case management study. J Occup Rehabil. 2004;14(3):207–16.

50.

Creswell JW. Research design, qualitative, quantitative, and mixed methods approaches. 3rd ed. Los Angeles: Sage Publications, Inc.; 2009.

51.

Young AE, Wasiak R, Roessler RT, McPherson KM, Anema JR, van Poppel MN. Return-to-work outcomes following work disability: stakeholder motivations, interests and concerns. J Occup Rehabil. 2005;15:543–56.

52.

Gordon D, Jauregui M, Schnall P. Stakeholder perspectives on work and stress: Seeking common grounds. In: Schnall P, Dobson M, Roshkam E, editors. Unhealthy work: causes, consequences, cures. New York: Baywood Publishing Company; 2009. p. 173–92.

53.

Stergiou-Kita M, Rappolt S, Kirsh B, Shaw L. Evaluating work readiness following acquired brain injury: building a shared understanding. Can J Occup Ther. 2009;78(4):276–84.

54.

Roberts-Yates DC. Employers' perceptions of claims/injury management and rehabilitation in South Australia. Asia Pacif J Hum Res. 2006;44(1):102–22.

55.

Larsson A, Gard G. How can the rehabilitation planning process at the workplace be improved? a qualitative study from employers' perspective. J Occup Rehabil. 2003;13(3):169–81.

56.

Young AE. Return to work stakeholders' perspectives on work disability. In: Loisel P, Anema JR, editors. Handbook of work disability. New York: Springer; 2013. p. 409–23.

57.

Hoefsmit N, de Rijk A, Houkes I. Work resumption at the price of distrust: a qualitative study on return to work legislation in the Netherlands. BMC Public Health. 2013;13:153. doi:10.1186/1471-2458-13-153.

58.

Stahl C, Svensson T, Petersson G, Ekberg K. A matter of trust? A study of coordination of Swedish stakeholders in return-to-work. J Occup Rehabil. 2010;20(3):299310.

59.

Lippel K. Preserving workers' dignity in workers' compensation systems: an international perspective. Am J Ind Med. 2012;55(6):519–36.

60.

Stahl C, MacEachen E, Lippel K. Ethical perspectives in work disability prevention and return to work: toward a common vocabulary for analyzing stakeholders' actions and interactions. J Bus Ethics. 2014;120:237–50.

61.

Braun V, Clarke V. Using thematic analysis in psychology. Qual Res Psychol. 2006;3(2):77–101.

62.

Charmaz K. Constructing grounded theory. Thousand Oaks: Sage; 2006.

63.

Seale C. Quality in qualitative research. Qual Inq. 1999;5.

64.

Mays N, Pope C. Qualitative research in health care: assessing quality in qualitative research. BMJ. 2000;320(7226):50–2.

65.

Williams M, Sabata D, Zolna J. User needs evaluation of workplace accommodations. Work. 2006;27:355–62.

66.

Franche RL, Severin C, Hogg-Johnson S, Lee H, Cote P, Krause N. A multivariate analysis of factors associated with early offer and acceptance of a work accommodation following an occupational musculoskeletal injury. JOEM. 2009;51(8):969–83.

67.

Varakamp I, van Dijk F. Workplace problems and solutions for employees with chronic diseases. Occup Med. 2010;60:287–93.

68.

Wang J, Patten S, Currie S, Sareen J, Schmitz N. Perceived needs for and use of workplace accommodations by individuals with a depressive and/or anxiety disorder. JOEM. 2011;53(11):1268–72.

69.

McDonald-Wilson K, Rogers E, Massaro J, Lyass A, Crean T. An investigation of reasonable workplace accommodations for people with psychiatric disabilities: quantitative findings from a multi-site study. Community Ment Health J. 2002;38(1):35–50.

70.

Canadian Human Rights Commission. Available at: http://www.ccdp-chrc.ca/eng/content/provincial-and-territorial-human-rights-agencies.

71.

Job Accommodations Network, Available at: https://askjan.org/media/canc.htm.
Acknowledgments
This study was supported by a Grant through the Dean's Fund, Faculty of Medicine, University of Toronto. We would like to express our gratitude to the cancer survivors, service providers, and employer representative who gave of their time and shared their extensive expertise to assist us in developing a shared understanding of how we can facilitate workplace accommodations and support survivors with their work goals. We would also like to acknowledge the support of Holly Bradley and Well Spring in assisting us with participant recruitment.
Ethics declarations
All procedures performed in this study, involving human participants, were in accordance with the ethical standards and approval from the ethics review boards at the University of Toronto and the University Health Network, and with the 1964 Helsinki declaration and its later amendments or comparable ethical standards. Informed consent was obtained from all individual participants included in the study.
Funding
This study was supported by a grant through the Dean's Fund, Faculty of Medicine, University of Toronto (Award #DF-2013-17).
Conflict of interest
All authors of this paper have no conflict of interest to declare.
About this article
Cite this article
Stergiou-Kita, M., Pritlove, C., van Eerd, D. et al. The provision of workplace accommodations following cancer: survivor, provider, and employer perspectives. J Cancer Surviv 10, 489–504 (2016). https://doi.org/10.1007/s11764-015-0492-5
Received:

Accepted:

Published:

Issue Date:
Keywords
Cancer

Cancer survivors

Return to work

Employment supports

Workplace accommodations