Abstract
Introduction
Axillary web syndrome (AWS) can result in early post-operative and long-term difficulties following lymphadenectomy for cancer and should be recognised by clinicians. This systematic review was conducted to synthesise information on AWS clinical presentation and diagnosis, frequency, natural progression, grading, pathoaetiology, risk factors, symptoms, interventions and outcomes.
Methods
Electronic searches were conducted using Cochrane, Pubmed, MEDLINE, CINAHL, EMBASE, AMED, PEDro and Google Scholar until June 2013. The methodological quality of included studies was determined using the Downs and Black checklist. Narrative synthesis of results was undertaken.
Results
Thirty-seven studies with methodological quality scores ranging from 11 to 26 on a 28-point scale were included. AWS diagnosis relies on inspection and palpation; grading has not been validated. AWS frequency was reported in up to 85.4 % of patients. Biopsies identified venous and lymphatic pathoaetiology with five studies suggesting lymphatic involvement. Twenty-one studies reported AWS occurrence within eight post-operative weeks, but late occurrence of greater than 3 months is possible. Pain was commonly reported with shoulder abduction more restricted than flexion. AWS symptoms usually resolve within 3 months but may persist. Risk factors may include extensiveness of surgery, younger age, lower body mass index, ethnicity and healing complications. Low-quality studies suggest that conservative approaches including analgesics, non-steroidal anti-inflammatory drugs and/or physiotherapy may be safe and effective for early symptom reduction.
Conclusions
AWS appears common. Current evidence for the treatment of AWS is insufficient to provide clear guidance for clinical practice.
Implications for Cancer Survivors
Cancer survivors should be informed about AWS. Further investigation is needed into pathoaetiology, long-term outcomes and to determine effective treatment using standardised outcomes.
This is a preview of subscription content, log in to check access.
Access options
Buy single article
Instant access to the full article PDF.
US$ 39.95
Price includes VAT for USA
Subscribe to journal
Immediate online access to all issues from 2019. Subscription will auto renew annually.
US$ 99
This is the net price. Taxes to be calculated in checkout.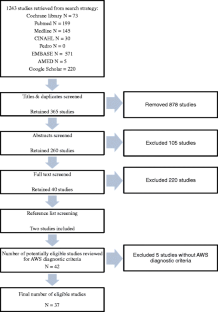 References
1.

Moskovitz AH, Anderson BO, Yeung RS, Byrd DR, Lawton TJ, Moe RE. Axillary web syndrome after axillary dissection. Am J Surg. 2001;181:434–9.

2.

Tilley A, Thomas-MacLean R, Kwan W. Lymphatic cording or axillary web syndrome after breast cancer surgery. Can J Surg. 2009;52:E105–6.

3.

Morehead-Gee AJ, Pfalzer L, Levy E, McGarvey C, Springer B, Soballe P, et al. Racial disparities in physical and functional domains in women with breast cancer. Support Care Cancer. 2012;20:1839–47.

4.

Rashtak S, Gamble GL, Gibson LE, Pittelkow MR. From furuncle to axillary web syndrome: shedding light on histopathology and pathogenesis. Dermatology. 2012;224:110–4.

5.

Johansson K, Ingvar C, Albertsson M, Ekdahl C. Arm lymphoedema, shoulder mobility and muscle strength after breast cancer treatment—a prospective 2-year study. Adv Physiother. 2001;3:55–66.

6.

Craythorne E, Benton E, Macfarlane S. Axillary web syndrome or cording, a variant of Mondor disease, following axillary surgery. Arch Dermatol. 2009;145:1199–200.

7.

Wei P, Zhu L, Chen K, Jia W, Hu Y, Su F. Axillary web syndrome following secondary breast-conserving surgery: a case report. World J Surg Oncol. 2013;11:8.

8.

Torres Lacomba M, Mayoral del Moral O, Coperias Zazo JL, Yuste Sanchez MJ, Ferrandez J-C, Zapico Goñi A. Axillary web syndrome after axillary dissection in breast cancer: a prospective study. Breast Cancer Res Treat. 2009;117:625–30.

9.

Marcus RT, Pawade J, Vella EJ. Painful lymphatic occlusion following axillary lymph node surgery. Br J Surg. 1990;77:683.

10.

Eastcott H. Antecubital strings—a new physical sign? Br J Surg. 1960;47:629–35.

11.

Ashken M. String phlebitis. Br J Surg. 1963;50:689–93.

12.

Ferrandez J-C, Serin D. Rééducation et cancer du sein. 1st ed. Paris: Masson; 1996.

13.

de Oliveira RR, Pinto e Silva M, Gurgel MS, Pastori-Filho L, Sarian LO. Immediate breast reconstruction with transverse latissimus dorsi flap does not affect the short-term recovery of shoulder range of motion after mastectomy. Ann Plast Surg. 2010;64:402–8.

14.

Box RC, Hildegard MR-H, Bullock-Saxton JE, Furnival CM. Shoulder movement after breast cancer surgery: results of a randomised controlled study of postoperative physiotherapy. Breast Cancer Res Treat. 2002;75:35–50.

15.

Kepics J. Physical therapy treatment of axillary web syndrome. Rehabil Oncol. 2004.http://www.highbeam.com/doc/1P3-626819761.html. Accessed 10 Jan 2013.

16.

Springer BA, Levy E, McGarvey C, Pfalzer LA, Stout NL, Gerber LH, et al. Pre-operative assessment enables early diagnosis and recovery of shoulder function in patients with breast cancer. Breast Cancer Res Treat. 2010;120:135–47.

17.

Wernicke AG, Shamis M, Sidhu KK, Turner BC, Goltser Y, Khan I, et al. Complication rates in patients with negative axillary nodes 10 years after local breast radiotherapy after either sentinel lymph node dissection or axillary clearance. Am J Clin Oncol. 2013;36:12–9.

18.

Fourie WJ, Robb KA. Physiotherapy management of axillary web syndrome following breast cancer treatment: discussing the use of soft tissue techniques. Physiotherapy. 2009;95:314–20.

19.

Lattanzi JB, Zimmerman A, Marshall LM. Case report of axillary web sydnrome. Rehabil Oncol. 2012;30:18–21.

20.

Levy EW, Pfalzer LA, Danoff K, Springer BA, McGarvey C, Shieh CY, et al. Predictors of functional shoulder recovery at 1 and 12 months after breast cancer surgery. Breast Cancer Res Treat. 2012;134:315–24.

21.

Leduc O, Sichere M, Moreau A, Rigolet J, Tinlot A, Darc S, et al. Axillary web syndrome: nature and localization. Lymphology. 2009;42:176–81.

22.

Stout NL, Pfalzer LA, Levy E, McGarvey C, Springer B, Gerber LH, et al. Segmental limb volume change as a predictor of the onset of lymphedema in women with early breast cancer. PM&R. 2011;3:1098–105.

23.

McNeely ML, Binkley JM, Pusic AL, Campbell KL, Gabram S, Soballe PW. A prospective model of care for breast cancer rehabilitation: postoperative and postreconstructive issues. Cancer. 2012;118(8 suppl):2226–36.

24.

Young A. The surgical management of early breast cancer. Int J Clin Pract. 2001;55:603–8.

25.

Sarri AJ, Moriguchi SM. Evidence-based usefulness of physiotherapy techniques in breast cancer patients. In: Ozdemir PO, editor. Current cancer treatment - novel beyond conventional approaches: InTech; 2011. pp. 751–66.http://www.intechopen.com/books/current-cancer-treatment-novel-beyond-conventional-approaches. Accessed 10 Jan 2013.

26.

Koehler L. Axillary web syndrome and lymphedema, a new perspective. Lymph Link. 2006;18:9–10.

27.

Severeid K, Simpson J, Templeton B, York R, Hummel-Berry K, Leiserowitz A. Lymphatic cording among patients with breast cancer or melanoma referred to physical therapy. Rehabil Oncol. 2007;25:8–13.

28.

Wyrick SL, Waltke LJ, Ng AV. Physical therapy may promote resolution of lymphatic coding in breast cancer survivors. Rehabil Oncol. 2006;24:29–34.

29.

Hase K, Kamisako M, Fujiwara T, Tsuji T, Liu M. The effect of zaltoprofen on physiotherapy for limited shoulder movement in breast cancer patients: a single-blinded before-after trial. Arch Phys Med Rehabil. 2006;87:1618–22.

30.

Paiva DM, Rodrigues VO, Cesca MG, Palma PV, Leite IC. Prevalence of lymphedema in women undergoing treatment for breast cancer in a referral center in southeastern brazil. BMC Womens Health. 2013;13:6.

31.

Hummel-Berry K, Leiserowitz A. Functional evaluation and rehabilitation for musculosekeltal problems resulting from cancer or its treatment. Formos J Phys Ther. 2009;34:95–105.

32.

Lyman GH, Giuliano AE, Somerfield MR, Benson 3rd AB, Bodurka DC, Burstein HJ, et al. American society of clinical oncology guideline recommendations for sentinel lymph node biopsy in early-stage breast cancer. J Clin Oncol. 2005;23:7703–20.

33.

Ferreira Rezende L, Laier Franco R, Costa Gurgel MS. Axillary web syndrome: practical implications. Breast J. 2005;11:531.

34.

Villamiel Campos E, Ramallo Alcover A, Killing Rodriguez I. Axillary web syndrome. Prog Obstet Ginecol. 2008;51(12):745–8. http://zl.elsevier.es/es/revista/progresos-obstetricia-ginecologia-151/axillary-web-syndrome-13129624-casos-clinicos-2008 Accessed 19 Dec 2014.

35.

Yang EJ, Park W-B, Seo KS, Kim S-W, Heo C-Y, Lim J-Y. Longitudinal change of treatment-related upper extremity dysfunction and its impact on late dysfunction in breast cancer survivors: a prospective cohort study. J Surg Oncol. 2010;101:84–91.

36.

Cheville AL, Tchou J. Barriers to rehabilitation following surgery for primary breast cancer. J Surg Oncol. 2007;95:409–18.

37.

Aydogan F, Belli AK, Baghaki S, Karabulut K, Tahan G, Uras C. Axillary web syndrome after sentinel node biopsy. Breast Care. 2008;3:277–8.

38.

Lauridsen MC, Christiansen P, Hessov IB. The effect of physiotherapy on shoulder function in patients surgically treated for breast cancer: a randomized study. Acta Oncol. 2005;44:449–57.

39.

Josenhans E. Physiotherapeutic treatment for axillary cord formation following breast cancer surgery. Pt_Zeitschrift für Physiotherapeuten. 2007;59:868–78.

40.

National Health and Medical Research Council. NHMRC levels of evidence and grades for recommendations for developers of guidelines. National Health and Medical Research Council. Canberra 2009.

41.

Downs SH, Black N. The feasibility of creating a checklist for the assessment of the methodological quality both of randomised and non-randomised studies of health care interventions. J Epidemiol Community Health. 1998;52:377–84.

42.

Tan L, Wang M, Modini M, Joyce S, Mykletun A, Christensen H, et al. Preventing the development of depression at work: a systematic review and meta-analysis of universal interventions in the workplace. BMC Med. 2014;12(1):74.

43.

Sutcliffe P, Martin S, Sturt J, Powell J, Griffiths F, Adams A, et al. Systematic review of communication technologies to promote access and engagement of young people with diabetes into healthcare. BMC Endocr Disord. 2011;11(1):1.

44.

Benjamin DR, van de Water ATM, Peiris C. Effects of exercise on diastasis of the rectus abdominis muscle in the antenatal and postnatal periods: a systematic review. Physiotherapy. 2014;100(1):1–8.

45.

Park JE, Jang HJ, Seo KS. Quality of life, upper extremity function and the effect of lymphedema treatment in breast cancer related lymphedema patients. Ann Rehabil Med. 2012;36:240–7.

46.

Stout Gergich NL, Pfalzer LA, McGarvey C, Springer B, Gerber LH, Soballe P. Preoperative assessment enables the early diagnosis and successful treatment of lymphedema. Cancer. 2008;112:2809–19.

47.

Koehler L. Axillary web syndrome ongoing medical evaluation [Dissertation]: University of Minnesota; 2013. http://conservancy.umn.edu/bitstream/144876/1/Koehler_umn_0130E_13456.pdf. Accessed 10 Apr 2014.

48.

Bergmann A, Mendes VV, de Almeida Dias R, do Amaral e Silva B, da Costa Leite Ferreira MG, Fabro EAN. Incidence and risk factors for axillary web syndrome after breast cancer surgery. Breast Cancer Res Treat. 2011;131:987–92.

49.

Davies S, Logan K. Cording following breast cancer surgery: a retrospective analysis and discussion of current literature. 8th Australasian Lymphology Association Conference, Melbourne, Victoria. 2010.

50.

Leidenius M, Leppanen E, Krogerus L, von Smitten K. Motion restriction and axillary web syndrome after sentinel node biopsy and axillary clearance in breast cancer. Am J Surg. 2003;185:127–30.

51.

Huh SJ, Yang J-H, Park W, Nam SJ, Kim JH. Axillary web syndrome after sentinel node biopsy and axillary lymph node dissection during the conservative treatment of early breast cancer. J Breast Cancer. 2005;8:94–8.

52.

Reedijk M, Boerner S, Ghazarian D, McCready D. A case of axillary web syndrome with subcutaneous nodules following axillary surgery. Breast. 2006;15:411–3.

53.

Bergmann A, Mattos IE, Koifman RJ, Ribeiro MJ, Nogueira EA, Ribeiro EP, et al. Axillary web syndrome after lymph node dissection: results of 1004 breast cancer patients. Lymphology. 2007;40(Suppl):198–203.

54.

Bergmann A, Bourrus N, de Carvalho CM, Dias RA, Fabro EAN, Sales NS, et al. Arm symptoms and overall survival in brazilian patients with advanced breast cancer. Asian Pac J Cancer. 2011;12:2939-42.

55.

Moreau A, Leduc O, Tinlot A, Clement A, Parijs T, Strappaert J, et al. Axillary web syndrome: its features and the physical treatment plan of care. EJLRP. 2010;21:25–8.

56.

Fabro EAN, Bergmann A, do Amaral e Silva B, Padula Ribeiro AC, de Souza Abrahão K, da Costa Leite Ferreira MG, et al. Post-mastectomy pain syndrome: incidence and risks. Breast. 2012;21:321–5.

57.

Alvarez-Garrido H, Garrido-Rios AA, Sanz-Munoz C, Miranda-Romero A. Mondor's disease. Clin Exp Dermatol. 2009;34:753–6.

58.

Lippi G, Favaloro EJ, Cervellin G. Hemostatic properties of the lymph: relationships with occlusion and thrombosis. Semin Thromb Hemost. 2012;38:213–21.

59.

Winicour J. What is cording? Lymph Link. 2013;25(2). http://www.lymphnet.org/membersOnly/dl/reprint/Vol_25/Vol_25-N2_What_is_cording.pdf. Accessed 09 Feb 2015.

60.

The Lymphoedema Framework. Best practice for the management of lymphoedema. International consensus. London: MEP Ltd; 2006.

61.

Caban ME, Yadav R. Rehabilitation of breast cancer-related functional deficits. Crit Rev Phys Rehabil Med. 2008;20:1–23.

62.

Mabry H, Giuliano AE. Sentinel node mapping for breast cancer: progress to date and prospects for the future. Surg Oncol Clin N Am. 2007;16:55–70.

63.

Vitug AF, Newman LA. Complications in breast surgery. Surg Clin N Am. 2007;87:431–51.

64.

Torres Lacomba M, Mayoral del Moral O, Coperias Zazo JL, Gerwin RD, Zapico Goñi A. Incidence of myofascial pain syndrome in breast cancer surgery: a prospective study. Clin J Pain. 2010;26:320–5.

65.

Torres Lacomba M, Yuste Sánchez MJ, Zapico Goñi A, Prieto Merino D, Mayoral del Moral O, Cerezo Téllez E, et al. Effectiveness of early physiotherapy to prevent lymphoedema after surgery for breast cancer: randomised, single blinded, clinical trial. BMJ. 2010;340:b5396.

66.

Teixeira L, Veronesi P, Lohsiriwat V, Luini A, Schorr M, Garusi C, et al. Axillary web syndrome self-assessment questionnaire: initial development and validation. Breast. 2014;23(6):836-43.
Conflicts of interest
W M Yeung, S M McPhail and S S Kuys declare that they have no conflict of interest.
Electronic supplementary material
Below is the link to the electronic supplementary material.
About this article
Cite this article
Yeung, W.M., McPhail, S. & Kuys, S. A systematic review of axillary web syndrome (AWS). J Cancer Surviv 9, 576–598 (2015). https://doi.org/10.1007/s11764-015-0435-1
Received:

Accepted:

Published:

Issue Date:
Keywords
Axillary web syndrome

Axillary lymphadenectomy

Breast cancer

Melanoma

Post-operative morbidity

Pain