Abstract
Purpose
Many prostate cancer survivors experience compromised health-related quality of life (HRQOL) as a result of prostate cancer. We examined relationships between types and intensities of activity and sedentary behavior and prostate cancer-related HRQOL, overall, and by demographic, disease, and treatment characteristics.
Methods
Associations between post-diagnosis activity and sedentary behavior and HRQOL domains (urinary incontinence, urinary irritation/obstruction, bowel, sexual, and vitality/hormonal) were prospectively examined in men diagnosed with non-metastatic prostate cancer in the Health Professionals Follow-up Study (n = 1917) using generalized linear models.
Results
After adjusting for potential confounders, higher duration of total, non-vigorous, and walking activity was associated with higher vitality/hormonal functioning scores (p-trends, <0.0001). Effects were small (d = 0.16–0.20) but approached clinical significance for men in the highest vs. lowest activity categories. Survivors who walked ≥90 min/week at a normal pace, or faster, reported higher hormone/vitality scores (p = 0.001) than men walking <90 min at an easy pace. Weightlifting was associated with increased urinary incontinence (p-trend, 0.02). Total activity was associated with higher hormone/vitality functioning in men who were ≥5 years post-treatment, had more advanced disease (Gleason score ≥7), and had ≥1 comorbid condition. No relationships were observed between vigorous activity or sedentary behavior and HRQOL.
Conclusions
Increased duration of non-vigorous activity and walking post-diagnosis was positively associated with better hormone/vitality functioning. Specifically, engaging in ≥5 h of non-vigorous activity or ≥3 h of walking per week may be beneficial.
Implications for Cancer Survivors
Encouraging men to engage in non-vigorous activity and walking may be helpful for managing prostate cancer-related HRQOL.
Access options
Buy single article
Instant access to the full article PDF.
US$ 39.95
Tax calculation will be finalised during checkout.
Subscribe to journal
Immediate online access to all issues from 2019. Subscription will auto renew annually.
US$ 79
Tax calculation will be finalised during checkout.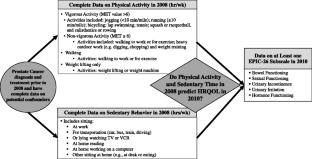 References
1.

Siegel R, DeSantis C, Virgo K, et al. Cancer treatment and survivorship statistics, 2012. CA Cancer J Clin. 2012;62:220–41.

2.

Sanda MG, Dunn RL, Michalski J, et al. Quality of life and satisfaction with outcome among prostate-cancer survivors. N Engl J Med. 2008;358:1250–61.

3.

Potosky AL, Davis WW, Hoffman RM, et al. Five-year outcomes after prostatectomy or radiotherapy for prostate cancer: the prostate cancer outcomes study. J Natl Cancer Inst. 2004;96:358–1367.

4.

Eton DT, Lepore SJ. Prostate cancer and health-related quality of life: a review of the literature. Psychooncology. 2002;11:307–26.

5.

Smith MR. Changes in fat and lean body mass during androgen-deprivation therapy for prostate cancer. Urology. 2004;63:742–5.

6.

Mols F, van de Poll-Franse L, Vingerhoets A, et al. Long-term quality of life among Dutch prostate cancer survivors. Cancer. 2006;107:2186–96.

7.

Johansson E, Steineck G, Holmberg L, Johansson J-E, Nyberg T, Ruutu M, et al. Long-term quality-of-life outcomes after radical prostatectomy or watchful waiting: the Scandinavian Prostate Cancer Group-4 randomised trial. Lancet Oncol. 2011;12(9):891–9.

8.

Miller DC, Sanda MG, Dunn RL, Montie JE, Pimentel H, Sandler HM, et al. Long-term outcomes among localized prostate cancer survivors: health-related quality-of-life changes after radical prostatectomy, external radiation, and brachytherapy. J Clin Oncol. 2005;23(12):2772–80.

9.

Quinten C, Coens C, Mauer M, Comte S, Sprangers MAG, Cleeland C, et al. Baseline quality of life as a prognostic indicator of survival: a meta-analysis of individual patient data from EORTC clinical trials. Lancet Oncol. 2009;10(9):865–71.

10.

Thorsen L, Courneya KS, Stevinson C, Fosså SD. A systematic review of physical activity in prostate cancer survivors: outcomes, prevalence, and determinants. Support Care Cancer. 2008;16:987–97.

11.

Gardner JR, Livingston PM, Fraser SF. Effects of exercise on treatment-related adverse effects for patients with prostate cancer receiving androgen-deprivation therapy: a systematic review. J Clin Oncol. 2014;32:335–46.

12.

Lynch BM, Cerin E, Owen N, Hawkes AL, Aitken JF. Television viewing time of colorectal cancer survivors is associated prospectively with quality of life. Cancer Causes Control. 2011;22:1111–20.

13.

Richman EL, Kenfield SA, Stampfer MJ, Paciorek A, Carroll PR, Chan JM. Physical activity after diagnosis and risk of prostate cancer progression: data from the cancer of the prostate strategic urologic research endeavor. Cancer Res. 2011;71(11):3889–95.

14.

Kenfield SA, Stampfer MJ, Giovannucci E, Chan JM. Physical activity and survival after prostate cancer diagnosis in the health professionals follow-up study. J Clin Oncol. 2011;29(6):726–32.

15.

Blanchard CM, Stein KD, Baker F, et al. Association between current lifestyle behaviors and health-related quality of life in breast, colorectal, and prostate cancer survivors. Psychol Health. 2004;19:1–13.

16.

Dahn JR, Penedo FJ, Molton I, Lopez L, Schneiderman N, Antoni MH. Physical activity and sexual functioning after radiotherapy for prostate cancer: beneficial effects for patients undergoing external beam radiotherapy. Urology. 2005;65:953–8.

17.

Demark-Wahnefried W, Clipp EC, Morey MC, et al. Physical function and associations with diet and exercise: results of a cross-sectional survey among elders with breast or prostate cancer. Int J Behav Nutr Phys Act. 2004;1

18.

Keogh JWL, MacLeod RD. Body composition, physical fitness, functional performance, quality of life, and fatigue benefits of exercise for prostate cancer patients: a systematic review. J Pain Symptom Manage. 2012;43:96–110.

19.

Blair CK, Morey MC, Desmond RA, Cohen HJ, Sloane R, Snyder DC, et al. Light-intensity activity attenuates functional decline in older cancer survivors. Med Sci Sports Exerc. 2014;46(7):1375–83.

20.

Thraen-Borowski KM, Trentham-Dietz A, Edwards DF, Koltyn KF, Colbert LH. Dose–response relationships between physical activity, social participation, and health-related quality of life in colorectal cancer survivors. J Cancer Surviv. 2013;7(3):369–78.

21.

Dunstan DW, Howard B, Healy GN, Owen N. Too much sitting–a health hazard. Diabetes Res Clin Pract. 2012;97(3):368–76.

22.

Lynch BM, Dunstan DW, Healy GN, Winkler E, Eakin E, Owen N. Objectively measured physical activity and sedentary time of breast cancer survivors, and associations with adiposity: findings from NHANES (2003–2006). Cancer Causes Control. 2010;21(2):283–8.

23.

Matthews CE, George SM, Moore SC, Bowles HR, Blair A, Park Y, et al. Amount of time spent in sedentary behaviors and cause-specific mortality in US adults. Am J Clin Nutr. 2012;95(2):437–45.

24.

Campbell PT, Patel AV, Newton CC, Jacobs EJ, Gapstur SM. Associations of recreational physical activity and leisure time spent sitting with colorectal cancer survival. J Clin Oncol. 2013;31(7):876–85.

25.

Lynch BM, Dunstan DW, Winkler E, Healy GN, Eakin E, Owen N. Objectively assessed physical activity, sedentary time and waist circumference among prostate cancer survivors: findings from the National Health and Nutrition Examination Survey (2003–2006). Eur J CancerCare. 2011;20(4):514–9.

26.

Vallance JK, Boyle T, Courneya KS, Lynch BM. Associations of objectively assessed physical activity and sedentary time with health‐related quality of life among colon cancer survivors. Cancer. 2014.

27.

George SM, Alfano CM, Smith AW, Irwin ML, McTiernan A, Bernstein L et al. Sedentary behavior, health-related quality of life, and fatigue among breast cancer survivors. J Phys Act Health. 2013;10(3).

28.

Trinh L, Plotnikoff RC, Rhodes RE, North S, Courneya KS. Associations between sitting time and quality of life in a population-based sample of kidney cancer survivors. Mental Health Phys Act. 2013;6(1):16–23.

29.

George SM, Alfano CM, Groves J, Karabulut Z, Haman KL, Murphy BA, et al. Objectively Measured Sedentary Time Is Related to Quality of Life among Cancer Survivors. PLoS ONE. 2014;9(2):e87937.

30.

Phillips SM, Alfano CM, Perna FM, Glasgow RE. Accelerating translation of physical activity and cancer survivorship research into practice: recommendations for a more integrated and collaborative approach. Cancer Epidemiol Biomarkers Prev. 2014;23(5):687–99.

31.

Buffart L, Galvão D, Brug J, Chinapaw M, Newton R. Evidence-based physical activity guidelines for cancer survivors: Current guidelines, knowledge gaps and future research directions. Cancer Treat Rev. 2014;40(2):327–40.

32.

Brenner DR, Neilson HK, Courneya KS, Friedenreich CM. Physical activity after breast cancer: effect on survival and patient-reported outcomes. Curr Breast Cancer Rep. 2014;1–12.

33.

Wei JT, Dunn RL, Litwin MS, Sandler HM, Sanda MG. Development and validation of the expanded prostate cancer index composite (EPIC) for comprehensive assessment of health-related quality of life in men with prostate cancer. Urology. 2000;56(6):899–905.

34.

Chasan-Taber S, Rimm EB, Stampfer MJ, Spiegelman D, Colditz GA, Giovannucci E, et al. Reproducibility and validity of a self-administered physical activity questionnaire for male health professionals. Epidemiology. 1996;7:81–6.

35.

Ainsworth BE, Haskell WL, Herrmann SD, Meckes N, Bassett DR, Tudor-Locke C, et al. 2011 compendium of physical activities: A second update of codes and MET values. Med Sci Sports Exerc. 2011;43:1575–81.

36.

Grøntved A, Rimm EB, Willett WC, Andersen LB, Hu FB. A Prospective Study of Weight Training and Risk of Type 2 Diabetes Mellitus in Men. Arch Intern Med. 2012;172(17):1306–12.

37.

Cohen J. Statistical power analysis for the behavioral sciences. 2nd ed. Hillsdale: Lawrence Earlbaum Associates; 1988.

38.

Juniper EF, Guyatt GH, Willan A, Griffith LE. Determining a minimal important change in a disease-specific quality of life questionnaire. J Clin Epidemiol. 1994;47:81–7.

39.

Werner H, Bruchim I. The insulin-like growth factor-I receptor as an oncogene. Arch Physiol Biochem. 2009;115:58–71.

40.

McTiernan A. Mechanisms linking physical activity with cancer. Nat Rev Cancer. 2008;8:205–11.

41.

Petersen AMW, Pedersen BK. The anti-inflammatory effect of exercise. J Appl Physiol. 2005;98:1154–62.

42.

Phillips SM, McAuley E. Physical activity and quality of life in breast cancer survivors: the role of self-efficacy and health status. Psychooncology. 2014;23:27–34.

43.

Erickson KI, Miller DL, Roecklein KA. The aging hippocampus interactions between exercise, depression, and BDNF. Neuroscientist. 2012;18(1):82–97.

44.

Harman EA, Frykman PN, Clagett ER, Kraemer WJ. Intra-abdominal and intra-thoracic pressures during lifting and jumping. Med Sci Sports Exerc. 1988;20(2):195–201.

45.

Fleshner N, Herschorn S. The artificial urinary sphincter for post-radical prostatectomy incontinence: impact on urinary symptoms and quality of life. J Urol. 1996;15:1260–4.

46.

Johannesson E, Simrén M, Strid H, Bajor A, Sadik R. Physical activity improves symptoms in irritable bowel syndrome: a randomized controlled trial. Am J Gastroenterol. 2011;106(5):915–22.

47.

Dunlop DD, Song J, Semanik PA, Sharma L, Bathon JM, Eaton CB, et al. Relation of physical activity time to incident disability in community dwelling adults with or at risk of knee arthritis: prospective cohort study. BMJ. 2014;348.

48.

Loprinzi PD, Lee H, Cardinal BJ. Evidence to support including lifestyle light-intensity recommendations in physical activity guidelines for older adults. Am J Health Promot. 2014.

49.

Bauman A, Ainsworth BE, Sallis JF, Hagströmer M, Craig CL, Bull FC et al. The descriptive epidemiology of sitting: a 20-country comparison using the International Physical Activity Questionnaire (IPAQ). Am J Prev Med

50.

Speck RM, Courneya KS, Masse LC, Duval S, Schmitz KH. An update of controlled physical activity trials in cancer survivors: a systematic review and meta-analysis. J Cancer Surviv. 2010;4(2):87–100.
Acknowledgments
We thank the participants, Lauren McLaughlin, and other staff of the Health Professionals Follow-up Study for their valuable contributions as well as the following state cancer registries for their help: AL, AZ, AR, CA, CO, CT, DE, FL, GA, ID, IL, IN, IA, KY, LA, ME, MD, MA, MI, NE, NH, NJ, NY, NC, ND, OH, OK, OR, PA, RI, SC, TN, TX, VA, WA, and WY. The authors assume full responsibility for analyses and interpretation of these data.
Funding/Support
The research for this article was funded by the NIH/NCI UM1 CA167552 to Harvard University and a UCSF Research Evaluation and Allocation Committee Award (Fund 38107). Edward Giovannucci is also supported by NIH R01 CA133891. Siobhan Phillips was supported by the National Cancer Institute Cancer Prevention Fellowship Program during her work on this project.
Conflict of interest
The authors have no conflict of interest or financial disclosures to report.
About this article
Cite this article
Phillips, S.M., Stampfer, M.J., Chan, J.M. et al. Physical activity, sedentary behavior, and health-related quality of life in prostate cancer survivors in the health professionals follow-up study. J Cancer Surviv 9, 500–511 (2015). https://doi.org/10.1007/s11764-015-0426-2
Received:

Accepted:

Published:

Issue Date:
Keywords
Bowel functioning

Hormone functioning

Physical activity

Prostate cancer survivors

Sedentary behavior

Sexual functioning

Urinary functioning