Abstract
Purpose
Comorbid conditions have become increasingly relevant for breast cancer care given the large numbers of long-term survivors. Our aim was to identify potential determinants associated with the development of comorbidities after breast cancer.
Methods
Self-reported comorbidities and lifestyle were assessed at recruitment and after a median follow up of 69.4 months from diagnosis in a population-based cohort of breast cancer cases aged 50 to 74 years at diagnosis (MARIEplus study). Tumor and therapy data were extracted from medical records. Determinants potentially associated with incident diagnoses of hypertension, cardiovascular diseases (CVD), and osteoporosis were assessed using multivariable Cox proportional hazard regression models.
Results
Follow-up interview was completed by 2,542 women (76.4 % of eligible patients). A diagnosis of hypertension was significantly associated with age, higher education (hazard ratio (HR) 0.54, CI 0.37–0.79), baseline body mass index (BMI; ≥30 kg/m2; HR, 1.90; CI, 1.24–2.90), and trastuzumab medication (HR, 2.16; CI, 1.09–4.33). An increased risk for CVD was associated with age, BMI, and intake of aromatase inhibitors (AI; HR, 1.42; CI, 1.09–1.84). Risk of osteoporosis was also positively associated with AI treatment (HR, 2.15; CI, 1.64–2.82) but inversely associated with a higher BMI (≥30 kg/m2; HR, 0.50; CI, 0.31–0.79).
Conclusion
In breast cancer survivors, treatment with AI constituted a risk factor for incident CVD and osteoporosis. Besides known risk factors, patients who were treated with trastuzumab may have an increased risk for hypertension.
Implications for cancer survivors
Reducing overweight and regular sport/cycling activities may help to prevent CVD after breast cancer. Patients should be monitored for risk factors and advised on possible cardiac side effects of AI and trastuzumab.
This is a preview of subscription content,
to check access.
Access this article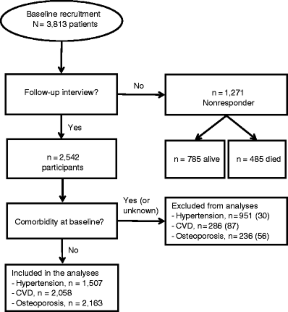 Similar content being viewed by others
References
American Cancer Society. Cancer facts & figures 2012. Atlanta: American Cancer Society 2012.

Cancer survival in England: Patients diagnosed 2005–2009 and followed up to 2010. Office for National Statistics (ONS). London, 2011. http://www.ons.gov.uk/ons/publications/re-reference-tables.html?edition=tcm%3A77-239726#tab-all-tables. Accessed 9 Mar 2013.

Hewitt M, Rowland JH, Yancik R. Cancer survivors in the United States: age, health, and disability. J Gerontol A Biol Sci Med Sci. 2003;58(1):82–91.

Girones R, Torregrosa D, Díaz-Beveridge R. Comorbidity, disability and geriatric syndromes in elderly breast cancer survivors. Results of a single-center experience. Crit Rev Oncol Hematol. 2010;73(3):236–45.

Rao AV, Demark-Wahnefried W. The older cancer survivor. Crit Rev Oncol Hematol. 2006;60(2):131–43.

Land LH, Dalton SO, Jorgensen TL, Ewertz M. Comorbidity and survival after early breast cancer. A review. Crit Rev Oncol/Hematol. 2012;81(2):196–205.

Patnaik JL, Byers T, Diguiseppi C, Denberg TD, Dabelea D. The influence of comorbidities on overall survival among older women diagnosed with breast cancer. J Natl Cancer Inst. 2011;103(14):1101–11.

Newschaffer CJ, Bush TL, Penberthy LT. Comorbidity measurement in elderly female breast cancer patients with administrative and medical records data. J Clin Epidemiol. 1997;50(6):725–33.

Baum M, Buzdar A, Cuzick J, et al. Anastrozole alone or in combination with tamoxifen versus tamoxifen alone for adjuvant treatment of postmenopausal women with early-stage breast cancer: results of the ATAC (Arimidex, Tamoxifen Alone or in Combination) trial efficacy and safety update analyses. Cancer. 2003;98(9):1802–10.

Amir E, Seruga B, Niraula S, Carlsson L, Ocana A. Toxicity of adjuvant endocrine therapy in postmenopausal breast cancer patients: a systematic review and meta-analysis. J Natl Cancer Inst. 2011;103(17):1299–309.

Chen J, Long JB, Hurria A, Owusu C, Steingart RM, Gross CP. Incidence of heart failure or cardiomyopathy after adjuvant trastuzumab therapy for breast cancer. J Am Coll Cardiol. 2012;60(24):2504–12.

Harlan LC, Klabunde CN, Ambs AH, et al. Comorbidities, therapy, and newly diagnosed conditions for women with early stage breast cancer. J Cancer Surviv. 2009;3(2):89–98.

Khan NF, Mant D, Carpenter L, Forman D, Rose PW. Long-term health outcomes in a British cohort of breast, colorectal and prostate cancer survivors: a database study. Br J Cancer. 2011;105 Suppl 1:S29–37.

Flesch-Janys D, Slanger T, Mutschelknauss E, et al. Risk of different histological types of postmenopausal breast cancer by type and regimen of menopausal hormone therapy. Int J Cancer. 2008;123(4):933–41.

Schmidt ME, Chang-Claude J, Vrieling A, et al. Association of pre-diagnosis physical activity with recurrence and mortality among women with breast cancer. Int J Cancer. 2013;133(6):1431–40.

De Laet C, Kanis JA, Oden A, et al. Body mass index as a predictor of fracture risk: a meta-analysis. Osteoporos Int. 2005;16(11):1330–8.

Isidoro B, Lope V, Pedraz-Pingarron C, et al. Validation of obesity based on self-reported data in Spanish women participants in breast cancer screening programmes. BMC Public Health. 2011;11:960.

Spencer EA, Appleby PN, Davey GK, Key TJ. Validity of self-reported height and weight in 4808 EPIC-Oxford participants. Public Health Nutr. 2002;5(4):561–5.

Li J, Siegrist J. Physical activity and risk of cardiovascular disease—a meta-analysis of prospective cohort studies. Int J Environ Res Public Health. 2012;9(2):391–407.

Goldhirsch A, Ingle JN, Gelber RD, et al. Thresholds for therapies: highlights of the St Gallen International Expert Consensus on the Primary Therapy of Early Breast Cancer 2009. Ann Oncol. 2009;20(8):1319–29.

Ligibel JA, James OA, Fisher M, Daniel GW, Winer EP, Keating NL. Risk of myocardial infarction, stroke, and fracture in a cohort of community-based breast cancer patients. Breast Cancer Res Treat. 2012;131(2):589–97.

Lonning PE, Geisler J, Krag LE, et al. Effects of exemestane administered for 2 years versus placebo on bone mineral density, bone biomarkers, and plasma lipids in patients with surgically resected early breast cancer. J Clin Oncol. 2005;23(22):5126–37.

Geisler J, Lonning PE. Impact of aromatase inhibitors on bone health in breast cancer patients. J Steroid Biochem Mol Biol. 2010;118(4–5):294–9.

Cheung AM, Tile L, Cardew S, et al. Bone density and structure in healthy postmenopausal women treated with exemestane for the primary prevention of breast cancer: a nested substudy of the MAP.3 randomised controlled trial. Lancet Oncol. 2012;13(3):275–84.

Arimidex, Tamoxifen, Alone or in Combination Trialists' Group, Buzdar A, Howell A, Cuzick J, Wale C, Distler W, et al. Comprehensive side-effect profile of anastrozole and tamoxifen as adjuvant treatment for early-stage breast cancer: long-term safety analysis of the ATAC trial. The Lancet Oncology. 2006;7(8):633–43.

Mouridsen H, Keshaviah A, Coates AS, et al. Cardiovascular adverse events during adjuvant endocrine therapy for early breast cancer using letrozole or tamoxifen: safety analysis of BIG 1-98 trial. J Clin Oncol. 2007;25(36):5715–22.

McCaig F, Renshaw L, Williams L, et al. A study of the effects of the aromatase inhibitors anastrozole and letrozole on bone metabolism in postmenopausal women with estrogen receptor-positive breast cancer. Breast Cancer Res Treat. 2010;119(3):643–51.

Untch M, Jackisch C, Thomssen C, Nitz U, von Minkwitz G, Kaufmann M. Adjuvant treatment with trastuzumab in patients with breast cancer. Dtsch Arztebl. 2006;103(50):3406–10.

Gianni L, Dafni U, Gelber RD, et al. Treatment with trastuzumab for 1 year after adjuvant chemotherapy in patients with HER2-positive early breast cancer: a 4-year follow-up of a randomised controlled trial. Lancet Oncol. 2011;12(3):236–44.

Hysing J, Wist E. Cardiotoxic effects of trastuzumab. Tidsskr Nor Laegeforen. 2011;131(22):2239–41.

Senkus E, Jassem J. Cardiovascular effects of systemic cancer treatment. Cancer Treat Rev. 2011;37(4):300–11.

Goldhirsch A, Gelber RD, Piccart-Gebhart MJ, de Azambuja E, Procter M, Suter TM et al. 2 years versus 1 year of adjuvant trastuzumab for HER2-positive breast cancer (HERA): an open-label, randomised controlled trial. The Lancet, published online 18-7-2013.

Bowles EJA, Wellman R, Feigelson HS, et al. Risk of heart failure in breast cancer patients after anthracycline and trastuzumab treatment: a retrospective cohort study. JNCI. 2012;104(17):1293–305.

Romond EH, Jeong JH, Rastogi P, et al. Seven-year follow-up assessment of cardiac function in NSABP B-31, a randomized trial comparing doxorubicin and cyclophosphamide followed by paclitaxel (ACP) with ACP plus trastuzumab as adjuvant therapy for patients with node-positive, human epidermal growth factor receptor 2-positive breast cancer. J Clin Oncol. 2012;30(31):3792–9.

Schmitz KH, Prosnitz RG, Schwartz AL, Carver JR. Prospective surveillance and management of cardiac toxicity and health in breast cancer survivors. Cancer. 2012;118(8 Suppl):2270–6.

Harris EER, Correa C, Hwang WT, et al. Late cardiac mortality and morbidity in early-stage breast cancer patients after breast-conservation treatment. J Clin Oncol. 2006;24(25):4100–6.

Braithwaite RS, Chlebowski RT, Lau J, George S, Hess R, Col NF. Meta-analysis of vascular and neoplastic events associated with tamoxifen. J Gen Intern Med. 2003;18(11):937–47.

Slanger T, Mutschelknauss E, Kropp S, Braendle W, Flesch-Janys D, Chang-Claude J. Test-retest reliability of self-reported reproductive and lifestyle data in the context of a German case-control study on breast cancer and postmenopausal hormone therapy. Ann Epidemiol. 2007;17(12):993–8.

Silliman RA, Lash TL. Comparison of interview-based and medical-record based indices of comorbidity among breast cancer patients. Med Care. 1999;37(4):339–49.

Kriegsman DM, Penninx BW, van Eijk JT, Boeke AJ, Deeg DJ. Self-reports and general practitioner information on the presence of chronic diseases in community dwelling elderly. A study on the accuracy of patients' self-reports and on determinants of inaccuracy. J Clin Epidemiol. 1996;49(12):1407–17.

Fuchs J, Busch M, Lange C, Scheidt-Nave C. Prevalence and patterns of morbidity among adults in Germany. Results of the German telephone health interview survey German Health Update (GEDA) 2009. Bundesgesundheitsblatt Gesundheitsforschung Gesundheitsschutz. 2012;55(4):576–86.

Moebus S, Hanisch J, Aidelsburger P, Bramlage P, Wasem J, Jockel KH. Impact of 4 different definitions used for the assessment of the prevalence of the metabolic syndrome in primary healthcare: the German Metabolic and Cardiovascular Risk Project (GEMCAS). Cardiovasc Diabetol. 2007;6(1):22.

Garriguet D. Bone health: osteoporosis, calcium and vitamin D. Health Rep. 2011;22(3):7–14.
Acknowledgments
The MARIEPLUS study including this work was funded by the Deutsche Krebshilfe e.V., project number 108253/108419.
We are grateful to all participants of the MARIEplus study and thank our colleagues Ursula Eilber and Till Olchers for providing excellent support in collecting and preparing the data.
Conflict of interest
The authors declare that they have no conflict of interest.
Additional information
Nadia Obi and Daniela Gornyk contributed equally to this work.
About this article
Cite this article
Obi, N., Gornyk, D., Heinz, J. et al. Determinants of newly diagnosed comorbidities among breast cancer survivors. J Cancer Surviv 8, 384–393 (2014). https://doi.org/10.1007/s11764-013-0338-y
Received:

Accepted:

Published:

Issue Date:

DOI: https://doi.org/10.1007/s11764-013-0338-y
Keywords