Abstract
Purpose
Decision-making preferences among cancer survivors during their follow-up care remains understudied and limited research examines factors that underlie these preferences. The purpose of this study was to assess cancer patients' decision-making preferences during follow-up care, the role of trust and self-efficacy, and the effect of preferences on health outcomes.
Methods
Six hundred twenty-three bladder, leukemia, and colorectal cancer survivors were recruited to the Assessment of Patient Experiences of Cancer Care study between April 2003 and November 2004. Respondents were asked about their follow-up care experiences, including decision-making preferences, trust in physicians, self-efficacy, health-related quality of life (HRQOL), and health appraisal. Unadjusted mean scores of trust and self-efficacy measures by decision preference group were examined. Multinomial logistic and linear regressions were conducted to examine predictors of decision-making preferences and the impact of decision-making preferences on HRQOL and health appraisal.
Results
While the majority of patients preferred shared decision-making (61.0 %), 16.1 % preferred to control their decisions and 22.1 % preferred physician control over decisions. Compared to the other groups, patients preferring physician control had greater trust in their physician (p < 0.001), similar self-efficacy for engaging in the decision-making process, and lower self-efficacy for taking responsibility over decisions (p < 0.001). There were no notable differences between decision-making groups on outcome measures.
Conclusion
Patients who prefer physicians to control decisions are as confident about participating in the decision-making process and experience similar health outcomes as those preferring greater decisional control. Physicians need to tailor their communication behavior to encourage participation and trust among all patients.
Implications for Cancer Survivors
Findings from this study provide unique insights into the decision-making preferences of cancer patients during receipt of follow-up care, which remains an understudied phase of cancer care delivery. Results underscore the need for approaches to decision-making and patient engagement to become more nuanced and to encourage patients to participate in decision-making in ways they are most comfortable. Furthermore, physicians and health care professionals should foster environments that promote trust and clear communication regardless of patient decision-making styles.
Access options
Buy single article
Instant access to the full article PDF.
USD 39.95
Price excludes VAT (USA)
Tax calculation will be finalised during checkout.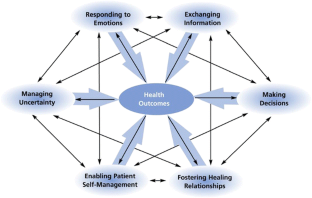 References
Chewning B, Bylund CL, Shah B, Arora NK, Gueguen JA, Makoul G. Patient preferences for shared decisions: a systematic review. Patient Educ Couns. 2012;86(1):9–18. Epub 2011 Apr 6.

Makoul G, Clayman ML. An integrative model of shared decision making in medical encounters. Patient Educ Couns. 2006;60:301–12.

Barry MJ, Edgman-Levitan S. Shared decision making—pinnacle of patient-centered care. N Engl J Med. 2012;366(9):780–1. doi:10.1056/NEJMp1109283. No abstract available.

Selby JV, Beal AC, Frank L. The Patient-Centered Outcomes Research Institute (PCORI) national priorities for research and initial research agenda. JAMA. 2012;18(15):1583–4. doi:10.1001/jama.2012.500. No abstract available.

Epstein RM, Street Jr RL. Patient-centered communication in cancer care: promoting healing and reducing suffering. Bethesda: National Cancer Institute of Medicine; 2007.

Arora NK. Importance of patient-centered care in enhancing patient wellbeing: a cancer survivor's perspective. Qual Life Res. 2009;18:1–4.

Aiello Bowles EJ, Tuzzio L, Wiese CJ, Kirlin B, Greene SM, Clauser SB, et al. Understanding high-quality cancer care: a summary of expert perspectives. Cancer. 2008;112(4):934–42.

Arora NK, Street Jr RL, Epstein RM, Butow PN. Facilitating patient-centered cancer communication: a road map. Patient Educ Couns. 2009;77(3):319–21.

Arora NK, Ayanian JZ, Guadagnoli E. Examining the relationship of patients' attitudes and beliefs with their self-reported level of participation in medical decision-making. Med Care. 2005;43(9):865–72.

Singh JA, Sloan JA, Atherton PJ, Smith T, Hack TF, Huschka MM, et al. Preferred roles in treatment decision making among patients with cancer: a pooled analysis of studies using the Control Preferences Scale. Am J Manag Care. 2010;16(9):688–96.

Elkin EB, Kim SH, Casper ES, Kissane DW, Schrag D. Desire for information and involvement in treatment decisions: elderly cancer patients' preferences and their physicians' perceptions. J Clin Oncol. 2007;25(33):5275–80.

Nguyen GT, Shungu NP, Niederdeppe J, Barg FK, Holmes JH, Armstrong K, et al. Cancer-related information seeking and scanning behavior of older Vietnamese immigrants. J Health Commun. 2010;15(7):754–68.

Zikmund-Fisher BJ, Sarr B, Fagerlin A, Ubel PA. A matter of perspective: choosing for others differs from choosing for yourself in making treatment decisions. J Gen Intern Med. 2006;21(6):618–22.

Street RL, Gordon HS. Companion participation in cancer consultations. Psychooncology. 2008;17(3):244–51.

Kraetschmer N, Sharpe N, Urowitz S, Deber RB. How does trust affect patient preferences for participation in decision-making? Health Expect. 2004;7(4):317–26.

Arora NK, Ayanian JZ, Guadagnoli E. Examining the relationship of patients' attitudes and beliefs with their self-reported level of participation in medical decision-making. Med Care. 2005;43(9):865–72.

Salkeld G, Solomon M, Short L, Butow PN. A matter of trust—patient's views on decision-making in colorectal cancer. Health Expect. 2004;7(2):104–14.

Anger JT, Maliski SL, Krupski TL, Kwan L, Gore JL, Fink A, et al. Outcomes in men denied access to a California public assistance program for prostate cancer. Public Health Rep. 2007;122(2):217–23.

Arora NK, Weaver KE, Clayman ML, Oakley-Girvan I, Potosky AL. Physicians' decision-making style and psychosocial outcomes among cancer survivors. Patient Educ Couns. 2009;77(3):404–12. Epub 2009 Nov 4.

Arora NK, Reeve BB, Hays RD, Clauser SB, Oakley-Girvan I. Assessment of quality of cancer-related follow-up care from the cancer survivor's perspective. J Clin Oncol. 2011;29(10):1280–9. Epub 2011 Feb 28.

Arora NK, McHorney CA. Patient preferences for medical decision making: who really wants to participate? Med Care. 2000;38:335–41.

Keating NL, Beth Landrum M, Arora NK, Malin JL, Ganz PA, van Ryn M, et al. Cancer patients' roles in treatment decisions: do characteristics of the decision influence roles? J Clin Oncol. 2010;28(28):4364–70. Epub 2010 Aug 16.

Institute of Medicine. Cancer care for the whole patient: meeting psychosocial health needs. Washington: National Academy Press; 2007.

Lewis RA, Neal RD, Hendry M, France B, Williams NH, Russell D, et al. Patients' and healthcare professionals' views of cancer follow-up: systematic review. Br J Gen Pract. 2009;59(564):e248–59. Review.

de Bock GH, Bonnema J, Zwaan RE, van de Velde CJ, Kievit J, Stiggelbout AM. Patient's needs and preferences in routine follow-up after treatment for breast cancer. Br J Cancer. 2004;90(6):1144–50.

Stein KD, Syrjala KL, Andrykowski MA. Physical and psychological long-term and late effects of cancer. Cancer. 2008;112(11 Suppl):2577–92. Review.

Degner LF, Sloan JA, Venkatesh P. The Control Preferences Scale. Can J Nurs Res. 1997;29:21–43.

Anderson LA, Dedrick RF. Development of the trust in physician scale: a measure to assess interpersonal trust in patient–physician relationships. Psychol Rep. 1990;67:1091–100.

Thom DH, Ribisl KM, Stewart AL, Luke DA. Further validation and reliability testing of the trust in physician scale. Med Care. 1999;37:510–7.

Thom DH, Hall MA, Pawlson LG. Measuring patients' trust in physicians when assessing quality of care. Health Aff (Millwood). 2004;23:124–32.

Ware JJ, Kosinski M, Dewey J. How to score version 2 of the SF-361 health survey. Lincoln: QualityMetric Incorporated; 2000.

Ware JJ, Kosinski M, Gandek B. SF-36 health survey: manual and interpretation guide. Lincoln: QualityMetric Incorporated; 2000.

Waters EA, Arora NK, Klein WM, Han PK. Perceived risk, trust and health-related quality of life among cancer survivors. Ann Behav Med. 2010;39(1):91–7.

O'Brien MA, Ellis PM, Whelan TJ, Charles C, Gafni A, Lovrics P, Mukherjee SD, Hodgson N. Physician-related facilitators and barriers to patient involvement in treatment decision making in early stage breast cancer: perspectives of physicians and patients. Health Expect. 2011. doi:10.1111/j.1369-7625.2011.00712.x.

Charles C, Gafni A, Whelan T, O'Brien MA. Cultural influences on the physician–patient encounter: the case of shared treatment decision-making. Patient Educ Couns. 2006;63(3):262–7. Epub 2006 Sep 26. Review.

Charles CA, Whelan T, Gafni A, Willan A, Farrell S. Shared treatment decision making: what does it mean to physicians? J Clin Oncol. 2003;21(5):932–6.
Acknowledgments
This paper reflects the personal opinions of Dr. Chawla and Dr. Arora and does not convey any official position of the National Cancer Institute. Funding for data collection was provided by the National Cancer Institute as a contract to the Cancer Prevention Institute of California (formerly known as the Northern California Cancer Center), contract no. N01-PC-35136. Findings from this study were presented at Academy Health Annual Research Meeting, June 24–26, 2012, Orlando, FL, USA. The authors would like to acknowledge the Dr. Ingrid Oakley-Girvan for her data collection efforts for this study.
About this article
Cite this article
Chawla, N., Arora, N.K. Why do some patients prefer to leave decisions up to the doctor: lack of self-efficacy or a matter of trust?. J Cancer Surviv 7, 592–601 (2013). https://doi.org/10.1007/s11764-013-0298-2
Received:

Accepted:

Published:

Issue Date:

DOI: https://doi.org/10.1007/s11764-013-0298-2
Keywords
Cancer

Patient preferences

Patient decision support

Patient–provider communication