Abstract
Controlling the spin of a ball is important in a variety of sports, especially baseball. For an athlete to properly train, it is necessary to know spin information immediately after throwing or hitting a baseball. This paper presents a fully automatic and marker-free technique to measure both the spin rate and spin axis of a pitched baseball using a consumer-grade high-speed camera. After tracking a ball from the high-speed video, our technique measures spin rate by detecting periods in which similar ball images appear, and then estimates spin axis by performing rigid registration that considers three-dimensional rotation. By separating the spin rate measurement and spin axis estimation processes, we achieve reasonable computational efficiency and robustness for small blurred baseball images extracted from video. We evaluated the accuracy of our presented technique by using synthesized videos. To illustrate the feasibility of our technique, we applied it to a variety of breaking ball pitches captured under normal outdoor lighting conditions.
Access options
Buy single article
Instant access to the full article PDF.
US$ 39.95
Tax calculation will be finalised during checkout.
Subscribe to journal
Immediate online access to all issues from 2019. Subscription will auto renew annually.
US$ 79
Tax calculation will be finalised during checkout.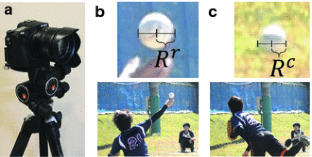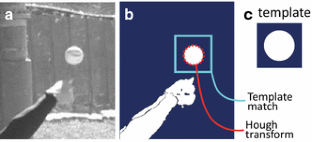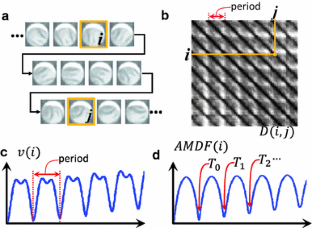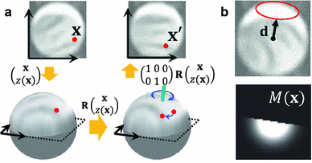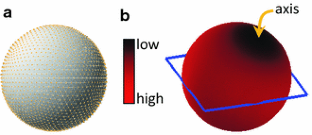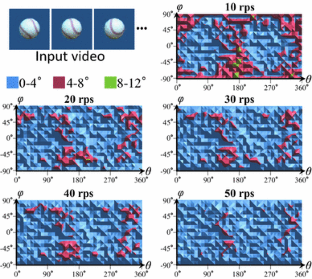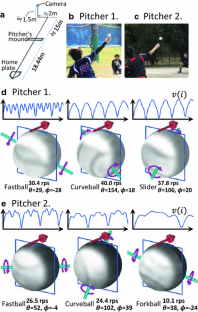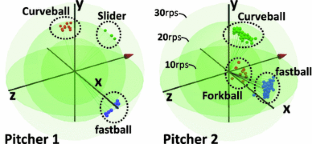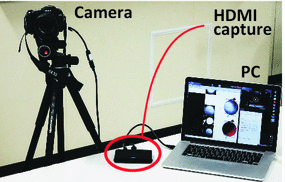 References
1.

Mehta, R.D.: Aerodynamics of sports balls. Ann. Rev. Fluid Mech. 17, 151–189 (1985)

2.

Nagami, T., Morohoshi, J., Higuchi, T., Nakata, H., Naito, S., Kanosue, K.: The spin on fastballs thrown by elite baseball pitchers. Med. Sci. Sport Exer. 43(12), 2321–2327 (2011)

3.

Nagami, T., Higuchi, T., Kanosue, K.: How baseball spin influences the performance of a pitcher. J. Sports Med. Phys. Fit. 2(1), 63–68 (2013)

4.

SONY.: Digital Imaging. [Online]. http://www.sony.net/Products/di/en-us/ (2016)

5.

Gueziec, A.: Tracking pitches for broadcast television. IEEE Comput. 35(3), 38–43 (2002)

6.

Fast, M.: What the heck is PITCHf/x?. Harball Times, Baseball Annual (2010)

7.

Pingali, G., Jean Y., Opalach, A.: Ball tracking and virtual replays for innovative tennis broadcasts. In: Proc. Int. Conf. Pat. Rec., pp. 152–156 (2000)

8.

Yu, X., Xu, C., Leong, H.W., Tian, Q., Tang, Q., Wan, K.: Trajectory based ball detection and tracking with applications to semantic analysis of broadcast soccer video. In: Proc. ACM Int. Conf. Multimedia, pp. 11–20 (2003)

9.

Huang, Y., Xu, D., Tan M., Su, H.: Trajectory prediction of spinning ball for ping–pong robot. In: Proc. IEEE/RSJ Int. Conf. Intel. Robots and Systems, pp. 3434–3439 (2011)

10.

Chen, H.-T., Tien, M.-C., Chen, Y.-W., Tsai, W.-J., Lee, S.-Y.: Physics-based ball tracking and 3D trajectory reconstruction with applications to shooting location estimation in basketball video. J. Vis. Commun. Image Represent. 20(3), 204–216 (2009)

11.

Wang, J.R., Parameswaran, N.: Survey of sports video analysis: research issues and applications. In: Proc. Vis. Inform. Process., pp. 87–90 (2003)

12.

Nathan, A.M.: Analysis of pitchf/x pitched baseball trajectories. The Physics of Baseball. [Online]. http://baseball.physics.illinois.edu/pitchtracker.html (2007)

13.

Baker, S., Matthews, I.: Lucas–Kanade 20 years on: a unifying framework. Int. J. Comput. Vis. 56(3), 221–255 (2004)

14.

Lepetit, V., Fua, P.: Monocular model-based 3D tracking of rigid objects: a survey. Found. Trends Comput. Graph. Vis. 1(1), 1–89 (2005)

15.

Boracchi, G., Caglioti, V., Giusti, A.: Single-image 3D reconstruction of ball velocity and spin from motion blur. In: Proc. VISAPP, pp. 22–25 (2008)

16.

Szep, A.: Quantifying rotations of spheric objects. In: Proc. IAPR Conf. MVA, pp. 255–258 (2011)

17.

Zhang, Y., Xiong, R., Zhao, Y., Wang, J.: Real-time spin estimation of Ping–Pong ball using its natural brand. IEEE Trans. Instrum. Measure. 64(8), 2280–2290 (2015)

18.

Tamaki, T., Sugino, T., Yamamoto, M.: Measuring ball spin by image registration. In: Proc. the 10th Korea-Japan Joint Workshop on FCV, pp. 269–274 (2004)

19.

Shum H., Komura, T.: Tracking the translational and rotational movement of the ball using high-speed camera movies. In: Proc. IEEE ICIP, pp. 1084–1087 (2005)

20.

Tamaki, T., Wang, H., Raytchev, B., Kaneda, K., Ushiyama, Y.: Estimating the spin of a table tennis ball using inverse compositional image alignment. In: Proc. IEEE ICASSP, pp. 1457–1460 (2012)

21.

Theobalt, C., Albrecht, I., Haber, J., Magnor, M., Seidel, H.-P.: Pitching a baseball—tracking high-speed motion with multi-exposure images. ACM Trans. Graph. 23(3), 540–547 (2004)

22.

Passan, J.: 10 Degrees: the next baseball revolution is here, and spin is in. Yahoo sports. [Online]. http://sports.yahoo.com/news/10-degrees--the-next-baseball-revolution-is-here--and-spin-is-in-050433447-mlb.html (2015)

23.

Ballard, D.: Generalizing the Hough transform to detect arbitrary shapes. Pattern Recognit. 13(2), 111–122 (1981)

24.

Ross, M.J., Shaffer, H.L., Cohen, A., Freudberg, R., Manley, H.J.: Average magnitude difference function pitch extractor. IEEE Trans. ASSP 22(5), 353–362 (1974)

25.

Muhammad, G.: Extended average magnitude difference function based pitch detection. Int. Arab J. Inf. Technol. 8(2), 197–208 (2015)
Acknowledgements
We appreciate anonymous reviewers for their valuable comments. We thank undergraduate students at Ritsumeikan University and at the University of Electro-Communications for participating the evaluations of our technique.
Electronic supplementary material
Below is the link to the electronic supplementary material.
Supplementary material 1 (mp4 58199 KB)
About this article
Cite this article
Ijiri, T., Nakamura, A., Hirabayashi, A. et al. Automatic spin measurements for pitched Baseballs via consumer-grade high-speed cameras. SIViP 11, 1197–1204 (2017). https://doi.org/10.1007/s11760-017-1075-x
Received:

Revised:

Accepted:

Published:

Issue Date:
Keywords
High-speed video

Spin analysis

Baseball