Abstract
The purpose of the study is to compare the structural and semantic elements of the two ancient cultures of painted pottery—Yangshao and Trypillia. A comparative and analytical method was used. The study has established the similarity of these two cultures. The number of similarities between the two cultures cannot be explained exclusively by the similarity of the worldviews of ancient grain growers, but also by the cultural exchange between geographically distant territories. These data can serve as a basis for further comparisons of different cultures and help a wide range of experts: historians, archaeologists, geographers, and culturologists.
Résumé
L'objet de cette recherche est une comparaison des éléments structurels et sémantiques de deux cultures anciennes de poterie peinte - Yangshao et Trypillia. Une méthode comparative et analytique a été utilisée. La recherche a mis en lumière la similarité de ces deux cultures. Le nombre des similarités entre les deux cultures ne saurait être expliqué exclusivement par les visions du monde identiques des anciens cultivateurs de céréales, mais également par l'échange culturel entre des territoires géographiques éloignés. Ces données peuvent servir de base à l'appui de comparaisons futures de différentes cultures et aider une grande multiplicité d'experts : historiens, archéologues, géographes et culturologues.
Resumen
El propósito del estudio es comparar los elementos estructurales y semánticos de las dos culturas antiguas de cerámica pintada: la de Yangshao y la de Trypillia. Se utilizó un método comparativo y analítico. El estudio ha establecido la similitud de estas dos culturas. La cantidad de similitudes entre las dos culturas no puede explicarse exclusivamente por la similitud de las cosmovisiones de los antiguos cultivadores de granos, sino también por el intercambio cultural entre territorios geográficamente distantes. Estos datos pueden servir como base para futuras comparaciones de diferentes culturas y ayudar a una amplia gama de expertos: historiadores, arqueólogos, geógrafos y culturólogos.
Access options
Buy single article
Instant access to the full article PDF.
USD 39.95
Price excludes VAT (USA)
Tax calculation will be finalised during checkout.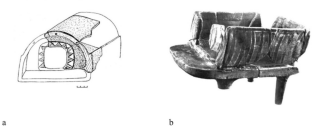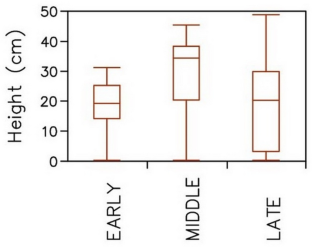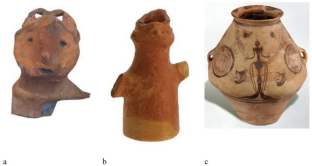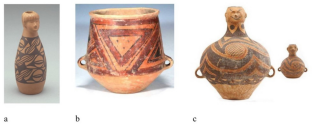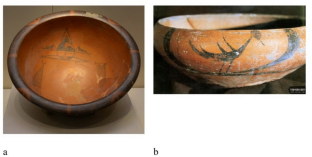 Data Availability
Data will be available on request.
References
Adams, W. Y., Van Gerven, D. P., & Levy, R. S. (1978). The retreat from migrationism. Annual Review of Anthropology, 7(1), 483–532

An, Z. (2017). Early Neolithic culture in North China. SCKOOL. Retrieved 19 Dec, 2021, from https://sckool.org/early-neolithic-culture-in-north-china.html

An, T. (2018). Re-visiting the correlation between movement of Chinese millet and painted pottery before the 2nd millennium BC, Doctoral dissertation, University of Cambridge

Andersson, J. G. (1923). An early Chinese culture, ministry of agriculture and commerce, the Geological Survey of China

Berrocal, M. C., Herrero, E. S., Moret, M. G., González, A. U., Pérez, M. T., Rodríguez, S. C., Chevalier, A., Valentin, F., & Tsang, C. (2018). A comprised archaeological history of Taiwan through the long-term record of Heping Dao, Keelung. International Journal of Historical Archaeology, 22, 905–940

Bismayer, U., Srilomsak, S., Treekamol, Y., Tanthanuch, W., & Suriyatham, K. (2020). Artefacts from Ban Chiang, Thailand: Pottery with hematite-red geometric patterns. Zeitschrift für Kristallographie-Crystalline Materials, 235(11), 559–568

Bondar, K. M., Sokhatskyi, M. P., Chernov, A., Popko, Y., Petrokushyn, O., Baryshnikova, M., Khomenko, R., & Boyko, M. (2021). Geophysical assessment of Verteba Cave Eneolithic site, Ukraine. Geoarchaeology, 36, 238–251

Broka-Lāce, Z. (2021). Contemporary challenges of archaeology. Culture. Crossroads, 19(1), 185–199

Burdo, N., & Videiko, M. (2016). Nebelivka: From magnetic prospection to new features of mega-sites. Trypillia mega-sites and European prehistory (pp. 113–134). Routledge

Clark, G. (2020). Aspects of prehistory. University of California Press

Dănilă, E., Moraru, L., Dey, N., Ashour, A. S., Shi, F., Fong, S. J., Khan, S., & Biswas, A. (2018). Multifractal analysis of ceramic pottery SEM images in Cucuteni-Tripolye culture. Optik, 164, 538–546

David, N., Sterner, J., & Gavua, K. (1988). Why pots are decorated. Current Anthropology, 29, 365–389

Goshko, T. Y. (2019). The study of the technology of painted pottery from Trypillia site. Revista Arheologică, 15(1), 132–139

Guan, Z. (2021). The development of the traditional metrology in China. The origins of sciences in China: History of Science and Technology in China (pp. 223–251). Springer

Higham, C. (2020). Ban Chiang, Northeast Thailand, Volumes 2A and 2B: A review essay. Asian Perspectives, 59(1), 208–223

Immel, A., Țerna, S., Simalcsik, A., Susat, J., Šarov, O., Sîrbu, G., Hofmann, R., Müller, J., Nebel, A., & Krause-Kyora, B. (2020). Gene-flow from steppe individuals into Cucuteni-Trypillia associated populations indicates long-standing contacts and gradual admixture. Scientific Reports, 10, 4253

Kalinina, K. B., & Starkova, E. G. (2016). The technical features of Tripolye ceramic production. In Traditsiii innovatsii v izuchenii drevneishei keramiki, St. Petersburg, pp. 125–128

Kirleis, W., & Dal Corso, M. (2016). Trypillian subsistence economy: Animal and plant exploitation. Trypillia Mega-Sites and European Prehistory (pp. 213–224). Routledge

Konova, M. (2021). Ornament and symbol. Main symbols in the decorative composition of the Church's Orthodox art. Visual Studies, 5(2), 164–174

Lazarovici, C. M. (2017). Cucuteni pots with human face. Shape, decoration and meanings. In K. A. Romstorfer (Ed.), Volume of the International Symposium the Image of Divinity in the Neolithic and Eneolithic. Ways of Communication, Suceava, pp. 193–209

Leipe, C., Kuramochi, S., Wagner, M., & Tarasov, P. E. (2020). Ritual practices and social organisation at the Middle Yayoi culture settlement site of Maenakanishi, eastern Japan. Archaeological and Anthropological Sciences, 12(7), 1–15

Li, C., Ning, C., Hagelberg, E., Li, H., Zhao, Y., Li, W., Abuduresule, I., Zhu, H., & Zhou, H. (2015). Analysis of ancient human mitochondrial DNA from the Xiaohe cemetery: Insights into prehistoric population movements in the Tarim Basin. China. BMC Genetics, 16, 78

Li, S. (1999). A Discussion of sino-western cultural contact and exchange in the second millennium BC based on recent archeological discoveries (No. 97), Department of Asian and Middle Eastern Studies, University of Pennsylvania, Philadelphia

Liu, L. (2005). The Chinese Neolithic: Trajectories to early states. Cambridge University Press

Liu, L., Wang, J., & Liu, H. (2020). The brewing function of the first amphorae in the Neolithic Yangshao culture. North China. Archaeological and Anthropological Sciences, 12, 118

Liu, W., and Zhou, X. (2020). On applying the beauty of traditional culture to modern ceramic ornamental design. In E3S Web of Conferences, E3S Web of Conferences (Vol. 179, p. 02002)

Ma, Q., Hu, Z., Li, Z., & Liang, B. (2001). Gansu Qin'an Dadiwan yizhi chutu caitao (caihuitao) yanliao yiji kuaizhuang yanliao fenxi yanjiu. Wenwu (Cultural Relics), 1, 84–92

Melnyk, Y., & Tkachuk, T. (2021). Semiotic analysis of Trypillia-Cucuteni sign systems, Oleksandr Melnyk

Mentesana, R., Kilikoglou, V., Todaro, S., & Day, P. M. (2019). Reconstructing change in firing technology during the Final Neolithic-Early Bronze Age transition in Phaistos, Crete. Just the tip of the iceberg? Archaeological and Anthropological Sciences, 11, 871–894

Mizoguchi, K. (2022). Making sense of the transformation of religious practices: A critical long-term perspective from pre-and proto-historic Japan. Cambridge Archaeological Journal, 32(1), 153–172

Neureiter, N., Ranacher, P., van Gijn, R., Bickel, B., & Weibel, R. (2021). Can Bayesian phylogeography reconstruct migrations and expansions in linguistic evolution? Royal Society Open Science, 8(1), 201079

Nikitin, A. G., Potekhina, I., Rohland, N., Mallick, S., Reich, D., & Lillie, M. (2017). Mitochondrial DNA analysis of Eneolithic Trypillians from Ukraine reveals Neolithic farming genetic roots. PLoS ONE, 12, e0172952

Palaguta, I. V. (2020). Ceramics ornaments in the Cucuteni-Trypillian culture: Some observations on the methods of constructing a composition. Camera Praehistorica, 1, 76–92

Rudenko, K. A. (2013). Relationships between nomadic Ugrians and settled populations of the Middle Volga Region in the migration period (on the materials of the settlement Tetyushskoye II in Tatarstan). Theory and Practice of Archaeological Research, 2(8), 58–74

Scorrano, G., Baldoni, M., Brilli, M., Rolfo, M. F., Fornaciari, G., Rickards, O., & Martínez-Labarga, C. (2019). Effect of Neolithic transition on an Italian community: Mora Cavorso (Jenne, Rome). Archaeological and Anthropological Sciences, 11, 1443–1459

Shelach-Lavi, G. (2015). The archaeology of early China. Cambridge University Press

Siebke, I., Furtwängler, A., Steuri, N., Hafner, A., Ramstein, M., Krause, J., & Lösch, S. (2020). Crops vs. animals: regional differences in subsistence strategies of Swiss Neolithic farmers revealed by stable isotopes. Archaeological and Anthropological Sciences, 12(10), 235

Smith, M. E. (2020). Definitions and comparisons in urban archaeology. Journal of Urban Archaeology, 1, 15–30

Strelkova, A. Y. (1999). Typology and Yangshao: Symbolism of ceramics ornaments. Cultural Studies, 2, 103–117

Su, J. (2016). Application of Yangshao decorative pattern elements in font design of Chinese characters. 2nd International Conference on Arts (pp. 591–594). Atlantis Press, Dordrecht

Sun, Z., Shao, J., Liu, L., Cui, J., Bonomo, M. F., Guo, Q., Wu, X., & Wang, J. (2018). The first Neolithic urban center on China's north Loess Plateau: The rise and fall of Shimao. Archaeological Research in Asia, 14, 33–45

Tencariu, F. A. (2015). Instalaţii de ardere a ceramicii în civilizaţiile pre-şi protoistorice de pe teritoriul Românie, Editura UAIC, Iaşi

Tian, Z., Ye, S., & Qian, H. (2020). The flying dragon and the dancing phoenix: Chinese totem myths. Myths of the Creation of Chinese (pp. 43–74). Springer

Tsetlin, Y. B. (2008). The Center of the Russian Plain in the Neolithic Age: Decoration of clay vessels and methods for the periodization of cultures, Grif i K, Tula

Turek, J. (2020). Beer, pottery, society and early European identity. Archaeologies, 16, 396–423

Urmakshinova, E., & Kocheva, T. (2015). Complexity index definition for the ornamental image. In Arctic dialogue in the global world, Ulan-Ude (pp. 487–490)

Videiko, M. (2020). From Yangshao to Trypillia: The development of societies of ancient farmers in V-IV BC. Eminak, 1, 230–238

Wang, Z., & Ma, Y. (2021). Study on the semantic expression of woven fiber art decoration. 2021 5th international seminar on education, management and social sciences (ISEMSS 2021) (pp. 45–48). Atlantis Press

Wiedemann, F. (2020). Migration and narration: How European historians in the nineteenth and early twentieth centuries told the history of human mass migrations or Völkerwanderungen. History and Theory, 59(1), 42–60

Xia, B., & Sun, F. (2020). An experiment on decorative pattern design on the basis of parametric technology. In Advances in 3D image and graphics representation analysis, computing and information technology: algorithms and applications. Springer, 2, 449–458

Yueqian, W. (2019). A study on the pottery decoration of Neolithic culture in Northeast China. Journal of National Museum of China, 4, 1–7

Zhang, Q., Hou, Y., Li, X., Styring, A., & Lee-Thorp, J. (2021). Stable isotopes reveal intensive pig husbandry practices in the middle Yellow River region by the Yangshao period (7000–5000 BP). PLoS ONE, 16, e0257524

Zhilong, Y., & Zhang, A. (2022). Meditation and madness, ancient and contemporary speculation on Chinese bird totem art. Technium Social Sciences Journal, 30, 786–799

Zuo, J., Wang, C., & Xu, C. (1998). Non-destructive in-situ study of white and black coating on painted pottery sherds from Bancun Site (Henan, China) by Raman Microscopy. Spectroscopy Letters, 31, 1431–1440
Funding
No funding was received to assist with the preparation of this manuscript.
Ethics declarations
Conflict of interest
There are no competing interests to declare that are relevant to the content of this article.
Additional information
Publisher's Note
Springer Nature remains neutral with regard to jurisdictional claims in published maps and institutional affiliations.
Rights and permissions
Springer Nature or its licensor holds exclusive rights to this article under a publishing agreement with the author(s) or other rightsholder(s); author self-archiving of the accepted manuscript version of this article is solely governed by the terms of such publishing agreement and applicable law.
About this article
Cite this article
Wang, M. A Comparative Study of Painted Pottery Culture of China and Ukraine from the Perspective of Art Archaeology. Arch 18, 468–489 (2022). https://doi.org/10.1007/s11759-022-09449-y
Accepted:

Published:

Issue Date:

DOI: https://doi.org/10.1007/s11759-022-09449-y
Key Words
Cultural exchange

Ornament

The cult of the Mother

The Neolithic period