Abstract
The aboriginal inhabitants residing in India are known as the Tribal population. These indigenous people are scattered in different parts of the country including the state of West Bengal in the eastern part of India. In West Bengal, different districts such as Birbhum, Purulia and Midnapore are important seats of the indigenous inhabitants and their unique cultural and historical background, distinct from the other populations of the region. The Santhal population formed a larger portion in these districts during the early part of 20th century. They possess remarkable cultural identity which is expressed through their songs, music, arts and crafts, their unique indigenous forms of belief and styles of worship. The present research is based on an extensive field survey of the Santhal villages located in the Birbhum district in eastern India. The study aims to highlight the unique artistic manifestations of the Santhal tribe focusing on the sohrai paintings, the themes that are reflected point out the uniqueness of their heritage, tradition and cultural identity. It is also important to sustain the cultural aspects, both tangible and intangible of this indigenous population which involves an inter-disciplinary approach. Corporate Social Responsibility implemented by different companies in India for social development may also aid in sustaining the indigenous community and hence build a mutually beneficial corporate-community engagement model.
Résumé de recherche
Les habitants aborigènes résidant en Inde sont connus comme la population tribale. Ces peuples indigènes sont éparpillés dans différentes régions du pays, notamment l'état du Bengale occidental dans la partie orientale de l'Inde. Dans le Bengale occidental, différents districts tels que Birbhum, Purulia et Midnapore sont des sites importants pour les habitants indigènes et leurs antécédents culturels et historiques uniques, lesquels se distinguent des autres populations de la région. La population Santal constituait une portion plus importante de ces districts au cours de la première partie du 20ème siècle. Ses membres possèdent une identité culturelle remarquable s'exprimant par leurs chansons, leur musique, leurs arts et objets artisanaux, leurs formes indigènes uniques de croyance et styles de pratiques religieuses. La présente recherche se fonde sur une vaste étude de terrain des villages Santal situés dans le district de Birbhum dans l'Inde orientale. L'étude a pour but de mettre l'accent sur les manifestations artistiques uniques de la tribu Santal en s'intéressant aux peintures sohrai, dont les thèmes développés soulignent le caractère unique de leur héritage, de leur tradition et de leur identité culturelle. Il est également important de protéger les aspects culturels, tangibles et intangibles de cette population indigène, ce qui implique une approche interdisciplinaire. La Responsabilité sociale d'entreprise (CSR - Corporate Social Responsibility) mise en œuvre par différentes sociétés en Inde en faveur du développement social est également susceptible de contribuer à la pérennité de la communauté indigène et donc d'élaborer un modèle d'engagement entreprise-communauté mutuellement bénéfique.
Resumen
Los habitantes aborígenes que residen en la India se conocen como la población tribal. Estos pueblos indígenas se encuentran dispersos en diferentes partes del país, incluido el estado de Bengala Occidental en la parte oriental de la India. En Bengala Occidental, diferentes distritos como Birbhum, Purulia y Midnapore son lugares importantes de los habitantes indígenas y su trasfondo cultural e histórico único, distintos de las otras poblaciones de la región. La población santhal representaba una porción más grande en estos distritos durante la primera parte del siglo XX. Poseen una identidad cultural notable que se expresa a través de sus canciones, música, artes y oficios, sus formas de creencia y estilos de culto indígenas únicos. La presente investigación se basa en un extenso estudio de campo de las aldeas santhal ubicadas en el distrito de Birbhum en el este de la India. El estudio tiene como objetivo resaltar las manifestaciones artísticas únicas de la tribu santhal, centrándose en las pinturas sohrai. Los temas que se reflejan señalan la singularidad de su patrimonio, tradición e identidad cultural. También es importante sustentar los aspectos culturales, tangibles e intangibles, de esta población indígena, lo que implica un enfoque interdisciplinario. La Responsabilidad Social Empresarial (RSE) implementada por diferentes empresas en la India para el desarrollo social también puede ayudar a mantener a la comunidad indígena y, por lo tanto, construir un modelo de participación empresarial-comunitaria mutuamente beneficioso.
Access options
Buy single article
Instant access to the full article PDF.
US$ 39.95
Tax calculation will be finalised during checkout.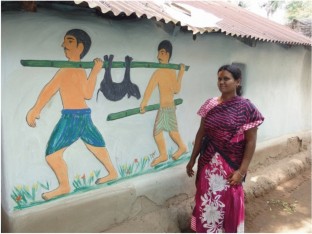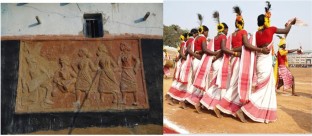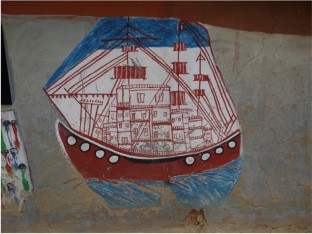 References
Basu, A. 2017. The role of corporate sectors in preserving archaeological & cultural heritage in India. PLURAL. History. Culture. Society. Journal of History and Geography Department, "Ion Creangă" State Pedagogical University, 5(1), 97–105.

Government of India, 2011. District Census Handbook, Birbhum. Directorate of Census Operation.

Guha, S., & Ismail, M. D. 2015. Socio-cultural changes of tribes and their impacts on environment with special reference to Santal in West Bengal. Global Journal of Interdisciplinary Social Sciences, 4(3), 148–156.

Gupta, D. 1986. Tribal development in a West Bengal District: programmes. Structure, and Process in Economic and Political Weekly, 21(1), 35–45.

Hall, S., Held, D., & McGrew, T. (Eds.). 1992. Modernity and its future, pp. 274–316.

Kerketta, V. K. 2018. The Santals' Belief System: An indication to their deeper dimension. International Journal of Engineering Development and Research, 6(1), 205–214.

Leach, E. 1986. Tribal Ethnography: past, present, future. Cambridge Anthropology, 11(2), 1–14.

O'Malley, L. S. S. 1910. Bengal District Gazetteers-Birbhum. Calcutta: The Secretariat Book Depot.

Troisi, J. 1979. Tribal religion: religious beliefs and practices among the Santals. Manohar.

Xaxa, V. 1999. Tribes as indigenous people of India. Economic and Political Weekly, 34(51), 3589–3595.
Website
Retrierved April 16, 2020 from https://www.censusindia.co.in/subdistrict/bolpur-sriniketan-block-birbhum-west-bengal-2264.

Retrieved April 20, 2020 from https://www.tatasteel.com/corporate/our-organisation/corporate-initiatives/samvaad/.
Acknowledgement
I would like to acknowledge and convey my gratitude to Prof. Durga Basu for me guiding through this research. I am also thankful to the villagers of the Santal villages in Birbhum district, who had spontaneously helped me during my survey. I am also grateful to my husband Anustup Chatterjee for constantly supporting me in my research. Last but not the least I need to mention about Mr. Dipanjan Soren, who has helped me with some vital information about his community and people.
Additional information
Publisher's Note
Springer Nature remains neutral with regard to jurisdictional claims in published maps and institutional affiliations.
About this article
Cite this article
Basu, A. Cultural Identity and Sustainability in Santal Indigenous Community of Birbhum District, India. Arch 16, 492–504 (2020). https://doi.org/10.1007/s11759-020-09413-8
Accepted:

Published:

Issue Date:
Keywords
Cultural heritage

Cultural identity

Indigenous community

Sustainability

CSR