Abstract
The "Makpo" recade in Fon language (language and an ethnic group from South Benin, formerly Dahomey) means message stick or fury's stick which is a royal specter. In the kingdom of Dahomey, royal power is represented by 7 badges. The "Makpo" recade is one of its badges. It is an object specific to the kings of Dahomey who wore them on the left shoulder. Their functions are numerous. It derives from the hoe and undergoes an evolution over time. The objective of the study is to identify the materials and the wood species used for the manufacture of the recades in order to understand the choice of sculptors and the cultural importance that the materials used could have. The oral accounts of the resource persons (dignitaries of the royal court and holders of the history of Dahomey), the visit to the museum 'Le petit Musée de la Récade' (Benin), and the documentation made it possible to collect the data allowing analysis of the results. The data collected were compared with the timber identification data described and codified by Tropical Timber Atlas and meeting NF EN standards. Out of 11 recades analyzed, the materials determined are wood, metals and ivory. Wood is the most used material which gives a sacred cultural side to the recades because of the specific choice of species.
Résumé
La récade, « Makpo » en langue Fon (une langue et un groupe ethnique du Bénin du Sud, anciennement Dahomey) qui désigne le bâton du message ou le bâton de la fureur, est un sceptre royal. Il s'agit d'un objet spécifique aux rois du Dahomey qui le portaient sur l'épaule gauche. Il est investi de fonctions multiples. Son origine vient de la houe et il a connu une évolution au cours du temps. Notre étude a pour but d'identifier les matériaux utilisés pour la fabrication des récades ainsi que les essences de bois, et ce afin de comprendre le choix des sculpteurs et l'importance culturelle que pourraient avoir les matériaux utilisés. Les récits oraux des ressources (dignitaires du tribunal royal et détenteurs de l'histoire du Dahomey), la visite du « Petit Musée de la Récade » au Bénin et la documentation ont rendu possible la collecte de données ouvrant ainsi la voie à une analyse des résultats. Les données collectées ont été comparées aux données d'identification des bois décrits et codifiés par l'Atlas des bois tropicaux et conformes aux normes NF EN. Sur les 11 récades analysées, les matériaux relevés sont les suivants: bois, métaux et ivoire. Le bois est le matériel le plus utilisé ce qui confère un aspect culturel sacré aux récades en raison du choix spécifique des essences.
Resumen
La recade, "Makpo" en el idioma fon (un idioma y un grupo étnico del sur de Benin, el antiguo Dahomey), que significa adherirse al mensaje o vara de la furia es un espectro real. Es un objeto específico de los reyes de Dahomey que la llevaban en el hombro izquierdo. Sus funciones son numerosas. Es derivada del azadón y sufre una evolución en el tiempo. El objetivo de nuestro estudio es identificar los materiales utilizados para hacer las recades, identificar las especies de madera para comprender la elección de los escultores y la importancia cultural que podrían tener los materiales utilizados. Los relatos orales de las personas de recurso (dignatarios de la corte real y portadores de la historia de Dahomey), la visita al museo 'Le petit Musée de la Récade' (Benin) y la documentación permitieron recopilar los datos para poder analizar los resultados. Los datos recopilados se compararon con los datos de identificación de la madera descritos y codificados por el Tropical Timber Atlas y cumpliendo con las normas NF EN. En 11 recades analizadas, los materiales determinados son: madera, metales y marfil. La madera es el material más utilizado que da un lado cultural sagrado a las recades debido a la elección específica de especies.
Access options
Buy single article
Instant access to the full article PDF.
US$ 39.95
Tax calculation will be finalised during checkout.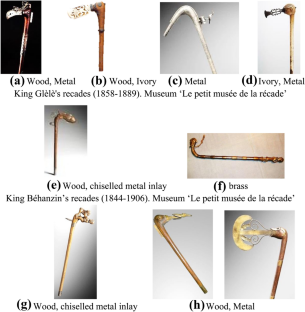 Notes
1.

Joseph C.E. Adandé, Assistant Master of CAMES (Conseil Africain et Malgache pour l'Enseignement Supérieur)African and Malagasy Council for Higher Education, he holds a DEA (Diplôme d'Etudes Approfondies) Diploma of Advanced Studies. and a postgraduate doctorate at the University of Paris I, Panthéon Sorbonne and teaches art history at the University of Abomey-Calavi (Benin).

2.

Open letter addressed to François Hollande to request the restitution by France to Benin of cultural property amassed during colonial times.

3.

Alexandre Sénou Adandé (1913–1993) born in Porto-Novo in Dahomey was an ethnographer, archivist-documentalist and librarian.
References
Alexandre Sènou, A. (1962). Les récades des rois du Dahomey (9-14-104 p, ill.planches). Dakar: Ifan.

Carton, B., & Morrell, R. (2012). Zulu masculinities, warrior culture and stick fighting: Reassessing male violence and virtue in South Africa. Journal of Southern African Studies, 38(1), 31–53.

Danjou. (1893). Renseignements sur le Dahomey. In Bulletins de la Société d'anthropologie de Paris, IV° Série. Tome 4, (pp. 669–672). https://www.persee.fr/doc/bmsap_0301-8644_1893_num_4_1_5479.

Desch-Obi, M. T. J. (2008). Fighting for honor: The history of African martial art traditions in the Atlantic world. Columbia: University of South Carolina Press.

Di Giulioa, G., Signorinia, G., Navarrob, F., & Fioravantia, M. (2019). The wood species of the historic gala berlines of the Palazzo Pitti in Florence. Journal of Cultural Heritage, 41, 249–255.

Fioravanti, M., Di Giulio, G., & Signorini, G. (2016). A non-invasive approach to identifying wood species in historical musical instruments. GESAAF, University of Florence, via San Bonaventura 13, 50145 Florence, Italy.

Gérard, J., Guibal, D., Paradis, S., & Cerre, J.-C. (2017). Tropical timber atlas, technological characteristics and uses. Versailles: Éditions Quæ.

Herskovits, M. J. (1938). Dahomey: An ancient West African Kingdom. New York: Routledge.

Heywood, L. M., & Thornton, J. K. (2009). Soundings in Atlantic history: Latent structures and intellectual currents, 1500–1830. Cambridge: Harvard University Press. (ISBN 978-0-67403276-7), Kongo and Dahomey, 1660–1815.

Hounlonon, M. C., Kouchade, C. A., Kounouhewa, B. B., & Tonouewa, M. (2018). Caracterisation Technologique D'une Essence De Bois Du Benin A Vocation Bois Energie, Actuellement Utilisées Comme Bois D'œuvre: Acacia Auriculiformi, CIFEM.

Laband, J. (2014). 'Fighting stick of thunder': Firearms and the Zulu Kingdom: The cultural ambiguities of transferring weapons technology. War and Society, 33(4), 229–243.

Larsen, L. E. (2017). The historic museum of Abomey: Exhibiting colonial power and post-colonial identity. Museum International, 69(3–4), 108–117.

LeJournaldesArts.fr (avec AFP) [Online]. (2017). La France appelée à restituer au Bénin des « trésors » amassés à l'époque coloniale, Le 24 mars. Retrieved September 4, 2020, from https://www.lejournaldesarts.fr/actualites/la-france-appelee-restituer-au-benin-des-tresors-amasses-lepoque-coloniale-132176.

Lombard, J. (1967). The Kingdom of Dahomey. In C. D. Forde & P. M. Kaberry (Eds.), West African kingdoms in the nineteenth century (pp. 70–92). London: International African Institute, Oxford University.

Macchionia, N., Fachechib, G. M., Lazzeria, S., & Sozzia, L. (2014). Timber species and provenances of wooden sculptures. Information from the collections of the National Museum of "Palazzo di Venezia" in Rome. Journal of Cultural Heritage, 16, 57–64.

Martin, P., & Vernay, M. (2016). Guide d'utilisation des bois africains éco-certifiés en Europe, tom1.

Romano, F. (1997). Les récades du royaume d'Abomey, mémoire de DEA Anthropologie de l'objet, Musée de l'Homme (112 p), ill. catalogue, inédit.

Ruffinatto, F., Macchioni, N., Boetto, G., Baas, P., & Zanuttini, R. (2010). Reflected light microscopy as a non-invasive identification tool for wooden artefacts. IAWAJ, 31(3), 317–331.

Savary, C. (1976). La pensée symbolique des Fo du Dahomey, Tableau De La Société Et Etude De La Littérature Orale D'expression Sacree Dans L'ancien Royaume Du Dahomey, These présentée à la Faculté des lettres de l'Université de Neuchâtel pour obtenir le grade de docteur en lettres, Editions Médecine et Hygiène (pp. 84–85).

UNI 11161. (2005). Cultural heritage, Wooden artefacts. Guidelines for conservation, restoration, maintenance. Retrieved November 20, 2020, from http://store.uni.com/catalogo/uni-11161-2005.
Funding
Funding was provided by Key topics of the 13th Five-year plan of Education Science in Heilongjiang Province in China (Grant No. GLB1320412), The new engineering research and practice Project (Grant No. 1-10-1-Northeast Forestry University).
Additional information
Publisher's Note
Springer Nature remains neutral with regard to jurisdictional claims in published maps and institutional affiliations.
About this article
Cite this article
Boulanki Bello, D.R., Zhu, X. The "Makpo" Recade: Prestigious Object of the Kings of Dahomey and its Sculpture Materials. Arch 16, 505–519 (2020). https://doi.org/10.1007/s11759-020-09412-9
Accepted:

Published:

Issue Date:
Key words
Recade "Makpo"

Prestigious object

Wood species

Materials

Sculpture

Cultural heritage

Dahomey