Abstract
This paper presents the results of recent archaeological work conducted at the ruined site of Kisimani Mafia, Mafia archipelago, Tanzania. The site is one of the two stone town sites on the archipelago, the other being Kua. Despite being fairly well reported in scholarly accounts, few archaeological investigations have been carried out, with Neville Chittick's excavation at the site in the late 1950s being the only one. As the then prevailing scholarly interpretation of all ruined sites on the East African coast, the founding of Kisimani Mafia and Kua was attributed to the Persians and Arabs, respectively. It was suggested that Kisimani Mafia dated to the early second millennium CE, and was then regarded as the earliest settlement on the archipelago. This endeavour sought to review the cultural history of the stone town settlement in relation to the remote settlement history of the archipelago and the coast generally, currently known to date to the early first millennium CE, or even before that. This study involved an archaeological survey and excavations carried out on an open-air site in 2018. An array of cultural materials was recovered, including pottery, beads, glass, coins, slag and metal objects, as well as bone and shell remains. This paper, however, is based on the results of pottery and chronometric analyses, the results of which firmly established that the stone town site was occupied from a much earlier period than was thought. The cultural history spans the Triangular Incised Ware/Tana Tradition period through the Plain Ware period, to the end of the Swahili Ware period. The first two periods, which evolved from the Early Iron Working culture of the archipelago, were when the Swahili stone town settlement was founded.
Résumé
Cet article est une présentation des résultats de travaux archéologiques récents ayant été conduits sur le site de ruines de Kisimani Mafia, archipel de Mafia en Tanzanie. Il est l'un des deux sites de ville de pierre sur l'archipel, l'autre étant celui de Kua. En dépit de descriptions assez complètes dans les rapports spécialisés, peu de recherches archéologiques ont été entreprises, les fouilles de Neville Chittick sur le site à la fin des années 50 étant les seules répertoriées. Selon l'interprétation alors dominante parmi les spécialistes quant à l'ensemble de ces sites de ruines sur la côte de l'Afrique orientale, la fondation de Kisimani Mafia et de Kua était attribuée respectivement aux Perses et aux Arabes. L'hypothèse était que Kisimani Mafia datait des débuts du second millénaire de notre ère, et il était alors considéré comme la toute première implantation sur l'archipel. Le présent travail s'est attaché à examiner l'histoire culturelle de la fondation de la ville de pierre en lien avec l'histoire ancienne des implantations de l'archipel et de la côte plus généralement, dont la connaissance à ce jour remonte aux débuts du premier millénaire de notre ère, ou même avant. Cette étude a comporté une recherche et des fouilles archéologiques menées à bien en 2018 sur un site à ciel ouvert. Un ensemble d'éléments culturels a été collecté, notamment des poteries, des perles, du verre, des pièces de monnaie, des objets de métal et des scories, ainsi que des restes d'os et de coquilles. Cependant, le présent article se fonde sur les résultats d'analyses de poteries et chronométriques. Ceux-ci indiquent fermement que le site de la ville de pierre était occupé à partir d'une période bien plus précoce qu'on ne le pensait. L'histoire culturelle englobe la période de la tradition des céramiques Tana/Ware avec des incisions triangulaires et la période des céramiques Plain Ware, jusqu'à la fin de la période des céramiques Swahili Ware. Les deux premières périodes, ayant évolué à partir des débuts de la culture du travail du fer dans l'archipel, ont été celles de la fondation de la ville de pierre Swahili.
Resumen
Este artículo presenta los resultados de un trabajo arqueológico reciente realizado en el sitio en ruinas de Kisimani Mafia, archipiélago de la Mafia, Tanzania. El sitio es uno de los dos sitios de piedra del archipiélago, el otro es Kua. A pesar de la buena cantidad de información disponible en los relatos académicos, se han llevado a cabo pocas investigaciones arqueológicas, siendo la excavación de Neville Chittick en el sitio a fines de la década de 1950 la única. La interpretación de los estudiosos que prevalecía en ese momento para todos los sitios en ruinas en la costa de África Oriental atribuyó la fundación de Kisimani Mafia y Kua a los persas y árabes, respectivamente. Se sugirió que Kisimani Mafia databa de principios del segundo milenio EC, y luego se consideró como el primer asentamiento en el archipiélago. El actual esfuerzo buscó revisar la historia cultural del asentamiento de la ciudad de piedra en relación con la historia de asentamientos remotos del archipiélago y la costa en general, actualmente conocida hasta la fecha a principios del primer milenio EC, o incluso antes. Este estudio involucró un reconocimiento arqueológico y excavaciones realizadas en un sitio al aire libre en 2018. Se recuperó una variedad de materiales culturales, que incluyen cerámica, cuentas, vidrio, monedas, escoria y objetos metálicos, así como restos de huesos y conchas. Este artículo, sin embargo, se basa en los resultados de análisis cronométricos y de la cerámica, mismos que establecieron firmemente que el sitio de la ciudad de piedra estaba ocupado desde un período mucho más temprano de lo que se pensaba. La historia cultural se extiende desde el período de cerámica incisa triangular/tradición Tana hasta el período de cerámica sencilla, hasta el final del período de cerámica swahili. Los dos primeros períodos, que evolucionaron a partir de la cultura de los primeros trabajos del hierro del archipiélago, fueron cuando se fundó el asentamiento de la ciudad de piedra swahili.
Access options
Buy single article
Instant access to the full article PDF.
US$ 39.95
Tax calculation will be finalised during checkout.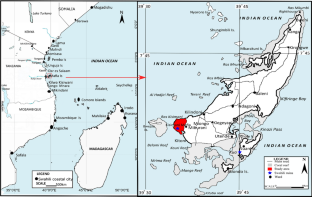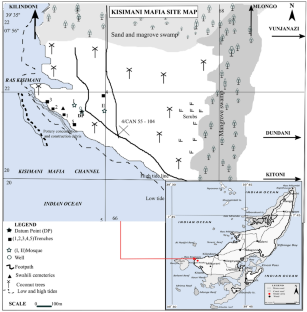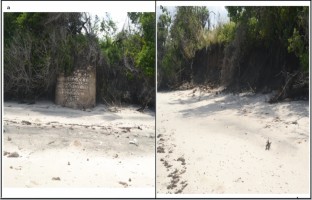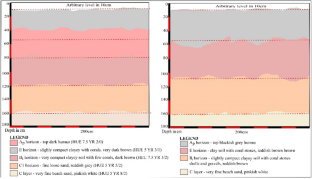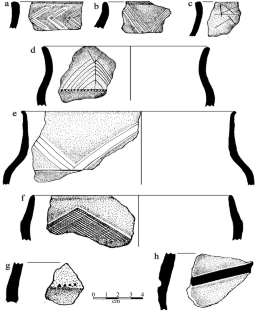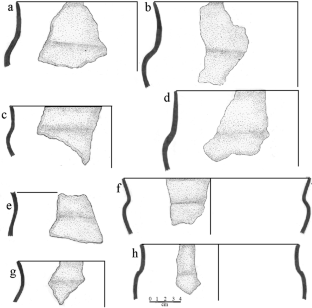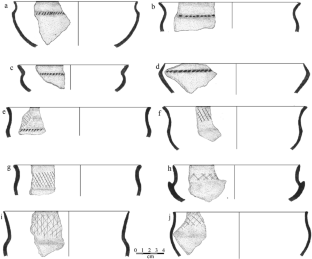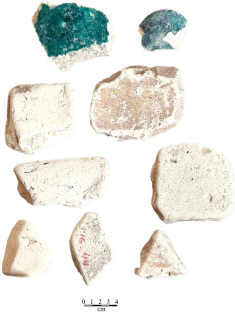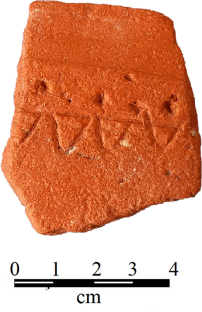 References
Baumann, O. [1895] (1957). Mafia Island. A translation by G.S.P. Freeman-Grenville. Tanganyika Notes and Records, 45, 1–24.

Boivin, N., Crowther, A., Helm, R., & Fuller, D. (2013). East Africa and Madagascar in the Indian Ocean. Journal of World Prehistory, 26, 213–281.

Breen, C., & Lane, P. (2003). Archaeological approaches to East Africa's changing seascapes. World Archaeology, 35(3), 469–489.

Bufure, A. (2012). Further archaeological research around Misimbo Lake, Rufiji region Tanzania. In F. Chami and C. Radimilahy (Eds.), Studies in the African Past (Vol. 10, 47–63).

Casson, L. (1989). Periplus Maris Erythraei. Princeton: Princeton University Press.

Chami, F. (1992). Limbo: Early iron-working site in south-eastern Tanzania. Azania, 27, 45–52.

(1994). The Tanzanian coast in the first Millennium AD. In: Studies in the African Archaeology 7. Uppsala: Societas Archaeological Uppsaliensis.

(1998). A review of Swahili Archaeology. African Archaeological Review, 15(3), 199–218.

(1999a). The early iron age on Mafia Island and its relationship with the mainland. Azania, 34, 1–10.

(1999b). Roman beads from the Rufiji Delta, Tanzania: first incontrovertible archaeological link with the Periplus. Current Anthropology, 40(2), 237–241.

(2000). Further Archaeological Research on Mafia Island. Azania, 35, 208–214.

(2004). The archaeology of the Mafia Archipelago, Tanzania. In F. Chami, G. Pwiti, & C. Radimilahy (Eds.), Studies in the African Past 4 (pp. 73–101). Dar es Salaam: The University Press.

(2006). The unity of African ancient history: 3000 BC to AD 500. Dar es Salaam: E&D Vision Publishing.

(2009). The Longue Durée of Zanzibar and the Western Indian Ocean Seaboard. In F. Chami (Ed.), Zanzibar and the Swahili Coast from c. 30,000 Years Ago. Dar es Salaam: Vision Publishing.

Chami, F., & Kessy, E. (1995). The 1994 Archaeological work at Kisiju, Tanzania. Nyame Akuma, 43, 38–45.

Chami, F., & Msemwa, P. (1997a). "The Excavation at Kwale Island, south Dar es Salaam, Tanzania. Nyame Akuma, 48, 45–56.

(1997b). A new look at culture and trade on the Azanian coast. Current Anthropology, 38(4), 673–677.

Chittick, N. (1961). Kisimani Mafia: excavation at an Island settlement on the East African Coast. Dar es Salaam: Antiquities Division Occasional Paper.

(1974). Kilwa: An islamic trading city on the east African Coast (Vol. 2). Nairobi: The British Institute in Eastern Africa.

(1982). Reconnaissance in coastal Tanzania. Nyame Akuma, 20, 57–58.

Christie, A. (2011). Exploring the social context of maritime exploitation in the Mafia Archipelago, Tanzania: An archaeological perspective. Ph.D. Thesis. University of York.

(2018) The history and archaeology of the Mafia Archipelago. In: S. Wynne-Jones, A. LaViolette (Eds.), The Swahili World (pp. 245–252).

Crowther, A., et al. (2014). Iron age agriculture, fishing and trade in the Mafia Archipelago, Tanzania: New evidence from Ukunju Cave. Azania, 49(1), 21–44.

Datoo, B. (1970). Rhapta, the location and importance of East Africa's First Port. Azania, 5, 65–75.

Fleisher, J., & Wynne-Jones, S. (2011). Ceramics and the early Swahili: Deconstructing the early Tana Tradition. African Archaeological Review, 28, 245–278.

Fleisher, J., et al. (2015). When did the Swahili become maritime? American Anthropologist, 00, 1–16.

Freeman-Grenville, G. (1960). East African coin finds and their historical significance. The Journal of African History, 1(1), 31–43.

(1962). The medieval history of the coast of Tanganyika. London: Oxford University Press.

Horton, M. (1996). Shanga: The archaeology of a Muslim trading community on the coast of East Africa. London: British Institute in Eastern Africa.

Horton, M., & Chami, F. A. (2018). Swahili Origins. In S. Wynne-Jones & A. LaViolette (Eds.), The Swahili world (pp. 135–146). London: Routledge.

Horton, M., & Middleton, J. (2000). The Swahili: The social landscape of a mercantile society. Oxford: Blackwell Publishers.

Huntingford, G. (1980). The periplus of the Erythraean sea. London: The Hakluyt Society.

Kirkman, J. (1964). Men and monuments on the East African Coast. London: Lutterworth Press.

Kwekason, A., & Walz, J. (2015). Material Crosscurrents at Ancient Mlongo, Mafia Island, Tanzania. Newsletter of the Island and Coastal Archaeology, 3(2), 10–11.

Lacroix, W. (1998). Africa in Antiquity: A linguistic and toponymic analysis of Ptolemy's map of Africa. Saarbrucken: Verl. fur Entwicklungspolitik.

Mjema, E. (2014). Maritime community settlement history in the Pangani Bay, Tanga coastal region, Tanzania. Ph.D. Dissertation. Frankfurt Am Main University.

Ntandu, C. (2018). The tradition of early iron working period on the northern coast of Tanzania: A case study of Maramba division in Tanga Region. Ph.D. Thesis. University of Dar es Salaam.

Ombori, T., & Mabulla, A. (2013). The Archaeology of Mbuamaji: An early iron working site in Dar es Salaam City, Tanzania. Studies in the African Past, 11, 113–138.

Phillipson, D. (1979). Some iron age sites in the lower Tana Valley. Azania, 14, 155–160.

Piggott, D. (1941). Mafia: History and traditions. Tanganyika Notes and Records, 11, 35–40.

Revington, T. (1936). Some notes on the Mafia Island Group (Mafia, Chole, Juani and Jibondo). Tanganyika Notes and Records, 1, 33–37.

Schmidt, P., et al. (1992). Archaeological Investigations in the vicinity of Mkiu, Kisarawe district, Tanzania. Dar es Salaam: University of Dar es Salaam.

Shikoni, A., Manzinali, G., Peter, M., Kessy, E., Ombori, T., & Chami, F. (2019). Report of the re-excavation of Ukunju Limestone Cave in Juani, Mafia Archipelago, Tanzania: more evidence of ancient transoceanic trade connections. Man and Environment XLIV, 2, 29–40.

Soper, R. (1971). A general review of Early Iron Age of the southern half of Africa. Azania, 5, 5–37.

Wheeler, M. (1955). Archaeology in East Africa. Tanganyika Notes and Records, 40, 43–47.

Whitehouse, D. (1970). Siraf: A medieval port on the persian gulf. In: World archaeology (Vol. 2, No. 2, pp. 141–158). Urban Archaeology.

(1983). Maritime trade in the gulf: The 11th and 12th Centuries. In: World archaeology, Vol. 14, No. 3, Islamic Archaeology, pp. 328–334.

Wynne-Jones, S. (2006). Reconstructing the Long-Term History of the Mafia Archipelago. In: Unpublished report submitted to COSTECH and the Antiquities Department, Tanzania.
Acknowledgements
We are grateful to our field assistants including Archaeology Field Students, 2018, for their valuable assistance in collecting data, as we are to the local people whose hospitality ensured that we enjoy our stay and work during the field works. We are thankful to Thanda Tanzania Ltd for generously funding this research. Lastly, we thank all the Tanzanian authorities that provided us with research permits, including the Tanzanian Division of Antiquities, Ministry of Natural Resources and Tourism and Pwani regional and Mafia district offices.
Ethics declarations
Conflict of interest
The authors declare no potential conflict of interest with respect to the research, authorship and/or publication of this manuscript.
Ethical Standards
This manuscript is based on an original work conducted at Kisimani Mafia, Mafia Island, Tanzania. The study has been carried out as part of the Thanda Tanzania Mafia Archaeological Research Project. Accordingly, the study adhered to all ethical considerations in the preparation, execution and transportation of data collected from the field for analysis in the laboratory. Permits to carry out the fieldwork for this study were granted by the University of Dar es Salaam, the Antiquities Division, Regional and District Administrative Authorities, and the local authorities on behalf of the local people. They have been properly acknowledged. The manuscript has not been submitted for publication to any journal other than Archaeologies Journal. It will not be submitted to any other journal until the final feedback from the Archaeologies Journal.
Additional information
Publisher's Note
Springer Nature remains neutral with regard to jurisdictional claims in published maps and institutional affiliations.
About this article
Cite this article
Ryano, M.P., Shikoni, A.D., Chami, F.A. et al. The Cultural History and Chronology of Kisimani Mafia Stone Town Site, Mafia Archipelago, Tanzania: Findings from Re-excavation of the Site. Arch 16, 520–552 (2020). https://doi.org/10.1007/s11759-020-09410-x
Accepted:

Published:

Issue Date:
Key words
Mafia archipelago

Kisimani Mafia

Kua

Cultural history

Chronology