Abstract
Nineteenth-century archaeologists working in the Middle East managed local labor in ways that reflect capitalist labor management models. These archaeologists' memoirs reveal both the similarities in how they managed their projects and the differences in how locally hired laborers responded. Focusing on such differences illustrates the agency that local workforces have historically exerted over the archaeological process, even under alienating working conditions. I argue that while there is some emerging recognition of contributions that local communities have made to archaeology, taking a Marxist and historical view reveals how much archaeological knowledge production has fundamentally relied upon site workers' active choices.
Résumé
Les archéologues du 19e siècle qui travaillaient au Moyen-Orient géraient la main-d'œuvre locale selon les modèles capitalistes de l'époque. Les mémoires de ces derniers révèlent à la fois des similitudes dans leur façon de gérer leurs projets et des différences quant aux comportements des travailleurs embauchés sur place. Ces différences illustrent la capacité d'agir ou l'agentivité historique des mains-d'œuvre locales sur le processus archéologique, et ce, même si ces dernières étaient soumises à des conditions de travail aliénantes. J'avance que même si l'on commence à reconnaître les contributions des communautés locales sur l'archéologie, l'adoption de points de vue marxiste et historique révèle à quel point la production des connaissances archéologiques a fondamentalement dépendu des choix actifs des travailleurs sur place.
Resumen
Los arqueólogos que trabajaban en el Medio Oriente en el siglo 19 manejaban los asuntos laborales locales en formas que reflejan los modelos de gestión capitalista de trabajo. Las memorias de estos arqueólogos revelan tanto las similitudes en la forma en que gestionaban sus proyectos y las diferencias en la forma en que respondían los trabajadores contratados localmente. Al abordar tales diferencias, se ilustra la agencia que los trabajadores locales han ejercido históricamente sobre el proceso arqueológico, incluso bajo condiciones de trabajo alienante. Yo sostengo que, si bien ha surgido algún reconocimiento de las contribuciones de las comunidades locales a la arqueología, un punto de vista marxista e histórico revela el grado en que la producción del conocimiento arqueológico ha dependido fundamentalmente de las elecciones activas de los trabajadores de sitio.
This is a preview of subscription content, log in to check access.
Access options
Buy single article
Instant access to the full article PDF.
US$ 39.95
Price includes VAT for USA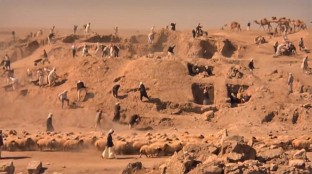 References
Abu El Haj, N. 2001. Facts on the ground: Archaeological practice and territorial self-fashioning in Israeli society. Chicago: University of Chicago Press.

Albright, W. F. 1954. The archaeology of Palestine (3rd ed.). Melbourne: Penguin Books.

Appiah, K. A. 2006. Whose culture is it? The New York Review of Books, 53(2), 38.

Atalay, S., Clauss, L. R., McGuire, R. H., & Welch, J. R. (Eds.). 2010. Transforming archaeology: Activist prospects and practices. Walnut Creek: Left Coast Press.

Bahrani, Z. 1998. Conjuring Mesopotamia: Imaginative geography and a world past. In L. Meskell (Ed.), Archaeology under fire: Nationalism, politics and heritage in the Eastern Mediterranean and Middle East (pp. 159–174). London: Routledge.

Banaji, J. 2007. Islam, the Mediterranean, and the rise of capitalism. Historical Materialism, 15(1), 47–74.

Baram, U. 2011. Community organizing in public archaeology: Coalitions for the preservation of a hidden history in Florida. Present Pasts, 3, 12–18.

Belzoni, G. B. 2001. Narrative of the operations and recent discoveries within the pyramids, temples, tombs, and excavations, in Egypt and Nubia (A. Silotti, Ed., R. Pierce, Trans.). London: British Museum Press.

Berggren, Å., & Hodder, I. 2003. Social practice, method, and some problems of field archaeology. American Antiquity, 68(3), 421–434.

Bernbeck, R., & Pollock, S. 2004. The political economy of archaeological practice and the production of heritage in the Middle East. In L. Meskell & R. W. Preucel (Eds.), A companion to social archaeology (pp. 335–352). Malden: Blackwell.

Braverman, H. 1974. Labor and monopoly capital. New York: Monthly Review.

Brodie, N., & Luke, C. 2006. Conclusion: The social and cultural contexts of looting. In N. Brodie, M. M. Kersel, C. Luke, & K. W. Tubb (Eds.), Archaeology, cultural heritage, and the antiquities trade (pp. 303–319). Gainesville: University Press of Florida.

Brugsch, E., & Maspero, G. 1881. La Trouvaille De Deir-El-Bahari. Cairo: Imprimerie F. Mourès.

Byrne, D. 1991. Western hegemony in archaeological heritage management. History and Anthropology, 5(2), 269–276.

Ceram, C. W. 1968. Gods, graves, and scholars: The story of archaeology (2nd ed.). New York: Knopf.

Coates, D. 2000. Models of capitalism: Growth and stagnation in the modern era. Cambridge: Polity Press.

Colla, E. 2007. Conflicted antiquities: Egyptology, Egyptomania, Egyptian modernity. Durham: Duke University Press.

Dawdy, S. L. 2009. Millennial archaeology: Locating the discipline in an age of insecurity. Archaeological Dialogues, 16(2), 131–142.

Dawson, W. R. 1995. Who was who in Egyptology (3rd ed.). London: Egypt Exploration Society.

Doyon, W. 2014. On archaeological labor in Modern Egypt. In W. Carruthers (Ed.), Histories of Egyptology: Interdisciplinary measures (pp. 141–156). New York: Routledge.

Drucker, P. 1954. The practice of management. New York: Harper.

Dyson, S. L. 2006. In pursuit of ancient pasts: A history of classical archaeology in the nineteenth and twentieth centuries. New Haven: Yale University Press.

Everill, P. 2009. The invisible diggers: A study of British commercial archaeology. Oxford: Oxbow Books.

Fagan, B. 2004. The rape of the Nile: Tomb robbers, tourists, and archaeologists in Egypt, revised and updated (3rd ed.). New York: Charles Scribner's.

Foner, E. 2002. Who owns history? Rethinking the past in a changing world. New York: Hill and Wang.

Friedkin, W. 1973. The Exorcist, produced by William Peter Blatty. Warner Bros: Motion Picture.

Friedmann, G. 1964. Industrial society: The emergence of human problems of automation. Glencoe: Free Press.

Fulcher, J. 1995. British capitalism in the 1980s: Old times or new times? The British Journal of Sociology, 46(2), 325–338.

García, M. D.-A. 2007. A world history of nineteenth-century archaeology: Nationalism, colonialism, and the past. Oxford: Oxford University Press.

Gillot, L. 2010. Towards a socio-political history of archaeology in the Middle East: The development of archaeological practice and its impacts on local communities in Syria. Bulletin of the History of Archaeology, 20(1), 4–17.

Goode, J. F. 2007. Negotiating for the past: Archaeology, nationalism, and diplomacy in the Middle East, 1919–1941. Austin: University of Texas Press.

Gramsch, A., & Sommer, U. (Eds.). 2011. A history of central European archaeology: Theory, methods, and politics., Archaeolingua series minor 30 Budapest: Archaeolingua.

Hall, P. A., & Soskice, D. (Eds.). 2001. Varieties of capitalism: The institutional foundations of comparative advantage. Oxford: Oxford University Press.

Hamilakis, Y. 2007. The nation and its ruins: Antiquity, archaeology, and national imagination in Greece. Oxford: Oxford University Press.

Hamilakis, Y. 2015. Archaeology and the logic of capital: Pulling the emergency break. International Journal of Historical Archaeology, 19(4), 721–735.

Hamilakis, Y., & Duke, P. (Eds.). 2007. Archaeology and capitalism: From ethics to politics. Walnut Creek: Left Coast Press.

Holtorf, C. 2007. Archaeology is a brand!: The meaning of archaeology in contemporary popular culture. Walnut Creek: Left Coast Press.

Hume, I. N. 2011. Belzoni: The giant archaeologists love to hate. Charlottesville: University of Virginia Press.

James, P., & Gills, B. (Eds.). 2006. Globalization and economy (Vol. 1). London: SAGE Publications.

Kehoe, A. B. 1998. The land of prehistory: A critical history of American archaeology. New York: Routledge.

Kersel, M. M., Luke, C., & Roosevelt, C. H. 2008. Valuing the past: Perceptions of archaeological practice in Lydia and the Levant. Journal of Social Archaeology, 8(3), 298–319.

Killebrew, A. 2010. Who owns the past? The role of nationalism, politics, and profit in presenting Israel's archaeological sites to the public. In R. Boytner, L. S. Dodd, & B. J. Parker (Eds.), Controlling the past, owning the future: The political uses of archaeology in the Middle East (pp. 123–141). Tucson: University of Arizona Press.

Kletter, R. 2006. Just past? The making of Israeli archaeology. London: Equinox.

Kuklick, B. 1996. Puritans in Babylon: The ancient near East and American intellectual life, 1880–1930. Princeton: Princeton University Press.

Lance, H. D. 1981. The old testament and the archaeologist. Philadelphia: Fortress Press.

Larsen, M. T. 1996. The conquest of Assyria: Excavations in an antique land 1840–1869. London: Routledge.

Layard, A. H. 1849. Nineveh and its remains. London: John Murray.

Levy, T. E., Michèle Daviau, P. M., Younker, R. W., & Shaer, M. 2007. Crossing Jordan: North American Contributions to the archaeology of Jordan. London: Equinox.

Lipietz, A. 1982. Towards global fordism? New Left Review, 132, 33–48.

Littler, C. R. 1978. Understanding taylorism. British Journal of Sociology, 29(2), 185–202.

Lloyd, S. 1963. Mounds of the near east. Edinburgh: Edinburgh University Press.

Lucas, G. 2001. Critical approaches to fieldwork: Contemporary and historical archaeological practice. London: Routledge.

Maier, C. S. 1970. Between Taylorism and technocracy: European ideologies and the vision of industrial productivity in the 1920s. Journal of Contemporary History, 5(2), 27–61.

Maisels, C. K. 1993. The near east: Archaeology in the 'cradle of civilization'. London: Routledge.

Majd, M. G. 2003. The great American plunder of Persia's antiquities 1925–1941. Lanham: University Press of America.

Marx, K. 1887. Capital: A critique of political economy (Vol. 1, S. Moore & E. Aveling, Trans.). Moscow: Progress Publishers.

Marx, K. 2012 [1844]. Economic and philosophic manuscripts of 1844. Mineola: Courier Dover Publications.

Meryon, C. L. 1846. Travels of Lady Hester Stanhope, forming the completion of her memoirs, narrated by her physician. London: Henry Colburn.

Paynter, R. 1983. Field or factory?: Concerning the degradation of archaeological labor. In J. M. Gero, D. M. Lacy, & M. L. Blakey (Eds.), The socio-politics of archaeology (pp. 31–50). Amherst: University of Massachusetts.

Petrie, W. M. F. 1904. Methods and aims in archaeology. London: Macmillan.

Pollock, S. 1999. Ancient Mesopotamia. Cambridge: Cambridge University Press.

Pollock, S. 2010. Decolonizing archaeology: Political economy and archaeological practice in the Middle East. In R. Boytner, L. S. Dodd, & B. J. Parker (Eds.), Controlling the past, owning the future: The political uses of archaeology in the Middle East (pp. 196–216). Tucson: University of Arizona Press.

Quirke, S. 2010. Hidden hands: Egyptian workforces in petrie excavation archives 1880–1924. London: Duckworth.

Rassam, H. 1897. Asshur and the land of Nimrod. Cincinnati: Curts & Jennings.

Reid, D. M. 1985. Indigenous egyptology: The decolonization of a profession? Journal of the American Oriental Society, 105(2), 233–246.

Reid, D. M. 2002. Whose pharaohs?: Archaeology, museums, and Egyptian national identity from Napoleon to World War I. Berkeley: University of California Press.

Reisner, G. A., Fisher, C. S., & Lyon, D. G. 1924. Harvard excavations at Samaria. Cambridge: Harvard University Press.

Sabel, C. F. 1982. Work and politics: The division of labour in industry. Cambridge: Cambridge University Press.

Schlanger, N., & Nordbladh, J. 2008. Archives, ancestors, practices: Archaeology in the light of its history. New York: Berghahn Books.

Shanks, M., & McGuire, R. H. 1996. The craft of archaeology. American Antiquity, 61(1), 75–88.

Silberman, N. A. 1982. Digging for God and country: Exploration, archeology, and the secret struggle for the holy land, 1799–1917. New York: Alfred A. Knopf.

Silberman, N. A. 1989. Between past and present: Archaeology, ideology, and nationalism in the modern Middle East. New York: Henry Holt and Company.

Silberman, N. A. 1995. Promised lands and chosen peoples: The politics and poetics of archaeological narrative. In P. Kohl & C. Fawcett (Eds.), Nationalism, politics, and the practice of archaeology (pp. 249–262). Cambridge: Cambridge University Press.

Steele, C. 2005. Who has not eaten cherries with the devil? Archaeology under challenge. In R. Bernbeck & S. Pollock (Eds.), Archaeologies of the Middle East: Critical perspectives (pp. 45–65). Malden: Blackwell.

Stiebing, W. H., Jr. 1994. Uncovering the past: A history of archaeology. Oxford: Oxford University Press.

Tolliday, S., & Zeitlin, J. 2003. Between Fordism and flexibility: The automobile industry and its workers—Past, present, and future. In J. C. Wood & M. Wood (Eds.), Henry Ford: Critical evaluations in business and management (pp. 226–251). London: Routledge.

Trigger, B. 2007. A history of archaeological thought (2nd ed.). Cambridge: Cambridge University Press.

Wylie, A. 2002. Thinking from things: Essays in the philosophy of archaeology. Berkeley: University of California Press.
Acknowledgements
I would like to thank Ian Hodder, Barb Voss, Benjamin Porter, and Michael Shanks for their questions and thoughts on the topic of archaeological labor as I developed the ideas in this text. Their advice and feedback has pushed my own thinking about the matter much further, and I hope that they can see evidence of their contributions here. I am also grateful for the feedback and advice from the two anonymous reviewers for this piece. Any flaws or gaps, of course, remain my own.
Ethics declarations
Conflict of interest
The author declares she has no conflict of interest.
Additional information
Publisher's Note
Springer Nature remains neutral with regard to jurisdictional claims in published maps and institutional affiliations.
About this article
Cite this article
Mickel, A. Essential Excavation Experts: Alienation and Agency in the History of Archaeological Labor. Arch 15, 181–205 (2019). https://doi.org/10.1007/s11759-019-09356-9
Key Words
History of archaeology

Labor

Knowledge production

Middle East