Abstract
This paper investigates whether the term 'culture' can be applied to the six Apollo lunar landing sites, and how the remains at these sites can be understood as the actions of bodies at a particular moment in space and time.
Résumé
Cet article examine si le terme « culture » peut s'appliquer aux six sites d'alunissage d'Apollo, et comment les vestiges de ces sites peuvent être considérés comme des actions de corps, à un moment donné, dans le temps et l'espace.
Resumen
El presente documento investiga si el término "cultura" puede aplicarse a los seis lugares de alunizaje del Apolo, y si dichos lugares pueden ser comprendidos como las acciones de organismos en un momento específico en el tiempo y en el espacio.
Access options
Buy single article
Instant access to the full article PDF.
USD 39.95
Price excludes VAT (USA)
Tax calculation will be finalised during checkout.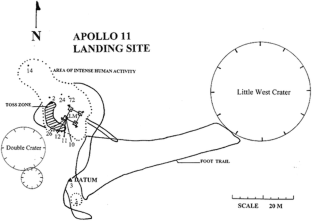 References
Australia ICOMOS 2013. The Burra Charter. The Australia ICOMOS Charter for Places of Cultural Significance. http://australia.icomos.org/wp-content/uploads/The-Burra-Charter-2013-Adopted-31.10.2013.pdf.

Barclay, R., Brooks, R. 2002. In Situ Preservation of Historic Spacecraft. Journal of the British Interplanetary Society 55:173–181.

Binford, L. R. 1964. A Consideration of Archaeological Research Design. American Antiquity 29(4):425–441.

Binford, L. R. 1978. Dimensional Analysis of Behaviour and Site Structure: Learning from an Eskimo Hunting Stand. American Antiquity 43(3):330–361.

Binford, L. R. (1983) In Pursuit of the Past. Decoding the Archaeological Record, Thames and HudsonNew York.,

Bordes, F. (1973) On the Chronology and Contemporaneity of Different Palaeolithic Cultures in France. In The Explanation of Cultural Changepp. 217–226, edited by C Renfrew, DuckworthLondon.,

Bourdieu, P. (1990) The Logic of Practice, PolityCambridge.,

Capelotti, P. J. (2009) Culture of Apollo: Catalog of Manned Exploration of the Moon. In Handbook of Space Engineering, Archaeology, and Heritagepp. 421–441, edited by AG Darrinand BL O'Leary, CRCBoca Raton.,

Capelotti, P. J. (2010) The Human Archaeology of Space. Lunar, Planetary and Interstellar Relics of Exploration, McFarland and CompanyJefferson, NC.,

CelesTrak. Accessed 12 October 2013 https://celestrak.com/.

Childe, V. G. (1929) The Danube in Prehistory, Oxford University PressOxford.,

Darrin, A., O'Leary, B. L. (eds.) (2009) The Handbook of Space Engineering, Archaeology and Heritage, CRC PressBoca Raton.,

Darrin, A. G. (2015) The Impact of the Space Environment on Material Remains. In Archaeology and Heritage of the Human Movement into Spacepp. 13–28, edited by BL O'Learyand PJ Capelotti, SpringerBerlin.,

Elliot Smith, G. (1933) The Diffusion of Culture, Watts and CoLondon.,

Fewer, G. 2002. Towards an LSMR and MSMR (Lunar and Martian Sites and Monuments Records): Recording the Planetary Spacecraft Landing Sites as Archaeological monuments of the future. In M. Russell (editor) Digging Holes in Popular Culture: Archaeology and Science Fiction, pp. 112–120 Bournemouth University School of Conservation Sciences Occasional Paper, vol. 7. Oxbow Books, Oxford.

Fewer, G. 2007. Conserving Space Heritage: The Case of Tranquillity Base. Journal of the British Interplanetary Society 60(1):3–8.

Fewer, G. 2009. 22:28:34 hrs (Moscow Time), 4 October 1957. The Space Age Begins: The Launch of Sputnik I, Earth's First Artificial Satellite. In J. Schofield (editor) Defining Moments: Dramatic Archaeologies of the Twentieth-Century. pp. 105–113 British Archaeological Reports, International Series, vol. 2005. Archaeopress, Oxford.

Gerovitch, S. 2007. 'New Soviet Man' Inside the Machine: Human Engineering, Spacecraft, Design, and the Construction of Communism. Osiris 22:135–157.

Gibson, R. 2001. Lunar Archaeology: The Application of Federal Historic Preservation Law to the Site Where Humans First Set Foot Upon the Moon. MA thesis, New Mexico State University. http://libcat.nmsu.edu/vwebv/holdingsInfo?bibId=785157.

Gorman, A. C. 2007a. La terre et l'espace: Rockets, Prisons, Protests and Heritage in Australia and French Guiana. Archaeologies: Journal of the World Archaeological Congress 3(2):153–168.

Gorman, A.C. 2007b. Leaving the cradle of Earth: the heritage of Low Earth Orbit, 1957–1963. Paper presented at Extreme Heritage: Australia ICOMOS Annual Conference, James Cook University.

Gorman, A. C. (2009a) The Cultural Landscape of Space. In The Handbook of Space Engineering, Archaeology and Heritagepp. 331–342, edited by A Darrinand BL O'Leary, CRC PressBoca Raton.,

Gorman, A. C. 2009b. The Gravity of Archaeology. Archaeologies: The Journal of the World Archaeological Congress 5(2):344–359.

Gorman, A. C. (2009c) Beyond the Space Race: The Significance of Space Sites in a New Global Context. In Contemporary Archaeologies: Excavating Nowpp. 161–180, edited by A Picciniand C Holtorf, Peter LangBern.,

Gorman, A. C. (2012) Space Archaeology. In The Oxford Companion to Archaeologypp. 197–200, edited by N Silberman, Oxford University Press, Oxford.

Gorman, A. C. 2014. The Anthropocene in the Solar System. Journal of Contemporary Archaeology 1(1):87–91.

Gorman, A. C. 2005. The Cultural Landscape of Interplanetary Space. Journal of Social Archaeology 5(1):85–107.

Gorman, A. C., O'Leary, B. L. (2007) An Ideological Vacuum: the Cold War in Space. In A Fearsome Heritage: Diverse Legacies of the Cold War, edited by J Schofieldand W Cocroft, Left CoastWalnut Creek, CA.,

Gorman, A. C., O'Leary, B. (2013) The Archaeology of Space Exploration. In The Oxford Handbook of the Archaeology of the Contemporary Worldpp. 409–424, edited by P Graves-Brown, R Harrisonand A Piccini, Oxford University PressOxford.,

Gould, S. J. (1981) The Mismeasure of Man, WW NortonNew York.,

Hays, P. L., Lutes, C. D. 2007. Towards a Theory of Spacepower. Space Policy 23:206–209.

Heavens Above Satellite Database Accessed 12 October 2013. http://www.heavens-above.com/.

Hicks, D. (2010) The Material-Cultural Turn: Event and Effect. In The Oxford Handbook of Material Culture Studiespp. 25–98, edited by D Hicksand MC Beaudry, Oxford University PressOxford.,

Hitt, D., Garriott, O., Kerwin, J. (2008) Homesteading: Space the Skylab Story, University of Nebraska Press, Lincoln.

Hodder, I. (1982) Symbols in Action: Ehtnoarchaeological Studies of Material Culture, Cambridge University PressCambridge.,

Jones, E.M. and Glover K (eds) 1995–2013 Apollo Lunar Surface Journal. https://www.hq.nasa.gov/alsj/.

Launius, R. D. 2007. A Significant Moment in the Space Age. Space Policy 23(3):141–143.

Leone, M. 1982. Some Opinions About Recovering Mind. American Antiquity 47(4):742–760.

McClintock, A. (1990) Maiden, Maps and Mines: King Solomon's Mines and the Reinvention of Patriarchy. In Women and Gender in Southern Africa to 1945pp. 97–124, edited by C Walker, David Philip and James CurreyCape Town.,

McCurdy, H. E. (1997) Space and the American Imagination, Smithsonian Institution Press, Washington, DC.

Marx, K., and Engels, F. [1845–1846] (1970) The German Ideology. Introduction to a Critique of Political Economy, InternationalNew York.,

Mauss, M. 1934. Les techniques du corps. Journal de Psychologie 32(3–4). Reprinted in Mauss, M. 1936 Sociologie et anthropologie. PUF, Paris.

Miller, D. (1987) Material Culture and Mass Consumption, Basil BlackwellOxford.,

Mindell, D. A. (2008) Digital Apollo: Human and Machine in Spaceflight, The MIT PressCambridge.,

NASA Lunar Surface Operations Office Mission Operations Branch Flight Crew Support Division 1969. Apollo 11 Lunar Surface Operations Plan. Houston: Manned Spaceflight Centre June 27, FINAL version of document.

O'Leary, B.L., R. Gibson, and J. Versluis 2002 Lunar Legacy Project. Accessed 13 September 2013. https://web.archive.org/web/20150416145038, http://spacegrant.nmsu.edu/lunarlegacies/artifactlist.html.

O'Leary, B.L. 2015. "To boldly go where no man [sic] has gone before": Approaches in space archaeology. In B.L. O'Leary, and P.J. Capelotti (editors) Archaeology and Heritage of the Human Movement into Space, pp 1–12. Springer, Berlin.

O'Leary, B.L. 2006. The Cultural Heritage of Space, the Moon and Other Celestial Bodies. Antiquity 80(307) http://antiquity.ac.uk/ProjGall/oleary/index.html.

O'Leary, B.L. 2009. One Giant Leap: Preserving Cultural Resources on the Moon. In A.G. Darrin, and B.L. O'Leary (editors) The Handbook of Space Engineering, Archaeology and Heritage, pp 757–780. CRC, Boca Raton.

Orser, C. (1996) A Historical Archaeology of the Modern World, PlenumNew York.,

Platoff, A.M. 1993 Where No Flag Has Gone Before: Political and Technical Aspects of Placing a Flag on the Moon. NASA Contractor Report 188251 Accessed 21 October 2013: http://history.nasa.gov/alsj/alsj-usflag.html.

Renfrew, C. (1973) Before Civilization: the Radiocarbon Revolution and Prehistoric Europe, Jonathan CapeLondon.,

Rogers, T. F. 2004. Safeguarding Tranquility Base: why the Earth's Moonbase should become a World Heritage Site. Space Policy 20(1):5–6.

Sackett, J. R. 1982. Approaches to style in lithic archaeology. Journal of Anthropological Archaeology 1(1):59–112.

Schiffer, M. (2013) The Archaeology of Science. Studying the Creation of Useful Knowledge, SpringerHeidelberg.,

Sofaer, J. R. (2006) The Body as Material Culture: A Theoretical Osteoarchaeology, Cambridge University PressCambridge.,

Spennemann, D. H. R. 2006. Out of this world: Issues of managing tourism and humanity's heritage on the Moon. International Journal of Heritage Studies 12(4):356–371.

Spennemann, D. H. R. 2007. Extreme Cultural Tourism: From Antarctica to the Moon. Annals of Tourism Research 34(4):898–918.

Spennemann, D. H. R. 2004. The ethics of treading on Neil Armstrong's footprints. Space Policy 20(4):279–290.

Staski, E. 2009. Archaeology: The Basics. In A. Darrin and B. O'Leary 2009 (editors) Handbook of Space Engineering, Archaeology and Heritage. CRC Taylor and Francis, Boca Raton.

Stevenson, M. G. 1985. Workshop/Habitation Sites: Models from Pearce Point in Northern Alberta. American Antiquity 50(1):63–81.

Trigger, B. (2006) A History of Archaeological Thought (2nd ed.). Cambridge University Press, Cambridge.

Tylor, E. (1871) Primitive Culture1,, John MurrayLondon.,

Voss, B. L., Casella, E. C. (eds.) (2011) The Archaeology of Colonialism, Cambridge University PressCambridge.,

Watson, P. J. 1995. Archaeology, Anthropology and the Culture Concept. American Anthropologist New Series 97(4):638–694.

Weitekamp, M. (2004) Right Stuff, Wrong Sex: America's First Women in Space Program, John Hopkins University PressBaltimore.,

White, L. A. (1959) The Evolution of Culture: The Development of Civilization to the Fall of Rome, MacGraw-HillNew York.,
Acknowledgments
I thank the reviewers for their highly thoughtful and useful comments, and Alan Kerlin for generously reading the penultimate draft.
Ethics declarations
Conflict of interest
The author declares no conflict of interest.
About this article
Cite this article
Gorman, A. Culture on the Moon: Bodies in Time and Space. Arch 12, 110–128 (2016). https://doi.org/10.1007/s11759-015-9286-7
Published:

Issue Date:

DOI: https://doi.org/10.1007/s11759-015-9286-7
Key Words