Abstract
This article addresses the extent to which the florescence of gender research in archaeology that arose during the 1980 and 1990s has changed archaeology. Is 'gender' everywhere or nowhere? The research presented in this paper assesses the extent to which concepts related to gender have become embedded within the research methods, themes and discussions of archaeological writing. This quantitative and qualitative study analysed 4487 articles within six key archaeology journals for gender-related words and their contexts. By closely examining the numbers, and patterns of usage of words, it was possible to quantify and assess the content of writing on gender as part of a large corpus of writing. The results show that while the notion of gender has permeated much of the archaeological literature, gender concepts have been adopted inconsistently and that gender is still a marginal concept in parts of the discipline. Consequently, the problems raised by gender archaeology during the 1980 and 1990s have not yet been resolved. There is more work to be done.
Résumé
Cet article permet d'entrevoir si la floraison des recherches sur le genre en archéologie, apparus durant les années 1980 et 1990, a changé l'archéologie. Le « genre » est-il partout ou nulle part ? Les recherches présentées dans cet article évaluent dans quelle mesure les concepts liés au genre se sont inscrits dans les méthodes de recherche, les thèmes et les débats sur les écrits archéologiques. Cette étude quantitative et qualitative a analysé 4 487 articles de six revues archéologie principales concernant les mots liés au genre et leurs contextes. En examinant de près les nombres et les modèles d'utilisation des mots, il a été possible de quantifier et d'évaluer le contenu des écrits sur le genre dans le cadre d'un vaste corpus d'écrits. Les résultats montrent que bien que la notion de genre ait imprégné grandement la littérature archéologique, les concepts de genre n'ont pas été adoptés de façon uniforme et le genre constitue toujours un concept marginal dans certains domaines de la discipline. Par conséquent, les problèmes soulevés par l'archéologie des genres pendant les années 1980 et 1990 n'ont pas encore été résolus. Il reste encore beaucoup à faire.
Resumen
El presente artículo aborda la medida en que el florecimiento de la investigación sobre el género en arqueología, que surgió durante los años 1980 y 1990, ha cambiado la arqueología. ¿Está el "género" en todas partes o en ninguna? La investigación presentada en este documento evalúa la medida en que los conceptos relacionados con el género han llegado a incrustarse en los métodos de investigación, los temas y los debates de los escritos arqueológicos. Este estudio cuantitativo y cualitativo analizó 4.487 artículos en seis revistas claves de arqueología en busca de palabras relacionadas con el género y sus contextos. Mediante el examen exhaustivo de los números, y los patrones de uso de las palabras, fue posible cuantificar y evaluar el contenido de los escritos sobre el género como parte de un gran corpus de escritos. Los resultados muestran que mientras que la noción de género ha impregnado una gran parte del material publicado sobre arqueología, los conceptos de género han sido adoptados de forma contradictoria y el género sigue siendo un concepto marginal en partes de la disciplina. Por consiguiente, los problemas planteados por la arqueología sobre el género durante los años 1980 y 1990 no han sido resueltos todavía. Queda mucho trabajo por hacer.
Access options
Buy single article
Instant access to the full article PDF.
US$ 39.95
Tax calculation will be finalised during checkout.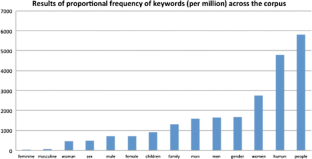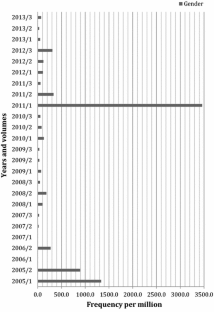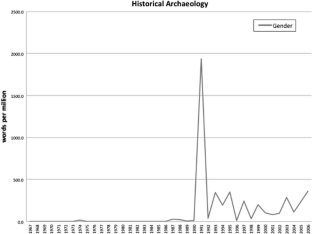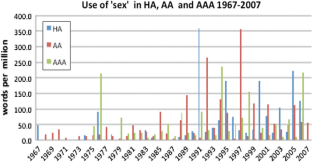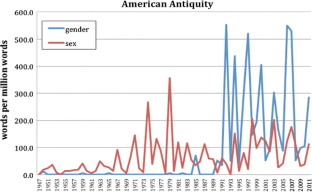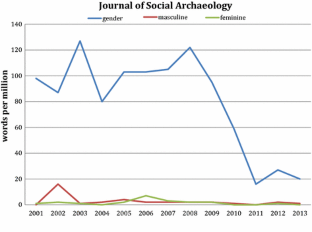 References
Back Danielsson, I.-M. 2012. Much Ado about Nothing? Gender Research in Journals during the Last 30 Years within Archaeology. In To Tender Gender The Pasts and Futures of Gender Research in Archaeology. Edited by I.-M. Back Danielsson and S. Thedéen. pp. 17–32. Stockholm University Press, Stockholm.

Baker, P. (2006) Using Corpora in Discourse Analysis, ContinuumLondon.,

Bardolph, D. 2014. A Critical Evaluation of Recent Gendered Publishing Trends in American Archaeology. American Antiquity 79(3):522–540.

Beaudry, M., White, J. (1994) Cowgirls with the Blues? A Study of Women's Publication and the Citation of Women's Work in Historical Archaeology. In Women in Archaeologypp. 138–158, edited by C Claassen, University of Pennsylvania PressPhiladelphia.,

Bolger, D. (ed.) (2012) A Companion to Gender Prehistory, WileyMalden MA.,

Bradley, C., and U. Dahl 1994. Productivity and Advancement of Women Archaeologists. In Equity Issues for Women in Archaeology, edited by M. C. Nelson, S. M. Nelson, and A. Wylie, pp. 189–194. American Anthropological Association, Washington, DC.

Butler, J. (1990) Gender Trouble: Feminism and the Subversion of Identity, RoutledgeLondon.,

Cane, C., Gilchrist, R., O'Sullivan, D. (1994) Women in Archaeology in Britain: Three Papers. In Equity Issues for Women in Archaeologypp. 91–97, edited by MC Nelson, SM Nelsonand A Wylie, American Anthropological AssociationWashington, DC.,

Cantwell, A.-M., Wall, D. Z. 2011. Engendering New Netherland: Implications for Archaeological and Historical Interpretations for Early Colonial Societies. Archaeologies 7:121–153.

Cameron, D. 1998. Gender, Language and Discourse: A Review Essay. Signs: Journal of Women and Culture in Society 23:945–973.

Clark, H., Haviland, S. (1977) Comprehension and the Given-New Contract. In Discourse Production and Comprehensionpp. 1–40, edited by R Freedle, ErlbaumHillsdale, NJ.,

Colwell-Chanthaponh, C. 2004. Publishing the Past: Gender and Patterns of Authorship in Academic and Public Archaeology Journals. Graduate Journal of Social Science. 1(1):117–143.

Conkey, M. W. 2007. Questioning Theory: Is There a Gender of Theory in Archaeology? Journal of Archaeological Method and Theory 14:285–310.

Conkey, M. W., Spector, J. D. 1984. Archaeology and the Study of Gender. Advances in Archaeological Method and Theory 7:1–38.

Connell, R. W. (1995) Masculinities, University of California PressBerkeley.,

Connell, R. W. (2000) The Men and the Boys, University of California PressBerkeley.,

Delphy, C. 1993. Rethinking sEx and Gender. Women's Studies International Forum 16(1):1–9.

Díaz-Andreu, M. 2007. Internationalism in the Invisible College: Political Ideologies and Friendships in Archaeology. Journal of Social Archaeology 7(1):29–48.

Diaz-Andreu, M., Lucy, S., Babić, S., Edwards, D. N. (2005) The Archaeology of Identity: Approaches to Gender, Age, Status, Ethnicity and ReligionRoutledge, London.,

Engelstad, E. 2007. Much More than Gender. Journal of Archaeological Method and Theory 14(3):217–234.

Fesler, G. 2004. Living Arrangements among Enslaved Women and Men at an Early Eighteenth Century Virginia Quartering Site. In Engendering African American Archaeology: A Southern Perspective, edited by J. E Galle and A. L. Young. p. 179. University of Tennessee Press, Knoxville.

Finlay, N. 2013. Gender and Lithic Studies in Prehistoric Archaeology. In A Companion to Gender Prehistory, edited by D. Bolger. pp. 142–160. Wiley, Malden MA.

Geller, P. 2008. Conceiving Sex: Fomenting a Feminist Bioarchaeology. Journal of Social Archaeology 8(1):113–138.

Gilchrist, R. (1999) Gender and Archaeology: Contesting the Past, RoutledgeLondon.,

Hadley, D. M. and K. A. Hemer 2014. Medieval Childhood: Archaeological Approaches. SSCIP Monograph 3. Oxbow, Oxford.

Halliday, M. A. K. 1998. On the Grammar of Pain. Functions of Language 5(1):1–32.

Hamilton, M. 1991a. Masculine Bias in the Attribution of Personhood: People = Male, Male = People. Psychology of Women Quarterly 15:393–402.

Hanen, M. P., Kelly, J. (1992) Gender and archaeological knowledge. In Metaarchaeology: Reflections by Archaeologists and Philosopherspp. 195–227, edited by L Embree, Kluwer Academic PublishersBoston.,

Harding, S. (1986) The Science Question in Feminism, Cornell University PressIthaca.,

Harlow, K. 2011. Multivocality of Archaeology Handbooks: Publication Patterns, Gender, and Networking. Unpublished Masters Thesis Durham University, Durham.

Hill, E. 1998. Gender-Informed Archaeology. Analog and the Multivariate Approach. Journal of Archaeological Method and Theory 5(1):99–128.

Hutson, S. R. 2002. Gendered Citation Practices in American Antiquity and Other Archaeology Journals. American Antiquity 67(2):331–342.

Johnson, M. 2010. Archaeological Theory: An Introduction, 2nd edn. Wiley-Blackwell, Malden, MA.

Johnson, J., Repta, R. (2012) Sex and Gender: Beyond the Binaries. In Designing and Conducting Gender, Sex, & Health Researchpp. 17–39, edited by J Oliffeand L Greaves, SAGE PublicationsThousand OaksCA.,

Joyce, R. A. (2002) The Languages of Archaeology, Blackwell PublishersOxford.,

Kahneman, D., Miller, D. T. 1986. Norm Theory: Comparing Reality to Its Alternatives. Psychological Review 93:136–153.

Kennedy, G. (1998) An Introduction to Corpus Linguistics, Addison WesleyLondon.,

Lazzari, M. 2003. Archaeological Visions: Gender, Landscape, and Optic Knowledge. Journal of Social Archaeology 2(3):194–222.

Lazzari, M. 2011. Tangible Interventions: The Lived Landscapes of Contemporary Archaeology. Journal of Material Culture. 16(2):171–191.

Lorber, J. (2005) Breaking the Bowls: Degendering and Feminist Change, NortonNew York, W.W.,

Macauley, R. K. S. 1978. The Myth of Female Superiority in Language. Journal of Child Language 5:353–363.

McEnery, T., Wilson, A. (1996) Corpus Linguistics, Edinburgh University PressEdinburgh.,

Miller, D. T., Prentice, D. A. (1996) The Construction of Social Norms and Standards. In Social Psychology: Handbook of Basic Principlespp. 799–829, edited by ET Higginsand AW Kruglanski, Guilford PressNew York.,

Nelson, S. M. (2004) Gender Archaeology: Analyzing Power and Prestige, Alta Mira PressLanham M.D.,

Nelson, S. M. (ed.) (2006) Handbook of Gender in Archaeology, Alta Mira PressLanham, MD.,

Nordbladh, J., Yates, T. (1990) This perfect body, this virgin text: between sex and gender in archaeology. In Archaeology After Structuralism—Post-Structuralism and the Practice of Archaeologypp. 222–237, edited by I Bapty, London/New YorkYates.,

Oakley, A. 1972. Sex, Gender and Society. Temple Smith, London.

Ortner, S., Whitehead, H. (1981) Sexual Meanings: The Cultural Construction of Gender and Sexuality, Cambridge University PressCambridge.,

Preucel, R. W. (2006) Archaeological Semiotics, Blackwell PressOxford.,

Preucel, R. W., Hodder, I. (1996) Contemporary Archaeology in Theory, BlackwellOxford, Cambridge Mass.,

Pryzgoda, J., Chrisler, C. C. 2000. Definitions of Gender and Sex: The Subtleties of Meaning. Sex Roles 43(7/8):553–569.

Rosaldo, M. Z., Lamphere, L. (eds.) (1974) Woman, Culture and Society, Stanford University PressStanford.,

Rubin, G. (1975) The Traffic in Women: Toward a "Political Economy" of Sex. In Towards an Anthropology of Womenpp. 157–210, edited by R Reiter, Monthly Review PressNew York.,

Schippers, M. 2007. Recovering the Feminine Other: Masculinity, Femininity, and Gender Hegemony. Theory and Society 36:85–102.

Slocum, S. 1975. Woman the Gatherer: Male Bias in Anthropology. In Anthropological Theory: An Introductory History, edited by R. Jon McGee and Richard L. Warms. pp. 399–407. McGraw-Hill, New York.

Smith, C., Burke, H. 2006. Glass Ceilings, Glass Parasols and Australian Academic Archaeology. Australian Archaeology 62:13–25.

Solometo, J., Moss, J. 2013. Picturing the Past: Gender in National Geographic Reconstructions of Prehistoric Life. American Antiquity 78:123–146.

Sørensen, M. L. S. (2000) Gender Archaeology, Cambridge University PressCambridge.,

Stanley, L. 2002. Should 'sex' really be 'gender'–or 'gender' really be 'sex'. In Gender: A Sociological Reader, edited by S. Jackson and S. Scott, pp. 31–41. Routledge, London.

Swann, J. 2002. Yes, but is it gender? In Gender Identity and Discourse Analysis, edited by L. Litosseliti and J. Sunderland, pp. 43–67. Benjamins, Amsterdam.

Tomášková, S. 2011. Landscape for a Good Feminist. An Archaeological Review. Archaeological Dialogues 18:109–136.

Varga, O. 2010. From Women to Gender: A Diachronic Exploration of Participant Representation in Texts from the United Nations. Published Ph. D. Thesis Åbo Akedemi University Press, Åbo.

Wodak, R., Meyer, M. (eds.) (2012) Methods of Critical Discourse Analysis, SageLondon.,
About this article
Cite this article
De Leiuen, C. Discourse Through the Looking Glass: Gender in the Language of Archaeological Journals. Arch 11, 417–444 (2015). https://doi.org/10.1007/s11759-015-9284-9
Key Words
Gender

Language

Discourse

Journals