Abstract
During the Seventh World Archaeological Congress (WAC-7), convened in Jordan in January of 2013, the Faces of Archaeology project captured over 100 portraits of the attendees. This project was formed to document the diverse population of archaeologists and other heritage workers from around the world and to explore and make visible more intangible questions of identity and representation in archaeology. The portraits were subsequently displayed online and at the Theoretical Archaeology Group Meetings in the USA and Turkey. This combined article and photo essay presents a selection of these photos, discusses unexpected outcomes of the project, and provides thoughts on diversity and representation in world heritage.
Résumé
Au cours du septième Congrès international d'archéologie (WAC-7), organisé en Jordanie en janvier 2013, le projet Visages de l'archéologie a photographié plus de 100 portraits des participants. Ce projet a été créé pour obtenir des informations sur la diversité de la population des archéologues et des autres professionnels du secteur du patrimoine dans le monde entier, et étudier et mettre en évidence des questions plus immatérielles sur l'identité et la représentation en archéologie. Les portraits ont ensuite été affichés en ligne et lors des réunions du Groupe de la théorie archéologique (Theoretical Archaeology Group) aux États-Unis et en Turquie. Cette composition d'article et de reportage photo présente une sélection de ces photos, étudie les résultats inattendus du projet et livre quelques réflexions sur la diversité et la représentation dans le patrimoine mondial.
Resumen
Durante el Séptimo Congreso Arqueológico Mundial (WAC-7), celebrado en Jordania en enero de 2013, el proyecto Caras de la Arqueología captó más de 100 retratos de los asistentes. Este proyecto se realizó para documentar la variada población de los arqueólogos y otros trabajadores del patrimonio de todo el mundo y para explorar y hacer visibles cuestiones más tangibles de identidad y representación en la arqueología. Los retratos fueron exhibidos posteriormente online y en las Reuniones del Grupo de Arqueología Teórica en los Estados Unidos de América y Turquía. El presente ensayo combinado de artículo y fotos presenta una selección de dichas fotos, analiza los resultados inesperados del proyecto, y proporciona ideas sobre la diversidad y la representación en el patrimonio de la humanidad.
Access options
Buy single article
Instant access to the full article PDF.
USD 39.95
Price excludes VAT (USA)
Tax calculation will be finalised during checkout.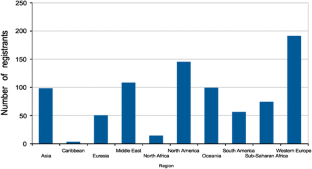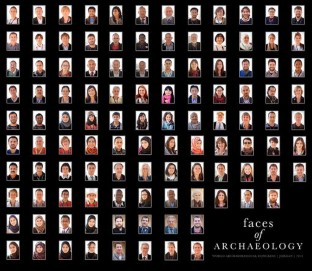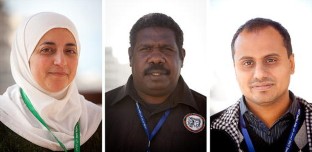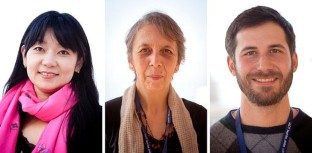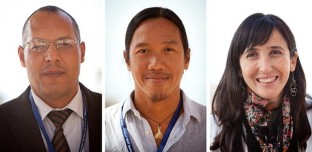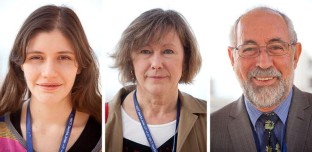 References
Ascherson, N. (2006) Archaeological Overthrows: The 1980s Seen Through the Rear Window. In A Future for Archaeologypp. 47–52, edited by R Layton, S Shennanand P Stone, Left Coast PressWalnut Creek, CA.,

Baird, J. A. 2011. Photographing Dura-Europos, 1928–1937: An Archaeology of the Archive. American Journal of Archaeology 115(3):427–446.

Bateman, J. (2005) Wearing Juninho's Shirt: Record and Negotiation. In Excavation Photographs in Envisioning the Past: Archaeology and the Imagepp. 192–203, edited by S Smilesand S Moser, BlackwellMalden, MA.,

Berger, J. (2013) Understanding a Photograph, Penguin ClassicsLondon, UK.,

Gero, J. M. 1999. The History of the World Archaeological Congress. http://www.worldarchaeologicalcongress.org/site/about_hist.php. Accessed 28 February 2014.

Guha, S. 2002. The Visual in Archaeology: Photographic Representation of Archaeological Practice in British India. Antiquity 76:93–100.

Hamilakis, Y., Anagnostopoulos, A., Ifantidis, F. 2009. Postcards from the Edge of Time: Archaeology, Photography, Archaeological Ethnography (A Photo-Essay). Public Archaeology 8(2):283–309.

Hauser, K. (2007) Shadow Sites: Photography, Archaeology, and the British Landscape 1927-1951, Oxford University PressOxford.,

Morgan, C. 2012. Emancipatory Digital Archaeology. PhD Dissertation, University of California, Berkeley.

Morgan, C., Eve, S. 2012. DIY and Digital Archaeology: What are You Doing to Participate? World Archaeology 44(4):521–537.

Moser, S., Smiles, S. (2005) Introduction. In Envisioning the Past: Archaeology and the Imagepp. 1–12, edited by S Smilesand S Moser, BlackwellOxford.,

Perry, S. 2009. Fractured Media: Challenging the Dimensions of Archaeology's Typical Visual Modes of Engagement. Archaeologies: Journal of the World Archaeological Congress 5(3):389–415.

Schneider, T. 2007. The Role of Archived Photographs in Native California Archaeology. Journal of Social Archaeology 7(1):49–71.

Shepherd, N., Haber, A. 2011. What's Up with WAC? Archaeology and 'Engagement' in a Globalized World. Public Archaeology 10(2):96–115.

Smith, C. 2011. Errors of Fact and Errors of Representation: Response to Shepherd and Haber's Critique of the World Archaeological Congress. Public Archaeology 10(4):223–234.

Swain, H. 1997. Mirroring Reality? Images of Archaeologists. The Archaeologist 30:16–17.

Ucko, P. J. (1987) Academic Freedom and Apartheid: The Story of the World Archaeological Congress, DuckworthLondon.,

Witmore, C. L. 2007. Special Reviews Section: Archaeology on the Ground: The Memory Practices of David Webb: Diggers Alternative Archive, website and photography by David Webb: www.archdiggers.co.uk/diggers/frameset.html. European Journal of Archaeology 10:85–89.

Yoo, J. 2012. Conference Review: WAC-7. Public Archaeology 11(3):151–157.
Acknowledgments
Colleen Morgan would like to thank the WAC Executive for their support and partial funding of this project, the EUROTAST Research Network, and the Archaeology Department at the University of York. Jesse Stephen would like to recognize both the Anthropology Department of the University of Hawai'i at Manoā and the Central Identification Laboratory of the Joint Prisoner of War Missing in Action Command (JPAC-CIL) for support and funding. The authors would also like to thank Brian Boyd for his insightful comments on a draft of this paper.
About this article
Cite this article
Stephen, J.W., Morgan, C. Faces of Archaeology: A Photographic Portrait Study from the Seventh World Archaeological Congress. Arch 10, 194–206 (2014). https://doi.org/10.1007/s11759-014-9255-6
Published:

Issue Date:

DOI: https://doi.org/10.1007/s11759-014-9255-6
Key Words
Archaeological photography

WAC

Reflexivity

Global heritage