Abstract
The gulf between indigenous and western experiences in the Americas may appear so vast as to obscure the relevance of knowledge about the ancient past to challenges of today. Yet, in imaging alternative futures, people of varied cultural dispositions find experiential accord. As both product of and precedent for social action, materiality provides archaeologists some purchase on interventions of change. In the recursive relationships between place and being, between thing and entanglement, we observe temporalities that privilege historical practice as the locus of social action. Examples from the ancient American Southeast illustrate what form an archaeology of alternative futures might take.
Résumé
Le gouffre entre les expériences indigènes et occidentales des Amériques peut sembler tellement vaste que la pertinence de la connaissance du passé ancien pour relever les défis d'aujourd'hui s'en trouve obscurcie. Cependant, lorsqu'ils imaginent des futurs alternatifs, des individus d'obédiences culturelles diverses se retrouvent en accord sur leurs expériences. A la fois comme produit de et précédent à l'action sociale, la matérialité fournit aux archéologues une prise sur les interventions du changement. Dans les relations récursives entre lieu et existence, entre chose et enchevêtrement, nous observons des temporalités qui privilégient la pratique historique comme site de l'action sociale. Des exemples issus de l'Amérique du sud-est antique illustre la forme que pourrait prendre une archéologie des futurs alternatifs.
Resumen
El abismo entre las experiencias indígenas y las occidentales en las Américas puede parecer tan vasto como para oscurecer la relevancia del conocimiento sobre el antiguo pasado para los retos de la actualidad. Sin embargo, al imaginar futuros alternativos, las personas con disposiciones culturales variadas encuentran un acuerdo experiencial. Tanto como producto o como precedente de la acción social, la materialidad proporciona a los arqueólogos algo a lo que agarrarse en intervenciones de cambio. En las relaciones recursivas entre lugar y ser, entre cosa e implicación, observamos temporalidades que privilegian la práctica histórica como el centro neurálgico de la acción social. Ejemplos del antiguo sudeste americano ilustran qué forma podría tomar una arqueología de futuros alternativos.
Access options
Buy single article
Instant access to the full article PDF.
US$ 39.95
Tax calculation will be finalised during checkout.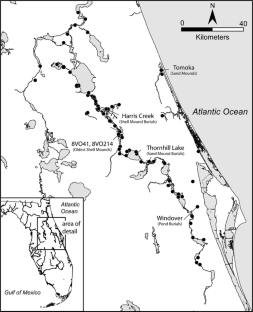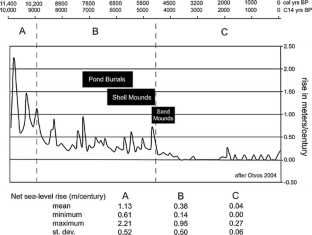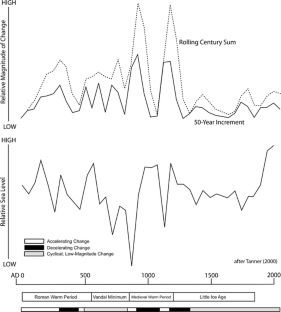 References
Aten, L. E. 1999. Middle Archaic Ceremonialism at Tick Island, Florida: Ripley P. Bullen's 1961 Excavations at the Harris Creek site. The Florida Anthropologist 52(3):131–200.

Bailey, G.N. 2007. Time Perspectives, Palimpsests and the Archaeology of Time. Journal of Anthropological Archaeology 26:198–223.

Balsillie, J.H., and J.M. Donoghue 2004. High Resolution Sea-level History for the Gulf of Mexico since the Last Glacial Maximum. Report of Investigations, No. 103, Florida Geological Survey, Tallahassee.

Beck, U. (1992) Risk Society: Towards a New Modernity, SageNew Delhi.,

Beriault, J., Carr, R., Stipp, J., Johnson, R., Meeder, J. 1981. The Archaeological Salvage of the Bay West site, Collier County, Florida. The Florida Anthropologist 34:39–58.

Bhabha, H. K. (1994) The Location of Culture, RoutledgeLondon.,

Binford, L. R. (1968) Post-Pleistocene Adaptations. In New Directions in Archaeologypp. 313–341, edited by SR Binfordand LR Binford, AldineChicago.,

Bouguerra, L. 2005. Water: Symbolism and Culture, Les Rapports del L'Institut Veolia Environnemen, no. 5.

Bouguerra, L. (2006) Water Under Threat, Zed BooksLondon.,

Caldwell, J. R. (1958) Trend and Tradition in the Prehistory the Eastern United States, American Anthropological Association Memoir 88, MenashaWisconsin.,

Claassen, C. P. (2010) Feasting with Shellfish in the Southern Ohio Valley: Archaic Sacred Sites and Rituals, University of Tennessee PressKnoxville.,

Clausen, C. J., Cohen, A. D., Emiliani, C., Holman, J. A., Stipp, J. J. 1979. Little Salt Springs, Florida: A Unique Underwater Site. Science 203:609–614.

Cobb, C. R. 2005. Archaeology and the "Savage Slot": Displacement and Emplacement in the Premodern World. American Anthropologist 107:563–574.

Donoghue, J. M. 2011. Sea Level History of the Northern Gulf of Mexico Coast and Sea Level Rise Scenarios for the near Future. Climatic Change 107:17–34.

Doran, G. H. (ed.) (2002) Windover: Multidisciplinary Investigations of an Early Archaic Florida Cemetery, University Press of Florida, Gainesville.

Endonino, J. C. 2010. Thornhill Lake: Hunter-Gatherers, Monuments, and Memory, Ph.D. dissertation, Department of Anthropology, University of Florida, Gainesville.

Faught, M. K. 2004. The Underwater Archaeology of Paleolandscapes, Apalachee Bay, Florida. American Antiquity 69:275–289.

Gamble, C. (2007) Origins and Revolutions: Human Identity in Earliest Prehistory, Cambridge University PressCambridge.,

Giddens, A. 2009. Politics of Climate Change, Polity, Cambridge.

Harvey, D. (1990) The Condition of Postmodernity: An Enquiry into the Origins of Cultural Change, BlackwellOxford.,

Heidegger, M. (1992) The Concept of Time, Wiley-BlackwellNew York.,

Jameson, F. (2005) Archaeologies of the Future: The Desire Called Utopia and Other Science Fictions, VersoLondon.,

Kidder, T. R. (2011) Transforming Hunter–Gatherer History at Poverty Point. In Hunter–Gatherer Archaeology as Historical Processpp. 95–119, edited by KE Sassamanand DH Holly Jr., University of Arizona PressTucson.,

Koselleck, R. (2004) Futures Past: On the Semantics of Historical Time, Columbia University PressNew York.,

Latour, B. (1993) We Have Never Been Modern, Harvard University PressCambridge.,

Marquardt, W. H. 2010. Shell Mounds in the Southeast: Middens, Monuments, Temple Mounds, Rings, or Works? American Antiquity 75:551–570.

Milanich, J. T. (1994) Archaeology of Precolumbian Florida, University Press of FloridaGainesville.,

Milanich, J. T. (2004) Prehistory of the Lower Atlantic Coast after 500 B.C. In Southeast volume, Smithsonian Handbook of North American Indianspp. 229–237, edited by R.D Fogelson, Smithsonian InstitutionWashington.,

Miller, J. J. (1998) An Environmental History of Northeast Florida, University Press of FloridaGainesville.,

Mooney, J. 1900. Myths of the Cherokee. Nineteenth Annual Report of the Bureau of American Ethnology, Part 1, Washington.

Otvos, E. G. 2004. Holocene Gulf Levels: Recognition Issues and an Updated Sea-Level Curve. Journal of Coastal Research 20:680–699.

Pauketat, T. R. (2004) Ancient Cahokia and the Mississippians, Cambridge University PressCambridge.,

Pauketat, T. R. (2008) Founders' Cults and the Archaeology of Wa-kan-da. In Memory Work: The Archaeologies of Material Practicepp. 61–88, edited by B.J. Mills and W.H. Walker, School for Advanced Research PressSanta Fe NM.,

Pauketat, T. R., Alt, S. M. 2004. The Making and Meaning of a Mississippian Axe-Head Cache. Antiquity 78:779–797.

Pluckhahn, T. J., Thompson, V. D., Weisman, B. R. 2010. A New View of History and Process at Crystal River. Southeastern Archaeology 29:164–181.

Prentiss, A. M., Kuijt, I., Chatters, J. C. (eds.) (2009) Macroevolution in Human Prehistory: Evolutionary Theory and Processual Archaeology, SpringerNew York.,

Randall, A.R. 2010. Remapping Histories: Archaic Period Community Construction along the St. Johns River, Florida, Ph.D. dissertation, Department of Anthropology, University of Florida, Gainesville.

Robb, J., and T.R. Pauketat, 2013. From Moments to Millennia: Theorizing Scale and Change in Human History. In Big Histories, Human Lives: Tackling Problems of Scale in Archaeology, edited by J.E. Robb, and T.R. Pauketat, School for Advanced Research Press, Santa Fe, pp. 3–33.

Sabloff, J. A. (2008) Archaeology Matters: Action Archaeology in the Modern World, Left Coast PressWalnut Creek.,

Sassaman, K. E. 2005. Poverty Point as Structure, Event, Process. Journal of Archaeological Method and Theory 12:335–364.

Sassaman, K.E. 2013. Drowning Out the Past: How Humans Historicize Water as Water Historicizes Them. In Big Histories, Human Lives: Tackling Problems of Scale in Archaeology, edited by J.E. Robb, and T.R. Pauketat. School for Advanced Research Press, Santa Fe, pp. 171–191.

Sassaman, K. E., Randall, A. R. (2012) Shell Mounds of the Middle St. Johns Basin, Northeast Florida. In The Origins of New World Monumentalitypp. 53–77, edited by RL Burgerand RM Rosenswig, University Press of FloridaGainesville.,

Sewell, W. H. Jr. (2005) Logics of History: Social Theory and Social Transformation, University of Chicago PressChicago.,

Strang, V. (2004) The Meaning of Water, BergOxford.,

Tanner, W.F. 1993. An 8000-year Record of Sea-level Change from Grain-size Parameters: Data from Beach Ridges in Denmark. The Holocene 3:220–231.

Tanner, W.F. 2000. Beach Ridge History, Sea Level Change, and the A.D. 536 Event. In The Years Without Summer: Tracing A.D. 536 and Its Aftermath, edited by J.D. Gunn. British Archaeological Reports, International Series 872, pp. 89–97.

Wharton, B., Ballo, G., Hope, M. 1981. The Republic Groves site, Hardee County, Florida. The Florida Anthropologist 34:59–80.

Wheeler, R. J., Newman, C. L., McGee, R. M. 2000. A New Look at the Mount Taylor and Bluffton sites, Volusia County, With an Outline of the Mount Taylor Culture. The Florida Anthropologist 53(2–3):133–157.

Wobst, H. M. (2000) Agency in (Spite of) Material Culture. In Agency and Archaeologypp. 40–50, edited by M-A Dobresand J Robb, RoutledgeNew York.,
Acknowledgments
I am grateful to Martin Wobst by showing through example and generous mentoring that archaeology can and should be the locus of critical self-reflection, and with that, a means to better, alternative futures. My gratitude also goes to Kimberly Kasper, Bob Paynter, and Broughton Anderson for organizing this tribute to Martin. Along with the comments of two anonymous reviewers and Tim Pauketat, their thoughts on an earlier version of this paper were very useful in clarifying my intent and approach.
About this article
Cite this article
Sassaman, K.E. Futurologists Look Back. Arch 8, 250–268 (2012). https://doi.org/10.1007/s11759-012-9205-0
Key Words
Historicism

Futures

Sea-level rise

Intervention