Abstract
The Inuit sod winter house or iglu has undergone a host of alterations over the past millennium, as housing styles were accommodated to changing local milieus during the colonization of the Eastern Arctic. Many of these changes relate to subtle shifts in gendered work and household social relations, and in Labrador from the eighteenth century some appear to reflect engagements with a more or less hostile European discourse on architectural modernity. Far from a static form subjected to convulsive contact-era transformations, however, dwellings were gradually remade in the context of a long-running Inuit effort to house work and sociality within a meaningful space.
Résumé
La maison inuite hivernale en tourbe, aussi connue sous le nom d'iglou, a connu toute une série de modifications durant le dernier millénaire, alors que le style du logement s'adaptait aux changements du milieu local durant la colonisation de l'Arctique de l'Est. Plusieurs de ces changements sont liés à de subtiles modifications dans la division du travail et l'organisation des relations sociales de la maisonnée et au Labrador, à partir du 18ième siècle, certaines semblent refléter des engagements avec un discourt européen, plus ou moins hostile, sur la modernité architecturale. Les habitations, loin d'être de forme statique, sont sujettes aux transformations convulsives de l'ère du contact, cependant dans le contexte d'un long effort des Inuit, elles ont graduellement été refaites comme espace significatif de travail et d'interactions sociales.
Resúmen
En los últimos mil años, la casa de hielo de los Inuit, conocida con el nombre de "iglú", ha sufrido una serie de alteraciones para adaptar su estilo a los medios locales cambiantes durante la colonización del Ártico oriental. Muchas de estas alteraciones están relacionadas con cambios sutiles en el trabajo propio de cada sexo y con las relaciones sociales domésticas; desde el siglo dieciocho en el Labrador algunos cambios parecen reflejar un discurso más o menos hostil sobre la arquitectura moderna. Lejos de ser una forma estática sometida a las transformaciones de una era de contactos convulsivos, estos hogares se reformaron poco a poco por el afán de los Inuit de alojar el trabajo y las relaciones sociales dentro de un espacio significativo.
Access options
Buy single article
Instant access to the full article PDF.
USD 39.95
Price excludes VAT (USA)
Tax calculation will be finalised during checkout.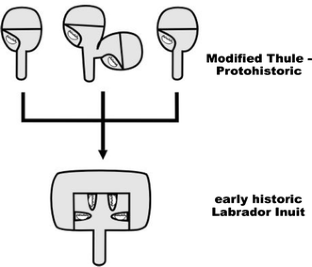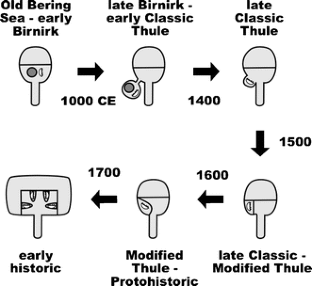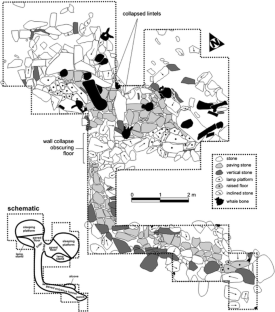 References Cited
Allen J. (Ed). 1997. North American Exploration, Volume 1: A New World Disclosed. University of Nebraska Press, Lincoln.

Anonymous 1909. Address of the Governor of Newfoundland to Eskimos at Nain. Moravian Missions 7(1):18–19.

Auger, R. 1991 European and Inuit Contact: Evidence from a 1769 Labrador Inuit Dwelling. Études/Inuit/Studies 15(1):131-138.

Bakhtin, M.M. 1981 The Dialogic Imagination. University of Texas Press, Austin.

Binney, G. 1931 The Eskimo Book of Knowledge. Hudson's Bay Company, London.

Burckhardt J., and B. Curiger (Eds). 1996 Meret Oppenheim: Beyond the Teacup. Independent Curators Inc., New York.

Cartwright, G. 1792 A Journal of Transactions and Events, During a Residence of Nearly Sixteen Years on the Coast of Labrador: Containing Many Interesting Particulars, Both of the Country and its Inhabitants, not Hitherto Known. Allin and Ridge, London.

Collinson, R. 1867 The Three Voyages of Martin Frobisher in Search of a Passage to Cathaia and India by the North-West. Burt Franklin, New York.

Cranz, D. 1820 The History of Greenland, Including an Account of the Mission Carried on by the Brethren in that Country. Longman, Hurst, Rees, Orme and Brown. London.

Curtis, R. 1774 Particulars of the Country of Labradore, Extracted from the Papers of the Lieutenant Roger Curtis, of his Majesty's Sloop the Otter, with a Plane-Chart of the Coast. Philosophical Transactions of the Royal Society 64:372–388.

Dumond, D.E. 1998. The Hillside Site, St. Lawrence Island, Alaska: An Examination of Collections from the 1930s. University of Oregon Anthropological Papers No. 55, Eugene.

Edwards, B.J.H. 1905 Eskimo Houses in Labrador. Moravian Missions 3(5):69.

Egede, H. 1818 A Description of Greenland. T. and J. Allman, London.

Firestone, M. 1992 Inuit Derived Culture Traits in Northern Newfoundland. Arctic Anthropology 29(1):112–128.

Fitzhugh, W.W. 1994. Staffe Island I and the Northern Labrador Dorset-Thule Succession. In Threads of Arctic Prehistory: Papers in Honour of William E. Taylor, Jr., edited by D. Morrison and J.-L. Pilon, pp. 239–268. Archaeological Survey of Canada Mercury Series Paper No. 149, Canadian Museum of Civilization, Hull.

Gad, F. 1973 The History of Greenland—Volume II: 1700–1782. C. Hurst and Company, London.

Government of Canada 1947. The Book of Wisdom for Eskimo. Bureau of Northwest Territories and Yukon Affairs, Department of Mines and Resources, Ottawa.

Gulløv, H.C. 1979 Haabetz Colonie 1721–1728: A Historical-Archaeological Investigation of the Danish-Norwegian Colonization of Greenland. National Museum of Denmark, Copenhagen.

Gulløv, H.C. 1997 From Middle Ages to Colonial Times: Archaeological and Ethnohistorical Studies of the Thule Culture in South West Greenland 1300–1800 AD. Meddelelser om Grønland, Man and Society 23, Copenhagen.

Harper, K. 1986 Give Me my Father's Body: The Life of Minik, the New York Eskimo. Blacklead Books, Frobisher Bay.

Haven, J. 1773. A Brief Account of the Dwelling Places of the Eskimaux to the North of Nagvack to Hudson Straits, Their Situation and Subsistence. Unpublished typescript by James Hiller on file at the Centre for Newfoundland Studies, Memorial University of Newfoundland, St. John's.

Hutton, S.K. 1909. A Thesis on the Health and Diseases of the Eskimos. James Harwood, Derby.

Hutton, S.K. 1912 Among the Eskimos of Labrador. J.B. Lippincott Co., Philadelphia.

Jordan, R.H. 1978 Archaeological Investigations of the Hamilton Inlet Labrador Eskimo: Social and Economic Responses to European Contact. Arctic Anthropology 15(2):175–185.

Jordan R.H., and S.A. Kaplan 1980 An Archaeological View of the Inuit/European Contact Period in Central Labrador. Etudes/Inuit/Studies 4:35–46.

Kaplan, S.A. 1983. Economic and Social Change in Labrador Neo-Eskimo Culture. Unpublished PhD dissertation, Bryn Mawr College.

Kaplan, S.A. 1985 European Goods and Socio-Economic Change in Early Labrador Inuit Society. In W. Fitzhugh (Ed), Cultures in Contact: The Impact of European Contacts on Native American Cultural Institutions A.D. 1000–1800, pp. 45–70. Smithsonian Institution Press, Washington.

Kaplan S.A., and J.M. Woollett 2000 Challenges and Choices: Exploring the Interplay of Climate, History, and Culture on Canada's Labrador Coast. Arctic and Alpine Research 32(3):351-359.

Kleivan, H. 1966 The Eskimos of Northeast Labrador: A History of Eskimo-White Relations 1771–1955. Norsk Polarinstitutt Skrifter No. 139, Oslo.

Kleivan, I. 1984 History of Norse Greenland. In: D. Damas (Ed), Handbook of North American Indians, Volume 5: Arctic, pp. 549–555. Smithsonian Institution Press, Washington.

Kohlmeister B., and G. Kmoch 1814 Journal of a Voyage from Okak on the Coast of Labrador to Ungava Bay, Westward to Cape Chudleigh. W.M. McDowall, London.

Kupp J., and S. Hart 1976 The Dutch in the Strait of Davis and Labrador During the 17th and 18th Centuries. Man in the Northeast 11:3–20.

Larkin, B. 1997 Indian Films and Nigerian Lovers: Media and the Creation of Parallel Modernities. Africa 67(3):406–440.

Latour, B. 1988 The Pasteurization of France. Harvard University Press, Cambridge.

Latour, B. 1993 We Have Never Been Modern. Harvard University Press, Cambridge.

Lutz, H. (Ed) 2005 The Diary of Abraham Ulrikab. University of Ottawa Press, Ottawa.

Lysaght A.M. (Ed) 1971 Joseph Banks in Newfoundland and Labrador, 1766: His Diary, Manuscripts and Collections. University of California Press, Berkeley.

McCartney, A.P. 1991. Canadian Arctic Trade Metal: Reflections of Prehistoric to Historic Social Networks. In: Metals in Society: Theory Beyond Analysis, edited by R.M. Ehrenreich, pp. 26–43. MASCA Research Papers in Science and Archaeology, Vol. 8, Part II.

McGhee, R. 1984 Contact Between Native North Americans and the Medieval Norse: A Review of the Evidence. American Antiquity 49:4–26.

McGhee, R. 1996 Ancient People of the Arctic. University of British Columbia Press, Vancouver.

McGovern, T. 1994. Management for Extinction in Norse Greenland. In: Crumley C. (Ed), Historical Ecology, pp. 127-154. School of American Research Press, Santa Fe.

Mason, O.K. 1998 The Contest Between the Ipiutak, Old Bering Sea, and Birnirk Polities and the Origin of Whaling During the First Millennium A.D. Along Bering Strait. Journal of Anthropological Archaeology 17:240–325.

Maxwell, M.S. 1985 Prehistory of the Eastern Arctic. Academic Press, Orlando.

Quinn, D.B. 1979 The Eskimo Brought by Frobisher in 1576 and 1577. In: D. Quin (Ed), New American World: A Documentary History of North America, pp. 216–218. Arno Press, New York.

Richling, B. 1989 "Very Serious Reflections": Inuit Dreams About Salvation and Loss in Eighteenth-Century Labrador. Ethnohistory 36(2):148–169.

Savelle, J.M. 1990 Round Lord Mayor's Bay with James Clark Ross: The Original Diary of 1830. Arctic 43(1):66–79.

Schledermann, P. 1971. The Thule Tradition in Northern Labrador. Unpublished MA thesis, Memorial University of Newfoundland, St. John's.

Schledermann, P. 1976 Thule Culture Communal Houses in Labrador. Arctic 29(1):27–37.

Schledermann, P. 1980 Notes on Norse Finds from the East Coast of Ellesemere Island, N.W.T. Arctic 33:454–463.

Schneider, L. 1985 Ulirnaisigutiit: An Inuktitut-English Dictionary of Northern Quebec, Labrador and Eastern Arctic Dialects. La Presse de l'Université Laval, Québec.

Smith C.H., and M. Wobst (Eds) 2005 Indigenous Archaeologies: Decolonizing Theory and Practice. Routledge, London.

Spink J., and D.W. Moodie 1972 Eskimo Maps from the Canadian Eastern Arctic. Cartographica Monograph No. 5, Department of Geography, York University, Toronto.

Sturtevant, W.C. 1980 The First Inuit Depiction by Europeans. Etudes/Inuit/Studies 4:47–49.

Taylor, J.G. 1974 Labrador Eskimo Settlements of the Early Contact Period. Publications in Ethnology No. 9, National Museum of Man, Ottawa.

Taylor, J.G. 1976. The Inuit Middleman in the Labrador Baleen Trade. Paper presented at 75th Annual Meeting of the American Anthropological Association.

Tester F., and P. Kulchyski 1994 Tammarniit (Mistakes): Inuit Relocations in the Eastern Arctic, 1939–63. UBC Press, Vancouver.

Tuck J., and R. Grenier 1981 A 16th Century Basque Whaling Station in Labrador. Scientific American 245(5):180–190.

Whitridge, P. 1999 The Prehistory of Inuit and Yupik Whale Use. Revista de Arqueología Americana 16:99-154.

Whitridge, P. 2004a Landscapes, Houses, Bodies, Things: "Place" and the Archaeology of Inuit Imaginaries. Journal of Archaeological Method and Theory 11(2):213–250.

Whitridge, P. 2004b. Archaeological Research at Nachvak Fiord, Northern Labrador, July–August 2003. Report submitted to the Provincial Archaeology Office, St. John's.

Woollett J.M., Anne S.H., and C.P. Wake. 2000. Paleoecological Implications of Archaeological Seal Bone Assemblages: Case Studies from Labrador and Baffin Island. Arctic 53(4):395–413.

Woollett, J.M. 2003. An Historical Ecology of Labrador Inuit Culture Change. Unpublished PhD dissertation, Department of Anthropology, City University of New York.
About this article
Cite this article
Whitridge, P. Reimagining the Iglu: Modernity and the Challenge of the Eighteenth Century Labrador Inuit Winter House. Arch 4, 288–309 (2008). https://doi.org/10.1007/s11759-008-9066-8
Received:

Accepted:

Published:

Issue Date:

DOI: https://doi.org/10.1007/s11759-008-9066-8
Keywords