Zusammenfassung
Das Ziel der Studie bestand darin, unter Verwendung eines retrospektiven Forschungsdesigns den Zusammenhang zwischen einem Heimaufenthalt in der Kindheit und dem aktuellen Rückfallrisiko für erneute Sexualstraftaten zu untersuchen. Es wurde geprüft, ob dabei dem Erleben unterschiedlicher potenziell traumatisierender Kindheitserfahrungen (sexueller Missbrauch, körperliche Misshandlung, emotionale Vernachlässigung) eine vermittelnde Rolle zukommt. Die Stichprobe setzte sich aus 159 männlichen Sexualstraftätern zusammen, die zwischen 2010 und 2018 in der Sozialtherapeutischen Anstalt Hamburg (SothA-HH) inhaftiert waren. Die verwendeten Daten basieren auf Akteninformationen (u. a. Urteil, Bundeszentralregisterauszüge, Gutachten) und semistrukturierten Interviews. In dieser Studie wurden zwei Risikoinstrumente zur Erfassung des relativen Rückfallrisikos für erneute Sexualstraftaten verwendet: Static-99 zu Erfassung statischer, weitestgehend unveränderbarer Risikofaktoren und Stable-2007 zur Erfassung stabil-dynamischer Risikofaktoren, d.h. veränderbare Faktoren, die ohne therapeutische Interventionen relativ stabil bleiben. Die Gruppe mit einem Heimaufenthalt in der Kindheit wies einen niedrigeren sozioökonomischen Status, eine höhere Anzahl familiärer Risikofaktoren sowie eine frühere und stärker delinquente Entwicklung auf. Zudem erzielte sie ein höheres Rückfallrisiko. Für das stabil-dynamische, nicht jedoch für das statische Risiko wurde dieser Zusammenhang durch den kumulativen Effekt der Anzahl unterschiedlicher potenziell traumatisierender Kindheitserfahrungen vermittelt. Damit bestätigen die Ergebnisse der vorliegenden Studie vorherige Befunde zum Zusammenhang von Heimaufenthalt und Delinquenz. Darüber hinaus verdeutlicht die vermittelnde Rolle potenziell traumatisierender Kindheitserfahrungen: Je mehr negativen Kindheitserfahrungen die Teilnehmer ausgesetzt waren, desto höher war das stabil-dynamische Rückfallrisiko. Diese Ergebnisse deuten darauf hin, dass ein erheblicher Anteil von inhaftierten Sexualstraftätern, die negativen Kindheitserfahrungen ausgesetzt und im Kinderheim untergebracht waren, ein höheres Rückfallrisiko aufweisen und im Erwachsenenalter einer besonderen Betreuung und Kontrolle bedürfen.
Abstract
The aim of the present study was to retrospectively examine if children's home foster care has an impact on the risk of recidivism for sexual delinquency and if the number of domains of adverse childhood experiences (sexual abuse, physical violence and emotional neglect) mediates the association. The cohort consisted of 159 male sexual offenders serving sentences at the social therapeutic correctional facility of the Hamburg correctional services (SothA-HH) between 2010 and 2018. Data were collected from pretreatment ratings within the first weeks after admission to the SothA-HH. All data were derived from case file information (e. g., criminal records, court files and psychological reports) and from semi-structured one-to-one interviews. In this study two instruments were used for assessing the relative risk of sexual reoffending: Static-99 for current, mostly unchangeable risk factors and Stable-2007 for stable-dynamic risk factors, i.e. factors that are changeable but relatively stable without therapeutic treatment. The group with children's home care experiences had a lower socioeconomic status, more familial risk factors as well as an early onset and a more severe criminal career. Furthermore, they had a higher risk of recidivism. For the stable-dynamic risk, this relationship was mediated by the cumulative effect of the number of domains of adverse childhood experiences but no significant mediation was found for the current risk. This study substantiates previous findings on the relationship between children's home care and delinquent development. Beyond that, the mediating role of the number of domains of adverse childhood experiences shows that the more adverse childhood experiences the participants were exposed to, the higher the risk of stable-dynamic recidivism. These findings indicate that a large number of incarcerated sexual offenders who had adverse childhood experiences and have been in foster care have a higher risk of recidivism and need to be particularly monitored and controlled as adults.
This is a preview of subscription content, log in to check access.
Access options
Buy single article
Instant access to the full article PDF.
US$ 39.95
Price includes VAT for USA
Subscribe to journal
Immediate online access to all issues from 2019. Subscription will auto renew annually.
US$ 199
This is the net price. Taxes to be calculated in checkout.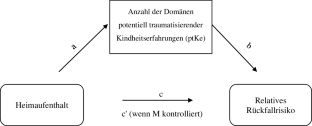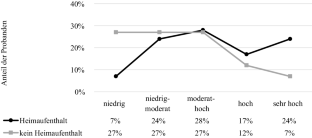 Literatur
Alltucker KW, Bullis M, Close D, Yovanoff P (2006) Different pathways to juvenile delinquency: characteristics of early and late starters in a sample of previously incarcerated youth. J Child Fam Stud 15(4):479–492. https://doi.org/10.1007/s10826-006-9032-2

Anda RF, Butchart A, Felitti VJ, Brown DW (2010) Building a framework for global surveillance of the public health implications of adverse childhood experiences. Am J Prev Med 39(1):93–98. https://doi.org/10.1016/j.amepre.2010.03.015

Anda RF, Felitti VJ, Bremner JD, Walker JD, Whitfield C, Perry BD, Dube SR, Giles WH (2006) The enduring effects of abuse and related adverse experiences in childhood. A convergence of evidence from neurobiology and epidemiology. Eur Arch Psychiatry Clin Neurosci 256(3):174–186. https://doi.org/10.1007/s00406-005-0624-4

Barnett OW, Miller-Perrin CL, Perrin RD (2011) Family violence across the lifespan: an introduction, 3. Aufl. SAGE, Thousand Oaks

Baron RM, Kenny DA (1986) The moderator-mediator variable distinction in social psychological research: conceptual, strategic, and statistical considerations. J Pers Soc Psychol 51(6):1173–1182

Binggeli NJ, Hart SN, Brassard MR (2001) Psychological maltreatment of children. SAGE, Thousand Oaks

Brandford C, English D (2004) Foster youth transition to independence study. Office of Children's Administration Research, Washington State Department of Social and Health Services, Seattle

Brunner F, Yoon D, Rettenberger M, Briken P (2016) Kriminologische und kriminalprognostische Merkmale der Insassen der Sozialtherapeutischen Anstalt Hamburg. Recht Psychiatr 34(4):221–227

Campbell MA, Porter S, Santor D (2004) Psychopathic traits in adolescent offenders: an evaluation of criminal history, clinical, and psychosocial correlates. Behav Sci Law 22(1):23–47. https://doi.org/10.1002/bsl.572

Cicchetti D, Banny A (2014) A developmental psychopathology perspective on child maltreatment. In: Lewis M, Rudolph KD (Hrsg) Handbook of developmental psychopathology. Springer, Berlin Heidelberg, S 723–741 https://doi.org/10.1097/00004583-199505000-00008

Cohen J (1992) A power primer. Psychol Bull 112(1):155–159

Coulton C, Crampton D, Cho Y, Kim S‑J (2015) Policy research brief. Effects of foster care and juvenile justice involvement on early adult outcomes: a study of cleveland's youth. Center on Urban Poverty and Community Development Jack, Joseph and Morton Mandel School of Applied Social Sciences, Cleveland, S 1–25

Courtney ME, Dworsky A, Lee JS, Raap M (2010) Midwest evaluation of the adult functioning of former foster youth: outcomes at ages 23 and 24. Chapin Hall at the University of Chicago, Chicago, S 1097–3125

Curtis GC (1963) Violence breeds violence—perhaps? Am J Psychiatry 120(4):386–387

DeGue S, Widom CS (2009) Does out-of-home placement mediate the relationship between child maltreatment and adult criminality? Child Maltreat 14(4):344–355. https://doi.org/10.1177/1077559509332264

Doyle JJ (2007) Child protection and child outcomes: measuring the effects of foster care. Am Econ Rev 97(5):1583–1610. https://doi.org/10.1257/aer.97.5.1583

Doyle JJ (2008) Child protection and adult crime: using investigator assignment to estimate causal effects of foster care. J Polit Econ 116(4):746–770. https://doi.org/10.1086/590216

Dregan A, Gulliford MC (2012) Foster care, residential care and public care placement patterns are associated with adult life trajectories: population-based cohort study. Soc Psychiatry Psychiatr Epidemiol 47(9):1517–1526. https://doi.org/10.1007/s00127-011-0458-5

Duke NN, Pettingell SL, McMorris BJ, Borowsky IW (2010) Adolescent violence perpetration: associations with multiple types of adverse childhood experiences. Pediatr Electron Pages:779–786. https://doi.org/10.1542/peds.2009-0597

Eher R, Matthes A, Schilling F, Haubner-MacLean T, Rettenberger M (2012) Dynamic risk assessment in sexual offenders using STABLE-2000 and the STABLE-2007: an investigation of predictive and incremental validity. Sex Abuse 24(1):5–28. https://doi.org/10.1177/1079063211403164

English DJ, Widom CS, Brandford C (2002) Childhood victimization and delinquency, adult criminality, and violent criminal behavior: a replication and extension. Final report presented to the US National Institute of Justice, National Criminal Justice Reference Service (NCJRS). https://www.ncjrs.gov/pdffiles1/nij/grants/192291.pdf

Etzler S, Eher R, Rettenberger M (2018) Dynamic risk assessment of sexual offenders: validity and dimensional structure of the stable-2007. Assessment. https://doi.org/10.1177/1073191118754705

Faul F, Erdfelder E, Buchner A, Lang AG (2009) Statistical power analyses using G*Power 3.1: Tests for correlation and regression analyses. Behav Res Methods 41(4):1149–1160. https://doi.org/10.3758/Brm.41.4.1149

Felitti VJ, Anda RF, Nordenberg D, Williamson DF, Spitz AM, Edwards V, Koss MP, Marks JS (1998) Relationship of childhood abuse and household dysfunction to many of the leading causes of death in adults: The Adverse Childhood Experiences (ACE) Study. Am J Prev Med 14(4):245–258

Fernandez Y, Harris AJ, Hanson RK, Sparks J (2012) Stable-2007 coding manual revised 2012. Public Safety Canada, Ottawa

Hare RD (2003) Manual for the revised psychopathy checklist, 2. Aufl. Multi-Health Systems, Toronto

Harris A, Phenix A, Thornton D, Hanson RK (2003) Static 99: coding rules revised 2003. Solicitor General Canada, Ottawa

Harris DA, Knight RA, Smallbone S, Dennison S (2011) Postrelease specialization and versatility in sexual offenders referred for civil commitment. Sex Abuse 23(2):243–259

Häuser W, Schmutzer G, Brähler E, Glaesmer H (2011) Misshandlungen in Kindheit und Jugend: Ergebnisse einer Umfrage in einer repräsentativen Stichprobe der deutschen Bevölkerung. Dtsch Arztebl 108(17):287–294

Hayes AF (2009) Beyond Baron and Kenny: statistical mediation analysis in the new millennium. Commun Monogr 76(4):408–420

Huang H, Ryan JP, Rhoden M‑A (2016) Foster care, geographic neighborhood change, and the risk of delinquency. Child Youth Serv Rev 65:32–41

Jespersen AF, Lalumière ML, Seto MC (2009) Sexual abuse history among adult sex offenders and non-sex offenders: a meta-analysis. Child Abuse Negl 33:179–192

Jonson-Reid M, Barth RP (2000a) From maltreatment report to juvenile incarceration: the role of child welfare services. Child Abuse Negl 24(4):505–520

Jonson-Reid M, Barth RP (2000b) From Placement to Prison: The Path to Adolescent Incarceration from Child Welfare Supervised Foster or Group Care. Child Youth Serv Rev 22(7):493–516

van der Kolk BA (2006) Clinical Implications of Neuroscience Research in PTSD. Ann N Y Acad Sci 1071(1):277–293

Lee JS, Courtney ME, Tajima E (2014) Extended foster care support during the transition to adulthood: effect on the risk of arrest. Child Youth Serv Rev 42:34–42

Levenson JS, Socia KM (2016) Adverse childhood experiences and arrest patterns in a sample of sexual offenders. J Interpers Violence 31(10):1883–1911

Li D, Chu CM, Goh JTL, Ng IYH, Zeng G (2015) Impact of childhood maltreatment on recidivism in youth offenders: a matched-control study. Crim Justice Behav 42(10):990–1007

Lindberg N, Laajasalo T, Holi M, Putkonen H, Weizmann-Henelius G, Häkkänen-Nyholm H (2009) Psychopathic traits and offender characteristics—a nationwide consecutive sample of homicidal male adolescents. BMC Psychiatry 9(1):18

Matthes A, Rettenberger M, Eher R (2012) Deutsche Übersetzung und Bearbeitung des Stable-2007 Coding Manual Revised 2012. Institut für Gewaltforschung und Prävention, Wien

McFarlane K (2017) Care-criminalisation: The involvement of children in out-of-home care in the New South Wales criminal justice system. Aust N Z J Criminol 51:412. https://doi.org/10.1177/0004865817723954

McMahon J, Clay-Warner J (2002) Child abuse and future criminality: the role of social service placement, family disorganization, and gender. J Interpers Violence 17(9):1002–1019

Patterson GR, DeBaryshe B, Ramsey E (1989) A developmental perspective on antisocial behavior. Am Psychol 44:329–335

Reckdenwald A, Mancini C, Beauregard E (2013) The cycle of violence: examining the impact of maltreatment early in life on adult offending. Violence Vict 28(3):466–482

Rettenberger M, Eher R (2006) Die deutsche Übersetzung des Static-99 zur aktuarischen Kriminalprognose verurteilter Sexualstraftäter. Monatsschr Kriminol Strafrechtsreform 89(5):352

Rettenberger M, Haubner-MacLean T, Eher R (2013) The contribution of age to the static-99 risk assessment in a population-based prison sample of sexual offenders. Crim Justice Behav 40(12):1413–1433

Rettenberger M, Matthes A, Boer DP, Eher R (2010) Prospective actuarial risk assessment: a comparison of five risk assessment instruments in different sexual offender subtypes. Int J Offender Ther Comp Criminol 54(2):169–186

Rettenberger M, Matthes A, Schilling F, Eher R (2011) Die Validität dynamisch-veränderbarer Risikofaktoren bei der Vorhersage einschlägiger Rückfälle pädosexueller Straftäter. Forens Psychiatr Psychol Kriminol 5(1):45–53

Rutter M, Kim-Cohen J, Maughan B (2006) Continuities and discontinuities in psychopathology between childhood and adult life. J Child Psychol Psychiatry 47(3-4):276–295

Ryan JP, Testa MF (2005) Child maltreatment and juvenile delinquency: Investigating the role of placement and placement instability. Child Youth Serv Rev 27(3):227–249

Seto MC, Lalumière ML (2010) What is so special about male adolescent sexual offending? A review and test of explanations through meta-analysis. Psychol Bull 136(4):526

Smith C, Thornberry TP (1995) The relationship between childhood maltreatment and adolescent involvement in delinquency. Criminology 33(4):451–481

Statistisches Bundesamt (2017a) Statistiken der Kinder- und Jugendhilfe: Gefährdungseinschätzungen nach § 8a Absatz 1 SGB VIII 2016. DeStatis, Wiesbaden

Statistisches Bundesamt (2017b) Statistiken der Kinder- und Jugendhilfe: Heimerziehung, sonstige betreute Wohnform 2015. DeStatis, Wiesbaden

Vasileva M, Petermann F, Nitkowski D, Petermann U (2018) Den transgenerationalen Kreislauf der Gewalt durchbrechen: Wie kann man aggressiven Jugendlichen mit Gewalterfahrungen helfen? Kindh Entwickl 27(2):91–101. https://doi.org/10.1026/0942-5403/a000249

Vettori N, Maran T, Andretta P (2018) Frühes Trauma – spätere Delinquenz? Die Bedeutung traumatischer Kindheit für delinquentes Verhalten in der Adoleszenz. Trauma Gewalt 12(1):38–47. https://doi.org/10.21706/tg-12-1-38

Vinnerljung B, Sallnäs M (2008) Into adulthood: a follow-up study of 718 young people who were placed in out-of-home care during their teens. Child Fam Soc Work 13(2):144–155

Vorria P, Rutter M, Pickles A, Wolkind S, Hobsbaum A (1998) A comparative study of Greek children in long-term residential group care and in two-parent families: I. Social, emotional, and behavioural differences. J Child Psychol Psychiatry Allied Discip 39(2):225–236

Warburton WP, Warburton RN, Sweetman A, Hertzman C (2014) The impact of placing adolescent males into foster care on education, income assistance, and convictions. Can J Econ 47(1):35–69

Whitfield CL (1998) Adverse childhood experiences and trauma. Am J Prev Med 14(4):361–364

Widom CS (1991) The role of placement experiences in mediating the criminal consequences of early childhood victimization. Am J Orthopsychiatry 61(2):195–209

Wolff KT, Baglivio MT, Piquero AR (2017) The relationship between adverse childhood experiences and recidivism in a sample of juvenile offenders in community-based treatment. Int J Offender Ther Comp Criminol 61(11):1210–1242
Ethics declarations
Interessenkonflikt
F. Brunner, E. Stück, D. Yoon, M. Rettenberger und P. Briken geben an, dass kein Interessenkonflikt besteht.
Ethische Standards
Alle beschriebenen Untersuchungen am Menschen wurden mit Zustimmung der zuständigen Ethik-Kommission, im Einklang mit nationalem Recht sowie gemäß der Deklaration von Helsinki von 1975 (in der aktuellen, überarbeiteten Fassung) durchgeführt. Von allen beteiligten Patienten liegt eine Einverständniserklärung vor.
Additional information
Franziska Brunner und Elisabeth Stück trugen zu gleichen Teilen zu der vorliegenden Studie bei.
About this article
Cite this article
Brunner, F., Stück, E., Yoon, D. et al. Heimaufenthalt in der Kindheit und Rückfallrisiko für Sexualdelinquenz im Erwachsenenalter: Mediieren potenziell traumatisierende Kindheitserfahrungen den Zusammenhang?. Forens Psychiatr Psychol Kriminol 13, 178–187 (2019). https://doi.org/10.1007/s11757-019-00524-9
Received:

Accepted:

Published:

Issue Date:
Schlüsselwörter
Kinderheim

Sexueller Missbrauch

Körperliche Misshandlung

Emotionale Vernachlässigung; Sexualstraftäter
Keywords
Foster care

Sexual abuse

Physical abuse

Emotional neglect

Sexual offender