Zusammenfassung
Derzeit gibt es nur wenig Forschung zu Sexualdelinquenten, die eine Zuwanderungsgeschichte haben und nicht aus dem euroamerikanischen Raum stammen. Es ist daher weitestgehend unklar, ob und, wenn ja, worin sich Täter mit und ohne Migrationshintergrund (MH) hinsichtlich des Delikts, demografischer Charakteristika, spezifischer Tatverhaltensmerkmale sowie Tatthemen unterscheiden und wie valide standardisierte Instrumente zur Vorhersage einschlägiger Rückfälle für Täter mit MH sind. Die vorliegende Studie untersuchte diese Aspekte an einer Stichprobe von 950 Sexualdelinquenten in Deutschland kulturvergleichend. Es zeigte sich, dass Sexualstraftäter mit MH aus dem Nahen Osten und Nordafrika jünger waren, weniger einschlägige Vordelinquenz hatten und seltener für sexuelle Missbrauchsdelikte verurteilt wurden als Täter ohne MH. Mit Blick auf Tatverhaltensmerkmale schien Sexualdelinquenz bei Tätern mit MH aus dem Nahen Osten und Nordafrika weniger durch sexuell deviante Interessen als vielmehr durch Gelegenheiten, Gruppendynamik und allgemeine dissoziale Handlungsbereitschaften geprägt zu sein als bei Tätern ohne MH. Dies konnte auch bei der gesonderten Betrachtung homogener Deliktgruppen und hinsichtlich der Ausprägung zusammenfassender Tatthemen gefunden werden. Die Vorhersage einschlägiger Rückfälligkeit mithilfe des weit verbreiteten Instruments Static-99R war bei Tätern aus dem Nahen Osten und Nordafrika indessen nicht möglich. Dementgegen erwies sich die standardisierte Erfassung des Tatverhaltens mittels Tatbild-Risiko-Score (TBRS) als valides Verfahren in allen Tätergruppen. Es scheint somit empfehlenswert, gerade bei Tätern mit MH Merkmale des Tatverhaltens bei der Kriminalprognose zu berücksichtigen.
Abstract
Until now, there has hardly been any research done among sexual offenders who have a migration background (MB) or who do not descend from a European-American background. Thus, little is known about potential differences between offenders with a MB and offenders without a MB in terms of offence type, demographic factors, special characteristics of crime scene behavior, and behavioral themes. Furthermore, it remains unclear whether the actuarial risk assessment tools are valid for offenders with a MB. To address these issues, 950 sexual offenders in Germany were examined via a cross-cultural approach. We found sexual offenders from the Near East and North Africa to be younger, with less previous sexual offences, and being less often convicted for child molestation compared to offenders without a MB. With respect to characteristics of crime scene behavior, sexual offences among offenders from the Near East and North Africa were less driven by deviant sexual interests, and instead were more related to opportunity, group dynamics, and an antisocial action readiness when compared to offenders without a MB. This difference was also found when more homogeneous groups concerning the offence type were analyzed and the comparison of various behavioral themes showed similar results. The prediction of future sex offences among offenders with a MB from the Near East and North Africa was not possible with the widely used Static-99R; however, the crime scene behavior risk (CBR) score proved to be a valid instrument for all subgroups of offenders. Consequently, we strongly recommend to use crime scene behavior assessment procedures, especially for offenders with a MB.
Access options
Buy single article
Instant access to the full article PDF.
US$ 39.95
Tax calculation will be finalised during checkout.
Subscribe to journal
Immediate online access to all issues from 2019. Subscription will auto renew annually.
US$ 117.18
Tax calculation will be finalised during checkout.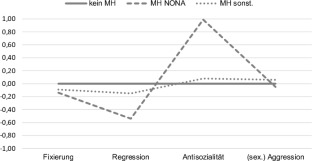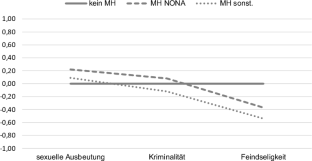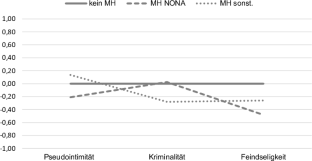 Notes
1.

"Eine Person hat einen Migrationshintergrund, wenn sie selbst oder mindestens ein Elternteil die deutsche Staatsangehörigkeit nicht durch Geburt besitzt" (Statistisches Bundesamt 2017, S. 4).

2.

In der Polizeilichen Kriminalstatistik werden auch nichtdeutsche Tatverdächtige erfasst, die gemäß Statistischem Bundesamt nicht zur ausländischen Bevölkerung zählen (z. B. Touristen). Zudem unterscheiden sich Deutsche und Nichtdeutsche in der Alters‑, Geschlechts- und Sozialstruktur, was einen direkten Vergleich der Kriminalitätsbelastung anhand dieser Daten unzulässig macht (Bundeskriminalamt 2016).
Literatur
Aebi MF, Tiago MM, Burkhardt C (2015) SPACE I – Council of Europe Annual Penal Statistics: prison populations. Survey 2014. Council of Europe, Straßburg

Babchishin KM, Helmus L‑M (2016) The influence of base rates on correlations: an evaluation of proposed alternative effect sizes with real-world data. Behav Res Methods 48:1021–1031. doi:10.3758/s13428-015-0627-7

Bartosh DL, Garby T, Lewis D, Gray S (2003) Differences in the predictive validity of actuarial risk assessments in relation to sex offender type. Int J Offender Ther Comp Criminol 47:422–438. doi:10.1177/0306624x03253850

Bijleveld CCJH, Weerman FM, Looije D, Hendriks J (2007) Group sex offending by juveniles: coercive sex as a group activity. Eur J Criminol 4:5–31. doi:10.1177/1477370807071728

Boccaccini MT, Murrie DC, Caperton JD, Hawes SW (2009) Field validity of the STATIC-99 and MnSOST-R among sex offenders evaluated for civil commitment as sexually violent predators. Psychol Public Policy Law 15:278–314. doi:10.1037/a0017232

Boetticher A, Kröber H‑L, Müller-Isberner R et al (2007) Mindestanforderungen für Prognosegutachten. Forens Psychiatr Psychol Kriminol 1:90–100

Bortz J (2005) Statistik für Human- und Sozialwissenschaftler. Springer, Berlin Heidelberg New York

Bühner M, Ziegler M (2009) Statistik für Psychologen und Sozialwissenschaftler. Pearson, München

Bundeskriminalamt (2016) Polizeiliche Kriminalstatistik Bundesrepublik Deutschland; Jahrbuch 2015. https://www.bka.de/DE/AktuelleInformationen/StatistikenLagebilder/PolizeilicheKriminalstatistik/PKS2015/pks2015_node.html. Zugegriffen: 15. Juli 2017

Canter DV (2000) Offender profiling and criminal differentiation. Leg Criminol Psychol 5:23–46. doi:10.1348/135532500167958

Canter DV (2004) Offender profiling and investigative psychology. J Investig Psychol Offender Profil 1:1–15. doi:10.1002/jip.7

Canter DV, Bennell C, Alison LJ, Reddy S (2003) Differentiating sex offences: a behaviorally based thematic classification of stranger rapes. Behav Sci Law 21:157–174. doi:10.1002/bsl.526

Cantürk N, Koç S (2010) Adli Tıp Kurumunda Değerlendirilen Cinsel Suç Sanıklarının Sosyo-Demografik Özellikleri ve Psikiyatrik Profilleri (The psychiatric profile and socio-demographic features of sexual offender). Ank Üniv Tıp Fak Mecm 63:49–54

Craig LA, Browne KD, Stringer I, Beech A (2005) Sexual recidivism: a review of static, dynamic and actuarial predictors. J Sex Aggress 11:65–84. doi:10.1080/13552600410001667733

Dahle K‑P, Biedermann J, Gallasch-Nemitz F, Janka C (2010) Zur rückfallprognostischen Bedeutung des Tatverhaltens bei Sexualdelinquenz. Forens Psychiatr Psychol Kriminol 4:126–135. doi:10.1007/s11757-010-0041-z

Dahle K‑P, Schmidt S (2014) Prognostische Validität des Level of Service Inventory-Revised. Forens Psychiatr Psychol Kriminol 8:104–115. doi:10.1007/s11757-014-0256-5

Dahle K‑P, Lehmann RJB, Richter A (2014a) Die Screening Skala Pädophilen Tatverhaltens. Forens Psychiatr Psychol Kriminol 8:208–215. doi:10.1007/s11757-014-0261-8

Dahle K‑P, Biedermann J, Lehmann RJB, Gallasch-Nemitz F (2014b) The development of the crime scene behavior risk measure for sexual offense recidivism. Law Hum Behav 38:569–579. doi:10.1037/lhb0000088

Edens JF, Cahill MA (2007) Psychopathy in adolescence and criminal recidivism in young adulthood: longitudinal results from a multiethnic sample of youthful offenders. Assessment 14:57–64. doi:10.1177/1073191106290711

Eher R, Rettenberger M, Gaunersdorfer K, Haubner-MacLean T, Matthes A, Schilling F, Mokros A (2013) Über die Treffsicherheit der standardisierten Risikoeinschätzungsverfahren Static-99 und Stable-2007 bei aus einer Sicherungsmaßnahme entlassenen Sexualstraftätern. Forens Psychiatr Psychol Kriminol 7:264–272. doi:10.1007/s11757-013-0212-9

Gerhold CK, Browne KD, Beckett R (2007) Predicting recidivism in adolescent sexual offenders. Aggress Violent Behav 12:427–438. doi:10.1016/j.avb.2006.10.004

Goodwill AM, Alison LJ, Beech AR (2009) What works in offender profiling? A comparison of typological, thematic, and multivariate models. Behav Sci Law 27:507–529. doi:10.1002/bsl.867

Haj-Yahia MM (2005) Can people's patriarchal ideology predict their beliefs about wife abuse? The case of Jordanian men. J Community Psychol 33(5):545–567. doi:10.1002/jcop.20068

Häkkänen H, Lindlöf P, Santtila P (2004) Crime scene actions and offender characteristics in a sample of Finnish stranger rapes. J Investig Psychol Offender Profil 1:17–32. doi:10.1002/jip.1

Hanson RK, Morton-Bourgon KE (2005) The characteristics of persistent sexual offenders: a meta-analysis of recidivism studies. J Consult Clin Psychol 73:1154–1163. doi:10.1037/0022-006x.73.6.1154

Hanson RK, Thornton D (2000) Improving risk assessments for sex offenders: a comparison of three actuarial scales. Law Hum Behav 24:119–136. doi:10.1023/a:1005482921333

Hanson RK, Lunetta A, Phenix A, Neeley J, Epperson D (2014) The field validity of Static-99/R sex offender risk assessment tool in California. J Threat Assess Manag 1:102–117. doi:10.1037/tam0000014

Harris GT, Rice ME, Quinsey VL, Lalumière ML, Boer D, Lang C (2003) A multisite comparison of actuarial risk instruments for sex offenders. Psychol Assess 15:413–425. doi:10.1037/1040-3590.15.3.413

Hart SD (2016) Culture and violence risk assessment: the case of Ewert v. Canada. J Threat Assess Manag 3:76–96. doi:10.1037/tam0000068

Hart-Kerkhoffs LA, Vermeiren RJM, Jansen LMC, Doreleijers TAH (2011) Juvenile group sex offenders: a comparison of group leaders and followers. J Interpers Violence 26:3–20. doi:10.1177/0886260510362882

Heath AF, Rothon C, Kilpi E (2008) The second generation in Western Europe: education, unemployment, and occupational attainment. Annu Rev Sociol 34:211–235. doi:10.1146/annurev.soc.34.040507.134728

Helmus L, Hanson RK, Thornton D, Babchishin KM, Harris AJR (2012) Absolute recidivism rates predicted by Static-99R and Static-2002R sex offender risk assessment tools vary across samples. Crim Justice Behav 39:1148–1171. doi:10.1177/0093854812443648

Hilterman ELB, Nicholls TL, van Nieuwenhuizen C (2014) Predictive validity of risk assessments in juvenile offenders: Comparing the SAVRY, PCL:YV, and YLS/CMI with unstructured clinical assessments. Assessment 21:324–339. doi:10.1177/1073191113498113

Hofstede GH (2001) Culture's consequences: comparing values, behaviors, institutions, and organizations across nations. SAGE, Thousand Oaks

Ilkkaracan P (1998) Exploring the context of women's sexuality in Eastern Turkey. Reprod Health Matters 6:66–75. doi:10.1016/s0968-8080(98)90009-x

Ingelhart R, Baker WE (2000) Modernization, cultural change, and the persistence of traditional values. Am Sociol Rev 65:19–51

Kagitcibasi C (2005) Autonomy and relatedness in cultural context: implications for self and family. J Cross Cult Psychol 36:403–422. doi:10.1177/0022022105275959

KG-Berlin, 5 Ws 672/98. Neue Zeitschrift für Strafrecht 19(6):319–320

Langström N (2004) Accuracy of actuarial procedures for assessment of sexual offender recidivism risk may vary across ethnicity. Sex Abuse 16:107–120

Lee SC, Hanson RK (2017) Similar predictive accuracy of the static-99R risk tool for white, black, and hispanic sex offenders in california. Crim Justice Behav 10:009385481771147. doi:10.1177/0093854817711477

Leguízamo A, Lee SC, Jeglic EL, Calkins C (2015) Utility of the Static-99 and Static-99R with latino sex offenders. Sex Abuse. doi:10.1177/1079063215618377

Lehmann RJB, Goodwill AM, Gallasch-Nemitz F, Biedermann J, Dahle K‑P (2013) Applying crime scene analysis to the prediction of sexual recidivism in stranger rapes. Law Hum Behav 37:241–254. doi:10.1037/lhb0000015

Lehmann RJB, Goodwill AM, Hanson RK, Dahle K‑P (2014) Crime scene behaviors indicate risk-relevant propensities of child molesters. Crim Justice Behav 41:1008–1028. doi:10.1177/0093854814521807

Lehmann RJB, Goodwill AM, Hanson RK, Dahle K‑P (2016) Acquaintance rape: applying crime scene analysis to the prediction of sexual recidivism. Sex Abuse 28:679–702. doi:10.1177/1079063215569542

Marshall WL, Marshall LE (2000) The origins of sexual offending. Trauma Violence Abuse 1:250–263. doi:10.1177/1524838000001003003

McCann K, Lussier P (2008) Antisociality, sexual deviance, and sexual reoffending in juvenile sex offenders. Youth Violence Juv Justice 6:363–385. doi:10.1177/1541204008320260

Mokros A, Schilling F, Weiss K, Nitschke J, Eher R (2014) Sadism in sexual offenders: evidence for dimensionality. Psychol Assess 26:138–147. doi:10.1037/a0034861

Orgocka A (2004) Perceptions of communication and education about sexuality among Muslim immigrant girls in the US. Sex Educ 4:255–271. doi:10.1080/1468181042000243349

Polizeipräsident Berlin (2016) Polizeiliche Kriminalstatistik Berlin 2015. https://www.berlin.de/polizei/verschiedenes/polizeiliche-kriminalstatistik/. Zugegriffen: 21. Apr. 2017

Ressler RK, Burguess AW, Douglas JE, Hartman CR, D'Agnostino RB (2016) Sexual killers and their victims. J Interpers Violence 1:288–308. doi:10.1177/088626086001003003

Santtila P, Ritvanen A, Mokros A (2004) Predicting burglar characteristics from crime scene behaviour. Int J Police Sci Manag 6:136–154. doi:10.1350/ijps.6.3.136.39127

Schmidt S, van der Meer E, Bliesener T (im Review) Risk Assessment is Effected by Culture and Migration: How the manifestation and predictive validity of the Central Eight vary between offenders with a Turkish and Arab migration background and German offenders without.

Schuster I, Krahé B (2017) The prevalence of sexual aggression in Turkey: a systematic review. Aggress Violent Behav. doi:10.1016/j.avb.2017.05.003

Schwartz SH (2006) A theory of cultural value orientation: explication and applications. Comp Sociol 5:137–182

Senatsverwaltung für Justiz und Verbraucherschutz (2015) Der Berliner Justizvollzug. https://www.berlin.de/justizvollzug/service/publikationen/. Zugegriffen: 13. Juli 2017

Shepherd SM, Lewis-Fernandez R (2016) Forensic risk assessment and cultural diversity: contemporary challenges and future directions. Psychol Public Policy Law 22:427–438. doi:10.1037/law0000102

Seto MC (2008) Pedophilia and sexual offending against children: theory, assessment, and intervention. American Psychological Association, Washington DC

Singh JP, Grann M, Fazel S (2011) A comparative study of violence risk assessment tools: a systematic review and metaregression analysis of 68 studies involving 25,980 participants. Clin Psychol Rev 31:499–513. doi:10.1016/j.cpr.2010.11.009

Smallbone S, Rallings M (2013) Short-term predictive validity of the static-99 and static-99-R for indigenous and nonindigenous Australian sexual offenders. Sex Abuse 25:302–316. doi:10.1177/1079063212472937

Spehr A, Driemeyer W, Yoon D, Martin R, Briken P (2011) Hamburger Modellprojekt für sexuell auffällige Minderjährige: Wie unterscheiden sich Jungen mit von Jungen ohne Migrationshintergrund? Recht Psychiatr 29:123–131

Statistisches Bundesamt (2016) Bevölkerung und Erwerbstätigkeit: Ausländische Bevölkerung, Ergebnisse des Ausländerzentralregisters. https://www.destatis.de/DE/Publikationen/Thematisch/Bevoelkerung/AlteAusgaben/AuslaendBevoelkerungAlt.html;jsessionid=493BD729687AD282DF64EE9454E865F5.cae2. Zugegriffen: 27. Juli 2017

Statistisches Bundesamt (2017) Bevölkerung mit Migrationshintergrund: Ergebnisse des Mikrozensus. https://www.destatis.de/DE/Publikationen/Thematisch/Bevoelkerung/MigrationIntegration/Migrationshintergrund.html. Zugegriffen: 10. Apr. 2017

Syed J, Frederick Littrell R, Bertsch A (2013) Traditional and contemporary status of women in the patriarchal belt. Equal Div Incl 32:310–324. doi:10.1108/edi-12-2012-0122

Tülü IA, Erden HG (2013) Türkiye'de Cinsel Suçlular ile İlgili Suç Analizi: Cinsel Saldırı Suçlularının Psikolojik Profi lleri, Bilişsel Çarpıtmaları ve Psikopati Düzeyleri (Crime analysis regarding sex offenders in Turkey: rapists' psychological profiling, cognitive distortions and psychopathy). Türk Psikiyatr Derg. doi:10.5080/u7070

UN Human Rights Office of the High Commissioner (2017) Middle East and Northern Africa region index. http://www.ohchr.org/EN/Countries/MENARegion/Pages/MenaRegionIndex.aspx. Zugegriffen: 17. Juli 2017

van de Vijver FJR (2003) Bias and equivalence: cross-cultural perspectives. In: Harkness JA, van de Vijver FJR, Mohler PP (Hrsg) Cross-cultural survey methods. John Wiley, Hoboken, S 143–156

van der Put C, Stams G‑J, Dekovic M, Hoeve M, van der Laan P (2013) Ethnic differences in offense patterns and the prevalence and impact of risk factors for recidivism. Int Crim Justice Rev 23:113–131. doi:10.1177/1057567713482940

Varela JG, Boccaccini MT, Murrie DC, Caperton JD, Gonzalez E (2013) Do the Static-99 and Static-99R perform similarly for white, black, and latino sexual offenders? Int J Forensic Ment Health 12:231–243. doi:10.1080/14999013.2013.846950

Veen VC, Stevens G, Doreleijers T, Vollebergh W (2011) Moroccan adolescent suspect offenders in the Netherlands: ethnic differences in offender profiles. Psychol Crime Law 17:545–561. doi:10.1080/10683160903418205

Viljoen JL, Elkovitch N, Scalora MJ, Ullman D (2009) Assessment of reoffense risk in adolescents who have committed sexual offenses. Crim Justice Behav 36:981–1000. doi:10.1177/0093854809340991

Viljoen JL, Mordell S, Beneteau JL (2012) Prediction of adolescent sexual reoffending: a meta-analysis of the J‑SOAP-II, ERASOR, J‑SORRAT-II, and Static-99. Law Hum Behav 36:423–438. doi:10.1037/h0093938

Ward T, Beech A (2006) An integrated theory of sexual offending. Aggress Violent Behav 11:44–63. doi:10.1016/j.avb.2005.05.002

Wentura D, Pospeschill M (Hrsg) (2015) Multivariate Datenanalyse. Springer, Wiesbaden

Wortley R, Smallbone S (2006) Applying situational principles to sexual offenses against children. Crime Prev Stud 19:7–35
Ethics declarations
Interessenkonflikt
S. Schmidt und O. Pettke, geben an, dass kein Interessenkonflikt besteht. R.J.B. Lehmann und K.-P. Dahle sind Autoren der hier angewendeten Skalen der Tatthemen und des TBRS.
Additional information
Die Autoren Stefanie Schmidt und Olivia Pettke haben gleiche Anteile an der Arbeit und teilen sich die Erstautorenschaft.
About this article
Cite this article
Schmidt, S., Pettke, O., Lehmann, R.J.B. et al. Sexualstraftäter ohne und mit Migrationshintergrund aus dem Nahen Osten und Nordafrika. Forens Psychiatr Psychol Kriminol 11, 322–334 (2017). https://doi.org/10.1007/s11757-017-0441-4
Received:

Accepted:

Published:

Issue Date:
Schlüsselwörter
Sexualstraftäter

Migrationshintergrund

Kriminalprognose

Tatverhalten

Tatthemen
Keywords
Sexual offenders

Migration background

Risk assessment

Crime scene behavior

Behavioral themes