Zusammenfassung
Im Jahr 2004 wurde das "Präventionsprojekt Dunkelfeld (PPD)" am Institut für Sexualwissenschaft und Sexualmedizin der Charité initiiert. Ziel war, Männern mit pädophiler Neigung, die bisher noch nicht mit der Justiz in Kontakt gekommen waren, präventive therapeutische Hilfe anzubieten, um zukünftigen sexuellen Kindesmissbrauch zu verhindern.
Erste Ergebnisse bestätigen, dass dieses Hilfsangebot von der Zielgruppe angenommen wird. Dabei spielt neben verhaltenstherapeutischen und speziellen sexualmedizinischen Therapieoptionen (z. B. Einbeziehung von Partnern in die Behandlung) die medikamentöse Reduktion der Androgenwirkung eine große Rolle: Alle Teilnehmer werden zu Beginn des Therapieprogramms sowohl im Einzel- als auch im Gruppensetting über die zur Verfügung stehenden Medikamente zur sexuellen Impulsdämpfung informiert. Zirka ein Fünftel der Betroffenen nutzt diese noch während der einjährigen Therapiephase als zusätzliche Möglichkeit zur Verbesserung der Impulskontrolle. Da es sich bei der Pädophilie um eine lebensüberdauernde, chronische Problematik handelt und nach den bisherigen Erfahrungen im Dunkelfeld kein Zweifel an der hohen Effektivität von antiandrogenen Pharmakotherapien zur Entdynamisierung sexueller Impulse besteht, muss gewährleistet sein, dass die Betroffenen im Bedarfsfall zu jedem Zeitpunkt auf die Medikamente zurückgreifen können, wofür spezielle Anlaufstellen (i. e. sexualmedizinische Ambulanzen) benötigt werden.
Abstract
Ever since its implementation in 2004 the "Prevention Project Dunkelfeld" (PPD) conducted at the Institut für Sexualwissenschaft und Sexualmedizin, Charité Berlin, has offered therapy for pedophilically and hebephilically inclined males aiming at the prevention of future child sexual abuse. First results suggest that this offer is being accepted by the target population. Together with psychological, sexological and social interventions, pharmacological modulation of sexual impulses forms an integral part of the therapy program offered. Being informed about the existence of such pharmacotherapy at the very beginning of the program, nearly one fifth of the participants so far chose to make use of this opportunity during the 1 year program. The life-long persistence of sexual arousal patterns in the individual and the effectiveness of sexual impulse modulation in our sample justify specialized treatment for this indication.
This is a preview of subscription content, log in to check access.
Access options
Buy single article
Instant access to the full article PDF.
US$ 39.95
Price includes VAT for USA
Subscribe to journal
Immediate online access to all issues from 2019. Subscription will auto renew annually.
US$ 199
This is the net price. Taxes to be calculated in checkout.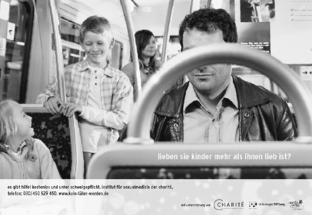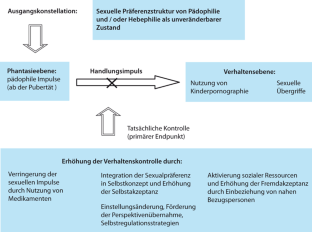 Notes
1.

Die Hebephilie ist eine eigenständig diagnostizierbare Störung der Sexualpräferenz, die sich nach den Internationalen Klassifikationssystemen der Weltgesundheitsorganisation [24] oder der Amerikanischen Psychiatrievereinigung [25] bislang nicht spezifisch codieren lässt. Sie spielt in der klinischen Arbeit und im PPD jedoch eine wichtige Rolle, weil der Beginn der Pubertät für beide Geschlechter deutlich unter 14 Jahren liegt und damit im minderjährigen Alter eintritt. Forderungen in Richtung einer Klassifizierbarkeit dieser Präferenzstörung werden vermutlich in der fünften Ausgabe des Diagnostic and Statistical Manual of Mental Disorders (DSM-V; [26, 27]) Berücksichtigung finden.

2.

Als wissenschaftliche Mitarbeiter und oder Therapeuten waren seit Beginn des PPD beteiligt (in alphabetischer Reihenfolge): C.J. Ahlers, T. Amelung, S. Faistbauer, D. Goecker, E. Hupp, A. Konrad, M. Latka, I. Mundt, J. Neutze, A. Pauls, G. Scherner, T.-D. Schneider, G.A. Schäfer, M. Schmülling, H. Schütz.

3.

Die Verwendung der Begriffe Gonadotropin-Releasing-Hormon (GnRH) und luteinisierendes Hormon Releasing Hormon (LHRH) in der internationalen Literatur ist uneinheitlich. Beide können synonym verwendet werden. In Anlehnung an das Verzeichnis Online Mendelian Inheritance in Man, OMIM™ bevorzugen die Autoren den Begriff GnRH [28].
Literatur
1.

Wetzels P (1997) Prävalenz sexuellen Kindesmissbrauchs. Sexuologie 4:89–107

2.

Beier KM (1995) Dissexualitat im Lebenslangsschnitt: Theoretische und empirische Untersuchungen zu Phänomenologie und Prognose begutachteter Sexualstraftäter. Springer, Berlin

3.

Finkelhor D (1994) The international epidemiology of child sexual abuse. Child Abuse Negl 18:409–417. doi:10.1016/0145-2134(94)90026-4

4.

Pereda N, Guilera G, Forns M, Gómez-Benito J (2009) The prevalence of child sexual abuse in community and student samples: a meta-analysis. Clin Psychol Rev 29:328–338. doi:10.1016/j.cpr.2009.02.007

5.

Polizeiliche Kriminalstatistik (PKS) (2010) http://www.bka.de/pks. Zugegriffen: 1. März 2010

6.

Beier KM, Bosinski HAG, Loewit K (2005) Sexualmedizin: Grundlagen und Praxis. Elsevier, Urban & Fischer, München

7.

Carr J (2003) Child abuse, child pornography, and the internet. National Children's Home, London

8.

Bourke M, Hernandez A (2009) The "Butner Study" redux: a report of the incidence of hands-on child victimization by child pornography offenders. J Fam Violence 24:183–191. doi:10.1007/s10896-008-9219-y

9.

Beier KM (1998) Differential typology and prognosis for dissexual behavior – a follow-up study of previously expert-appraised child molesters. Int J Legal Med 111:133–141

10.

Hanson RK, Morton-Bourgon KE (2005) The characteristics of persistent sexual offenders: a meta-analysis of recidivism studies. J Consult Clin Psychol 73:1154–1163. doi:10.1037/0022-006X.73.6.1154

11.

Seto MC, Cantor JM, Blanchard R (2006) Child pornography offenses are a valid diagnostic indicator of pedophilia. J Abnorm Psychol 115:610–615

12.

Ahlers CJ, Schaefer GA, Mundt IA, Roll S, Englert H, Willich S, Beier KM (2009) How unusual are the contents of paraphilias? Prevalence of paraphilia-associated sexual arousal patterns in a community-based sample of men. J Sex Med. doi:10.1111/j.1743-6109.2009.01597.x.

13.

Beier KM, Neutze J, Mundt IA, Ahlers CJ, Goecker D, Konrad A, Schaefer GA (2009) Encouraging self-identified pedophiles and hebephiles to seek professional help: first results of the Prevention Project Dunkelfeld (PPD). Child Abuse Negl 33:545–549. doi:10.1016/j.chiabu.2009.04.002

14.

First MB, Frances A (2008) Issues for DSM-V: unintended consequences of small changes: the case of paraphilias. J Psychiatry 165:1240–1241. doi:10.1176/appi.ajp.2008.08030361

15.

Derogatis L, Melisaratos N (1983) The brief symptom inventory: an introductory report. Psychol Med 13:595–605

16.

Beier KM, Neutze J (2009) Das neue "Präventionsprojekt Kinderpornographie" (PPK): Erweiterung des Berliner Ansatzes zur therapeutischen Primärprävention von sexuellem Kindesmissbrauch im Dunkelfeld. Sexuologie 16:66–74

17.

Institut für Sexualwissenschaft und Sexualmedizin, Charité Universitätsmedizin Berlin (2009) Kein Täter werden. http://www.kein-taeter-werden.de/. Zugegriffen: 1. März 2010

18.

Hill A, Briken P, Kraus C, Strohm K, Berner W (2003) Differential pharmacological treatment of paraphilias and sex offenders. Int J Offender Ther Comp Criminol 47:407–421. doi:10.1177/0306624´03253847

19.

Berner W, Hill A, Briken P, Kraus C, Lietz K (Hrsg) (2007) Behandlungsleitlinie Störungen der sexuellen Präferenz. Steinkopff, Darmstadt

20.

Briken P, Hill A, Berner W (2003) Pharmacotherapy of paraphilias with long-acting agonists of luteinizing hormone-releasing hormone: a systematic review. J Clin Psychiatry 64:890–897

21.

Bumby K (1996) Assessing the cognitive distortions of child molesters and rapists: development and validation of the MOLEST and RAPE scales. Sex Abuse 8:37–54. doi:10.1007/BF02258015

22.

Schäfer GA, Feelgood S (2006) Validation of a new scale for measuring victim empathy in pedophiles: the Empathy for Children Scale (ECS). Paper presented at 9th International Conference of the International Association for the Treatment of Sex Offenders (IATSO), Hamburg, Germany

23.

Marques JK, Day DM, Nelson C, Miner MH, West MA (1991) The sex offender treatment and evaluation project: fourth report to the legislature in response to PC 1365. California State Department of Mental Health, Sacramento, CA

24.

World Health Organization (1993) The ICD-10 classification of mental and behavioural disorders. World Health Organization, Geneva

25.

American Psychiatric Association (2000) Diagnostic and statistical manual of mental disorders. American Psychiatric Association, Washington

26.

American Psychiatric Association (2010) APA DSM-5. http://www.dsm5.org/. Zugegriffen: 2. März 2010

27.

Blanchard R, Lykins AD, Wherrett D, Kuban ME, Cantor JM, Blak T, Dickey R, Klassen PE (2009) Pedophilia, hebephilia, and the DSM-V. Arch Sex Behav 38:335–350

28.

Online Mendelian Inheritance in Man (OMIM; TM) (2009) Gonadotropin-releasing hormone 1 (GnRH1). Johns Hopkins University, Baltimore, MD. MIM number: 152760. http://www.ncbi.nlm.nih.gov/omim. Zugegriffen: 8. März 2010
Interessenkonflikt
Die Autoren erhielten für das Symposium "Psychotherapie und LHRH-Agonisten" ein Referentenhonorar und eine Übernahme der Reisekosten von der Firma Dr. Pfleger.
About this article
Cite this article
Beier, K.M., Amelung, T. & Pauls, A. Antiandrogene Therapie als Teil der Prävention von sexuellem Kindesmissbrauch im Dunkelfeld. Forens Psychiatr Psychol Kriminol 4, 49–57 (2010). https://doi.org/10.1007/s11757-010-0076-1
Received:

Accepted:

Published:

Issue Date:
Schlüsselwörter
Pädophilie

Prävention

Sexueller Kindesmissbrauch

Pharmakotherapie

Gonadotropin-Releasing-Hormon-Analoga

Selektive Serotonin-Wiederaufnahmehemmer

Cyproteronacetat
Keywords
Pedophilia

Prevention

Child sexual abuse

Pharmacotherapy

Gonadotropin-releasing hormone

Selective serotonin reuptake inhibitor

Cyproterone acetate