Abstract
Gastropods are extremely diverse taxa comprising nearly 60,000 species, of which, the giant African land snail, Achatina fulica is a well-known member. It is an invasive species, and it serves as vector and host for several free-living and parasitic nematodes. This makes studies on the diversity of nematodes isolated from gastropods be more emphasized. Studies have been conducted on other Caenorhabditis-gastropod associations such as in the model organism C. elegans, however, less attention is given to other Caenorhabditis species. Through morphological and morpho-taxometrical data, and analysis of the D2-D3 of 28S rDNA and 18S rDNA regions, nematodes found inside a dissected A. fulica cadaver from Kabacan, North Cotabato (7°6'3.076" N, 124°51'68.33" E) in Mindanao, Philippines were identified as Caenorhabditis brenneri. We herein report for the first time C. brenneri from A. fulica. Moreover, to our knowledge, this is also the first report of C. brenneri-gastropod association.
Access options
Buy single article
Instant access to the full article PDF.
USD 39.95
Price excludes VAT (USA)
Tax calculation will be finalised during checkout.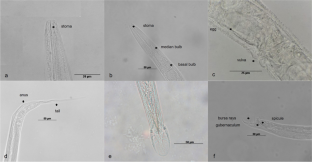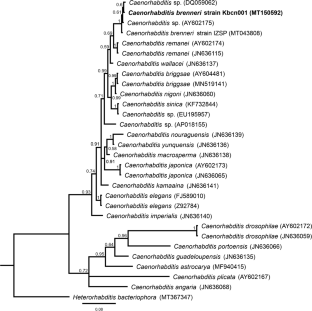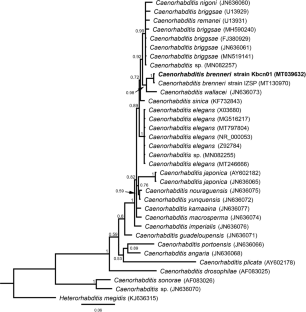 Data availability
All available data are included in this manuscript.
References
Amrit FR, Ratnappan R, Keith SA, Ghazi A (2014) The C. elegans lifespan assay toolkit. Methods 68(3):465–475. https://doi.org/10.1016/j.ymeth.2014.04.002

Anderson GL, Caldwell KN, Beuchat LR, Williams PL (2003) Interaction of a free-living soil nematode, Caenorhabditis elegans, with surrogates of foodborne pathogenic bacteria. J Food Prot 6(9):1543–1549. https://doi.org/10.4315/0362-028x-66.9.1543

Andrade-Porto SM, Souza KC, Cárdenas MQ, Roque RA, Pimpão DM, Araújo CS, Malta JC (2012) Occurrence of Aelurostrongylus abstrusus (Railliet, 1898) larvae (Nematoda: Metastrongylidae) infecting Achatina (Lissachatina) fulica Bowdich, 1822 (Mollusca: Gastropoda) in the Amazon region. Acta Amazon 42(2):245–250. https://doi.org/10.1590/s0044-59672012000200010

Baird SE, Emmons SW, Fitch DHA (1994) Caenorhabditis vulgaris sp. n. (Nematoda: Rhabditidae): a necromenic associate of pill bugs and snails. Nematologica 40(1):1–11. https://doi.org/10.1163/003525994x00012

Baird SE, Sutherlin ME, Fitch DHA, Emmons SW (1990) Strange bedfellows. Worm Breed Gaz 11(4):89

Baird SE, Sutherlin ME, Emmons SW (1992) Reproductive isolation in Rhabditidae (Nematoda: Secernentea): mechanisms that isolate six species of three genera. Evolution 46:585–594

Barrière A, Fèlix MA (2005) High local genetic diversity and low outcrossing rate in Caenorhabditis elegans natural populations. Curr Biol 15:1176–1184. https://doi.org/10.1016/j.cub.2005.06.022

Barrière A, Yang S, Pekarek E, Thomas CG, Haag ES, Ruvinsky I (2008) Detecting heterozygosity in shotgun genome assemblies: Lessons from obligately outcrossing nematodes. Genome Res 19(3):470–480. https://doi.org/10.1101/gr.081851.108

Bovien P (1937) Some types of association between nematodes and insects. Videnskabelige Meddelelser fra Dansk Naturhistorik Forening 101:1–114

Campos-Herrera R, Escuer M, Robertson L, Gutiérrez C (2006) Morphological and ecological characterization of Steinernema feltiae (Rhabditida: Steinernematidae) Rioja strain isolated from Bibo hortulanus (Diptera: Bibionidae) in Spain. J Nematol 38(1):68–75

Caswell-Chen EP, Chen J, Lewis EE, Douhan GW, Nadler SA, Carey JR (2005) Revising the standard wisdom of C. elegans natural history: Ecology of longevity. SAGE KE 40:pe30–pe30. https://doi.org/10.1126/sageke.2005.40.pe30

Cho S, Jin SW, Cohen A, Ellis RE (2004) A phylogeny of Caenorhabditis reveals frequent loss of introns during nematode evolution. Genome Res 14(7):1207–1220. https://doi.org/10.1101/gr.2639304

Constantino-Santos DM, Santos B, Soriano JM, Dy JS, Fontanilla IK (2014) Philippine survey of nematode parasite infection and load in the giant African snail Achatina fulica indicate Angiostrongylus cantonensis infection in Mindanao. Sci Diliman 26(2):72–84

Flores P, Alvarado A, Lankin G, Lax P, Prodan S, Aballay E (2021) Morphological, molecular, and ecological characterization of a native isolate of Steinernema feltiae (Rhabditida: Steinernematidae) from southern Chile. Parasit Vectors 14:45. https://doi.org/10.1186/s13071-020-04548-7

Fonderie P, Bert W, Moens T, Steel H (2013) Experimental induction of intraspecific morphometric variability in a single population of Halicephalobus cf gingivalis may surpass total interspecific variability. Nematology 15(5):529–544. https://doi.org/10.1163/15685411-00002699

De Grisse AT (1969) Redescription ou modification de quelques techniques utilisees dansl'etude des nematodes phytoparasitaires. Meded Rijksfakulteit Landbowwetenschappen Gent 34:351–369

De Ley P, Mundo-Ocampo M (2004) The cultivation of nematodes. In: Chen ZX, Chen SY, Dickson DW (eds) Nematology: advances and perspectives, vol 1. Tsinghua, China University Press, Beijing, pp 541–619

Dougherty EC (1953) The genera of the subfamily Rhabditinae Micoletzky, 1922 (Nematoda). In: Dayal J, Singh KS (eds) Thapar Commemoration Volume. University of Lucknow, Lucknow, pp 69–76

Dougherty EC, Nigon V (1949) A new species of the free-living nematode genus Rhabditis of interest in comparative physiology and genetics. J Parasitol 35:11

Félix M, Braendle C (2010) The natural history of Caenorhabditis elegans. Curr Biol 20(22):R965–R969. https://doi.org/10.1016/j.cub.2010.09.050

Fitch DH, Bugaj-Gaweda B, Emmons SW (1995) 18S ribosomal RNA gene phylogeny for some Rhabditidae related to Caenorhabditis. Mol Biol Evol 12(2):346–358

Fodor A, Timar T (1989) Effects of precocene analogs on the nematode Caenorhabditis remanei (var. Bangaloreiensis). II. Competitions with a juvenile hormone analog (Methoprene). Gen Comp Endocrinol 74:32–44. https://doi.org/10.1016/0016-6480(89)90111-1

Fodor A, Timar T, Kiss I, Hosztafi S, Varga E, Soos J, Sebok P (1989) Effects of precocene analogs on the nematode Caenorhabditis remanei (var. Bangaloreiensis). I. Structure/activity relations. Gen Comp Endocrinol 74:18–31

Glen DM, Moens R (2002) Agriolimacidae, Arionidae and Milacidae as pests in West European cereals. In: Barker GM (ed) Molluscs as Crop Pests. CABI Publishing, Wallingford, pp 271–300

Grewal PS, Grewal PSK, Tan L, Adams BJ (2003) Parasitism of molluscs by nematodes: Types of associations and evolutionary trends. J Nematol 35(2):146–156

Hong RL, Villwock A, Sommer RJ (2005) Cultivation of the rhabditid Poikilolaimus oxycercus as a laboratory nematode for genetic analyses. J Exp Zool A Comp Exp Biol 303(9):742–760

Huelsenbeck JP, Ronquist F (2001) Mrbayes: Bayesian inference of phylogenetic trees. Bioinformatics 17(8):754–755. https://doi.org/10.1093/bioinformatics/17.8.754

Ivanova ES, Panayotova-Pencheva MS, Spiridonov SE (2013) Observations on the nematode fauna of terrestrial molluscs of the Sofia area (Bulgaria) and the Crimea peninsula (Ukraine). Russ J Nematol 21:41–49

Jovelin R (2009) Rapid sequence evolution of transcription factors controlling Neuron differentiation in Caenorhabditis. Mol Biol Evol 26(10):2373–2386. https://doi.org/10.1093/molbev/msp142

Kiontke KC, Félix MA, Ailion M, Rockman MV, Braendle C, Pénigault JB, Fitch DH (2011) A phylogeny and molecular barcodes for Caenorhabditis, with numerous new species from rotting fruits. BMC Evol Biol 11(1):1–8

Kiontke K, Gavin NP, Raynes Y, Roehrig C, Piano F, Fitch DH (2004) Caenorhabditis phylogeny predicts convergence of hermaphroditism and extensive intron loss. Proc Natl Acad Sci, USA 101(24):9003–9008. https://doi.org/10.1073/pnas.0403094101

Kiontke K, Sudhaus W (2006) Ecology of Caenorhabditis species. WormBook. https://doi.org/10.1895/wormbook.1.37.1

Lee H, Choi M, Lee D, Kim H, Hwang H, Kim H, Park S, Paik Y, Lee J (2011) Nictation, a dispersal behavior of the nematode Caenorhabditis elegans, is regulated by IL2 neurons. Nat Neurosci 15(1):107–112. https://doi.org/10.1038/nn.2975

Mayer WE, Herrmann M, Sommer RJ (2007) Phylogeny of the nematode genus Pristionchus and implications for biodiversity, biogeography and the evolution of hermaphroditism. BMC Evol Biol 7:104. https://doi.org/10.1186/1471-2148-7-104

Morales N, Morales-Montero P, Puza V, San-Blas E (2016) First report of Heterorhabditis amazonensis from Venezuela and characterization of three populations. J Nematol 48(3):139–147. https://doi.org/10.21307/jofnem-2017-021

Mengert H (1953) Nematoden und Schnecken. Zeitschrift für Morphologie und Ó¦kologie der Tiere 41:311–349

Mwangi J, Gichuki C, Wanjohi W, Runo S, Maina P (2016) Sequence variation in the rDNA region of root-knot nematodes (Meloidogyne spp) infecting indigenous leafy vegetables in Kisii and Transmara sub-countries, Kenya. Annu Res Rev Biol 9(3):1–10. https://doi.org/10.9734/arrb/2016/17985

Nermuť J, Půža V, Mráček Z (2014) The effect of different growing substrates on the development and quality of Phasmarhabditis hermaphrodita (Nematoda: Rhabditidae). Biocontrol Sci Technol 24(9):1026–1038. https://doi.org/10.1080/09583157.2014.9159

Nunn GB (1992) Nematode molecular evolution. PhD dissertation, University of Nottingham, Nottingham, UK

Petersen C, Hermann RJ, Barg M, Schalkowski R, Dirksen P, Barbosa C, Schulenburg H (2015) Travelling at a slug's pace: Possible invertebrate vectors of Caenorhabditis nematodes. BMC Ecol 15(1):1–13. https://doi.org/10.1186/s12898-015-0050-z

Pieterse A, Malan A, Ross J (2016) Nematodes that associate with terrestrial molluscs as definitive hosts, including Phasmarhabditis hermaphrodita (Rhabditida: Rhabditidae) and its development as a biological molluscicide. J Helminthol 91(5):517–527. https://doi.org/10.1017/s0022149x16000572

Port G, Ester A (2002) Gastropods as pests in vegetable and ornamental crops in Western Europe. In: Barker GM (ed) Molluscs as Crop Pests. Hamilton, New Zealand, pp 337–351. https://doi.org/10.1079/9780851993201.0337

Richter S (1993) Phoretic association between the dauer juveniles of Rhabditis stammeri (Rhabditidae) and life history stages of the burying beetle Nicrophorus vespilloides (Coleoptera: Silphidae). Nematologica 39(1-4):346–355. https://doi.org/10.1163/187529293X00295

Scholze VS, Sudhaus W (2011) A pictorial key to current genus groups of "Rhabditidae". J Nematode Morpho Syst 14(2):105–112

Schreurs J (1963) Investigations on the Biology, Ecology and Control of Giant African Snail in West New Guinea. Manokwari Agricultural Research Station, Western New Guinea, Indonesia, A Report, p 18

Seehabut V (2005) Nematodes in alimentary tracts of giant African snails (Achatana fulica) in Thailand. Kamphaengsaen Acad J 3(1):37–41

Seinhorst J (1959) A rapid method for the transfer of nematodes from fixative to anhydrous glycerin. Nematologica 4(1):67–69. https://doi.org/10.1163/187529259x00381

Stock SP, Mrácek Z, Webster J (2000) Morphological variation between allopatric populations of Steinernema kraussei (Steiner, 1923) (Rhabditida: Steinernematidae). Nematology 2(2):143–52

Sudhaus W (1974) Zur Systematik, Verbreitung, Ökologie und Biologie neuer und wenig bekannter Rhabditiden (Nematoda). Teil Zool Jb Syst 101 2:417–465

Sudhaus W (2010) Preadaptive plateau in Rhabditida (Nematoda) allowed the repeated evolution of zooparasites, with an outlook on evolution of life cycles within Spiroascaridaa-Paleodiversity 3(Supplement):117–130

Sudhaus W (2018) Various evolutionary avenues of Nematoda to parasitism in Gastropoda. Soil Org 90(3):115–122. https://doi.org/10.25674/lyds-c108

Sudhaus W, Kiontke K (1996) Phylogeny of Rhabditis subgenus Caenorhabditis (Rhabditidae, Nematoda). J Zoolog Syst Evol Res 34:217–233

Sudhaus W, Kiontke K (2007) Comparison of the cryptic nematode species Caenorhabditis brenneri sp. n. and C. remanei (Nematoda: Rhabditidae) with the stem species pattern of the Caenorhabditis Elegans group. Zootaxa 1456(1):45–62. https://doi.org/10.11646/zootaxa.1456.1.2

Tsai HC, Lee SS, Huang CK, Yen CM, Chen ER, Liu YC (2004) Outbreak of eosinophilic meningitis associated with drinking raw vegetable juice in southern Taiwan. Am J Trop Med Hyg 71(2):222–6. https://doi.org/10.4269/ajtmh.2004.71.222

Tunholi-Alves VM, Tunholi VM, Pinheiro J, Thiengo SC (2012) Effects of infection by larvae of Angiostrongylus cantonensis (Nematoda, Metastrongylidae) on the metabolism of the experimental intermediate host Biomphalaria glabrata. Exp Parasitol 131(2):143–147. https://doi.org/10.1016/j.exppara.2012.03.003

van Megen H, van den Elsen S, Mooijman P, Bakker F, Bakker J, Helder J (2004) Biological and systematic implications of a phylum-wide phylogenetic analyses of ~ 2,800 nearly full length small subunit ribosomal DNA sequences from nematodes. NCBI GenBank. https://www.ncbi.nlm.nih.gov/nuccore/KJ636315. Accessed 31 Jan 2021

Ye W, Giblin-Davis RM (2013) Molecular characterization and development of real-time PCR assay for pine-wood nematode Bursaphelenchus xylophilus (Nematoda: Parasitaphelenchidae). PLoS ONE 8(11):e78804. https://doi.org/10.1371/journal.pone.0078804

Wang C, Li C (2020) Heterorhabditis bacteriophora isolate NJ large subunit ribosomal RNA gene, partial sequence. NCBI GenBank. https://www.ncbi.nlm.nih.gov/nuccore/1834193876. Accessed 31 Jan 2021
Acknowledgements
This research was funded by the Accelerated Science and Technology Human Resource Development Program-National Science Consortium (ASTHRDP-NSC) program of the Department of Science and Technology (DOST). We are grateful to Dr. Praikajan Nimkingrat from the National Biological Control Research Center of Khon Kaen University, Thailand, for the technical support with microscopic works, especially for the morpho-taxometrics part of this study. Sincere thanks are also due to Dr. Irma Tandingan-De Ley for providing us some reference materials and to the anonymous reviewers for helping us improve this manuscript.
Funding
This study is funded by Accelerated Science and Technology Human Resource Development Program-National Science Consortium (ASTHRDP-NSC) program of the Department of Science and Technology (DOST).
Ethics declarations
Conflicts of interest/competing interest
The authors declare that they have no conflict of interest.
Ethics approval
This research does not contain human participants. This research used A.fulica which is considered to be invasive and pest, and there was no live dissection conducted.
Consent to participate
Not applicable.
Consent for publication
Not applicable.
Additional information
Publisher's Note
Springer Nature remains neutral with regard to jurisdictional claims in published maps and institutional affiliations.
About this article
Cite this article
Diano, M.A., Dalan, L., Singh, P.R. et al. First report, morphological and molecular characterization of Caenorhabditis brenneri (Nematoda: Rhabditidae) isolated from the giant African land snail Achatina fulica (Gastropoda: Achatinidae). Biologia 77, 469–478 (2022). https://doi.org/10.1007/s11756-021-00972-x
Received:

Accepted:

Published:

Issue Date:

DOI: https://doi.org/10.1007/s11756-021-00972-x
Keywords