Abstract
In this study, we compared the effects of terpinolene against the anti-cancer agent cisplatin on proliferation, apoptotic activity and intracellular ROS (reactive oxygen species) production in cancerous (MCF-7) and non-cancerous (HEK-293) cell lines. Cisplatin presented a strong growth-inhibitory effect on both MCF-7 (IC25: 18.77 µM) and HEK-293 (IC25: 15.03 µM) cell lines. The growth-inhibitory effect of terpinolene was found to be weaker than cisplatin (IC25: 291.18 µM for MCF-7 and 345.35 µM for HEK 293 cells). The expression levels of BAX (by 1.86-fold), cleaved-PARP (by 2.23-fold) and pro-caspase-8 (by 1.74-fold) proteins increased in response to terpinolene treatment in MCF-7 cells. Curiously, the increase in the expression levels of these apoptotic markers was less pronounced in terpinolene-treated non-cancerous HEK 293 cells. Terpinolene, promoted a higher rate of apoptotic and necrotic cell death on MCF-7 cells (apoptotic cells: 25.28 %; necrotic cells: 17.70 %) when compared with HEK-293 cell line (apoptotic cells: 15.47 %; necrotic cells: 9.42 %). Interestingly, terpinolene caused a marked increase (2.05-fold) in intracellular ROS production in MCF-7 cells while HEK-293 cells appeared to be resistant to terpinolene or cisplatin treatments. In conclusion, although terpinolene showed a weaker growth-inhibitory effect on MCF-7 cancer cells, it exhibited a better selectivity than cisplatin in inducing cell death and intracellular oxidative stress in MCF7 breast cancer cells.
Access options
Buy single article
Instant access to the full article PDF.
USD 39.95
Price excludes VAT (USA)
Tax calculation will be finalised during checkout.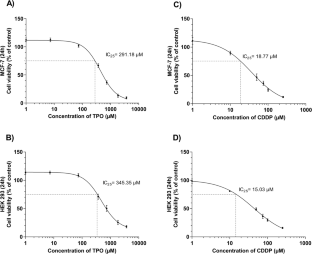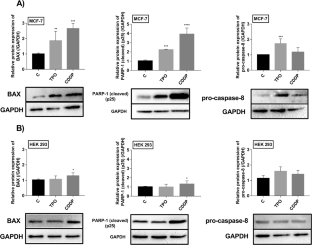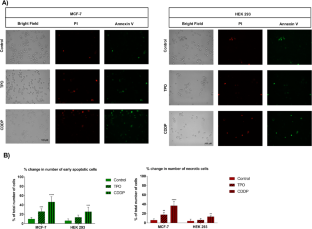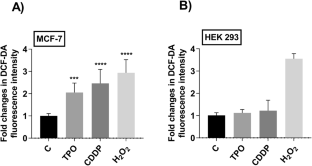 Data Availability
All the cell lines, raw experimental data, original images, data on statistical analysis and/or more detailed explanations on the material/methods section are available from the corresponding author on reasonable request.
Abbreviations
ANOVA:

Analysis of variance

BAX:

BCL2-associated X protein

DCF-DA:

2',7'-dichlorofluorescein-diacetate

DMEM:

Dulbecco's Modified Eagle Medium

DMSO:

Dimethyl sulfoxid

ECL:

Enhanced chemiluminescence

EDTA:

Ethylenediamine tetraacetic acid FBS:Fetal Bovine Serum

FITC:

Fluorescein isothiocyanate

GAPDH:

Glyceraldehyde 3-phosphate dehydrogenase

IC25 :

The concentration of the drug that is required for 25 % inhibition in vitro

mTOR:

Mammalian Target of Rapamycin

MTT:

[3-(4,5-Dimethylthiazol-2-yl)-2,5-Diphenyltetrazolium Bromide]

PARP:

Poly ADP (Adenosine Diphosphate)-Ribose Polymerase

PBS:

Phosphate-buffered saline

PBS-T:

Phosphate-buffered saline + Tween 20

PI:

Propidium iodide

P-S:

Penicillin and Streptomycin

PVDF:

polyvinylidene difluoride

ROS:

Reactive oxygen species

SDS:

Sodium Dodecyl Sulfate
References
Afoulous S, Ferhout H, Raoelison EG, Valentin A, Moukarzel B, Couderc., Bouajila J (2011) Helichrysum gymnocephalum essential oil: chemical composition and cytotoxic, antimalarial and antioxidant activities, attribution of the activity origin by correlations. Molecules 16(10):8273–8291. https://doi.org/10.3390/molecules16108273

Anantharaju PG, Gowda PC, Vimalambike MG et al (2016) An overview on the role of dietary phenolics for the treatment of cancers. Nutr J 15(1):99. https://doi.org/10.1186/s12937-016-0217-2

Aydin E, Türkez H, Taşdemir Ş (2013) Anticancer and antioxidant properties of terpinolene in rat brain cells. Arh Hig Rada Toksikol 64(3):415–424. https://doi.org/10.2478/10004-1254-64-2013-2365

Azad GK, Singh V, Mandal P, Singh P, Golla U, Baranwal S, Chauhan S, Tomar RS (2014) Ebselen induces reactive oxygen species (ROS)-mediated cytotoxicity in Saccharomyces cerevisiae with inhibition of glutamate dehydrogenase being a target. FEBS Open Bio 4:77–89. https://doi.org/10.1016/j.fob.2014.01.002

Candrasari DS, Mubarika S, Wahyuningsih MSH (2015) The effect of alpha-terpineol on cell cycle, apoptosis and Bcl-2 family protein expression of breast cancer cell line MCF-7. J Med Sci 47(2):59–67. https://doi.org/10.19106/JMedSci004702201502

Chen S, Wang Z, Huang Y, O'Barr SA, Wong RA, Yeung S, Chow MSS (2014) Ginseng and anticancer drug combination to improve cancer chemotherapy: a critical review. Evid Based Complement Alternat Med 2014:168940. https://doi.org/10.1155/2014/168940

de Lima E, Cazelli DP, Pinto F, Mazuco R, Kalil I, Lenz D, Scherer R, de Andrade T, Endringer D (2016) Essential oil from the resin of Protium heptaphyllum: chemical composition, cytotoxicity, antimicrobial activity, and antimutagenicity. Pharmacogn Mag 12(Suppl 1):S42–S46. https://doi.org/10.4103/0973-1296.176113

Delfino DV, Pozzesi N, Pierangeli S, Ayroldi E, Fierabracci A (2011) Manipulating thymic apoptosis for future therapy of autoimmune diseases. Curr Pharm Des 17(29):3108–3119. https://doi.org/10.2174/138161211798157621

Dilworth LL, Riley CK, Stennett DK (2017) Chapter 5 - Plant Constituents: Carbohydrates, Oils, Resins, Balsams, and Plant Hormones. In: Badal, Simone R. DelgodaMc Creath SB and Delgoda R (eds) Pharmacognosy: Fundamentals, Applications and Strategies, 1st edition Pharmacognosy, Academic, Boston, pp 61–80). https://doi.org/10.1016/B978-0-12-802104-0.00005-6

Driggins SN, Myles EL, Gary T (2004) The anti-prolific effect of Echinacea Pallida on BT-549 cancer cell line. Proc Am Assoc Cancer Res Cancer Res 64(7 Supplement):1010

Efferth T, Saeed MEM, Mirghani E, Alim A, Yassin Z, Saeed E, Khalid HE, Daak S (2017) Integration of phytochemicals and phytotherapy into cancer precision medicine. Oncotarget 8(30):50284–50304. https://doi.org/10.18632/oncotarget.17466

Essien EE, Ogunwande IA, Setzer WN, Ekundayo O (2012) Chemical composition, antimicrobial, and cytotoxicity studies on S. erianthum and S. macranthum essential oils. Pharm Biol 50(4):474–480. https://doi.org/10.3109/13880209.2011.614623

Farooq A, Choudhary MI, Atta-ur-Rahman Tahara S, Başer KHC, Demirci F (2002) Detoxification of terpinolene by plant pathogenic fungus Botrytis cinerea. Z Naturforsch C J Biosci 57(9–10):863–866. https://doi.org/10.1515/znc-2002-9-1018

Farooqi AA, Attar R, Sabitaliyevich UY, Alaaeddine N, de Sousa DP, Xu B, Cho C, W, (2020) The prowess of andrographolide as a natural weapon in the war against cancer. Cancers (Basel) 12(8):2159. https://doi.org/10.3390/cancers12082159

Goldman A, Majumer B, Dhawan A, Ravi S, Goldman D, Kohandel M et al (2015) Temporally sequenced anticancer drugs overcome adaptive resistance by targeting a vulnerable chemotherapy-induced phenotypic transition. Nat Commun 11(6):6139. https://doi.org/10.1038/ncomms7139

Harmsma M, Ummelen M, Dignef W, Tusenius K, Ramaekers F (2006) Effects of Mistletoe (Viscum album L.) extracts iscador on cell cycle and survival of tumor cells. Arzneimittelforschung 56(6A):474–82. https://doi.org/10.1055/s-0031-1296815

Isah T (2016) Anticancer Alkaloids from trees: development into drugs. Pharmacogn Rev 10(20):90–99. https://doi.org/10.4103/0973-7847.194047

Jiang Z, Gao W, Huang L (2019) Tanshinones, critical pharmacological components in Salvia miltiorrhiza. Front Pharmacol 4:202. https://doi.org/10.3389/fphar.2019.00202

Kaufmann SH, Desnoyers S, Ottaviano Y, Davidson NE, Poirier GG (1993) Specific proteolytic cleavage of poly(ADP-ribose) polymerase: an early marker of chemotherapy-induced apoptosis. Cancer Res 53:3976–3985

Kellogg JJ, Paine MF, McCune JS, Oberlies NH, Cech NB (2019) Selection and characterization of botanical natural products for research studies: a NaPDI center recommended approach. Nat Prod Rep 36(8):1196–1221. https://doi.org/10.1039/c8np00065d

Khaleel C, Tabanca N, Buchbauer G (2018) α-Terpineol, a natural monoterpene: A review of its biological properties. 16(1):349–361. https://doi.org/10.1515/chem-2018-0040

Kreso A, O'Brien CA, van Galen P, Gan OI, Notta F, Brown AMK et al (2013) Variable clonal repopulation dynamics influence chemotherapy response in colorectal cancer. Science 339(6119):543–548. https://doi.org/10.1126/science.1227670

Lampronti I, Saab AM, Gambari R (2006) Antiproliferative activity of essential oils derived from plants belonging to the Magnoliophyta division. Int J Oncol 29(4):989–995

Lin X, Farooqi AA (2020) Cucurbitacin mediated regulation of deregulated oncogenic signaling cascades and non-coding RNAs in different cancers: Spotlight on JAK/STAT, Wnt/β-catenin, mTOR, TRAIL-mediated pathways. Semin Cancer Biol S1044-579X(20):30217–30210. https://doi.org/10.1016/j.semcancer.2020.10.012

Lopes CM, Dourado A, Oliveira R (2017) Phytotherapy and nutritional supplements on breast cancer. Biomed Res Int 2017:7207983. https://doi.org/10.1155/2017/7207983

Ludwiczuk A, Skalicka-Woźniak K, Georgiev MI (2017) Chap. 11 - Terpenoids A2. In: Mc Creath SB, Delgoda R (eds) Pharmacognosy: Fundamentals, applications and strategies, 1st ed. Academic, Boston, pp 233–266 https://doi.org/10.1016/B978-0-12-802104-0.00011-1

Meyer M, Fleming J, Ali M, Pesesky M, Ginsburg E, Vonderhaar B (2009) Dynamic regulation of CD24 and the invasive, CD44pos CD24neg phenotype in breast cancer cell lines. Breast Cancer Res 11(6):R82. https://doi.org/10.1186/bcr2449

Montanari RM, Barbosa LCA, Demuner AJ, Silva CJ, Andrade NJ, Ismail FMD, Barbosa MCA (2012) Exposure to Anacardiaceae volatile oils and their constituents induces lipid peroxidation within food-borne bacteria cells. Molecules 17(8):9728–40. https://doi.org/10.3390/molecules17089728

Nayyab S, Naureen H, Maryam A, Attar R, Sabitaliyevich UY, Konysbayevna KK, Farooqi AA (2020) Piceatannol mediated regulation of deregulated signaling pathways in different cancers: Tumbling of the ninepins of molecular oncology. Cell Mol Biol (Noisy-le-grand) 66(6):157–163

Newman DJ, Cragg GM (2016) Natural products as sources of new drugs from 1981 to 2014. J Nat Prod 79(3):629–661. https://doi.org/10.1021/acs.jnatprod.5b01055

Okumura N, Yoshida H, Nishimura Y, Kitagishi Y, Matsuda S (2012) Terpinolene, a component of herbal sage, downregulates AKT1 expression in K562 cells. Oncol Lett 3(2):321–324. https://doi.org/10.3892/ol.2011.491

Pfeffer CM, Singh ATK (2018) Apoptosis: A Target for Anticancer Therapy. Int J Mol Sci 19(2):448. https://doi.org/10.3390/ijms19020448

Rieger AM, Nelson KL, Konowalchuk JD, Barreda DR (2011) Modified annexin V/propidium iodide apoptosis assay for accurate assessment of cell death. J Vis Exp 50:2597. https://doi.org/10.3791/2597

Scudiero DA, Shoemaker RH, Paull KD, Monks A, Tierney S, Nofziger TH, Currens MJ, Seniff D, Boyd MR (1988) Evaluation of a soluble tetrazolium/formazan assay for cell growth and drug sensitivity in culture using human and other tumor cell lines. Cancer Res 48(17):4827–4833.

Sobral MV, Xavier AL, Lima TC, de Sousa DP (2014) Antitumor activity of monoterpenes found in essential oils. ScientificWorldJournal 2014:953451. https://doi.org/10.1155/2014/953451

Sun LR, Zhou W, Zhang HM, Guo QS, Yang W, Li BJ, Sun ZH, Gao SH, Cui RJ (2019) Modulation of multiple signaling pathways of the plant-derived natural products in cancer. Front Oncol 9:1153. https://doi.org/10.3389/fonc.2019.01153

Tang D, Kang R, Berghe TV et al (2019) The molecular machinery of regulated cell death. Cell Res 29:347–364. https://doi.org/10.1038/s41422-019-0164-5

Tomko AM, Whynot EG, Ellis LD, Dupré DJ (2020) Anti-cancer potential of cannabinoids, terpenes, and flavonoids present in cannabis. Cancers (Basel) 12(7):1985. https://doi.org/10.3390/cancers12071985

Turkez H, Aydın E, Geyikoglu F, Cetin D (2015) Genotoxic and oxidative damage potentials in human lymphocytes after exposure to terpinolene in vitro. Cytotechnology 67(3):409–418. https://doi.org/10.1007/s10616-014-9698-z

van Engeland M, Nieland LJ, Ramaekers FC, Schutte B, Reutelingsperger CP (1998) Annexin V-affinity assay: a review on an apoptosis detection system based on phosphatidylserine exposure. Cytometry 31(1):1–9. https://doi.org/10.1002/(sici)1097-0320(19980101)31:1<1::aid-cyto1>3.0.co;2-r

Wang H, Joseph JA (1999) Quantifying cellular oxidative stress by dichlorofluorescein assay using microplate reader. Free Radic Biol Med (5–6):612–616. https://doi.org/10.1016/s0891-5849(99)00107-0

Wu ZL, Yin ZQ, Du YH, Feng RZ, Ye KC, Wei Q, Hu Y, He L, Liao L, Wang Y (2014) γ-terpineol inhibits cell growth and induces apoptosis in human liver cancer BEL-7402 cells in vitro. Int J Clin Exp Pathol 7(10):6524–6533

Yang W, Ju J, Jeon MJ, Han X, Shin I (2009) Danshen (Salvia miltiorrhiza) extract inhibits proliferation of breast cancer cells via modulation of Akt activity and p27 level. Phytother Res 224(2):198–204. https://doi.org/10.1002/ptr.2945

Yoshida N, Takada T, Yamamura Y, Adachi I, Suzuki H, Kawakami J (2008) Inhibitory effects of terpenoids on multidrug resistance-associated protein 2- and breast cancer resistance protein-mediated transport. Drug Metab Dispos 36(7):1206–1211. https://doi.org/10.1124/dmd.107.019513

Zhang B, Tian L, Xie J, Chen G, Wang F (2020) Targeting miRNAs by natural products: A new way for cancer therapy. Biomed Pharmacother 130:110546. https://doi.org/10.1016/j.biopha.2020.110546
Funding
This study was funded by the Turkish Scientific and Technical Research Council (TUBITAK) under contract no 118S206.
Ethics declarations
Conflicts of interest/Competing interests
The authors declare that they have no competing interests.
Ethics approval and consent to participate
Not applicable. 
Consent for publication
All of the authors give their consent for publication of this study in Biologia.
Additional information
Publisher's Note
Springer Nature remains neutral with regard to jurisdictional claims in published maps and institutional affiliations.
About this article
Cite this article
Kig, C., Mertoglu, E., Caliskan, A. et al. Selective and oxidative stress-mediated cell death of MCF-7 cell line induced by terpinolene. Biologia 76, 2757–2766 (2021). https://doi.org/10.1007/s11756-021-00803-z
Received:

Accepted:

Published:

Issue Date:

DOI: https://doi.org/10.1007/s11756-021-00803-z
Keywords
Terpinolene

MCF7

HEK293

apoptosis

necrosis

oxidative stress