Abstract
Bernstein estimators attracted considerable attention as smooth nonparametric estimators for distribution functions, densities, copulas and copula densities. The present paper adds a parallel result for the first-order derivative of a copula function. This result then leads to Bernstein estimators for a conditional distribution function and its important functionals such as the regression and quantile functions. Results of independent interest have been derived such as an almost sure oscillation behavior of the empirical copula process and a Bahadur-type almost sure asymptotic representation for the Bernstein estimator of a regression quantile function. Simulations demonstrate the good performance of the proposed estimators.
Access options
Buy single article
Instant access to the full article PDF.
US$ 39.95
Tax calculation will be finalised during checkout.
Subscribe to journal
Immediate online access to all issues from 2019. Subscription will auto renew annually.
US$ 79
Tax calculation will be finalised during checkout.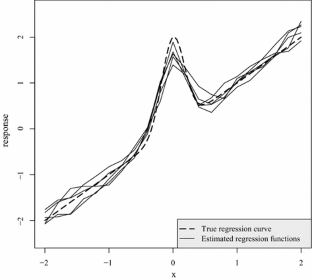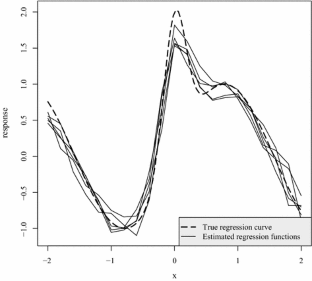 References
Babu GJ, Canty AJ, Chaubey YP (2002) Application of Bernstein polynomials for smooth estimation of a distribution and density function. J Stat Plan Inf 105:377–392

Babu GJ, Chaubey YP (2006) Smooth estimation of a distribution and density function on a hypercube using Bernstein polynomials for dependent random vectors. Stat Prob Lett 76:959–969

Bojanic R, Cheng F (1989) Rate of convergence of Bernstein polynomials for functions with derivatives of bounded variation. J Math Anal Appl 141:136–151

Bouezmarni T, Rolin J-M (2007) Bernstein estimator for unbounded density function. J Nonparametr Stat 19:145–161

Bouezmarni T, El Gouch A, Taamouti T (2013) Bernstein estimator for unbounded copula densities. Stat Risk Model 30:343–360

Bouezmarni T, Funke F, Camirand Lemyre F (2014) Regression estimation based on Bernstein density copulas (submitted)

Chiu S-T (1996) A comparative review of bandwidth selection for kernel density estimation. Stat Sin 6:129–145

Fan J, Gijbels I (1992) Variable bandwidth and local linear regression smoothers. Ann Stat 20:2008–2036

Gaenssler P, Stute W (1987) Seminar on empirical processes. In: DMV seminar 9. Birkhäuser, Basel

Ghosh JK (1971) A new proof of the Bahadur representation of quantiles and an application. Ann Math Stat 42:1957–1961

Janssen P, Swanepoel JWH, Veraverbeke N (2012) Large sample behavior of the Bernstein copula estimator. J Stat Plan Inf 142:1189–1197

Janssen P, Swanepoel JWH, Veraverbeke N (2014) A note on the asymptotic behavior of the Bernstein estimator of a copula density. J Multivar Anal 124:480–487

Lee TCM, Solo V (1999) Bandwidth selection for local linear regression: a simulation study. Comput Stat 14:515–532

Leblanc A (2009) Chung–Smirnov property for Bernstein estimators of distribution functions. J Nonparametr Stat 21:133–142

Leblanc A (2010) A bias-reduced approach to density estimation using Bernstein polynomials. J Nonparametr Stat 22:459–475

Leblanc A (2012) On estimating distribution functions using Bernstein polynomials. Ann Inst Stat Math 64:919–943

Lehmann EL (1966) Some concepts of dependence. Ann Math Stat 37:1137–1153

Mason D, Swanepoel JWH (2011) A general result on the uniform in bandwidth consistency of kernel-type function estimators. Test 20:72–94

Nelsen R (2006) An introduction to copulas, 2nd edn. Springer, New York

Noh H, El Ghouch A, Bouezmarni T (2013) Copula-based regression estimation and inference. J Am Stat Assoc 108:676–688

Parzen E (1979) Nonparametric statistical data modeling. J Am Stat Assoc 74:105–121

Sancetta A, Satchell S (2004) The Bernstein copula and its applications to modeling and approximations of multivariate distributions. Econ Theory 20:535–562

Serfling RJ (1980) Approximation theorems of mathematical statistics. Wiley, New York

Sklar A (1959) Fonctions de répartition à \(n\) dimensions et leurs marges. Pub Inst Stat Univ Paris 8:229–231

Stone CJ (1977) Consistent nonparametric regression. Ann Stat 4:595–814

Stute W (1984) The oscillation behavior of empirical processes: the multivariate case. Ann Prob 12:361–379

Swanepoel JWH, Allison JS (2013) Some new results on the empirical copula estimator with applications. Stat Prob Lett 83:1731–1739

Tenbusch A (1994) Two dimensional Bernstein polynomial density estimators. Metrika 41:233–253

Tenbusch A (1997) Nonparametric curve estimation with Bernstein estimates. Metrika 45:1–30

Vitale RA (1973) A Bernstein polynomial approach to density estimation. Commun Stat 2:493–506
Acknowledgments
The authors thank Mr. Charl Pretorius for his important help with the simulation section. They also thank the editor, associate editor and two referees for their valuable remarks and suggestions. The work was supported by the IAP Research Network P7/13 of the Belgian State (Belgian Science Policy). J. Swanepoel thanks the National Research Foundation of South Africa for financial support. N. Veraverbeke is also extraordinary professor at the North-West University, Potchefstroom, South Africa.
Electronic supplementary material
Below is the link to the electronic supplementary material.
About this article
Cite this article
Janssen, P., Swanepoel, J. & Veraverbeke, N. Bernstein estimation for a copula derivative with application to conditional distribution and regression functionals. TEST 25, 351–374 (2016). https://doi.org/10.1007/s11749-015-0459-x
Received:

Accepted:

Published:

Issue Date:
Keywords
Asymptotic normality

Asymptotic representation

Bernstein estimation

Copula

Copula density

Oscillation of empirical copula process

Quantile function
Mathematics Subject Classification