Abstract
Objective
Although the value of video-assisted thoracic surgery for acute pyothorax is becoming widely recognized, the optimal timing of surgery has not been established. Therefore, we aimed to determine the optimal timing of video-assisted thoracic surgery in acute pyothorax.
Methods
We retrospectively reviewed 38 consecutive video-assisted thoracic surgeries performed for acute pyothorax between January 2013 and December 2017 at our institution. Data were analyzed using the independent samples t test and Mann–Whitney U test. A receiver-operating characteristic curve was used to identify the optimal time for intervention.
Results
The average time from disease onset to surgery was 17.9 days, and the average preoperative drainage period was 8.3 days. The operation was completed in all patients with video-assisted thoracic surgery curettage and drainage under general anesthesia; single lung ventilation was administered, and one or two thoracic drains were placed. The average postoperative drainage period was 10.8 days. Intraoperative complications were observed in two cases; no perioperative death occurred. Additional surgery was performed in four cases because of poor treatment response. There was no recurrence of pyothorax over a mean postoperative follow-up period of 42.5 months. A receiver-operating characteristic curve showed that the cut-off time from disease onset to surgery was 21.0 days; complication rates were 14.3% and 25.0% for patients operated on before and after 21 days, respectively.
Conclusions
Thoracoscopic surgery for acute pyothorax is safe and curative, and should be performed within 21 days of disease onset to avoid postoperative complications.
Access options
Buy single article
Instant access to the full article PDF.
USD 39.95
Price excludes VAT (USA)
Tax calculation will be finalised during checkout.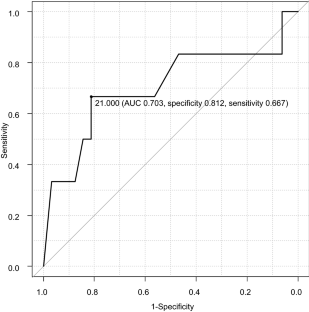 References
Light RW. Parapneumonic effusions and empyema. Proc Am Thorac Soc. 2006;3:75–80.

Ubotic D, Lardinois D, Hojski A. Minimally invasive thoracic surgery for empyema. Breathe. 2018;14:302–10.

Ravaglia C, Gurioli C, Tomassetti S, Casoni GL, Romagnoli M, Gurioli C, et al. Is medical thoracoscopy efficient in the management of multiloculated and organized thoracic empyema? Respiration. 2012;84:219–24.

Grijalva CG, Zhu Y, Pekka Nuorti J, Griffin MR. Emergence of parapneumonic empyema in the USA. Thorax. 2011;66:663–8.

Brims FJH, Lansley SM, Waterer GW, Lee YCG. Empyema thoracis: new insights into an old disease. Eur Respir Rev. 2010;19:220–8.

Yu D, Buchvald F, Brandt B, Nielsen KG. Seventeen-year study shows rise in parapneumonic effusion and empyema with higher treatment failure after chest tube drainage. Acta Paediatr. 2014;103:93–9.

Redden MD, Chin TY, van Driel ML. Surgical versus non-surgical management for pleural empyema. Cochrane Database Syst Rev. 2017. https://doi.org/10.1002/14651858.CD010651.pub2.

Wait MA, Beckles DL, Paul M, Hotze M, Dimaio MJ. Thoracoscopic management of empyema thoracis. J Minim Access Surg. 2007;3:141–8.

Mackinlay TAA, Lyons GA, Chimondeguy DJ, Barboza Piedras MA, Angaramo G, Emery J. VATS debridement versus thoracotomy in the treatment of loculated postpneumonia empyema. Ann Thorac Surg. 1996;61:1626–30.

Thori R, Desai GS, Pande P, Narkhede R, Vardhan A, Mehta H. Video assisted thoracoscopic surgery (VATS) for all stages of empyema thoracis: a single centre experience. Indian J Surg. 2019;82:520–6.

Semenkovich TR, Olsen MA, Puri V, Meyers BF, Kozower BD. Current state of empyema management. Ann Thorac Surg. 2018;105:1589–96.

Clavien PA, Barkun J, de oliveira ML, , et al. The ClavienDindo classification of surgical complications; five-year experience. Ann Surg. 2009;250:187–96.

Shen KR, Bribriesco A, Crabtree T, Denlinger C, Eby J, Eiken P, et al. The American Association for Thoracic Surgery consensus guidelines for the management of empyema. J Thorac Cardiovasc Surg. 2017;153:e129–46.

Scarci M, Abah U, Solli P, Page A, Waller D, van Schil P, et al. EACTS expert consensus statement for surgical management of pleural empyema. Eur J Cardiothoracic Surg. 2015;48:642–53.

Reichert M, Pösentrup B, Hecker A, Schneck E, Pons-Kühnemann J, Augustin F, et al. Thoracotomy versus video-assisted thoracoscopic surgery (VATS) in stage III empyema—an analysis of 217 consecutive patients. Surg Endosc. 2018;32:2664–75.

Shahin Y, Duffy J, Beggs D, Black E, Majewski A. Surgical management of primary empyema of the pleural cavity: outcome of 81 patients. Interact Cardiovasc Thorac Surg. 2010;10:565–7.

Birkenkamp K, O'Horo JC, Kashyap R, Kloesel B, Lahr BD, Daniels CE, et al. Empyema management: a cohort study evaluating antimicrobial therapy. J Infect. 2016;72:537–43.

Karmakar S, Karmakar S, Prasad R, Kant S, Nath A, Mahdi F. Clinical and microbiological characteristics of thoracic empyema: retrospective analysis in a tertiary care centre. Int J Adv Med. 2017;4:1309–12.

Jagelavicius Z, Jovaisas V, Mataciunas M, Samalavicius NE, Janilionis R. Preoperative predictors of conversion in thoracoscopic surgery for pleural empyema. Eur J Cardio-Thoracic Surg. 2017;52:70–5.

Wilson H, Mohite P, Hall A, Anikin V. Timing and efficacy of VATS debridement in the treatment of parapneumonic empyema. Arch Pulmonol Respir Care. 2016;2:016–9.

Lardinois D, Gock M, Pezzetta E, Buchli C, Rousson V, Furrer M, et al. Delayed referral and gram-negative organisms increase the conversion thoracotomy rate in patients undergoing video-assisted thoracoscopic surgery for empyema. Ann Thorac Surg. 2005;79:1851–6.

Chung JH, Lee SH, Kim KT, Jung JS, Son HS, Sun K. Optimal timing of thoracoscopic drainage and decortication for empyema. Ann Thorac Surg. 2014;97:224–9.

Landreneau RJ, Keenan RJ, Hazelrigg SR, Mack MJ, Naunheim KS. Thoracoscopy for empyema and hemothorax. Chest. 1996;109:18–24.
Acknowledgements
The authors wish to thank Dr. Mariko Itsubo for her comments on an earlier version of this paper. The authors would like to thank EDITAGE for proofreading this paper.
Ethics declarations
Conflict of interests
The authors have no conflict of interests directly relevant to the content of this article.
Additional information
Publisher's Note
Springer Nature remains neutral with regard to jurisdictional claims in published maps and institutional affiliations.
Supplementary Information
Below is the link to the electronic supplementary material.
Supplementary file1 (MP4 81199 kb)
About this article
Cite this article
Matsudaira, H., Arakawa, S., Noda, Y. et al. Optimal timing of video-assisted thoracic surgery for acute pyothorax: a retrospective study. Gen Thorac Cardiovasc Surg 69, 1476–1481 (2021). https://doi.org/10.1007/s11748-021-01649-7
Received:

Accepted:

Published:

Issue Date:

DOI: https://doi.org/10.1007/s11748-021-01649-7
Keywords
Thoracic surgery

Pyothorax

Retrospective study

Video-assisted surgery