Abstract
A 59-year-old woman fell into cardiogenic shock due to acute myocardial infarction with total occlusion of the left anterior descending artery. Although intra-aortic balloon pump was inserted and a coronary stent was placed, she went into cardiopulmonary arrest and percutaneous veno-arterial extracorporeal membrane oxygenation (ECMO) was initiated. She was transferred to our hospital after drainage for pericardial effusion. Computed tomography revealed the drainage catheter lying through the right ventricular free wall and the ventricular septum, and leading into the left ventricle. She showed multiple organ failure and disseminated intravascular coagulation syndrome due to insufficient ECMO flow. Conversion to central ECMO after catheter removal was performed and her general condition improved; however, ventricular septal shunt remained. Repair of the perforation and ECMO removal was performed 15 days after the first operation. The combination of optimal mechanical circulatory support and the staged surgical repair contributed to her dramatic recovery.
Access options
Buy single article
Instant access to the full article PDF.
US$ 39.95
Tax calculation will be finalised during checkout.
Subscribe to journal
Immediate online access to all issues from 2019. Subscription will auto renew annually.
US$ 79
Tax calculation will be finalised during checkout.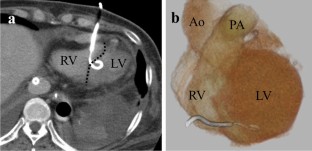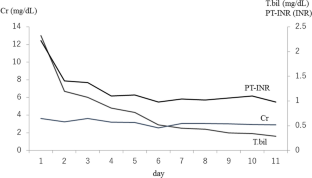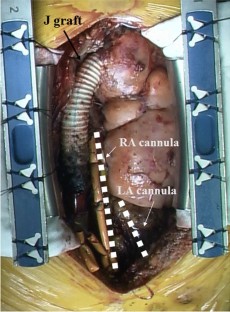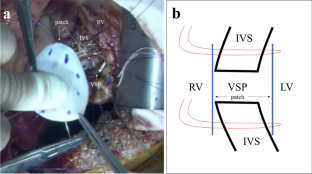 References
1.

Jones BM, Kapadia SR, Smedira NG, Robich M, Tuzcu EM, Menon V, et al. Ventricular septal rupture complicating acute myocardial infarction: a contemporary review. Eur Heart J. 2014;35:2060–8.

2.

Isoda S, Imoto K, Uchida K, Hashiyama N, Yanagi H, Tamagawa H, et al. Sandwich Technique via right ventricle incision to repair postinfarction ventricular septal defect. J Card Surg. 2004;19:149–50.

3.

Arnaoutakis GJ, Zhao Y, George TJ, Sciortino CM, McCarthy PM, Conte JV. Surgical repair of ventricular septal defect after myocardial infarction: outcomes from the Society of Thoracic Surgeons National Database. Ann Thorac Surg. 2012;294:436–44.

4.

Yamazaki F. Current review of surgical repair of postinfarction ventricular septal defect. J Jpn Coron Assoc. 2016;22:119–25.

5.

ItoT. Post infarction ventricular septal rupture. J Jpn Coron Assoc. 2016;22:116–8.

6.

Matos D, Madeira M, Nolasco T, Neves JP. The role of extracorporeal membrane oxygenation in acute basal ventricular septal rupture. Eur J Cardiothorac Surg. 2019. https://doi.org/10.1093/ejcts/ezz235.

7.

Iida M, Uchiyama M, Shimokawa T. A successful case of percutaneous left ventricular assist device "Impella" to postmyocardial infarction ventricular septal perforation in Japan. Artif Organs. 2019;43:806–7.
Ethics declarations
Conflict of interest
The authors declare no conflicts of interest in association with the present study.
Additional information
Publisher's Note
Springer Nature remains neutral with regard to jurisdictional claims in published maps and institutional affiliations.
About this article
Cite this article
Nishijima, T., Tanoue, Y., Ushijima, T. et al. A staged surgical strategy for cardiogenic shock and iatrogenic ventricular septal perforation due to a malpositioned catheter. Gen Thorac Cardiovasc Surg 69, 336–339 (2021). https://doi.org/10.1007/s11748-020-01425-z
Received:

Accepted:

Published:

Issue Date:
Keywords
Ventricular septal perforation

Iatrogenic heart injury