Abstract
We successfully repaired a hammock mitral valve associated with severe mitral valve regurgitation in a 4-month-old boy using posterior leaflet extension along with glutaraldehyde-treated autologous pericardium and the splitting of bilateral papillary muscles. Surgical reinterventions were performed for the bilateral papillary muscles at 14 and 24 months postoperatively. The extended autologous pericardium was still pliable with mild mitral valve regurgitation at 26 months postoperatively.
Access options
Buy single article
Instant access to the full article PDF.
US$ 39.95
Tax calculation will be finalised during checkout.
Subscribe to journal
Immediate online access to all issues from 2019. Subscription will auto renew annually.
US$ 79
Tax calculation will be finalised during checkout.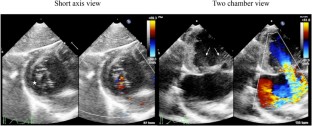 References
1.

Oppido G, Davies B, McMullan DM, Cochrane AD, Cheung MM, d'Udekem Y, et al. Surgical treatment of congenital mitral valve disease: midterm results of a repair-oriented policy. J Thorac Cardiovasc Surg. 2008;135:1313–21.

2.

Stellin G, Padalino M, Vida VL, Boccuzzo G, Orrù E, Biffanti R, et al. Surgical repair of congenital mitral valve malformations in infancy and childhood: a single-center 36-year experience. J Thorac Cardiovasc Surg. 2010;140:1238–44.

3.

Ohye R. Mitral regurgitation in congenital heart defects: surgical techniques for reconstruction. Semin Thorac Cardiovasc Surg Pediatr Card Surg Ann. 2012;15:75–9.

4.

Kalfa D, Vergnat M, Ly M, Stos B, Lambert V, Baruteau A, et al. A standardized repair-oriented strategy for mitral insufficiency in infants and children: midterm functional outcomes and predictors of adverse events. J Thorac Cardiovasc Surg. 2014;148:1459–66.

5.

Carpentier A, Branchini B, Cour JC, Asfaou E, Villani M, Deloche A, et al. Congenital malformations of the mitral valve in children: pathology and surgical treatment. J Thorac Cardiovasc Surg. 1976;72:854–66.

6.

Uva MS, Galletti L, Gayet FL, Piot D, Serraf A, Bruniaux J, et al. Surgery for congenital mitral valve disease in the first year of life. J Thorac Cardiovasc Surg. 1995;109:164–76.

7.

Chauvaud S, Fuzellier JF, Houel R, Berrebi A, Mihaileanu S, Carpentier A. Reconstructive surgery in congenital mitral valve insufficiency (Carpentier's techniques): long-term results. J Thorac Cardiovasc Surg. 1998;115:84–93.

8.

Prifti E, Vanini V, Bonacchi M, Frati G, Bernabei M, Giunti G, et al. Repair of congenital malformations of the mitral valve: early and midterm results. Ann Thorac Surg. 2002;73:614–21.

9.

Delmo Walter EM, Javier M, Hetzer R. Repair of parachute and hammock valve in infants and children: early and late outcomes. Semin Thorac Cardiovasc Surg. 2016;28:448–59.

10.

Layman TE, Edwards JE. Anomalous mitral arcade: a type of congenital mitral insufficiency. Circulation. 1967;35:389–95.

11.

Okita Y, Miki S, Kusuhara K, Ueda Y, Tahata T, Tshukamoto Y, et al. Early and late results of reconstructive operation for congenital mitral regurgitation in pediatric age group. J Thorac Cardiovasc Surg. 1988;96:294–8.

12.

Ando M, Takahashi Y. Durability of mitral valve repair performed before the age of 5 years. Circ J. 2016;80:124–9.

13.

Chauvaud S, Jebara V, Chachques JC, Mihaileanu S, Perier P, Dreyfus G, et al. Valve extension with glutaraldehyde-preserved autologous pericardium. J Thorac Cardiovasc Surg. 1991;102:171–8.

14.

Van Loozen D, McCafferty S, Lutin WA, Polimenakos AC. The challenge of hammock mitral valve during infancy: precise preoperative advanced imaging and three-dimensional modeling augments customized operative valve reconstruction. Pediatr Cardiol. 2018;39:633–6.

15.

Takahashi H, Kadowaki T, Maruo A, Yutaka O, Oshima Y. Mid-term results of mitral valve repair with autologous pericardium in pediatric patients. J Heart Valve Dis. 2014;23:302–9.
Additional information
Publisher's Note
Springer Nature remains neutral with regard to jurisdictional claims in published maps and institutional affiliations.
About this article
Cite this article
Maeda, T., Fujiwara, K., Yoshizawa, K. et al. Posterior mitral leaflet extension using autologous pericardium to repair a hammock mitral valve associated with severe mitral valve regurgitation in a 4-month-old boy. Gen Thorac Cardiovasc Surg 68, 1203–1207 (2020). https://doi.org/10.1007/s11748-019-01262-9
Received:

Accepted:

Published:

Issue Date:
Keywords
Hammock mitral valve

Mitral valve regurgitation

Posterior leaflet extension

Autologous pericardium

Mitral valve repair