Abstract
When patients with extensive mitral annular calcification undergo mitral valve replacement, excessive debridement of calcification may result in fatal complications and may protract operation time. We report a case of supra-annular MVR using "the chimney technique" on a high-risk patient for severe mitral stenosis with extensive mitral annular calcification. This technique is usually used in small infants whose mitral annulus is smaller than the smallest available prosthetic valve. We apply this technique to minimize the debridement of calcification and shorten the operation time. The operation was successfully completed, and the postoperative course has been uneventful. This technique was safely and easily performed, and eliminated the need for aggressive debridement of the calcification. We believe this technique may be a good choice for high-risk patients with mitral annular calcification.
Access options
Buy single article
Instant access to the full article PDF.
US$ 39.95
Tax calculation will be finalised during checkout.
Subscribe to journal
Immediate online access to all issues from 2019. Subscription will auto renew annually.
US$ 79
Tax calculation will be finalised during checkout.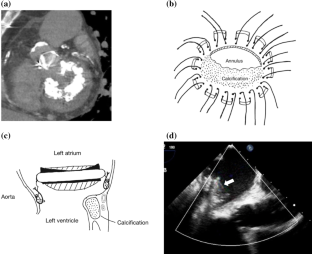 References
1.

Uchimuro T, Fukui T, Shimizu A, Tkanashi S. Mitral Valve Surgery in Patients With Severe Mitral Annular Calcification. Ann Thorac Surg. 2016;101:889–95.

2.

Okita Y, Miki S, Ueda Y, Tahata T, Sakai T, Matsuyama K. Mitral valve replacement with a collar-reinforced prosthetic valve for disrupted mitral annulus. Ann Thorac Surg. 1995;59:187–9.

3.

Sung SC, Chang YH, Lee HD, Woo JS. A novel technique of supra-annular mitral valve replacement. Ann Thorac Surg. 2008;86:1033–5.

4.

Gonzalez RA, Aroca A, Polo L, Rey J, Villagra F. Chimney technique for mitral valve replacement in children. Ann Torac Surg. 2013;96:1885–7.
Additional information
Publisher's Note
Springer Nature remains neutral with regard to jurisdictional claims in published maps and institutional affiliations.
About this article
Cite this article
Go, S., Furukawa, T., Yamada, K. et al. A case of supra-annular mitral valve replacement using chimney technique for severe mitral stenosis with extensive mitral annular calcification. Gen Thorac Cardiovasc Surg 68, 1199–1202 (2020). https://doi.org/10.1007/s11748-019-01256-7
Received:

Accepted:

Published:

Issue Date:
Keywords
Mitral annular calcification

Mitral valve replacement

Composite graft