Abstract
A giant coronary artery aneurysm with arteriovenous fistula is a unique pathology having few surgical reports. An 82-year-old woman presented with a symptomatic giant left circumflex artery aneurysm with a fistula to the coronary sinus. The left coronary artery was dilated, and an aneurysmal change was visible from the left main trunk to the fistula. Surgery was performed to close the fistula and seclude all parts of the aneurysmal coronary artery. All coronary branches emerging from the aneurysm required bypass grafting. Herein, we present the history of this unusual case and our successful surgical strategy.
Access options
Buy single article
Instant access to the full article PDF.
US$ 39.95
Tax calculation will be finalised during checkout.
Subscribe to journal
Immediate online access to all issues from 2019. Subscription will auto renew annually.
US$ 79
Tax calculation will be finalised during checkout.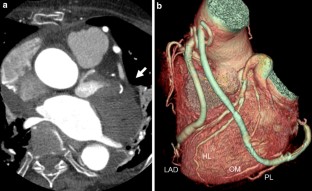 References
1.

Hirose H, Amano A, Yoshida S, Nagao T, Sunami H, Takahashi A, et al. Coronary artery aneurysm associated with fistula in adults: collective review and a case report. Ann Thorac Cardiovasc Surg. 1999;5:258–64.

2.

Mangukia CV. Coronary artery fistula. Ann Thorac Surg. 2012;93:2084–92.

3.

Libertini R, Wallbridge D, Jones HR, Gunning M, Satur CMR. Giant circumflex artery aneurysm with a coronary sinus fistula. Ann Thorac Surg. 2018;106:e223–e22525.

4.

Qureshi SA. Coronary arterial fistulas. Orphanet J Rare Dis. 2006;1:51.

5.

Nakahira A, Sasaki Y, Hirai H, Fukui T, Motoki M, Takahashi Y, et al. Rupture of aneurysmal circumflex coronary artery into the left atrium after ligation of its arteriovenous fistula. Circ J. 2007;71:1996–8.

6.

Hajj-Chahine J, Haddad F, El-Rassi I, Jebara V. Surgical management of a circumflex aneurysm with fistula to the coronary sinus. Eur J Cardiothorac Surg. 2009;35:1086–8.
Ethics declarations
Conflict of interest
The authors have declared that no conflict of interest exists.
Additional information
Publisher's Note
Springer Nature remains neutral with regard to jurisdictional claims in published maps and institutional affiliations.
About this article
Cite this article
Kemmochi, R., Ohga, Y., Kubo, Y. et al. Left circumflex artery aneurysm with fistula to the coronary sinus. Gen Thorac Cardiovasc Surg 68, 1196–1198 (2020). https://doi.org/10.1007/s11748-019-01247-8
Received:

Accepted:

Published:

Issue Date:
Keywords
Coronary artery aneurysm

Coronary artery fistula

Surgical strategy