Abstract
Anatomical aortic root restoration in a patient with a giant aneurysm of the right Sinus of Valsalva accompanied by severe AI and compression of the right-ventricular outflow is described and the entire case series (5) is reported.
This is a preview of subscription content, log in to check access.
Access options
Buy single article
Instant access to the full article PDF.
US$ 39.95
Price includes VAT for USA
Subscribe to journal
Immediate online access to all issues from 2019. Subscription will auto renew annually.
US$ 99
This is the net price. Taxes to be calculated in checkout.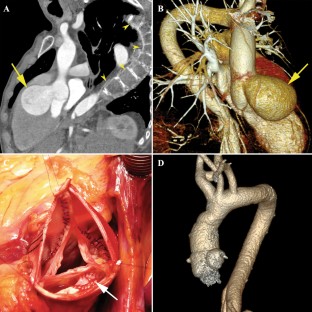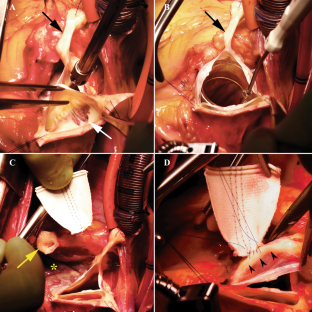 References
1.

Edwards JE, Burchell HB. The pathological anatomy of deficiencies between the aortic root and the heart, including aortic sinus aneurysms. Thorax. 1957;12:125–39.

2.

Vural KM, Sener E, Tasdemir O, Bayazit K. Approach to sinus of Valsalva aneurysms: a review of 53 cases. Eur J Cardiothorac Surg. 2001;20:71–6.

3.

Urbanski PP, Jankulowski A, Morka A, Irimie V, Zhan X, Zacher M, et al. Patient-tailored aortic root repair in adult marfanoid patients: surgical considerations and outcomes. J Thorac Cardiovasc Surg. 2018;155:43–51.

4.

Sawazaki M, Tomari S, Izawa N. Giant sinus of valsalva aneurysm with severe aortic incompetence treated with a valve-sparing operation. Ann Thorac Surg. 2012;94:1018–20.

5.

Akashi H, Tayama E, Tayama K, Kosuga T, Takagi K, Aoyagi S. Remodeling operation for unruptured aneurysms of three sinuses of Valsalva. J Thorac Cardiovasc Surg. 2005;129:951–2.

6.

Urbanski PP, Zhan X, Hijaz H, Zacher M, Diegeler A. Valve-sparing aortic root repair without down-sizing of the annulus. J Thorac Cardiovasc Surg. 2012;143:294–302.
Ethics declarations
Conflict of interest
All authors have nothing to disclose with regard to commercial support.
Additional information
Publisher's Note
Springer Nature remains neutral with regard to jurisdictional claims in published maps and institutional affiliations.
Electronic supplementary material
Below is the link to the electronic supplementary material.
Supplementary material 1 (MP4 5912 KB)
Supplementary material 2 (MP4 64990 KB)
About this article
Cite this article
Urbanski, P.P., Hirao, S. & Irimie, V. Root repair in patient with huge sinus Valsalva aneurysm and severe aortic regurgitation. Gen Thorac Cardiovasc Surg 68, 530–533 (2020). https://doi.org/10.1007/s11748-019-01104-8
Received:

Accepted:

Published:

Issue Date:
Keywords
Sinus Valsalva aneurysm

Valve-sparing

Aortic root repair

Aortic insufficiency