Abstract
The anatomy of pulmonary vessels varies. The right upper pulmonary vein usually drains in front of the pulmonary artery to the left atrium. We herein describe a case of the right upper lobe pulmonary vein draining posterior to the pulmonary artery and absent right upper lobe pulmonary vein in the ventral hilum. A 64-year-old woman suspected to have lung cancer and scheduled for surgery underwent pre-operative three-dimensional computed tomography (3D-CT), which revealed that pulmonary vessels V1 + 3 and V2 drain posteriorly to the pulmonary artery. Video-assisted right upper lobectomy was performed because the patient was diagnosed with lung adenocarcinoma through intraoperative pathologic analysis, and all the pulmonary vessels were identified correctly during the operation. Despite the limited surgical field of video-assisted lobectomy, the operation was performed safely because the pre-operative 3D-CT assessment revealed the anatomy of the anomalous pulmonary vessels, helping us avoid missing any anomaly and vessel injury.
This is a preview of subscription content, log in to check access.
Access options
Buy single article
Instant access to the full article PDF.
US$ 39.95
Price includes VAT for USA
Subscribe to journal
Immediate online access to all issues from 2019. Subscription will auto renew annually.
US$ 99
This is the net price. Taxes to be calculated in checkout.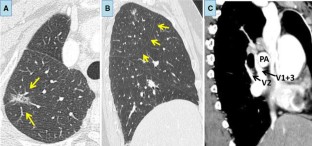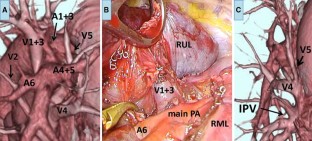 References
1.

Healey JE Jr.. An anatomic survey of anomalous pulmonary veins: their clinical significance. J Thorac Surg. 1952;23:433–44.

2.

Shimizu K, Nagashma T, Ohtaki Y, Obayashi K, Nakazawa S, Kamiyoshihara M, et al. Analysis of the variation pattern in right upper pulmonaryveins and establishment of simplified vein models for anatomical segmentectomy. Gen Thorac Cardiovasc Surg. 2016;64:604–11.

3.

Asai K, Urabe N, Yajima K, Suzuki K, Kazui T. Right upper lobe venous drainage posterior to the bronchus intermedius: preoperative identification by computed tomography. Ann Thorac Surg. 2005;79:1866–71.

4.

Kurihara N, Saito H, Usami S, Imai K, Konno H, Atari M, et al. Lung cancer surgery in partial anomalous pulmonary venous connection patients. Ann Thorac Surg. 2018;105:e7–9.

5.

Yurugi Y, Nakamura H, Taniguchi Y, Miwa K, Fujioka S, Haruki T, et al. Case of thoracoscopic right upper lobectomy for lung cancer with tracheal bronchus and a pulmonary vein variation. Asian J Endosc Surg. 2012;5:93–5.

6.

Ichiki Y, Kakizoe K, Hamatsu T, Suehiro T, Koike M, Tanaka F, et al. A rare anomaly of the right superior pulmonary vein: report of a case. 2017;38:26–28.

7.

Yamada S, Suga A, Inoue Y, Iwazaki M. Importance of preoperative assessment of pulmonary venous anomaly for safe video-assisted lobectomy. Interact Cardiovasc Thorac Surg. 2010;10:851–4.

8.

Hagiwara M, Shimada Y, Kato Y, Nawa K, Makino Y, Furumoto H, et al. High-quality 3-dimensional image simulation for pulmonary lobectomy and segmentectomy: results of preoperative assessment of pulmonary vessels and short-term surgical outcomes in consecutive patients undergoing video-assisted thoracic surgerydagger. Eur J Cardiothorac Surg. 2014;46:e120–6.
Ethics declarations
Conflict of interest
The authors have no conflict of interest to disclose.
Additional information
Publisher's Note
Springer Nature remains neutral with regard to jurisdictional claims in published maps and institutional affiliations.
Electronic supplementary material
Below is the link to the electronic supplementary material.
Supplementary material 1 (MPG 3118 KB)
Supplementary material 2 (MPG 41336 KB)
About this article
Cite this article
Otsuki, Y., Go, T., Chang, S.S. et al. Anomalous right upper lobe pulmonary veins draining posterior to the pulmonary artery. Gen Thorac Cardiovasc Surg 67, 901–903 (2019). https://doi.org/10.1007/s11748-019-01078-7
Received:

Accepted:

Published:

Issue Date:
Keywords
Anomalous pulmonary vein

Three-dimensional computed tomography

Video-assisted thoracotomy

Lung cancer